First:
Hello, September.
I wish you weren't here.
I love the beach. I love hot humid weather. I love tomatoes and basil and peaches. I love sitting on the front porch in the morning, enjoying the flowers, while drinking coffee and listening to Paul tell me what I've done wrong recently.
I love tank tops and flip flops and canoes and camp fires and not being freezing… the next eight months of the year are basically me just ticking off the days until spring… not awesome.
Next:
HELLO OHIO… I HOPE YOU HAVE THE GLITTER CANNONS READY.
*Insert sound effect of screeching brakes*
Turns out they (accidentally) scheduled me for Atlanta… NOT Ohio.
Last Friday I wondered: is it a little weird I haven't heard from Country Living? I reminded myself that the fair in Rhinebeck didn't get a set schedule until the very last minute, so I figured that was it…
But then I decided to be all professional and just CHECK… so I emailed– hey, no rush, just wondering if you have a time set for me yet? And the Country Living lady was all– ARGH!!!! I put you in Atlanta! I don't know how I did that! I… I just… I HAVE NO IDEA.
I'm disappointed of course, but it's the kind of mistake I live in fear of making, and I was weirdly relieved I wasn't the one who made it.
As much as I'd like to go to Atlanta, I have a thing… blah blah blah.
If you're near the fair in Ohio, go! (Assuming you're into OLD STUFF, which if you are not, why are you here?) The shopping and the vendors in New York were great. AND I was pleasantly surprised that the prices weren't too gouge-y
The historic Ohio Village looks charming… and you are guaranteed to have beautiful weather because it was rainy and freezing in Rhinebeck.
It was extra wet, and extra freezing, for me in particular, because I was so totally distracted by STUFF that I stepped directly into a VERY LARGE AND OBVIOUS puddle while wearing flip flops.
Also, apparently Country Living does not feel as I do about fall… in fact, they seem SUPER PUMPED.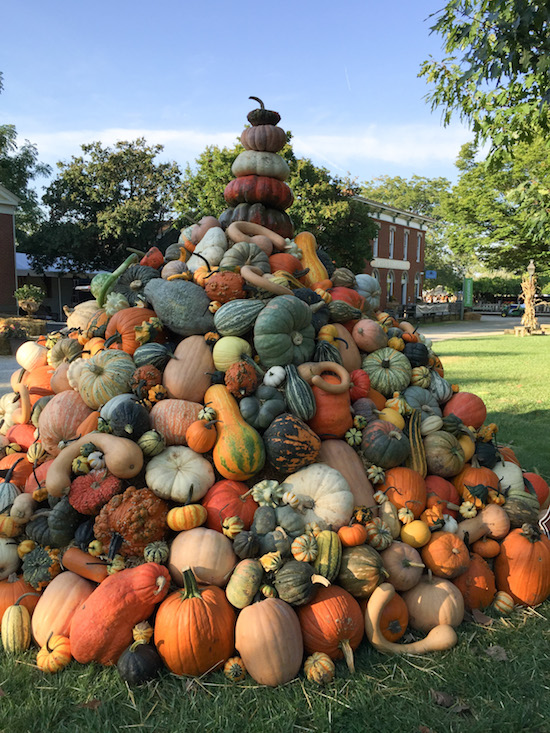 Anyway… I had already written the below post, based on my plans to get to Columbus, so I'm publishing it anyway because I feel like it.
***
To make Ohio extra exciting for myself, I am roadtripping to Columbus with my dad… This past year has smacked me in the face with the fact that life is short and unpredictable.
It's been a long while since I spent a chunk of time with just my father. Mostly I see him together with my mom; but I also talk to my mother approximately nine-million times a day, so it's really not the same.
Infact, I almost never talk to my dad on the phone, because I am rarely struck by the desire to have a quick lunchtime conversation about Kierkegaard.
My father thinks the way to be a person is: scholarship, deep thought, academic pursuits, and opera… so he wonders who is this frivolous, animal-loving, crinoline-collecting, bookshelf-hoarding, circus-protesting pagan, who only likes Verdi and does not appreciate Der Ring des Nibelungen… (her parents must be mouth-breathing philistines who did not even try!) SAD!
HOWEVER.
My father LOVES A ROAD TRIP… I cannot overstate how he is basically a Dr. Seuss book about a man who loves road trips.
With himself!
With a friend!
With a cat!
And a hat!
In a car!
Or a van!
On a bike!
With a kite!
On top of my father's already-inherent roadtrip excitement, ADDING to that, the opportunity to have one of his children as a captive audience for his indecipherable beliefs on the confluence of theology and philosophy… (which are actually just poorly-disguised attempts to bring us back into THE FOLD)… well… this is my father's version of THE BEST DAY EVER.
So, if you see me in Columbus, and I look like I just stuck my finger in a light socket, it's because I've spent the previous 24 hours listening to the person who sends me this sort of thing ALL OF THE TIME.
It's fine though, because he too will look electrocuted!
Because, I AM MY FATHER… pedantic, long-winded, eager to bash you over the head with WORDS.
My father and I know words.
We have the BEST WORDS.
SO MANY WORDS.
My father and I have identical personalities… but we are not remotely living on the same planet, so sometimes it's easy to forget that.
A short list of things my father does not care about:
Giant Fancy Things, sequins, the intersectionality of big pharma trying to kill everyone in conjunction with the bacon industry, while climate change swamps Houston and Florida and decimates islands… which we all claim to care about as long as we don't have to DO anything about it… but what no one seems to care about AT ALL is that by the time climate change impacts America's way of life, places in Africa will long have run out of water.
What's that? You'd like to hear MOAR HIGHLIGHTS FROM MY LECTURE SERIES?
I'm glad you asked!!
STATINS, (cholesterol medication)– a plague perpetrated by the pharmaceutical industry, linked to everything including dementia and Parkinson's.
Cholesterol is a waxy substance that, (among many other things,) plays a crucial role in the brain, and in the formation of neuronal connections—the vital links that underlie memory and learning.
The human body produces all the cholesterol we need… however, when we add animal cholesterol (which is not bio-identical to our own) we end up with problems.
But no worries, bro! Big pharma's got your back! You don't have to take care of your body! Duh! That's for wussies! JUST TAKE THIS PILL!
But statins don't do anything about the cholesterol you EAT… it just STOPS YOUR BODY from MAKING ITS OWN… Sounds like a solid plan!
(I'm not saying no one should take them, I'm saying that they are one of the most-prescribed drugs and let's consider that the pharmaceutical industry has profit as its first consideration and maybe let's not hand them out like candy.)
"We can't understand how a drug that affects such an important pathway would not have adverse reactions," says Ralph Edwards, former director of the World Health Organization
— Scientific American, It's Not Dementia, It's Your Heart Medication: Cholesterol Drugs and Memory
BUT WAIT! THERE'S MORE!
Dairy = cancer AND forcing a mother to birth baby after baby, and never letting her nurse any of them.
WHO CHOOSES THAT?
That's not a rhetorical question… I truly need to know: WHY do humans NOT choose empathy? This BAFFLES me… there are 57,982,356 other options for every single kind of dairy product made from animal breastmilk… not to mention how the plant-based stuff WON'T GIVE YOU CANCER.
We can we can LITERALLY CHOOSE ANYTHING ELSE…  anything other than pain, sadness, and a truly disgusting amount of pus, and we're like– NAH!
Anyway! Incase you are thinking this roadtrip sounds like a terrible arthouse film about suffering and a debate team, WELL. YOU ARE WRONG.
My dad and I super know how to party, so I will also bring along the list of misspelled, misappropriated, misunderstood, words I have been collecting from Craigslist ads.
My father is literally the only other person I know who will appreciate the HILARITY of "rot iron rap around porch railings."
Party!!!!!!!
I CANNOT WAIT.
#bestdayever