This is a list of things that improve my daily existence… it's self-serving because I realized that we can trade— you can tell me YOUR favorite things, and I will get all sorts of recommendations to improve my life.
In no particular order.
Castor oil.
My skin gets insanely dry in winter. My face and hands particularly… I have tried EVERYTHING, and for me, castor oil is miraculous.
FYI– it is incredibly sticky and goopy and does not spread easily. BUT it has TOTALLY resolved my skin… AND it doesn't make me break out AT ALL… ZERO<– that's the miraculous part.
I get a giant bottle and then decant half into a large pump container that makes dispensing easy and mess-free.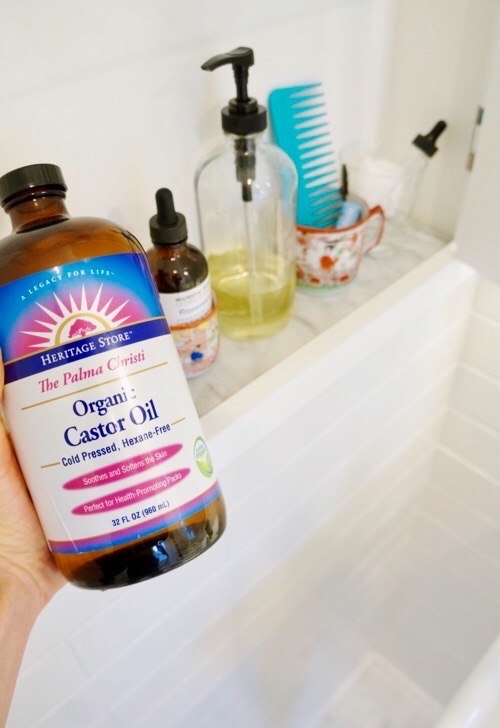 Coldpress coffee.
To me, it tastes better. But more importantly, it means I don't have to make coffee in the morning.
We rotate two large 44oz stainless French press containers… (dishHULK kept breaking the glass ones)…  In the summer we keep them in the fridge– my favorite!
Below, the black container is an airlock for storing coffee– it has a plunger-type lid that seals up once you push all the air out… great for any food you want to limit exposure to air. Mug was from my brother, here's the same message, different font.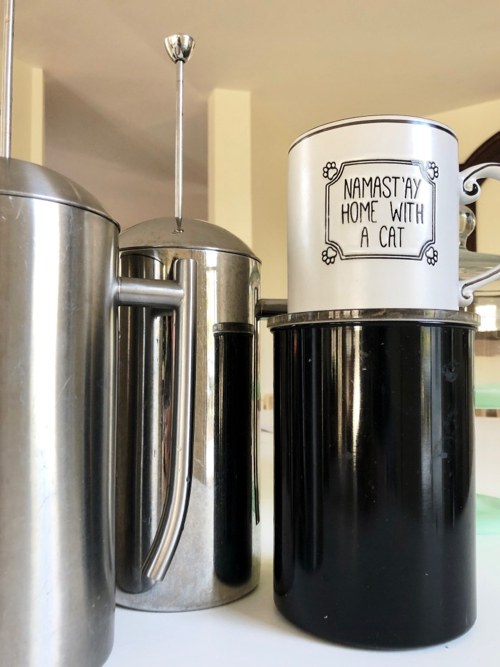 Collapsible drying rack.
I hang a lot of stuff to dry… this one folds up nearly flat, but has SO MUCH hanging space! I store it standing, on the short edge, next to the washing machine.
Neoprene socks.
I don't own winter boots anymore. What I do now, is wear my regular rain boots WITH neoprene socks… I got the low cut ones, (they come in different heights)… I take out the boot's insole in winter— then there is plenty of room to put the neoprene socks right over your normal socks.
FACT: no winter boots I've ever owned keep my toes as warm as neoprene– NOTHING.
The extra bonus of rain boots is you can tuck your pant legs in and go through any amount of snow and slush– since there are no laces, nothing seeps in.
ALSO! They complement any outfit!
View this post on Instagram
Curved shower bar.
To me, a normal shower bar is a violation against basic human decency… I LOATHE being near the shower curtain. The extra inches on a curved shower bar make a huge difference.
Noise-canceling headphones.
I bought these headphones for our trip to Hawaii… I hesitated because they were expensive and I wasn't sure I would get that much use out of them after the plane ride. But turns out I use them ALL the time.
The excellence of noise-canceling cannot be overstated — vacuuming, cooking, doing dishes, cleaning… all the stuff that is noisy and boring is much improved if you are listening to a good podcast! Also, not being connected to your phone with a cord is a radical improvement!
Sun protective gear.
There is no sunscreen that I can tolerate. No matter what it is, I can FEEL it on my skin; even after showering and scrubbing… and yes, I have tried all of the Japanese/Korean/we-promise-you-will-love-this… LIES.
I would rather look like a freak.
Fortunately, I excel.
The hat I'm wearing above is great because it's stretchy and fits OVER the super-chunky headphones— excellent while gardening; plus it holds its shape when I throw it in the washer.
Yes, I am wearing sun gloves.
Glamour.
And if you think it cannot possibly get EVEN MORE AWESOME, below is my newest swim shirt with face protection… the straw hat is old, the ribbon is mine/added, I had to jab holes in the hat.
View this post on Instagram
Baking soda and bentonite clay.
I used to wash my face with just baking soda— I love very scrubby things…. but in the last few years, I started using bentonite clay to make our toothpaste, and now I use the same mixture for my face wash; the clay makes it less-scrubby and cuts down on my tendency to sandblast my face with overly-enthusiastic scouring.
I get this large bag of clay and make one big container, 50/50 mix with baking soda… then I fill a small container with the mixture and add some peppermint oil to make toothpaste… if you google this, you'll see lots of options to complicate the recipe.
FYI: it is NOT anything like traditional toothpaste, so if you try it, give yourself time to get used to it– fwiw, I have come to MUCH prefer it.
For my face wash, I have another container that I can operate with one hand… (don't add peppermint!)… fill your palm, add water, make mush, wash face.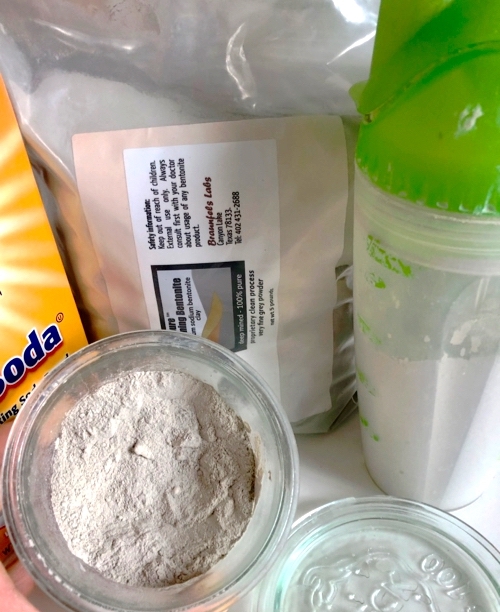 Electric toothbrush.
This is a new acquisition for me… my brother convinced me– I got the same as him, the least-expensive Oralb.
Here is my report:
I have been living in the Stone Age.
Although, for the record, my first reaction was— this is way too much vibration in my skull… so I ordered another with extra speed-options. But the low setting was the same on both, so I kept the cheaper one.
I still think it's too vibrate-y… BUT my teeth are so super squeaky clean that I will never go back.
This outfit, below.
This is it— my peak.
It's been a good run.
The plaid cape is a new-to-me vintage acquisition, and when I opened it, I was like… YUP— here it is: what I will be wearing every day for the rest of my life.
My sunglasses are here… SO MUCH do I love them, I ordered two more pair on Black Friday, (they come in a bunch of colors)… They are totally flat, which pleases me; PLUS $25 is cheap enough that if I lose or break them I won't be upset… they are nearly identical to these $400 Celine.
Now, for my own satisfaction, I will enter into the record, past evidence of my excellence-in-capes and RIGOROUS ATTENTION TO PLAID.
View this post on Instagram
Ok.
Now it's your turn.
WHAT THINGS IMPROVE YOUR DAILY LIFE THAT OTHER HUMANS WILL FIND USEFUL?