This is Pretty Boy Fluffy Tail.
He is my BSF— best stray friend.
I TNR'd him a few summers ago, and over time, he has socialized himself to me.
He has two brothers— Mr. Gray and Mr. Black. I cannot touch them, but they are fine being right next to me.
They are usually waiting for me at dinnertime, but if they are not, I just call them and they come RUNNING.
But a few days ago, Mr. Gray was limping when he came for his dinner. Limping badly– not using his right hind leg at all.
It's hard to know WHAT to do—maybe give it a day and he will be fine… or maybe his leg is broken and he needs help… to help him, I would need to trap him.
I took the wait-and-see approach… MOST of the time when you hurt yourself, just give it a minute… but the following night he did not come for dinner… AND the night after that, still no… I went ALL AROUND calling him, looking for him, under bushes, under porches… everywhere… I could not find him.
On one hand, I told myself this could all be fine… on the other hand, the life of unwanted cats is hard and short— it would be illogical of me to assume the best— after all, Mr. Grey originally had Grey Brother, who is gone now… he disappeared last year. I do not know what happened to him.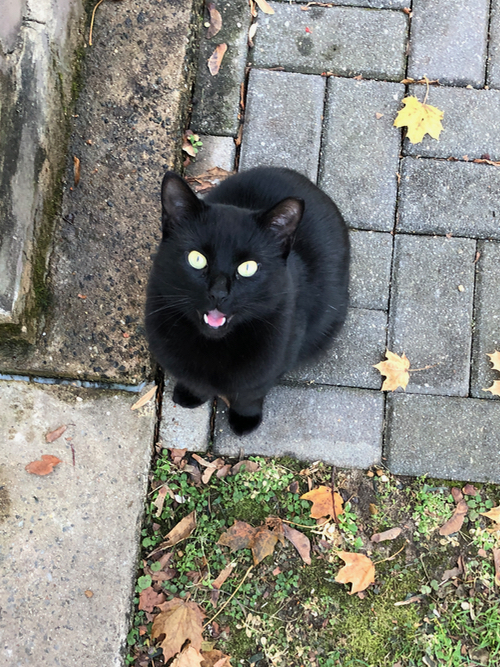 For the last 48 hours, I have been ill, imagining the worst… you know how when your heart is so sore with worry, it is a physical ache?
BUT THEN such good news– MR GREY CAME FOR DINNER LAST NIGHT! He was still limping, but weight-bearing and clearly on the mend– SO MUCH BETTER.
THE RELIEF!!!
BUT.
This is not the point of my story.
My point:
As I was searching for Mr. Grey, I walked down the street and around the corner and saw— A VERY YOUNG CAT.
WHAT!
NO!
I would have said for sure THIS BLOCK HAS NO UNFIXED CATS– I have TNR'd them ALL.
And YET.
HERE IS AN UNFIXED CAT.
Baby Grey Tabby has come every night for dinner, and he has brought his friends– now I am up to THREE YOUNG CATS… all clearly the same litter.
So either I missed ONE CAT… or someone dumped unwanted kittens/an adult who was not fixed.
I tell you all of this, because in your neighborhood, right now, there are cats who need help.
Help is: shelter, water, food… and come spring, TNR– Trap, Neuter, Return.
TNR stops the cycle of kittens who are born, just to be collected by humans, and euthanized at the animal shelter… a bizarre and terrible system.
I will wait until spring to TNR Baby Grey's crew– I do not trap in winter… but in the meantime, I can provide food, water, shelter.
My hope is that if I share some shelter ideas, maybe you will begin seeing your own opportunities!
If you are planning to build shelters, I would encourage you to READ/WATCH A LOT OF IDEAS!
You will see design-ideas and small details– being aware of ALL your options and important considerations will help you create the best shelter for your specific situation!
With some simple supplies and a few basic rules, you can build an excellent shelter that uses the cat's own body heat and does not need anything else.
If I have access to electricity, I will give them this heat mat –Extreme Weather Kitty Pad… it is designed specifically for outdoor use for feral cats.
You can also buy ALL KINDS of pre-made shelters… they vary a LOT so if you read all the following specifications, you will have a better idea of what to look for!!
NOTE: THE BEST SHELTER IS THE ONE YOU CAN FINISH AND GIVE TO THE CATS.
I'll start with the simplest version, demonstrated below– your supplies and cutting are limited… rather than using foam insulation between the bins, you just use straw.
KEEP THE SHELTER SMALL.
Unless you are providing heat, multiple SMALL shelters are better than one LARGE shelter—a small interior means the cat's body heat is contained more effectively.
Below photo is from:
Building Winter Shelters for Community Cats… lots of good info at this page on Alley Cat Advocates!
Here is a video demonstrating the bin-in-bin shelter, with foam insulation, rather than straw.
INSULATION IS KEY.
The KEY to a cat shelter is reducing airflow so that the cat's own body heat stays IN.
NOTE: use straw, NOT hay or blankets.
STRAW bedding. NOT HAY.
Straw will stay dry, hay will absorb moisture, which is NOT what we want! Newspapers and blankets also absorb moisture and are NOT a good choice.
Straw has excellent insulating properties AND resists absorbing moisture… mound up the straw a bit, on the far side of the shelter's entrance… the cats will burrow into it.
Make the door as small as possible— 5-6 inches… keeps in as much heat as possible, keeps OUT other animals.
ELEVATE THE SHELTER.
Raise the shelter off the ground—put it on blocks or two by fours… or even better– on a bench/chair on your porch… put some straw under it for extra insulation.
Elevating keeps the entrance out of any rain or snow collecting on the ground.
WEIGHT IT DOWN.
Don't forget to weigh down EVERYTHING— inside the bin, and also on top. Rocks. Bricks… I frequently see good weights in the trash! Like discarded pavers or when people throw away old dumbbells that have the removable weights.
Once you start watching videos and see what other people are doing, you will realize that most shelters are a version of a double-insulated box with the smallest hole possible.
Below is a DIY shelter with the bin-in-bin design, but using HEAT REFLECTIVE INSULATION… it is very good information and walks you through all the steps… if you are not able to find the insulation they use,  mylar rescue blankets work great and are super cheap (even cheaper in bulk!) Also, there are heavier mylar-lined tarps, depending on what kind of shelter you are building.
For what it's worth, this bin looks too big to me… unless you have a huge number of cats, I'd do more, smaller shelters.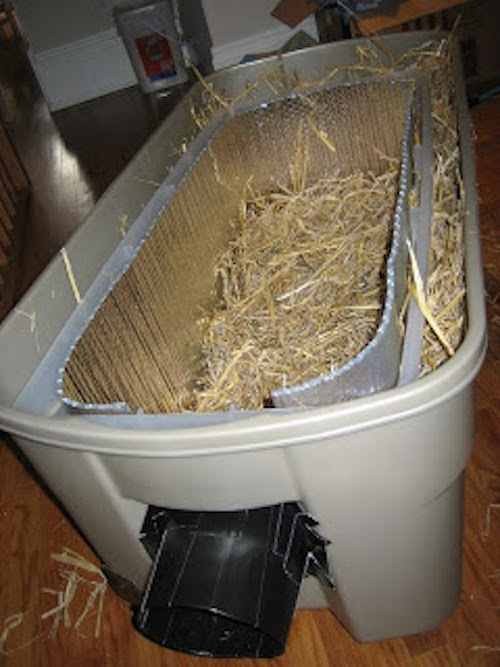 ADD MORE PROTECTION.
If you can put the shelter under an overhang or somewhere with extra protection, that is great… if you do not have an overhang, try to use an area that is more-protected– up against a wall or in a corner is better than just out in the open.
BUT ALSO TAKE INTO CONSIDERATION WHETHER THE CATS ARE GOING TO BE COOL WITH THE LOCATION.
Try to face the door/opening towards a wall or area that helps blocks the wind from the shelter entrance.
If this setup won't work for you, consider having two shelters, with the door/openings facing each other, then put a large board over both.
Even a cardboard box, wrapped in a tarp or heavy trash bags can become a great shelter if it's well-insulated and protected from absorbing moisture.
Here is great information and LOTS OF SHELTER IDEAS at Neighborhood Cats.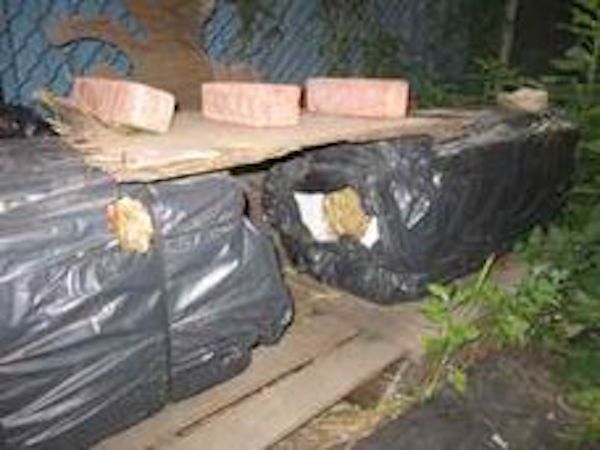 Don't put water in the shelter- can spill.
Don't put food in the shelter – attracts other animals
You can make a separate, but nearby, feeding station so that in bad weather, the cats can eat without getting wet.
I just got this bin out of the trash… I am going to turn it into a feeding area for Baby Gray Tabby crew… note that it is TOO BIG for a shelter– SMALL SHELTERS ARE BEST.
PLEASE DO NOT FORGET– GIVING CATS SHELTER IS ONLY PART OF THE SOLUTION.
TNR IS THE SOLUTION.
REDUCING THE UNWANTED CAT POPULATION IS THE BEST WAY TO HELP.
If the cats do not get fixed, the cycle will not end!!!
ENDING THE CYCLE OF SUFFERING ALSO KEEPS CATS OUT OF OVERCROWDED SHELTERS.
Every day, right now– in DECEMBER– ALL the shelters I am on the foster-list for send DAILY emails about new kittens, new kittens, new kittens. Help, help, help.
We cannot adopt our way out of the crisis of animals needing homes.
Spay and neuter is the solution– if every house TNR'd just ONE CAT in their neighborhood… we could fix this problem overnight.
WE— the people who SEE this is a problem… WE can make an enormous difference! Get involved with the cats in your community!
Above is another popular shelter design– USE A PICNIC COOLER… The video has some smart tweaks to reduce airflow… but it's a bit more detail-intensive than other designs.
Check craigslist or ask on your local Facebook if anyone has BINS OR COOLERS they would like to donate!
A reminder that THE MORE INFORMATION YOU READ AND GOOGLE AND WATCH, THE BETTER EQUIPPED YOU ARE TO BUILD!!
ALSO–> CHOOSE A DESIGN YOU CAN EXECUTE WITHOUT NEEDING TO LIE ON THE FLOOR AND REGRET ALL YOUR LIFE CHOICES.
Alright… if you read all of this, THANK YOU… it's chaotic and not well-edited, but I want to post it stat because BABY IT'S COLD OUTSIDE!
If you have ADVICE, LINKS, TIPS… PLEASE SHARE!! Note– more than one link in a comment often gets eaten by the spam filter!!!