New Hampshire was a lot of fun for me… I really enjoyed meeting you people who are (apparently) sharing a brain with me.
I spoke about obsessive bargain hunting, and shared some finds I've been sitting on in the last months (so that I'd have something fresh to talk about).
Equally importantly, I got my eyebrows filled in evenly for three consecutive days.
I cannot overstate this miracle.
This is the only picture I have of me alone. It's not even in focus, but I hesitate to use any photo with other people in it. (Even if I think it's great, they might hate it.)
It's also not a good photo of the fair, but I chose an offshoot of the big barn to hide while using the wand of narcissism selfie stick… I bought it last year for Lara's wedding– I knew I was going to take a million pictures, and I wanted to actually be in some of them–  it worked great, especially for taking group shots. But for research's sake, I will tell you that using it alone, you will definitely feel like a moron.
Anyway. Yard sale!
Every fall our community has a townwide yard sale… it never disappoints.
You can see my purchases from past years here and here.
This year:
Trunk- $5
The hardware on the trunk is awesome, and was the reason I wanted it… but after I owned it for about 24 hours I realized it's not truly me, so I sold it and put the cash towards Utah GFT.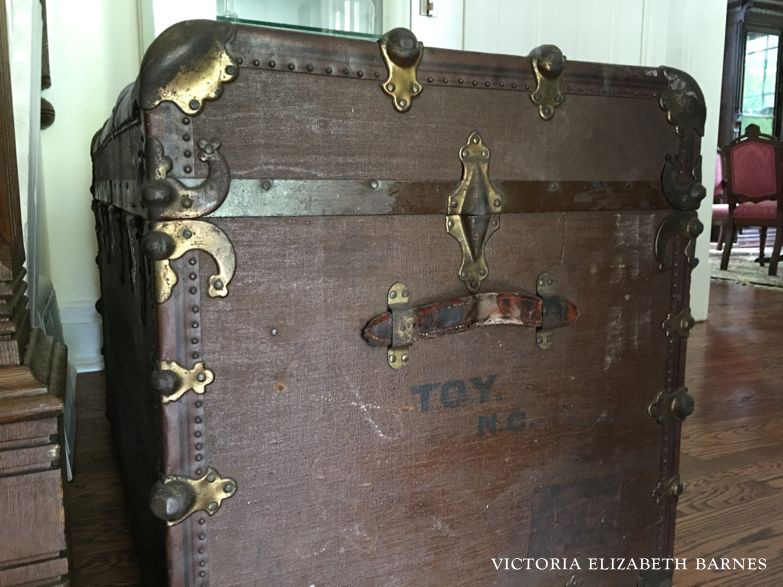 Vintage wire laundry basket – $3
NOT a reproduction… Hello? S.C.O.R.E.
Pair mid century patio chairs- $10
I sold the patio chairs but kept the cushions because finding original, vintage patio cushions is HARD! And I really liked the color/pattern. And I'm a hoarder.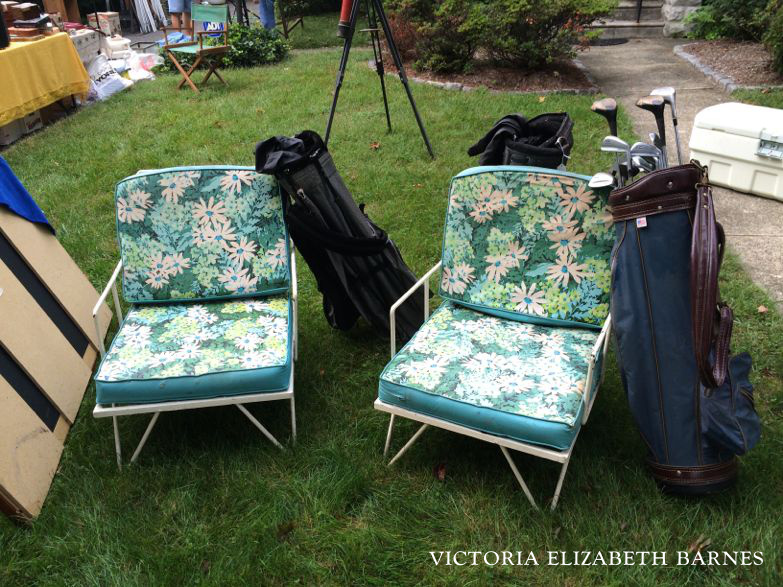 Tall vintage fan – $5
Doll pram- $2
I had one of these doll strollers before; I bought it to see if Elvis would tolerate a photo shoot (no) so I sold it. This one is twice as big, and again, I had fantasies of a kitten photo shoot (no).
The last one sold to a woman who was hosting a vintage-themed baby shower, and she was going to fill it with (insert something I cannot remember) but was a cute idea.
That was it for the big stuff… I also got some antique seltzer bottles and some random dishes to add to my collection of why-do-I-buy-these-things?
***
Leeway Cottage, by Beth Gutcheon… I don't know how I missed reading this before! I really liked it! Story of a marriage, set against WWII and a Maine summer colony.
A Little Love Story, by Roland Merullo… set in Boston. A little bit of old houses, a little bit of Boston, a little bit of 9/11, a little bit of monks, dementia, Cystic Fibrosis, and love… all that sounds like a TERRIBLE combination of story lines, but he does it really well. I think his writing is very subtle and sometimes amazing.
***
Pathological fashion obsession:
These animal bangles: leopard, elephant… I think they look super vintage-y!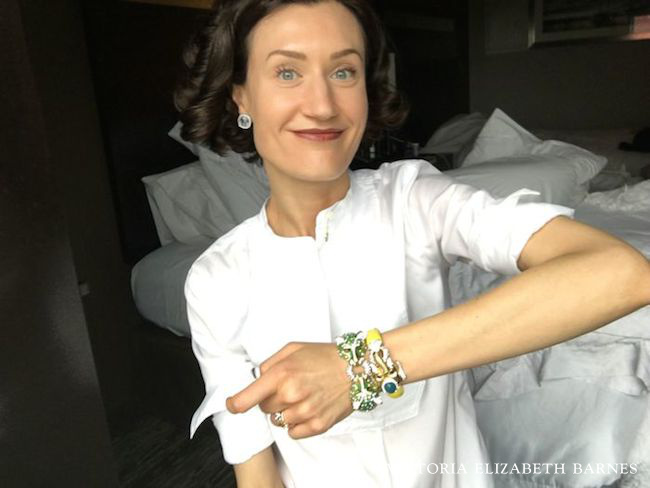 This is me texting my mother to say I arrived safely and my luggage came through so I didn't get have to wear pajama pants.
***
Foster kitty updates:
The adult foster polydactyl Kitty got adopted nearly right away! Her new mom took the time to email me and sent two photos of Kitty looking very satisfied, so I feel good about that!
The foster kittens finally got fixed last Friday… two of them have been plenty big enough to be fixed way before now, but one of the three was very sick and she didn't grow for the longest time!
I could've gotten the other two fixed when they reached weight, but they LOVE being together and I hated to separate them! It seemed good for sick kitten to have as much love as possible!
They are all healthy now and are on the waitlist for a cage at a PetSmart adoption center.
They are adorable and sweethearts.  And I will miss them! Walking away from their little faces in a cage is going to be pretty crushing.
Did we think about keeping them? Sure. I'm STILL thinking about it!
I will worry: do they have a wonderful home? do they miss their sisters? do they miss me and Paul? But there are MORE who need help.
The need is so great for foster families, that I think ultimately that will help me feel okay with it.
If you are able to get involved with your local shelter, I think you will find it so rewarding!
***
My Soapbox: boycott Canada Goose.
The trendy popularity of Canada Goose jackets is unbearable to me… not only are they filled with down (I wrote about down in this post,) they are trimmed with Coyote fur.
Coyotes are trapped in the wild, and leg traps are still legal in Canada… these animals languish typically for 24 to 72 hours before the trapper returns.
Mothers desperate to get back to their starving pups will attempt to chew off their own limbs to escape.
Animals who don't succumb to the elements, blood loss, infection, or predators are strangled, shot, stomped on, or bludgeoned to death when the trapper returns.
These are videos, taken by the trappers themselves… they are not gory. Just incredibly sad.
Equally sad is the trapper's narration… saying things like: getting the kill on video will be "neat" for people to see. Seeming to not understand the grotesqueness of videoing yourself killing an animal who has one mangled leg in a trap.
THIS IS WRONG.
There is no justification for the enslavement of other beings.
FUR = SUFFERING
Please do not buy Canada Goose products. Please don't wear fur. Please don't buy down feathers.
Please tell your friends that these products are the result of innocent animal's AGONY!
If you own fur, and you don't want to wear it anymore, you can donate the fur to to a wildlife rehabilitator— they use it to warm and comfort orphaned and injured wildlife.
If you read all of this, THANK YOU. I know that these things are terrible to confront, but it is up to us to say loudly and unapologetically that THESE THINGS ARE WRONG AND UNACCEPTABLE.