Every fall our neighborhood has a townwide yard-sale. And as I explained in last year's yard sale post, it is not unusual for me to be a few houses ahead of Paul.
I wrote:
Paul likes to talk to the neighbors. And his leisurely, garden-party-mentality makes me insane… This is not a social event. This is war. Someone will win, I would like it to be me.
This is what I mean by winning: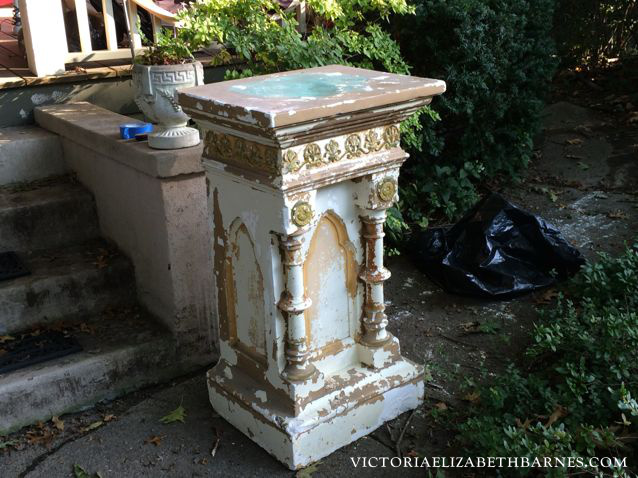 I said to the guy, very casually – what do you want for that thing?
I tried to convey nonchalance and the probability that I was the only person who would ask about it all day, so he'd better unload it while he had the chance.
In reality I was prepared to pay him whatever he wanted. (Which is why Paul carries the cash.) But I hoped it would be less than $50. So when he said – $10, my eyes did that cartoon/slot machine/jackpot thing.
Then Paul sauntered up. And I was like – YOU ARE TOO LATE TO STOP ME.
I HAVE ALREADY PURCHASED THIS ITEM OF MAGNIFICENCE.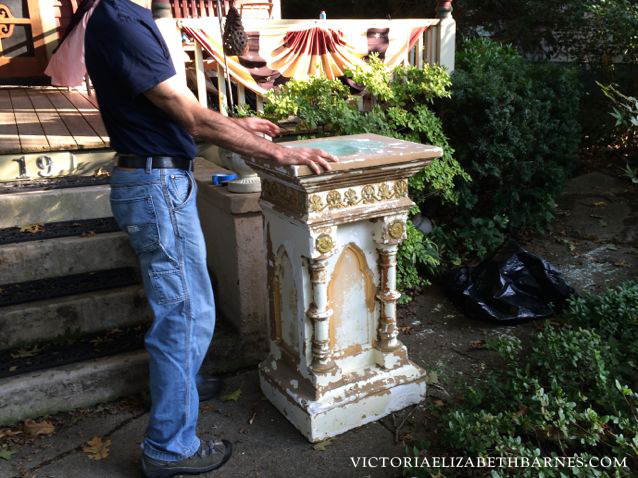 Paul was like – stop you? From buying a random piece of plaster crap? What are you talking about? I'm excited!
Then he said – You should probably get yourself a pew, so that you have somewhere to sit while I lecture you from my pulpit-of-authority-and-patriarchal-privilege.
As we were shoving it in the car, he asked – what did we pay for this? I said – $10.
Paul said – did you even bargain or did you just immediately agree to pay him whatever he wanted?
I was like – if you want to know these things, maybe you should keep up with me.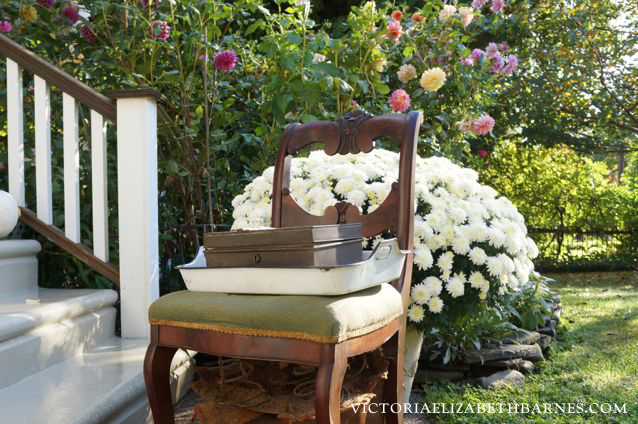 I also got:
A side chair with a petit point seat- $1.
An old metal box with two keys- $.50
A vintage enamel tray for $.10- that's CENTS, people. 
I do not remember how I came to collect these enamel pans. (One lid-as-tray here at the bottom, and a couple on the vintage medical table.) Mostly I collect the baking/refrigerator/pretend-they-couldn't-have-been-hospital-ones with lids. (Only rectangular – not the round ones.)
The tray is not in great condition but I've never seen one with handles like this, so for ten cents I was happy.
I haven't started on the chair yet… The wood is in great condition but the seat bottom/webbing tore away from the upholstery tacks. The springs are still good and it should be a simple fix.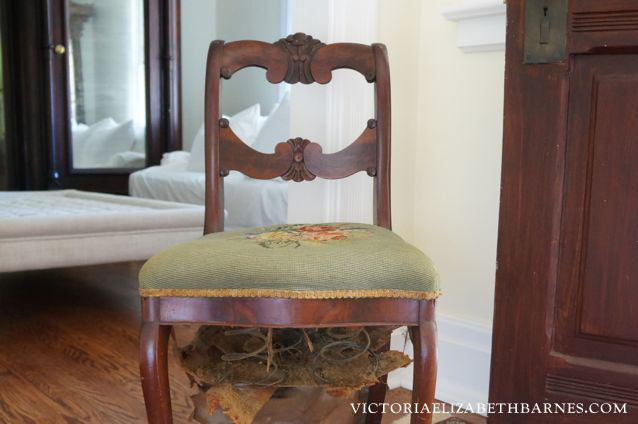 Paul said– don't leave that where someone might sit on it. REMEMBER THE TIME THAT HAPPENED AND YOU WERE OUTRAGED?
I was like– yes. I DO. That was YOUR friend. None of MY friends would come to our house and just start sitting on chairs willy-nilly.