After Paul carried in this antique spool cabinet, he stood back and looked around… He said – it's getting to be like someone's crazy great-aunt lives here.
I nodded with satisfaction. Because it's true— I am on my way.
Also, let us be clear: a superior great-aunt who wears giant cocktail rings, enjoys martinis at noon, and keeps a twenty-something stable boy even though all the horses have died.
If I can get my house like that now, it will save me so much time down the road when I need to be arranging my hat collection and shaking my fist at the neighborhood children.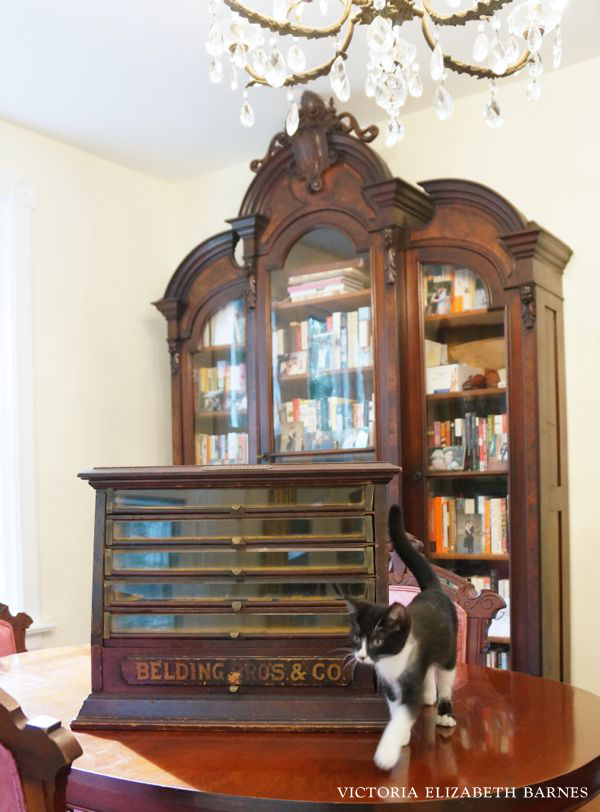 We put it on the dining room table until I figure out where it's going; the base is pretty large and it does not fit on any surface I expected to put it.
This is my favorite kind of problem.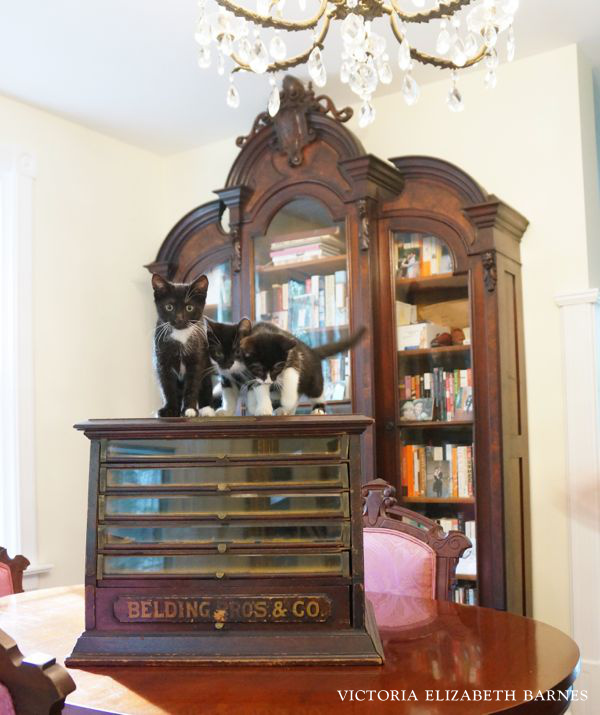 Up until now, I've been keeping my fancy bits in stacking mini cupcake carriers. They're great for the dividers and organization options.
But I couldn't see everything at once, and getting the bins out of the closet and unsnapping all the layers to look for something was decidedly UNfancy.
THIS IS BETTER.
I have been looking for an antique spool cabinet FOREVER, for exactly this purpose.
And although I was hoping for something BIGGER or BIGGEST… since I only paid $60, this will do just fine.
I LOVE the thick beveled glass and the little brass pulls and the "Belding Bros." plate… ALL of it! Plus it's nice to be able to see everything all at once!
Now. Transition to new topic.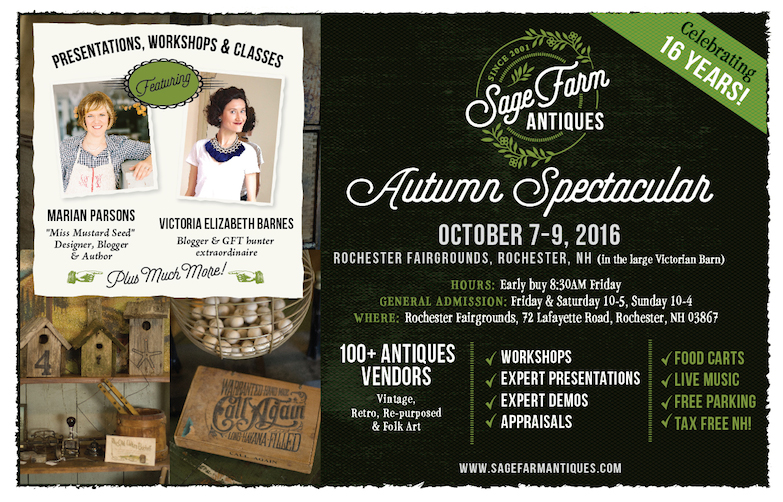 I'm SUPER excited for my trip to the Autumn Spectacular Antique Fair… 100 booths filled with antiques, vintage and re-purposed dealers, in a huge Victorian barn… 20 minutes from my best friend. It's like they created it JUST FOR ME!
I am presenting on Saturday and on Sunday… (Miss Mustard Seed too!)
I'm doing the same presentation both days (even though I was invited to present on two separate topics and even though I most certainly enjoy biting off way more than I can chew and becoming totally overwhelmed and regretting my own idiocy at every turn,) I decided to limit myself to ONE HOUR OF PURE GENIUS.
Do I have concern about this possibly-unreachable-bar-of-proclaiming-myself-the-Ludwig-Wittgenstein-of-antiquing?
Yes… That is why I have enlisted some professional help… they guarantee that their services are fail-proof.
I've structured what I have to say into five sections and sprinkled it with JAZZ HANDS and also some fascinating personal details that make me sound like I know what I'm talking about.
I've got my keynote slides all sorted out; because visual aids make everything more interesting!
Also because I am someone who needs a lot of structure.
A LOT of structure!
When I do a presentation, I need a clearly marked path… and I cannot deviate from that path or I will say something stupid.
Essentially, my brain cannot be trusted unsupervised.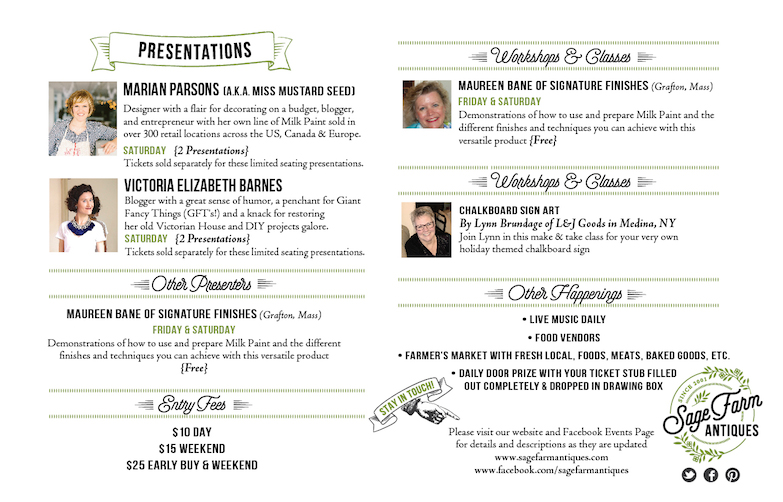 I'm telling you all of this because I'm afraid I have overlooked something obvious… and I have always found that reading about other people's experiences is a way that I process my own thoughts.
This is why memoir is my favorite genre. (Especially if the author has deliberately done very stupid things to ruin their own life.
So if you feel like sharing, I'd love to hear your thoughts on STUFF… Craigslist, auctions, estate sales, trash night… whatever you feel like.
Who/what sparked your stuff habit/what you're longing for right now/your favorite place to score good stuff/mistakes you've made/what you've learned/what you think about your stuff/decorating with stuff/what you collect/why it's interesting to you.
I think it will help me polish some of my segments by getting out of my own head!