Paul was out Saturday morning… but when he got home, it didn't take him very long to say— wait… where is the sofa?
And I was like— I sold it! I told you: I AM SELLING EVERYTHING.
He said— yes… but… where will people sit?
And I said— on the floor! LOOK HOW SPACIOUS IT IS NOW THAT THERE IS NO SOFA!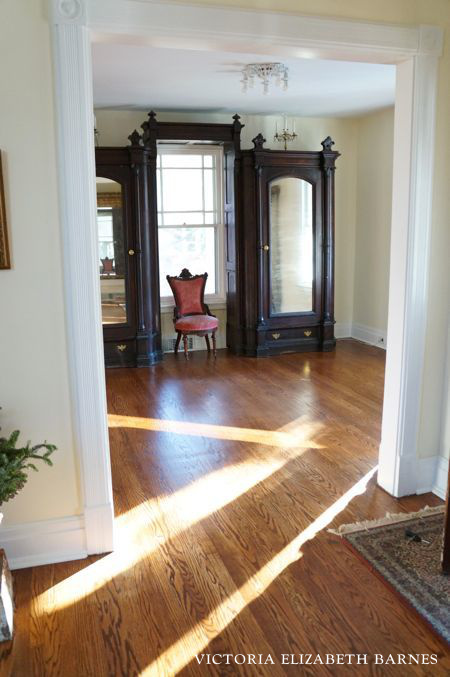 Once upon a time, I bought the English Roll Arm sofa from Restoration Hardware… it was white, because I had temporarily taken leave of my senses and forgotten that I am someone who should never own a white sofa.
I bought it shortly after the living room and dining room were finished— rooms that had been so unlivable for so long, that the transformation was almost unbelievable.
And somehow, buying a brand-new, pristine sofa seemed to hold some deeper life-meaning… like maybe NOW I would start being the new/relaxed/better version of myself I've been meaning to get around to.
And apparently that version has a summer cottage on Nantucket… I would guess that she also has a lot of nautical-themed home-accents, wears trendy statement-jewelry to the beach, and does not care if her passel of dogs and children destroy everything… because she can afford to buy more.
This is the ultimate problem with trying to be someone else – YOU ARE STILL YOU.
It can be very inconvenient.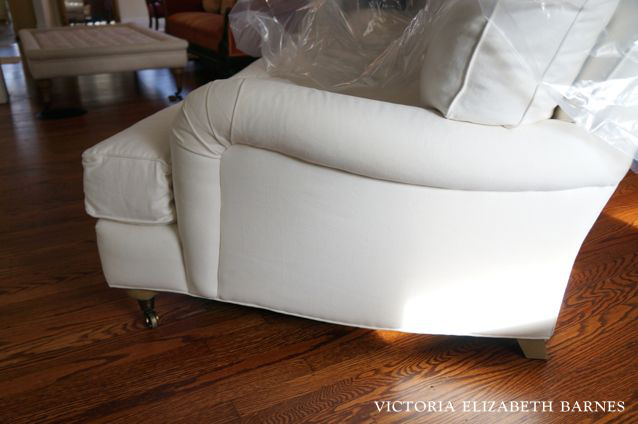 In reality, I am a very stern and unbending person who also enjoys ridiculously over-the-top ornamental objects but can only afford the broken-sort-of-crappy-ones.
My furniture should reflect this.
But at the time I was OBSESSED with this particular sofa… it's a beautiful piece of furniture, it's just that it's NOT ME AT ALL!
And I should add that this was before the wardrobe and The Kingdom Mirror, so there was plenty of space for me being brainwashed by too many inspiration-photos-of-Nantucket-imaginary-lady-lifestyle.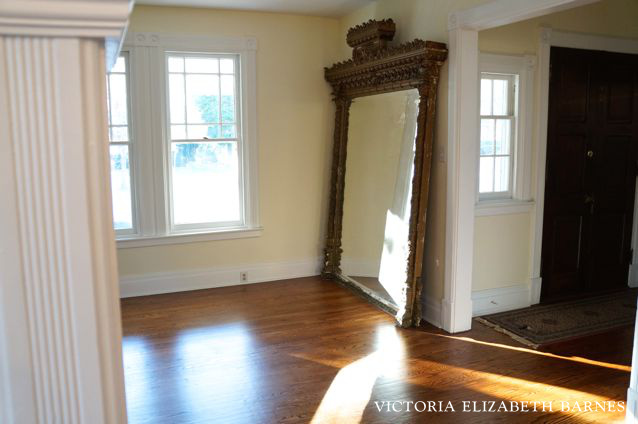 Shortly after the living room was finished, I drove by a Restoration Hardware outlet… and as I walked in, they were bringing out the EXACT sofa I wanted!
In the moment, it was an easy choice.
It was still wrapped in the delivery plastic, because whoever ordered it failed to measure their space correctly. And it was ONLY $1,000. (Please use the word "only" in the loosest sense possible.)
"Only" seemed to apply because with tax and delivery, this sofa will run you close to $4,000 brand new… I have no idea who spends that on a sofa (—> says the woman eager to spend way more on something far less practical).
And can I just add that with the exception of Ikea, the price range for a large sofa is shockingly high, considering it's basically some two-by-fours and foam.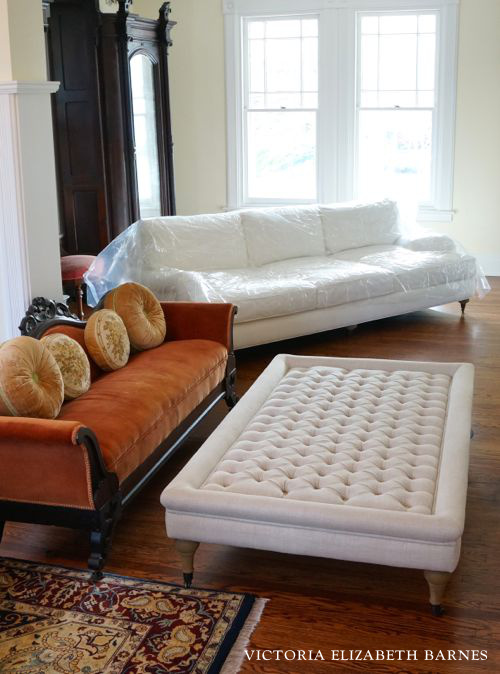 But over time, I started to question spending so much money on something completely uninteresting and utterly non-GFT* (*Giant Fancy Thing)… especially as you can see, that there is NOTHING about this room now, that wants a sofa from Restoration Hardware.
Paul tried to make me feel better by pointing out that we DO genuinely need a place to sit… and that theoretically that seating should be comfortable… and that ALSO theoretically, that seating should not collapse under our guests… you know, just as a matter of courtesy.
But it didn't matter… for me, once I am disillusioned with something, there is no re-illusioning.
I ended up seeing the sofa as a representation of my own failure to think rationally and critically… and it is not lost on me that I am applying those feelings to possibly the only purchase in this house that MOST people would feel was reasonable.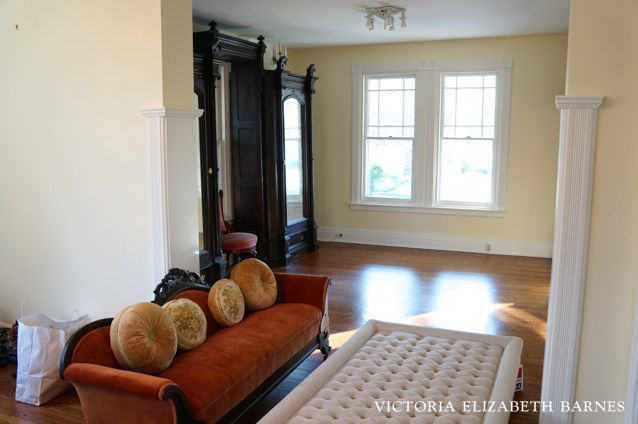 There was another element too: I began to see the purchase as uncomfortable evidence of my susceptibility to advertising… I was grouchy that I unwittingly participated in aspirational-internet-brainwashing.
Dedicating space in my house to a SOFA that could otherwise be used for SOMETHING FANCY = not what I am about.
Then, in what I presume was a move to rub salt in my wound, RH sent me a catalog equivalent to the weight of a small child… any company that sends out 20 pounds of paper for you to throw in your recycling bin are pretentious asses, no matter how good their visual design team is.
Also, yes FINE. There is the tiny detail of how I knew I could sell it for significantly more than I paid and how I need money for the mystery GFT.
And now I am going to be really serious for a few paragraphs and try to rectify what I see as a horrible moral failing on my part.
I have real anxiety about telling you this, because I think you are entitled to judge me as unbelievably ignorant: after I got the sofa home, I realized that the cushions were wrapped with a down layer around the foam.
I cannot overstate my horror.
Down (and any fur product!) are atrocious torture for the animals… and somehow I managed to support this barbaric practice.
If you're unfamiliar with this heartbreaking industry, I hope you'll take a minute to educate yourself… here is a very brief overview… there is also a short, two-minute video that I hope you'll consider watching. Is it easy to watch? No. It is horrible… But if we allow ourselves to turn away because our feelings are inconvenient, this unspeakable life of misery for these animals will continue.
So! Sofa!  Let's recap:
1. not a GFT.
2. made out of morally-abhorrent material.
Girl, no. Bye.
I've rearranged the furniture, and because I am so prepared a hoarder, I have enough chairs in this house to seat a small army. Maybe even a medium-sized one. So I am not necessarily in a hurry to replace it.
Although– SURPRISE! There is a sofa on Craigslist that I've been watching.
I actually went to look at it and I did really like it, but I could not come to an agreement on price with the seller because she does not realize that I am the ONLY person who will buy the thing from her because:
A– it is horribly uncomfortable, and
B– everyone I've showed a photo of it to has said something to the extent of: that is really hideous… by which I assume they mean glorious awesomeness that they will be jealous of.
If I could have gotten it for a REALLY good price, I would have bought it; but right now my priorities are not seating… I have one goal: put all money towards Arkansas fund.
I also looked at this sofa because it is fairly inexpensive at $500, and matches the ottoman, but then I was like, ummm hello? Is that a GFT? No. It is not. SO I DO NOT NEED TO BUY IT.
see all my favorite Craigslist finds