I was in Old City this weekend, filming a movie.
It's a noir thriller… A tale of intrigue and surprising revelations.
Written by me. Also, directed, by me. And (obviously) starring me.
In other words – I started my Halloween post. AND IT IS AWESOME.
(last year's Halloween front porch)
I am single-handedly redefining the phrase – stupendous magnificence.
Not to mention the phrase – making a spectacle of myself.
Clearly, Sassafras, on 2nd street in Old City is the only suitable setting for my masterpiece.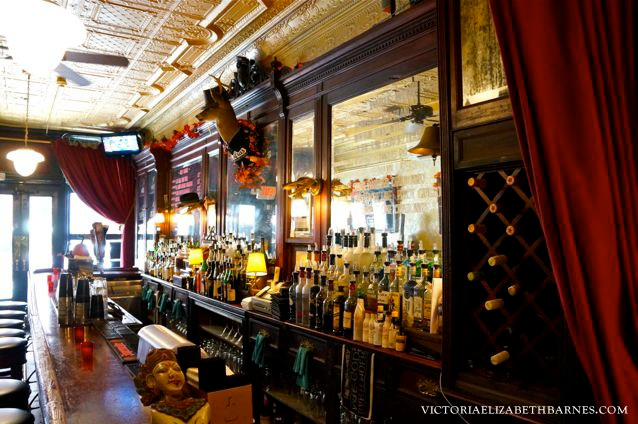 Originally a Longshoremen's bar, within walking distance to Front Street, and almost to the Delaware River.
It's operated as a bar & restaurant (with a brief stint as a speakeasy) continuously since it was built – sometime around 1870.
The bar survived Prohibition, and the midcentury design-plague known as paneling… But it nearly did not survive my attempts to dismantle all of it and shove it in my handbag.
I whispered to Paul – go get your chisel. I need to take this tile home.
Then I climbed up on the bar and hugged it.
And yes, that IS the original tin ceiling.  And also why I always carry a GIANT handbag.
Old City is a few small blocks in Philadelphia… full of historic buildings and cobblestone streets, bars and restaurants, art galleries and coffee shops, and the kind of boutique that only sells useless stuff.
I used to go out here ALL the time, back when I was cool.
That would have been the early 2000's. An unfortunate time when techno music was really popular, so that anywhere you went, you could not hear yourself think.
I met Paul, right around the corner from here, at the now-defunct Five Spot.
You cannot know the depth of my love for this place, without understanding that my original plan was to go to The Ritz. And film in their lobby/bar… really fast… before getting kicked out.
I cannot say I was looking forward to that.
At all.
And then, it turns out that The Ritz has done something horribly misguided with their interior design. Something that involves mirrored cubes and purple uplighting, and apparently it has been like that for a while… So I guess my preproduction team needs to get out more.
So I posted on Facebook – does anyone have a contact at a classic bar or restaurant in the city?
And not even two hours later, a total stranger wrote – my best friend owns Sassafras.
Sort of like if I had posted for a leading man… And Channing Tatum had responded– also known as the best possible scenario.
Aside from having perfect taste in friends, my total-stranger savior writes a food and cocktail blog.  And if you are having a holiday party, you should be making her recipe for autumn-spiced cocktails.
And then you should invite me (and Channing) over.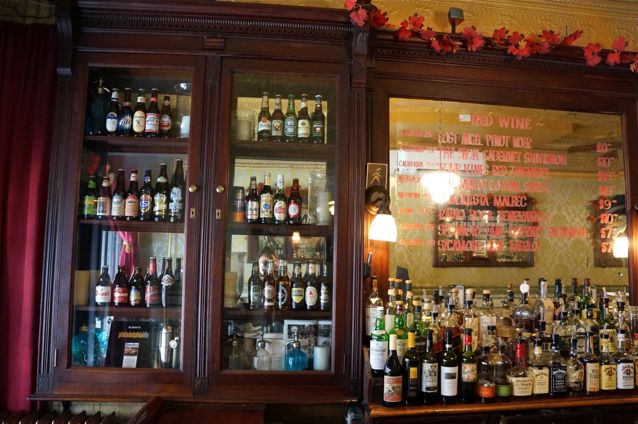 When I finally finished and got back to the car, it was just like old times– I got a parking ticket.
Unlike old times, I did not get towed. Or forget which lot I parked in.
Or get hit on by any lacrosse players.
Also unlike old times, I had a husband cameraman in tow… And he was irritated that I did not set the alarm on my phone,  like he told me to, to remind us that the meter was going to expire.
I was like – seriously? Do you think Al Pacino is responsible for feeding the meter?
Probably not.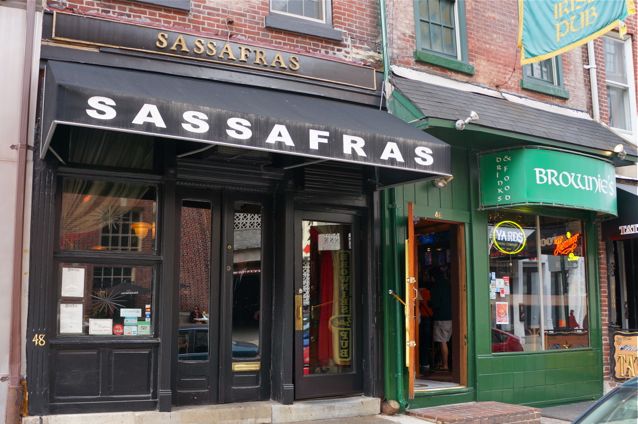 So… if you live in Philadelphia. Or sometimes go to Philadelphia. Or one time you visited Philadelphia…  I would LOVE to hear your favorite place.
But please leave out anywhere that is so unbearably pretentious it makes my teeth hurt.
(I am talking to you, Stephen Starr.)