Vacation was great.  Coming home and getting back to real life?  Not so great.
We were at the beach for a week and if you saw the photo of the car on Facebook,  you were amazed to discover yet another way Paul is the luckiest guy on the planet.
It's not every man whose wife takes a rice cooker on vacation.
I can only imagine the depths of your envy.
We were in Stone Harbor, at the Jersey shore.  If you're not from the area, that might make you think I was with some frighteningly-spray-tanned, overly-muscled drunk people…  I'm pretty sure that show has singlehandedly crushed tourism in the entire state of New Jersey.
But Stone Harbor is south, near Cape May… they pretty much don't let you in without searching your car for Tory Burch and chevron beach coverups.  I fail this inspection every time, but I just act extra snooty and claim that I forgot it at home.  This seems to fool them.
We all got to do our favorite things.  I got to go to overpriced junk shops.  Paul got to do beach stuff.  Elvis got to sleep in the sun.
And the best part is that my whole family was there, at the same house we've rented for the last 10 years… a place where my brothers and I immediately regress 20 years and let my mom do all the cooking.
Thanks, mom!  Sorry you have such horribly lazy children.
I guess it's sort of your own fault since you raised us.
Who knows what you did wrong.
Be glad you're not getting a post about the giant pile of laundry in the foyer or how much Elvis hates to travel in the car… Instead, you're getting photos from Cape May—the town is a national historic landmark because of all the Victorian architecture.
The only reason we haven't moved there permanently is because we are not millionaires.
A small and totally irritating factor.
If you've never been, you're missing out on the rage that accompanies the realization that other people's families were smart enough to amass fortunes that they passed on to their children, so that they could lead privileged lives of Victorian summer houses and general awesomeness.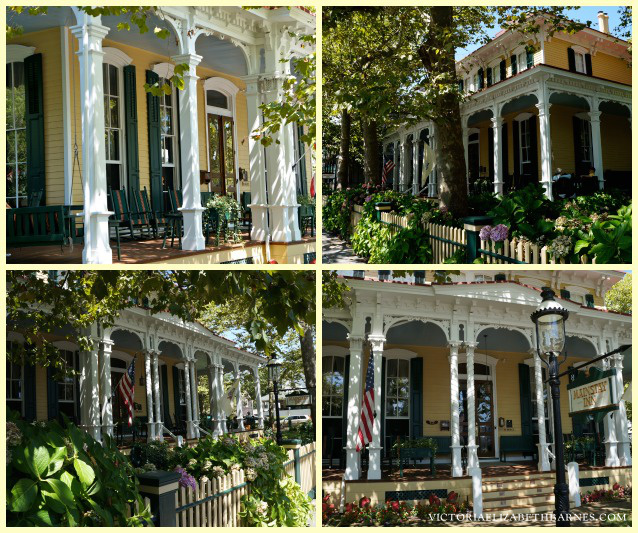 By 1834, Cape May began to attract the elite of New York, Baltimore, Washington and Philadelphia. Music pavilions and ballrooms blossomed. And so began its reign as the Queen of the Seaside Resorts.  Source – History of Cape May, NJ
Congress Hall began life in 1816 as a simple boarding house for summer visitors to one of America's earliest seaside resorts. Its owner, Thomas H. Hughes, called his new boarding house "The Big House."  Source –  Cape May in Vintage Postcards.
Aside from beach stuff and houses we cannot afford, I had another notable happening last week: Rhoda at Southern Hospitality blog featured me.
If you like house-stuff, you probably already read her… but if you're new, start with her totally DIY house tour.
If you are a blogger, you did a double-take and said—wait, Haven blog conference Rhoda?  She's sort of a big deal around internet land.
Even more than the thrill of being acknowledged by blog-royalty, the post she wrote about me was so kind.  It taught me the meaning of blogging-generosity.
And the more I thought about it, the more I took out the word "blogging" as a preface and appreciated it for what it is—just plain generosity.
For about five minutes I thought about writing something meaningful about random acts of kindness… but was totally distracted by the opportunity for some kind of Blanche DuBois moment and comparing myself to Tennessee Williams.
Obviously I needed to crop myself into a black and white photo with Vivien Leigh and also wear a peignoir… But vacation/crushing expectations of real life/having to go to the grocery store interfered.
As soon as I can afford to hire someone to live my life for me, I will dedicate myself to nothing but pasting myself into landmarks of American cinema.  Look out, Scarface.
I will love you EVEN MORE… if you share me with your friends.