The Dahlia Show is at Longwood Gardens!!
Earlier this summer, I had proselytized on behalf of Benary Giant Zinnia.
But I'm amending that recommendation…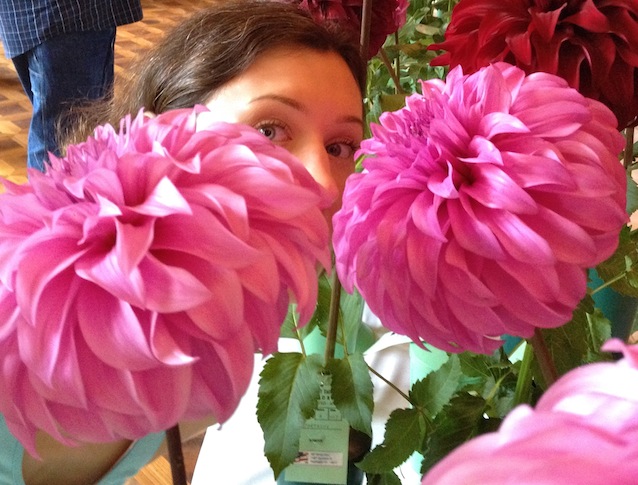 Only plant Benary Giant Zinnia if you want near-instant gratification, and summer-long bloom.
If instead, you have patience?  And love staking giant plants, and waiting until summer is nearly over, and disbudding and pinching?  You can have these: mind-bogglingly huge flowers.
I forgot to note these two cultivar… But here are some monster-sized options.
The Dahlia show was at Longwood Gardens over the weekend… Longwood Gardens consists of Pierre du Pont's home, conservatory, greenhouses, arboretums, and open-air amphitheater.
If you're interested, here's the link to Longwood Garden's history…
The centerpiece of the estate is the massive Conservatory opened in 1921.
To be clear: that entire building spanning the back of the photo?  Is a conservatory built in the twenties.  NOT his house.
I know, right?  It would be so at home in my backyard.
Including a pond, so I can grow that dinosaur-looking plant:  water-platter.
The snowball chandeliers are part of a light-installation by Bruce Munro.  We didn't stay until it was dark, but those chandelier-looking things have fiber optic lights in them.
And?  Cannot be that hard to make.  If you have some glass balls.  And, um, fiber optic cable.  And.  Uh.  Electricity?
Bruce Munro Snowball Chandelier.
They also had them along the woods path.
At some point, when we have nothing better to do, and are looking for a frustrating project to regret starting, maybe we will try this!
More random photos of the estate, fountains, greenhouses and other pretty things after the jump…