My entire approach to home décor, (and life in general) is:  how can I make this shinier?
I'm like Liberace.  But without a piano.  Also, I don't like loafers.
I walk around shouting—BORING!  Give me more rhinestones!  Bring me sequins!
Where are my leisure suits???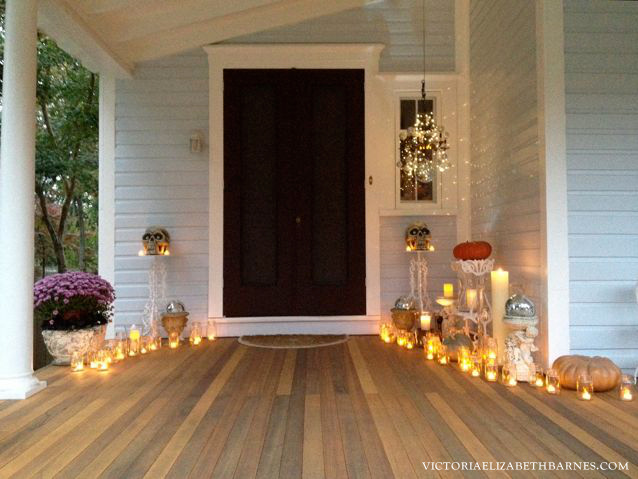 So considering that, I'm not sure why it took me so long to break out the disco balls for Halloween.
Why did I not make a disco light fixture before now?
What is wrong with me?
A while ago, Paul brought home this sad, antique brass chandelier he got out of the neighborhood trash… It's spray painted black, has all the crystals stripped off, and is missing one of the light sockets.
I was not enthusiastic.
Until I was out in the garage for the Halloween decorations and realized: Whoa… what that needs is some disco balls.
And?  Since I'm me?  I have ALL the disco balls anyone could possibly need to make a disco chandelier without leaving their house.
My foresight is impressive, no?
I hot-glue-gunned disco balls to where the light bulbs should go.
I did try to keep the glue out of the socket.  Just incase at some point Paul takes leave of his senses and thinks he has nothing better to do than refinish it.
I hung the other mirror balls using Christmas hooks in the holes where the chandelier's crystals used to be attached.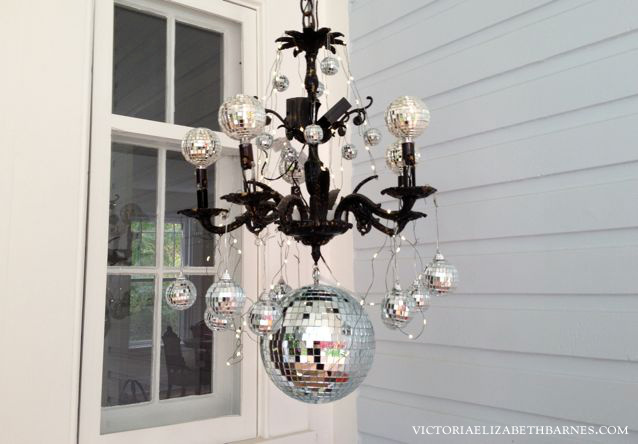 Obviously if you're going to make your own,  you could use something other than disco balls.  I don't know why you would, but maybe you feel really strongly about mini pumpkins.  Or tiny flashing skulls.
Or actual Christmas ornaments, if you're planning ahead to December.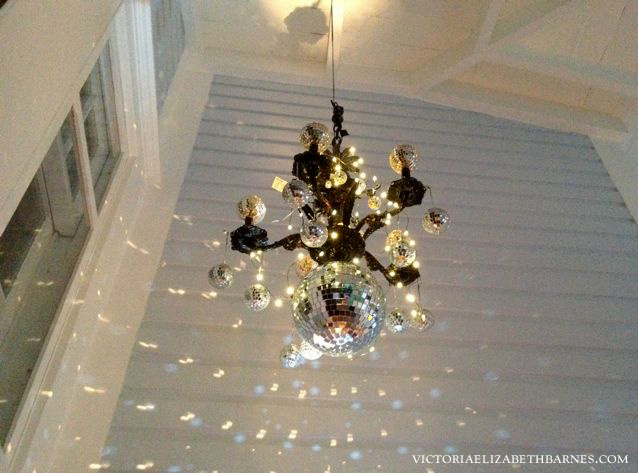 As a light source, I'm using a string of tiny, LED battery-powered lights– also out of my Christmas supply. I've seen them called rice lights.  Or fairy lights.  But what you actually want are micro led lights.
Rice or fairy lights have an actual visible socket, but the micro lights are incredibly small, and incorporated into the cord.  The ones I got are on a slim wire that you can mold and shape.  I just draped them like garland from one arm to the other.
Mine have a timer in the battery-pack so you can set them to come on and off automatically.  I got them last Christmas and am happy with them…  One set of batteries lasted the whole season.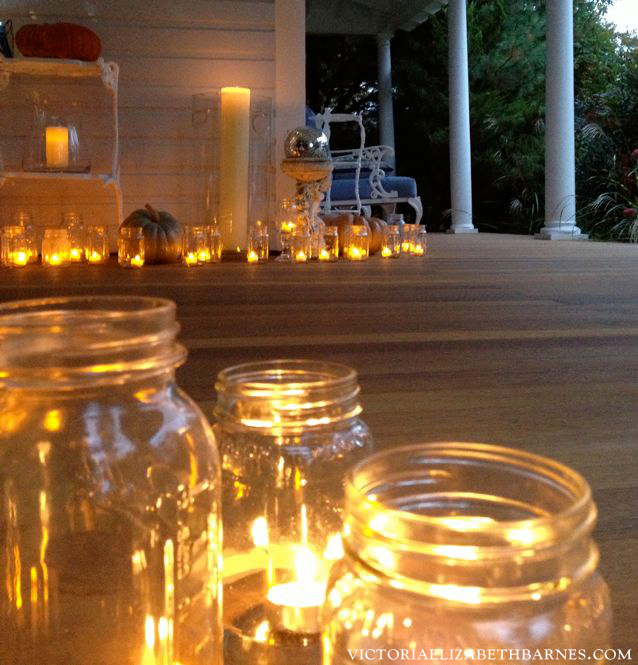 I definitely need more light surrounding the mirror balls I glued in the chandelier sockets… once it's dark, you really only notice the largest disco ball.
But?  For completing an entire project from start to finish, using only what I already had, and not leaving my house for supplies, I'm pretty pleased.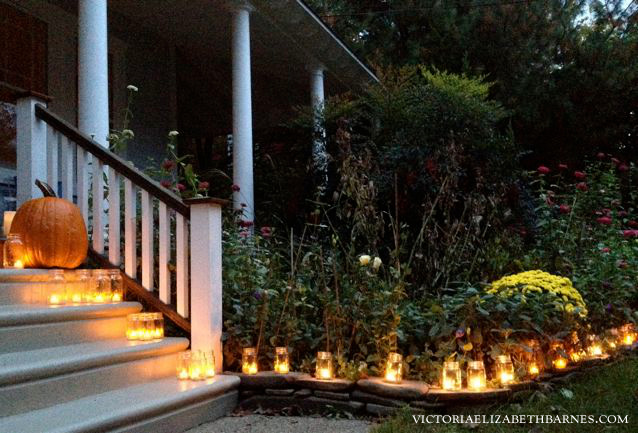 Obviously, my chandelier will go back up with my Christmas porch decorations.
Hopefully by then, I will think of a better way to get more light where I want it.  I had tried propping battery-powered tea lights in the cups of the candelabra arms… which did look nice—the votives give off a surprising amount of light, but I want something I can set to come on automatically, not something I have to remember to go out and turn on every night.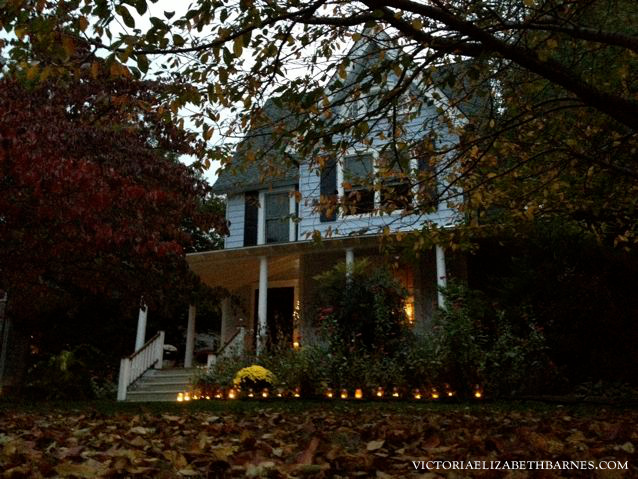 Also for next year, I need to figure out a light source for my disco skull's eyes.  It would be so much better if they were sparkly at night.