As you can see, Paul is building the cabinet bases for the kitchen.
The plan is that we will order drawer fronts and he will do the rest.
We mocked up the space to decide what is a good depth for the cabinets.
Reminder, they will be extra deep.
We can go to 37″, but when we built a model at that measurement, it was proportionally/visually too much… we took it back to 32″ (to the finished-counter-overhang) and that feels about right.
With the exception of the sink base's door and the dishwasher panel, everything will be drawers.
I found drawer-pull hardware I LOVE— I was searching for unlacquered brass, so will patina over time.
Obviously I was looking for something ridiculous, so I was VERY SURPRISED to like something so… how do you say… understated?
And yes, for the record, I did price out having the piano drawer's hardware duplicated… it was $lol.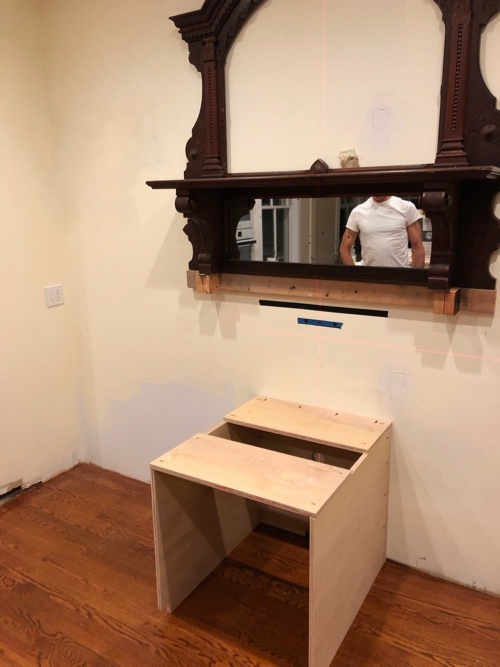 Above, we are making a model of the sink– to be sure specifics/proportions feel "right."
I wrote a post here about our plan for a custom kitchen sink.
Recap:
It will be normal depth, top-to-bottom.
The part we are changing is the length, front-to-back… since the space EXISTS, why not USE it!?
We need to decide where the drain will be located.
The Kohler sink we had expected to use (and got on Craigslist) has an offset drain; so does the large Rohl fireclay, visually my favorite, (but I wrote an entire post about why we decided AGAINST fireclay.)
An offset drain maximizes your in-sink work area without blocking the water flow/garbage disposal… so we are considering moving the drain back towards the wall.
On the other hand, we plan a drain rack across the back… so we sort of pushed the drain marker around and said things like– here? here?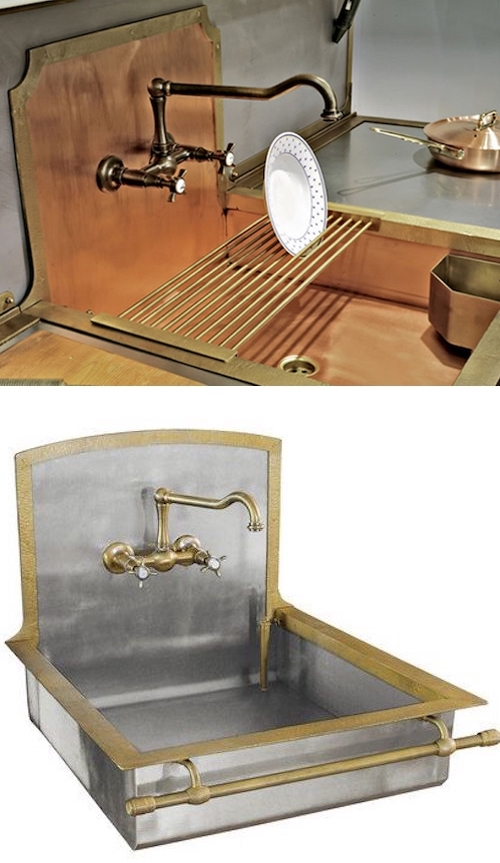 So.
For those of you who did a custom kitchen sink, where did you put the drain?
Reminder: our faucet-location is not a factor because the faucet is articulated – regardless of where we put the drain, we can set the faucet above it.
Ok.
That is all.
In service of keeping you up to speed on the kitchen, I have absolved myself of the requirement to make it interesting.
Also, I have a different post I'd rather be working on.
I have acquired a THING.
I cannot WAIT to show you.
IT'S STUPENDOUS.
And small!
I could carry it around under my arm.
It is for this room.