I love troubled men.
And fancy things.
I accidentally married an untroubled one, so now I have to make up the difference with fancy things.
It's going pretty well.
However.
There was a problem.
I would be in New Mexico when this was auctioned off in Philadelphia.
If you know anything about auctions, you know that if you MUST have it, you must GO to the auction… and if you know anything about ME: nothing on earth will keep me from this mirror.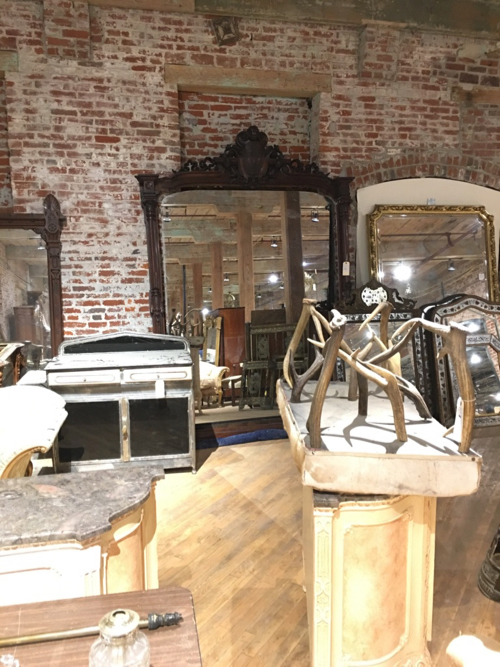 Self was all— well, now you cannot go to your brother's wedding… that's too bad!
But rather than alienating myself from the only people who are legally required to love me, I set up a phone bid with the auction house.
Self said— a PHONE bid?
No.
You must be UNWELL.
A DANGER TO YOURSELF AND OTHERS.
SOMEONE CALL 911.
Hello, 911?
I need to report a GFT* emergency.
*GFT = Giant Fancy Thing
When I went home that night, I forgot to mention it to Paul because I am smarter than people think.
Plus, FOR SURE, right now, would NOT be the best time to present a truly CONVINCING argument for MORE MIRRORS.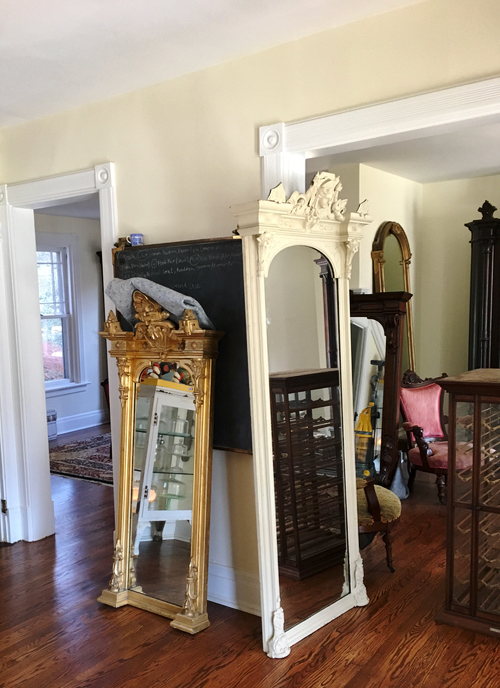 If you are new, welcome!
I AM A HOARDER OF GIANT FANCY THINGS!
here's an index of all my best fancy things!
or start here–> with the antique grand piano we turned into our kitchen island.
or–> the time I bought a KINGDOM on Craigslist.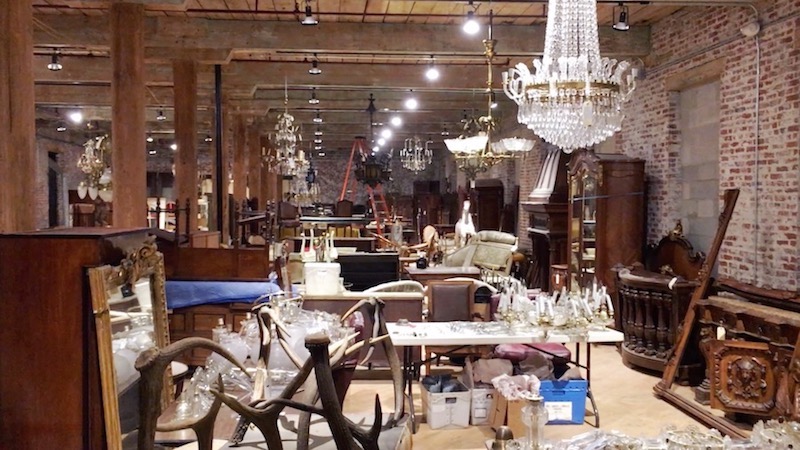 This auction-preview day was WELL before the actual auction, and the next few weeks of my life were total chaos; I was going to be gone for nearly three weeks, and getting myself organized was so much brain-consuming-stuff, that by the time I finally got myself to New Mexico, I had completely forgotten about the mirror.
Until auction morning, when my phone pinged me, and I abruptly remembered that I had failed to (casually) let my husband know that I was planning The Nuclear War Of Fanciness.
And yes, to preemptively answer the question prompted by this next photo… my life really IS this amazing.
So.
This is how I came to be riding through New Mexico on auction day; trying to buy a MASSIVE MIRROR in Philadelphia, THAT I HAD NOT DISCUSSED WITH MY HUSBAND… who happened to be completely unreachable, on an airplane.
This was not my intention.
I do not shy from battle.
I wade in.
My armor is so shiny.
THE ENEMY IS BLINDED.
BUT.
I am very particular about the battle plan.
Done correctly, you can annex entire countries, and THEY WON'T EVEN REALIZE.
I actually own all of Belgium.
No one has even noticed.
But if you just drop an unannounced nuclear weapon, with no subtlety at all… PEOPLE GET… LIKE… SUPER MAD.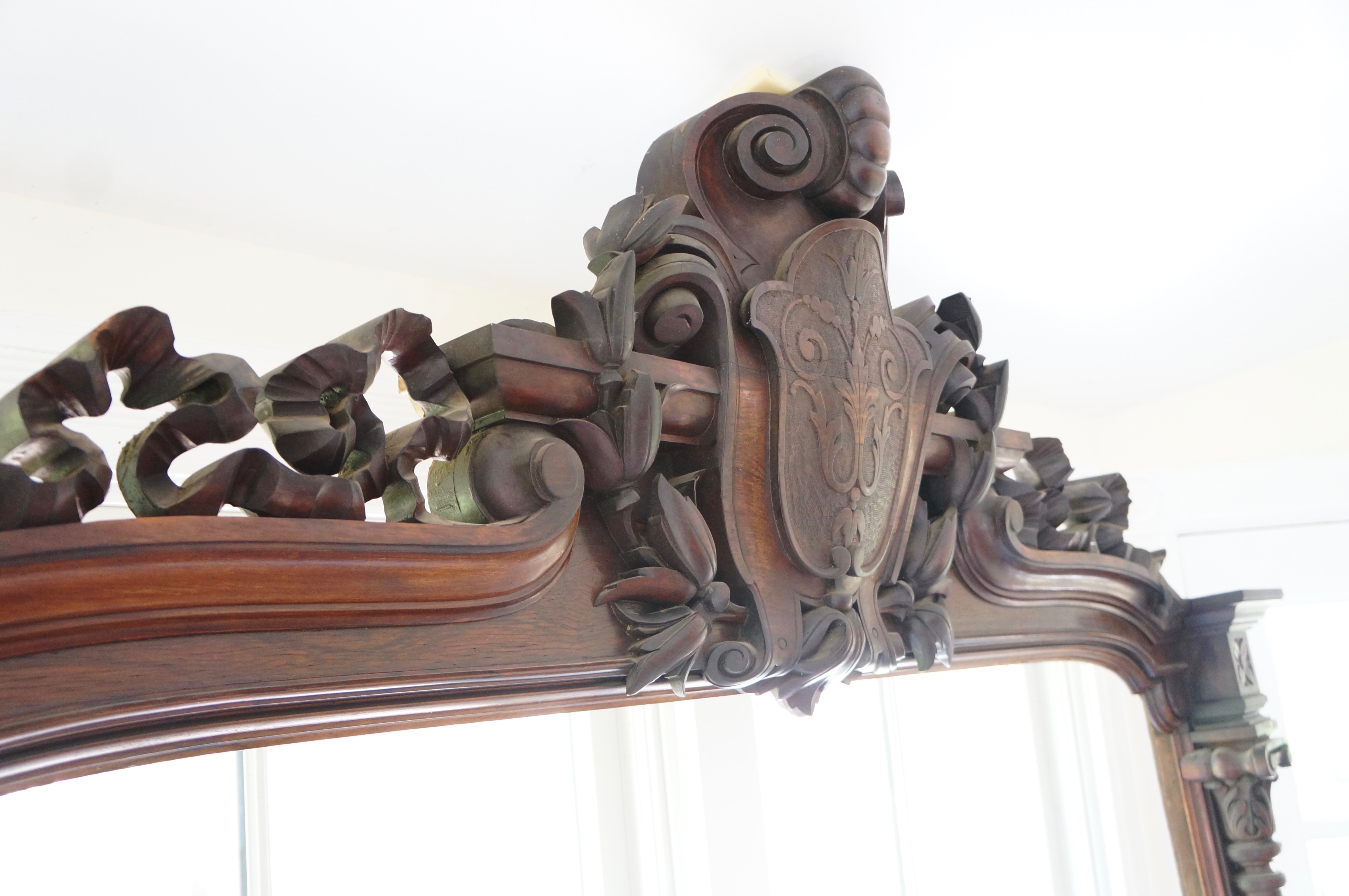 Now.
We need to pause for a moment, to emphasize another issue that is happening: I am in NEW MEXICO.
Do you know what that means?
Let me tell you.
In the entire state of New Mexico, there is NO CELL SERVICE.
Move there at your own peril.
THE TUMBLEWEEDS ARE REAL.

and
um
also
thereisoneothertinylittlething
The glass of this mirror is… uh… notsecuredintheframe.
And… um… Paul is going to be incredibly angry with anyone who tells him he is moving a nine-feet-tall, six-feet-wide, sheet-of-glass, that is attached to nothing.
So. Incredibly. Angry.
I guess I'm going to have to find someone else to tell him.
Something you need to understand about Paul is that he is INSUFFERABLE about safety.
And obviously, I am someone who KNOWS insufferable; so you can take my word for it that he is FACTUALLY the WORST EVER.
If he sees you doing something unsafe, he is FILLED with RIGHTEOUS INDIGNATION… like a Boy Scout from the Old Testament.
Then he must speak about it AT LENGTH; using a tone that conveys his most-sincerely-held belief: that you are actively TRYING to kill someone.
I mean… I'm not remotely convinced that it's even possible to kill someone with awesomeness.
But I can give it a try.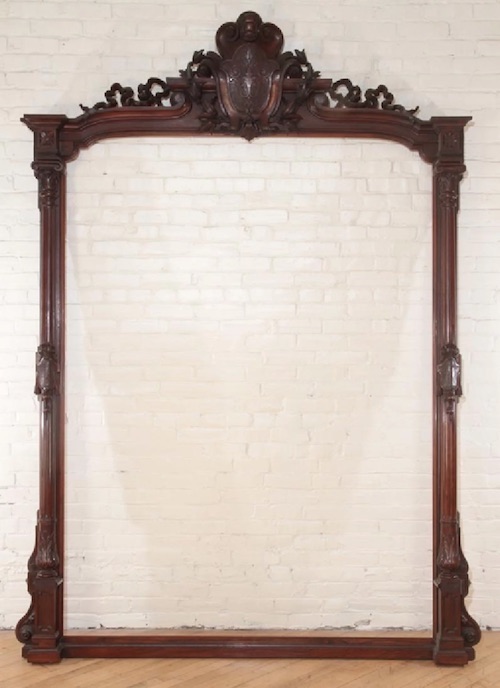 Okay.
We now have all of the information to proceed.
The afternoon of the auction, my brothers and I were driving through New Mexico, along scenic-cliffs-of-death, eating yams, and discussing all of the ways our parents are completely to blame for our horrible personal shortcomings.
I clutched my phone and counseled myself with a radical idea:
choose sanity.
FORGO the auction!
So simple!
CHOOSE TO BE IN THE MOMENT.
POSSESSIONS ARE A DISTRACTION FROM THE TRUE MEANING OF LIFE.
Also:
You do not HAVE to act LIKE A CRAZY PERSON.
I counseled myself quietly… grinding my teeth and foaming at the mouth; but in absolute silence, because to give voice to my distress, would be to confirm to my brothers that I am exactly as ludicrous as they believe.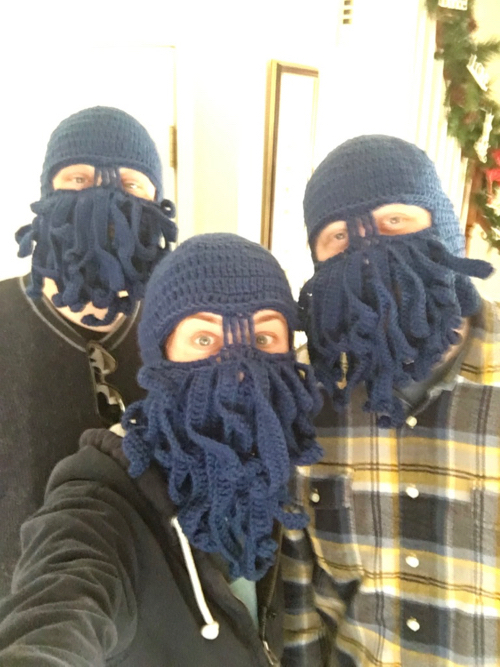 On one hand:
CHOOSE NOT-CHAOS!
CHOOSE NOT-RAGE HUSBAND!
Also, CHOOSE NOT GETTING CARRIED AWAY AT AUCTION LIKE THAT ONE TIME WITH THE URNS AND THE UNKNOWN ASSAILANT.
Can anyone explain WHY ON EARTH I might believe I am capable of bidding RESPONSIBLY on the thing I HAVE MOST EVER WISHED TO OWN?
No?
Me either.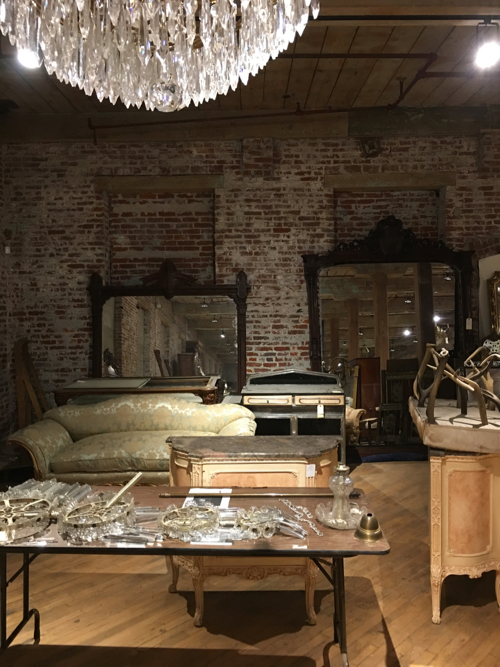 The problem with auctions is that you don't actually know what the price is.
The problem with auctions is that I have impulse-control issues.
When it suits me.
Which is always.
And I was DEEPLYacutely aware, that my COVETOUS CLAW HANDS for this monstrosity, FAR exceeded my budget.
I wanted to pay no more than $3,000.
(the price I was certain I could get somewhat-quickly for The Kingdom Mirror.)
But my interest level was uncomfortably close to $19,000.
Important side note:
I do not believe we have $19,000 in couch change.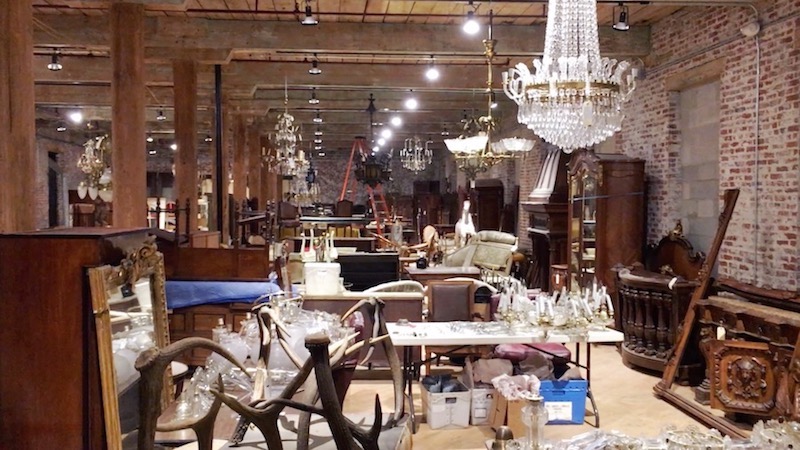 Riding in that car in New Mexico, I am not sure if I have ever previously experienced so many different streams of competing distress.
bankruptcy
cell service
hoarding
divorce
Self was in a panic… refreshing the live-feed on the auction's app, which kept crashing, while I genuinely HYPERVENTILATED that I might MISS the phone call from the auction house.
As my lot crept closer to the top spot, I was very literally sweating and nauseous… we were driving in and out of cell-service… and I just STARED at my phone, mesmerized; watching my ONE BAR appear… and DISAPPEAR.
I was stuck in a loop of panicked uncertainty.
What would happen?
Sanity?
Insanity.
Sanity?
Insanity.
I pulled my hoodie all the way over my entire head, down over my face, while breathing meditatively through my nose; while mentally screaming at my brother— WHY DID YOU MOVE TO THIS UNCIVILIZED LAND?
But then my phone rang, and it was the auction-house-guy… he said, hi— I'm calling about lot #401… we are 5 lots away, please hold.
In that moment.
I experienced clarity.
What Suzanne Finnamore calls a "grand klong" to the heart— a phrase I have adapted to mean the rush of adrenaline that fills you with hysteria; not because you are in danger, but because you RECOGNIZE THAT YOU ARE DOING SOMETHING EXTRAORDINARILY STUPID AND COMMIT TO IT JOYOUSLY WITH THE FULL REALIZATION THAT YOU ARE GOING TO BE IN BIG FAT TROUBLE.
I commanded my brothers— PULL OVER!
authors note: it turns out that my COVETOUS CLAW HANDS face is utterly terrifying… so I've spared us… but you might not notice because of my professional photoshop skills.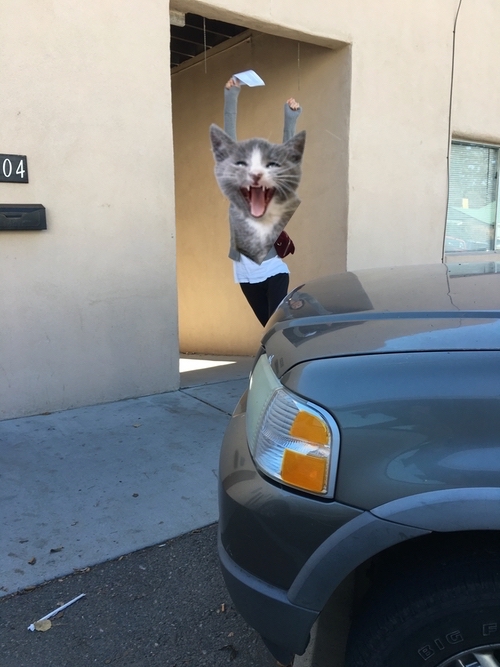 Auction-phone-bid-guy was SUPER soft-spoken.
And I was standing NEXT TO THE ROAD, with my ONE BAR of service that disappeared if I moved three feet in either direction.
You cannot tell in the pictures, but the MAIN ROAD is right in front of me… and there is SO MUCH traffic because apparently, this is the only road in the entire state.
It is an understatement to say I was having a hard time hearing ANYTHING.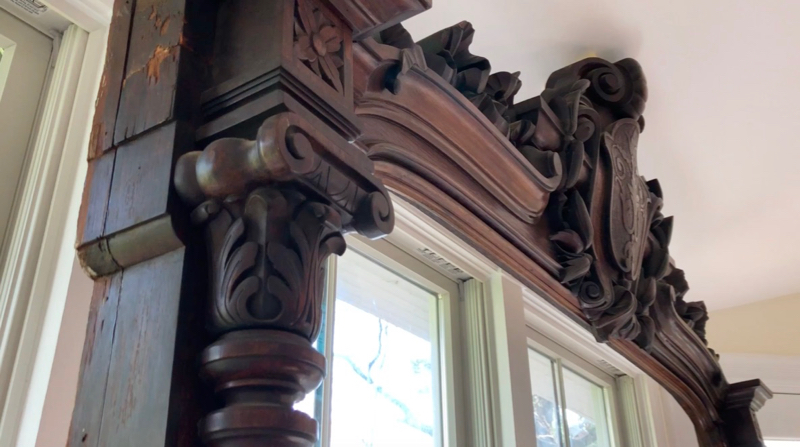 Also, LITERALLY I was SHAKING.
My hands were VIBRATING.
My BRAIN was vibrating.
I kept asking— what lot are they up to?
Now what lot?
Now?
Auction-phone-guy finally said— ok, your lot.
I realized:
this is the defining moment of my life.
I vibrated around on the asphalt, while semi-trucks roared by; trying not to vomit from adrenaline, clenching my COVETOUS CLAW HANDS, while also trying to remember my absolute-top-have-you-lost-your-mind-crazy-bid price, while also reassuring myself that if my marriage ends in scandal and divorce… AT LEAST IT WILL BE A GOOD BLOG POST.
Self was like— GIVE THEM ALL OF THE MONEY.
HOLD NOTHING BACK.
GROCERY MONEY IS STUPID.
FOOD IS FOR AMATEURS.
YOU ARE A WINNER.
This is how I came to stand on the side of the road while spending $1,300 in five seconds while stuffing my finger in my ear and shouting: YES.
MINE.
I cannot overstate how good it feels to be The Unknown Assailant.
Cue music: Eye of the Tiger.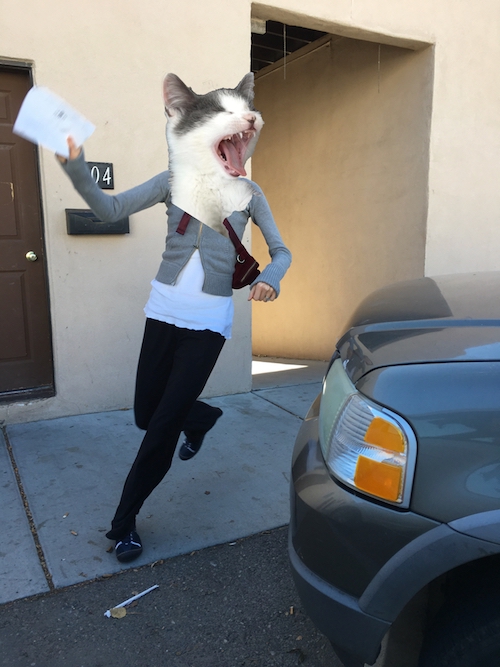 Then I called Paul and told him and he said ok.
The End.
No.
Paul and I were about to spend a week in a car together!
Paul is THE MOST FUN when he is feeling satisfied with my existence, and THE MOST UNFUN when he is feeling the endless ways I am a giant headache and he was a total idiot to saddle himself with this unwieldy life-necklace of crazy.
It will not surprise you that I prefer MOSTFUN Paul, to MOSTUNFUN Paul.
And we had a great time in New Mexico… I was SAD to come home!
I was even SADDER to walk back into our own foyer and be smacked in the face with my inconvenient collection of GIANT CRAP.
Weirdly, it was all right where I left it.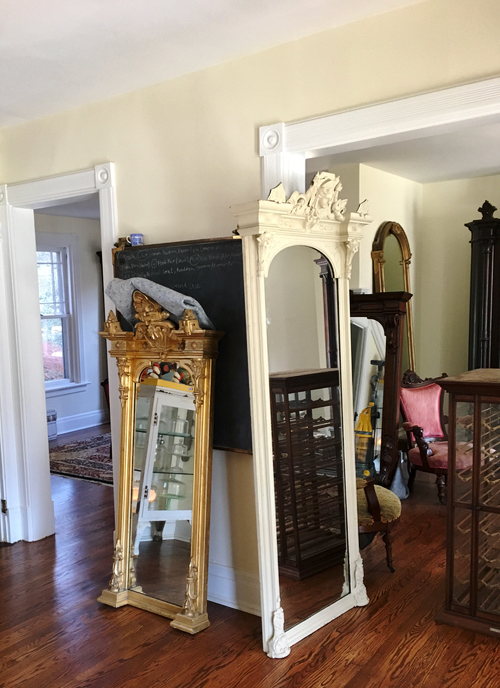 And.
Of course.
I was reminded of the NEW yet-unrevealed-to-Paul monstrosity.
I figured now was as good a time as any.
I said— I DID A BAD THING AND I DON'T KNOW HOW TO TELL YOU.
Paul looked… I don't know… some kind of way.
I said— I bought a mirror and you're going to be reallymad. somad.
But instead, he looked… relieved!?
Which really made no sense on SO MANY LEVELS.
I'll give you a second to absorb this below.
But Paul had a different theory!
He gestured around at the ongoing-expansion of the mirror emporium… he said– I probably won't even notice!!
I said– good point! LET'S GO TO BED AND NEVER SPEAK OF THIS AGAIN.
But then he ruined everything.
He pointed at the gilt pier mirror that was leaning up against the hinged brass chalkboards… he said— is it bigger than that one?
I was like.
?
?
?
i'm sorry?
are you asking me if it's bigger than the SMALLEST mirror?
is that what is happening?
are we playing a game?
have we even met?
He pointed at the painted lady… he said— bigger than this one?
I nodded.
He pointed at the Renaissance Revival auction mirror.
I nodded.
I could tell.
I finally had his attention.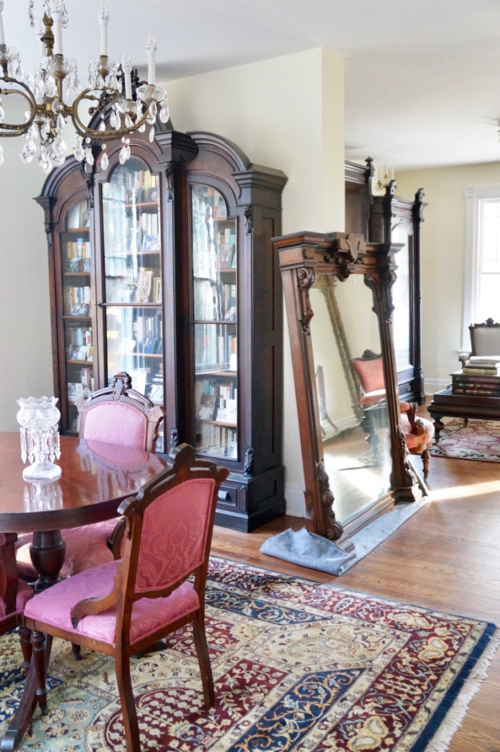 He pointed at the gilded mantle mirror in the foyer.
I nodded.
Silently.
With a very, very, very, small motion.
To convey the ABSOLUTE LARGENESS OF WHAT I HAD PURCHASED.
He looked at me.
I looked at him.
I could see him weighing the question in his mind.
It was the ONLY logical progression.
I watched his face gain clarity.
It was like he COULDN'T believe it… but also, he COULD BELIEVE IT.
He stated, INCREDULOUSLY— it's bigger… ? than…? The Kingdom Mirror … ?… ???… ?… ?
He said this, with such DISBELIEF… it was like he could not even BELIEVE that I was ACTUALLY PERMITTED TO FIND SUCH A THING.
I nodded… and I whispered– alsotheglassisnotattachedtotheframe.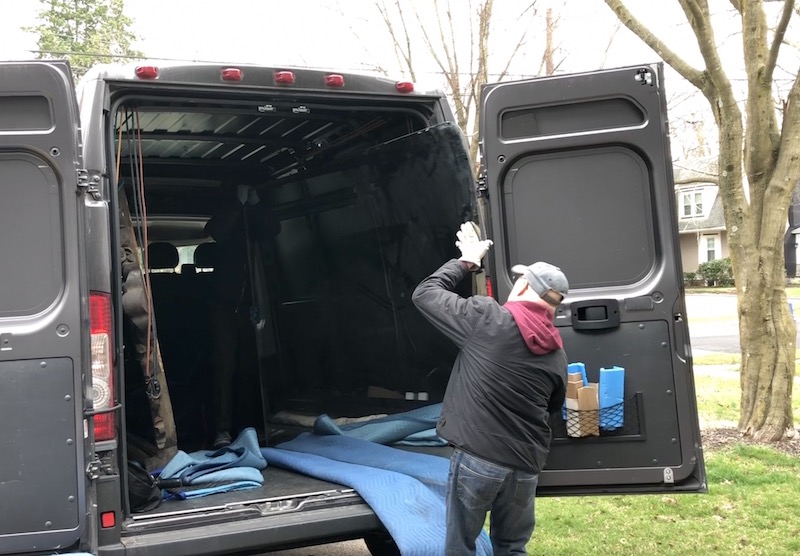 I could see Rage Boyscout, entering stage left… SPRINTING, really… rifling the 57,000 pages of notes to his fire-and-brimstone-keynote-presentation-of-doom.
So I clarified the terms for him… I said— I could not, NOT have it.
It was unacceptable TO THE UNIVERSE.
EVEN IF YOU DIVORCE ME OVER THIS MIRROR.
I AM NOT SORRY.
MINE.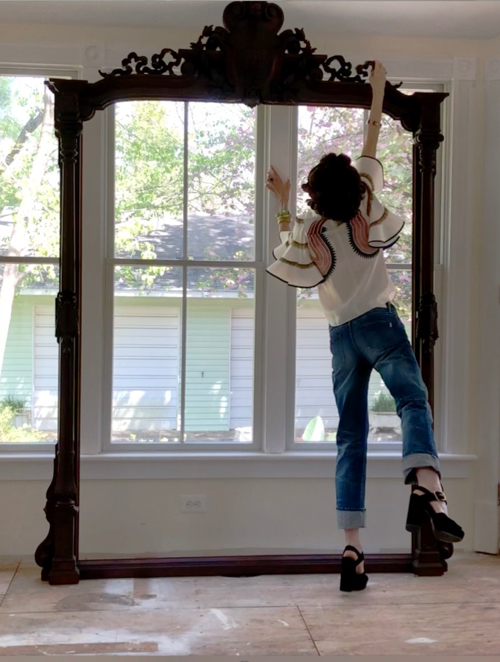 What I did not say out loud is: I'm fairly certain I can find another male human.
Possibly a Marine.
Or an Elvis Tribute Artist.
Or FIVE Marines AND an Elvis Tribute Artist.
THEY HAVE APPS FOR THIS!
All you do is SWIPE!
But this mirror?
This IS the only one.
Also.
THIS IS A VISUAL REPRESENTATION OF MY SOUL.
THUS NO ONE ELSE MAY HAVE IT.
Facts.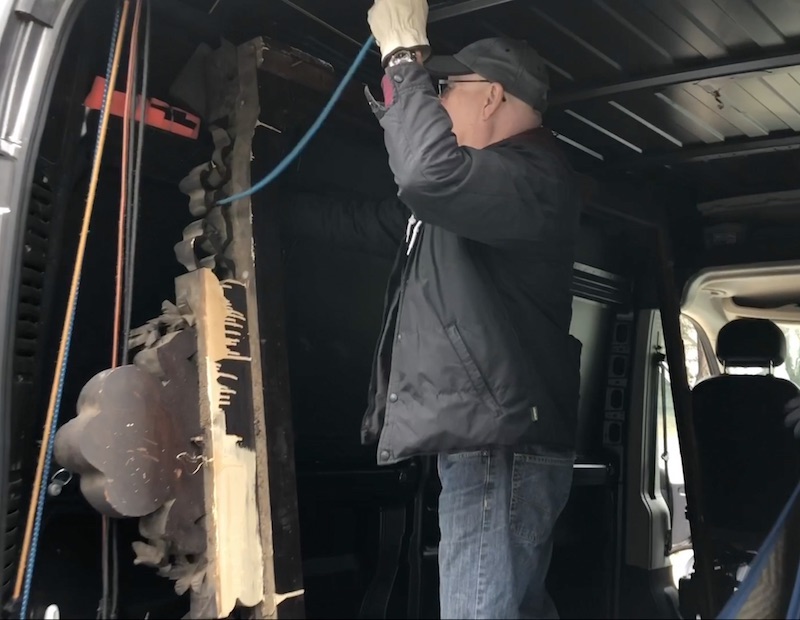 So.
I get some Marines, an Elvis impersonator, AND this mirror.
or
I get to keep my husband AND this mirror.
Either way, I win.
But.
I knew Paul was REALLY IRRITATED AND EXASPERATED WITH ME and IT'S ABSOLUTELY TRULY MY LEAST-FAVORITE THING IN THE WHOLE ENTIRE WORLD.
But also.
I don't actually care.
Because I own all of the things.
FYI, though:
You should still pretend to care.
Otherwise, people will know that you are a sociopath.
So.
I hung my head.
I pretended shame.
After shame, comes reward.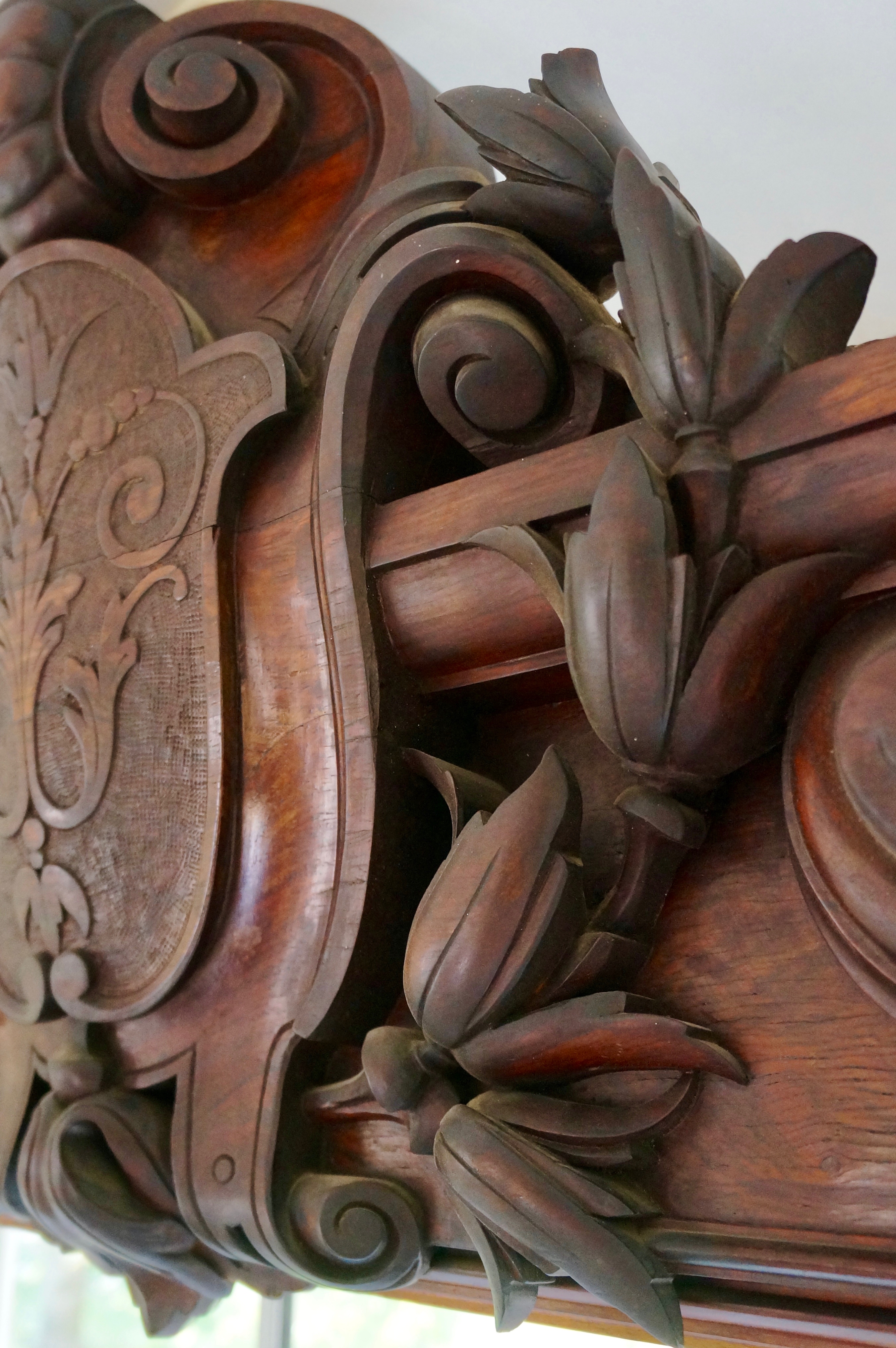 Epilogue:
Because life is chaos, an unusually crazy work schedule for Paul, taking him as far as Hawaii, and this auction house not being open on weekends… this was scheduled a total of FOUR different times, and we had a serious snowstorm the night before every.single.one… five times was the charm.
We are still married.
I CANNOT WAIT! to tell you the next piece of this story!
Love from Belgium,
xoxo
VEB