SEE OUR FINISHED KITCHEN, HERE
In designing our kitchen, I have read a LOT about other people's choices.
What they love.
What they hate.
What they endorse.
What they regret.
My initial response to every item was– I MUST HAVE THAT!
However, given time and space from the ideas, most are things I can live without… but since I did the research, I might as well write the dissertation— so I have compiled my data into a wall of text you will probably only find interesting if you are planning your own kitchen remodel.
If you have a favorite kitchen layout/gadget/tool/space-improvement… I WOULD LOVE TO HEAR YOUR KITCHEN ENDORSEMENT.
Here is an index of ALL my kitchen-related posts.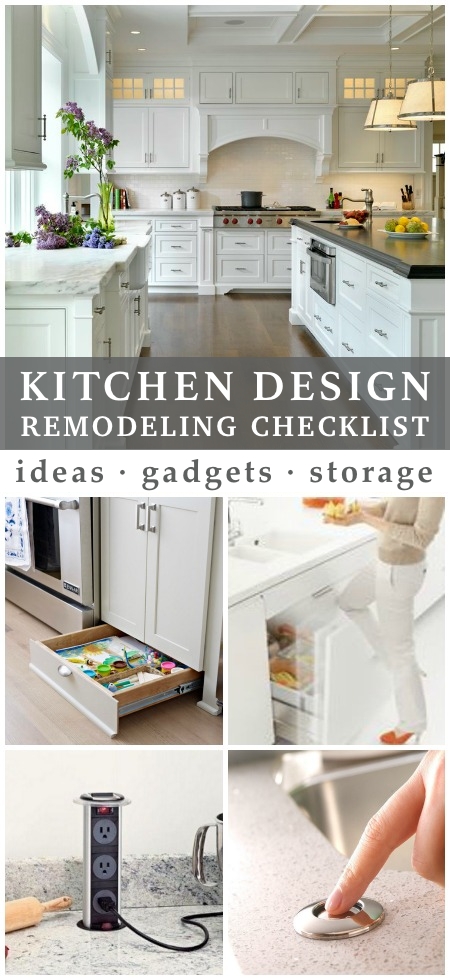 I've grouped the items into categories:
-Tech & Gadgets
-Layout & Design
-Cooking & Cleaning
I began with the intention to explain every item, link to an example, find a photo… which got tedious FAST. So, anything not self-explanatory, Google is your friend.
Technology & Gadgets: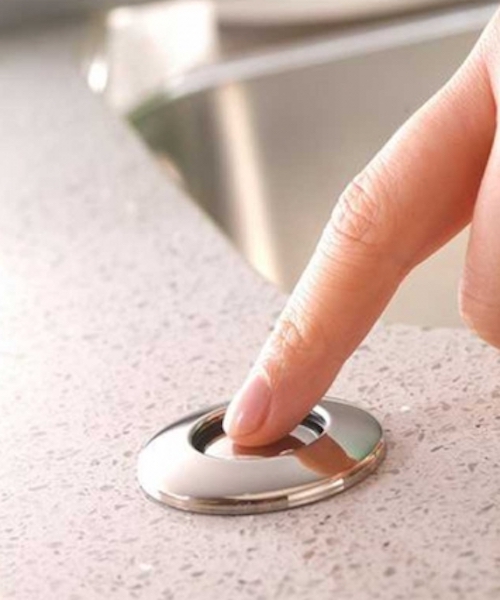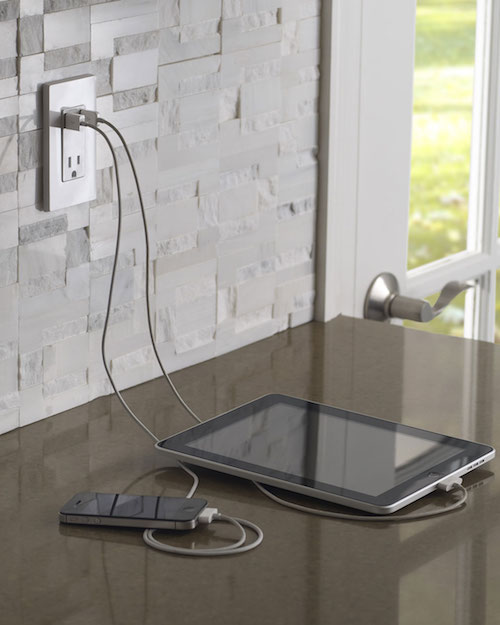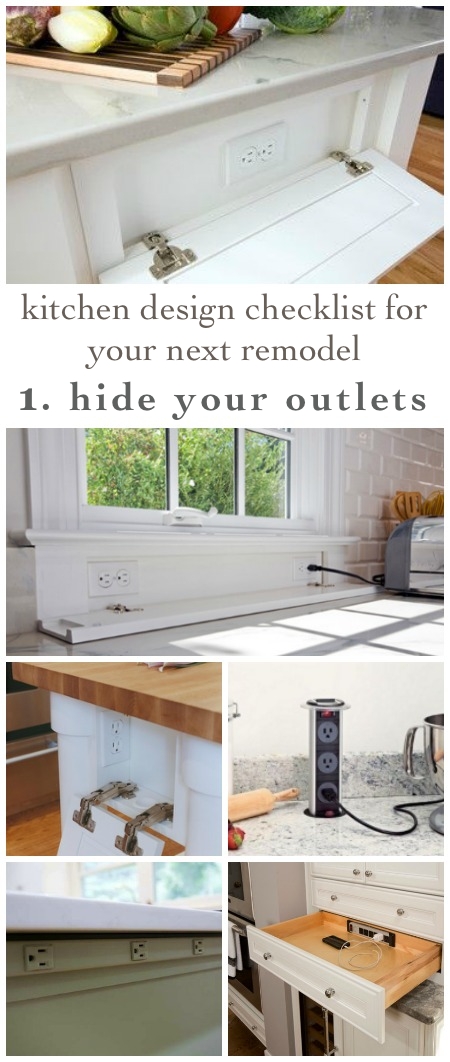 Cooking & Cleaning: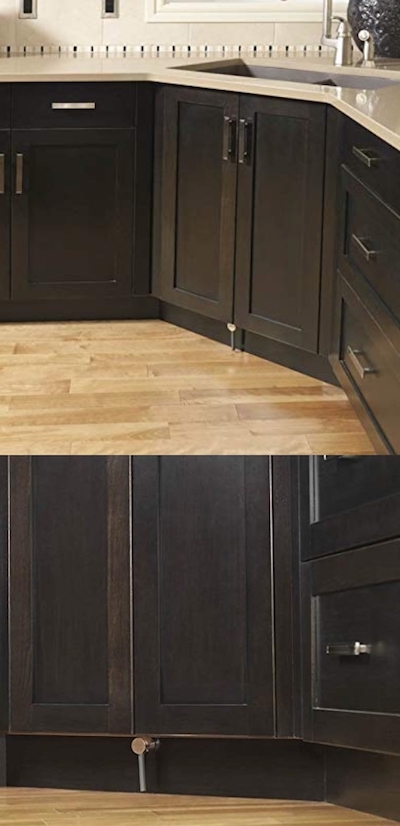 Wall mount faucet— frees up countertop space behind the sink traditionally occupied by a deck-mount faucet.
Pot filler.
Integral drainboard.
I am NOT including a hood because as I've disclosed, I LOATHE A RANGE HOOD.
Sink with off-set drain– some people love a sink with two bowls, I prefer one big workspace.
Speed cook oven.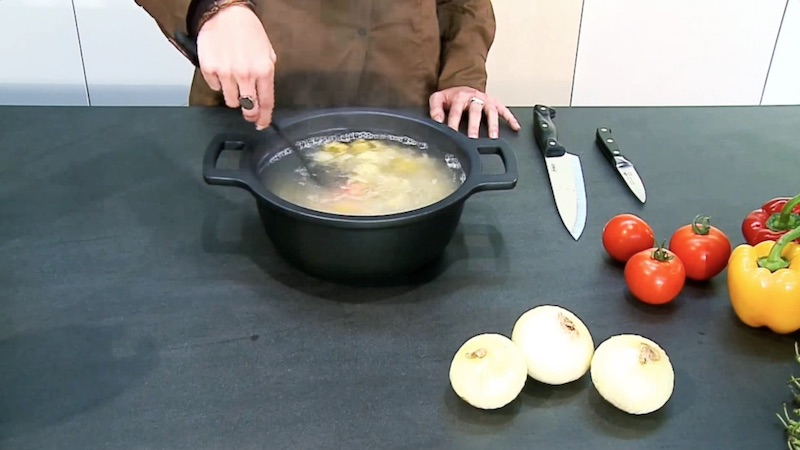 Layout & Design, ideas to consider: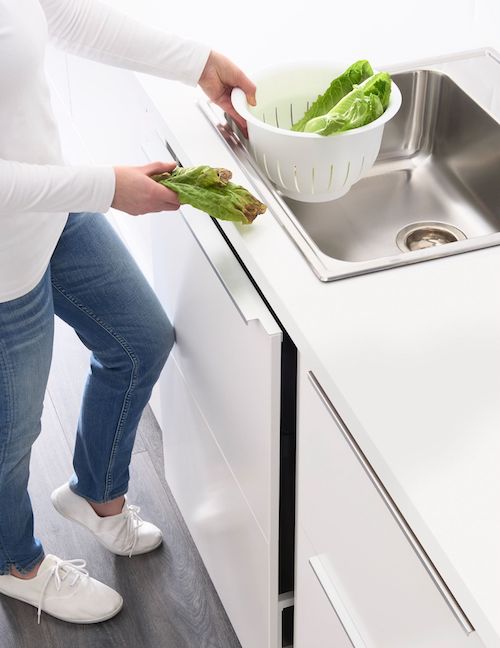 Kornerking, in-cabinet organizing system for corner cabinets.
Unanimous advice from every single chatboard: drawers over shelves… this is why we are doing all-drawers– because the internet said so… I hope they are right.
Full-extension, soft-close drawer glides (most-recommended is Blum)
Hinge-sensor light switches for cabinet/pantry doors: the light comes on automatically when the door opens… I have also seen this IN drawers. It's NICE.
Inset vs partial overlay vs full overlay cabinets.
UNINTERRUPTED counter space.
Consider a solid material for the backsplash– no grout to clean!
Vertical storage for cookie sheets.
Use a simple photo editor to try out different backsplash options.

still my all-time favorite kitchen– Pilar Guzman's brownstone remodel

Plan a place for awkward items that you use frequently – food processor, mixer, etc.
Distinct work zones with relevant tools stored there.
Steel supports for island overhang.
Under-cabinet molding/trim to add furniture-like design elements.
Extra deep drawer for vertical stacking of utensils.
Compost bin– our solution is a five-gallon bucket (sitting out in plain sight)… if you have a better plan, PLEASE SHARE! Everything hidden seems to me, A– TINY, and B– questionable to have decomposing food hidden in a cabinet?
Toe kick drawers.
Drawer organizers.
Spice drawer/storage.
Overhead pot rack.
Paper towel holder.
Pull down recipe holder.
Place to store step stool.
 

 

 

View this post on Instagram

 

 
Positive/or flush/ or negative/ reveal on sink.
Proper aisle sizing.
Maximize natural light.
Good overhead lighting.
UCL LED lights on dimmers.
Spray arm.
Integrated sink.
Cabinets all the way to the ceiling— use molding riser if necessary.
 

 

 

View this post on Instagram