Paul has been infected by the kitchen ideazzz.
It is glorious.
Or Stockholm syndrome.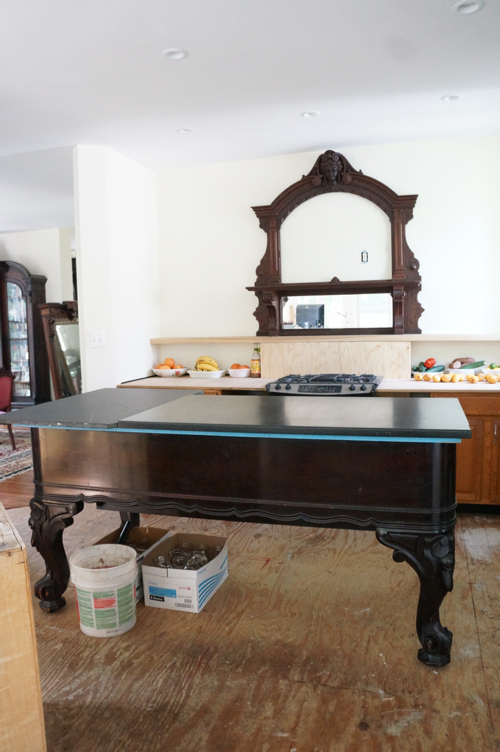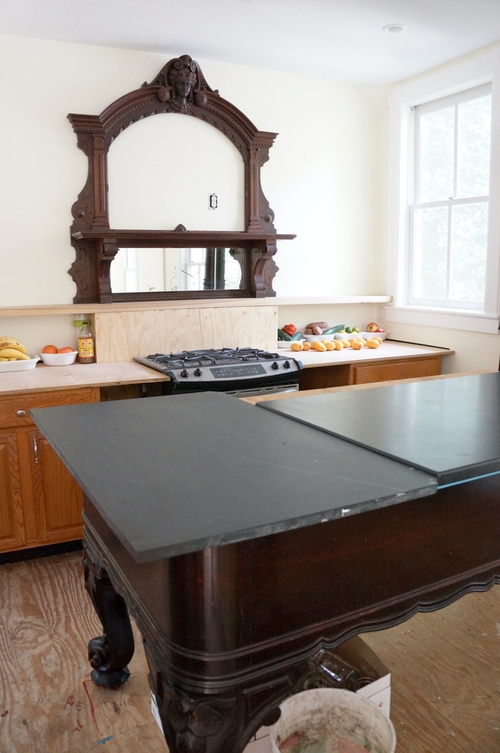 If you ever wonder why bloggers repeat themselves.
It's because whatever we don't repeat, is the thing we needed to repeat.
So.
Extra-deep countertop on wall A.
Paul added 10" to traditional-counter-depth— this space is already defined by the two side walls, so we are just maxing out the usable square footage; not intruding further into the room.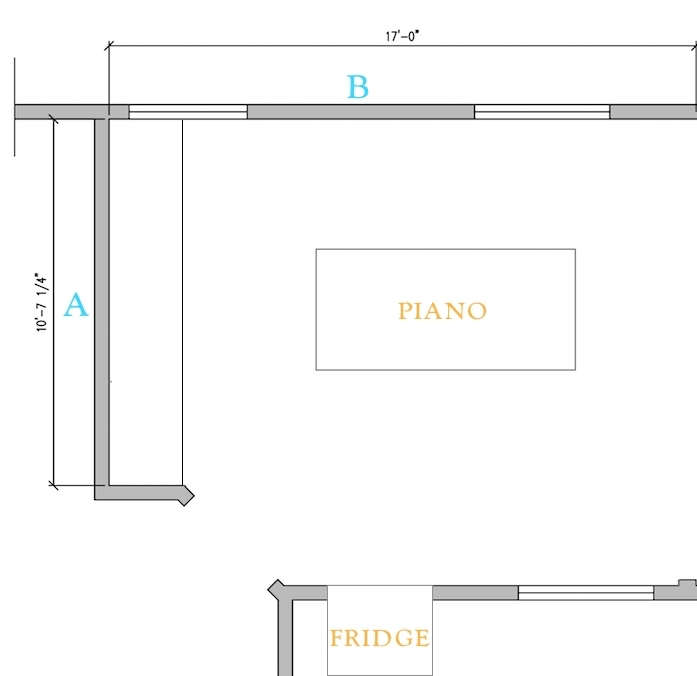 He built a mockup because I am deficient in being able to feel "right" about something until I can TOUCH IT and SEE IT.
I need to know that things will be EXACTLY as I am imagining them.
Also, I thought the countertop might be "too deep."
Now?
Now I don't even know what "too deep" MEANS.
Has anyone, in the history of ever, been using their perimeter countertops, and thought– GEEZ I WISH THIS WERE NARROWER WITH LESS ROOM!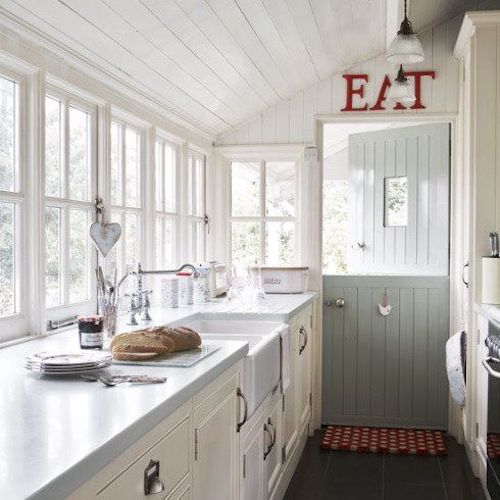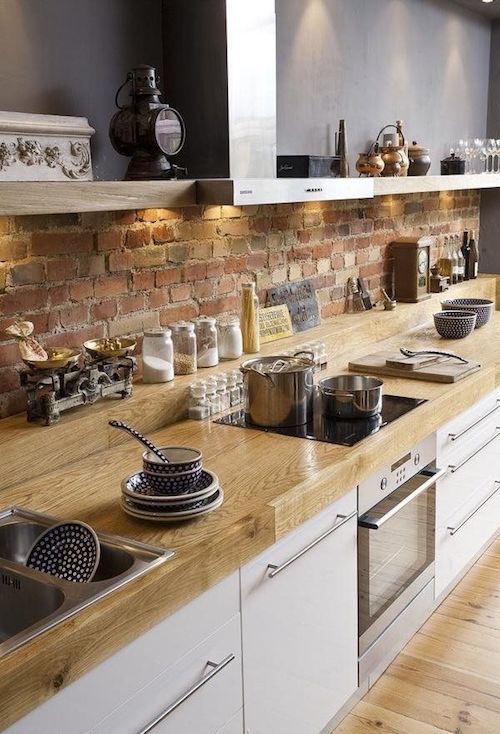 After living with this for five seconds, I am mystified why the other way.
This could be MORE.
NOT less.
If the entrance wall was not dictating– I would go deeper.
I'll get to see, in the comments, what particular brand of idiot this makes me.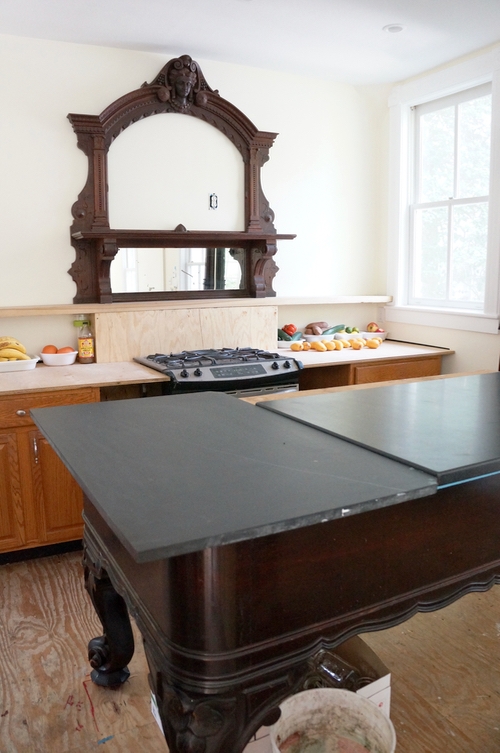 The most exciting part of this extra-deep countertop is that it gives me ALL THE SPACE to build a proportional base (obvs fancy) for the lady mirror.
Then we will incorporate the bumped-out part for the wall-mounted kitchen faucet… if you cannot visualize this, see my post about my favorite faucet options.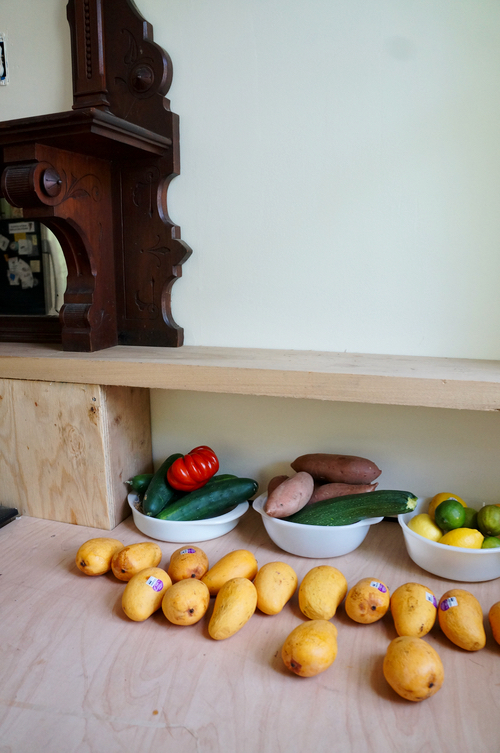 I'm not yet sure about the faucet/mirror-base/backsplash amalgamation.
57,987 ideas.
One wall.
Here is our sink.
Here are our possibilities for countertop/backsplash:
salvaged antique marble shower wall slabs
salvaged antique marble wainscoting
load of slate
Go nuts.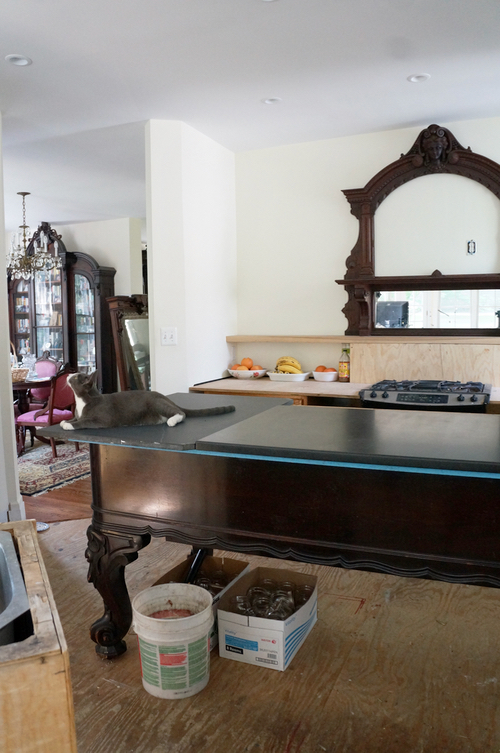 PS– I sold that Renaissance Revival mirror, leaning randomly in the background above; just yesterday, because money… I hated to do it considering how thine eyes now see the glory of the future of my bath.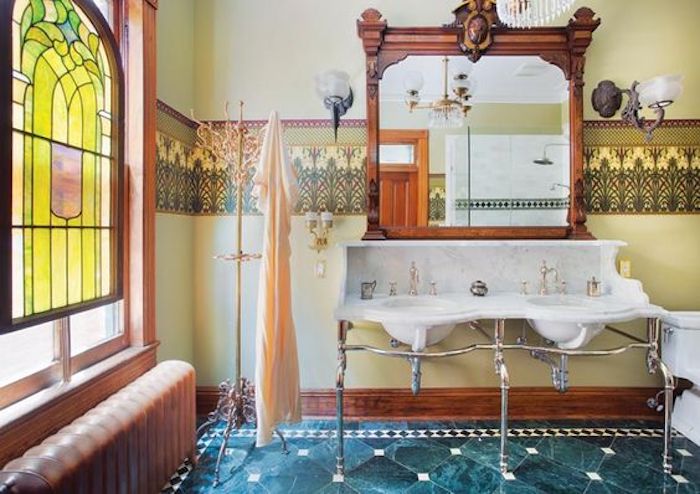 PPS- one of you reminded me of The Rules of Civility, by Amor Towels… which I own and started re-reading on your reminder… THANK YOU! At first, I was iffy if I was loving it all over again but then got past the intro chapter, and was like– ah! here it is! He has a new book, A Gentleman in Moscow, I am as usual, 57th on library waitlist.
PPPS– I took the babies this morning for fix day, and Webster is bereft! He is alternating between wandering the house HOWLING and staring at me accusatorily… I told him– they are coming back! do not worry! YOU CAN GO WITH ME TO PICK THEM UP IF YOU WANT… no response.
Before I fostered him, the shelter thought Webster hated other cats! and it has turned out that not only is that wrong, it's OPPOSITE. Webster loves other cats. He has come out of his shell SO MUCH since the kittens have been allowed with him– he is a brand new man!
My peoples! if you cannot do kittens, fostering an adult cat IS NEARLY NO WORK and it feels SO GOOD in your heart– the gratitude/happiness to make true and enormous change in the life of a living being! That is an amazing feeling! And it's slightly way easier to enjoy the feeling with adults, because you do not have to literally give away babies.
Anyway, I cannot wait to see Webbie's face when he realizes they are back! He is going to freak out.