Originally I thought we would end up with something similar to one of these options over the kitchen sink.
I spent a lot of time trying to figure out a solution that I LOVED, that was also practical and kitchen-y… because sometimes I forget the natural order of things and I try to be reasonable.
Once I let go of what I "should" do over the kitchen sink, and embraced what I would LOVE, the solution became obvious: MORE GIANT FANCY THINGS FOR EVERYONE.
I have been looking for a year… And about half that year has been spent reconsidering shelves or cabinets because I couldn't find anything that was "right."
Right size.
Right shape.
Right style.
Right color.
Right price.
At first it was FUN– being "required" to scour the salvage places and spend hours online looking for GFT's… but the fun wore off about month four.
Looking for something specific/that MUST fit a defined area/that is also a "reasonable" price as defined by my completely UNreasonable experiences scoring antique card catalogs for next-to-nothing/and is hopefully less than a day-of-driving/or we'll be spending money on having it shipped… good luck.
After a full year of research, here is my report:
Anything AMAZING is $10,000, and definitely too big… and will leave you sad and dissatisfied with your entire life because you visited the holy land and then were forcibly ejected like the peasant that you are.
Anything affordable is a compromise of heroic (and wrong) proportions.
Anything sort-of-acceptable is $3,000… which is FAR too much money for something that makes your soul die a slow and disappointing death of compromise: see below.
The one mirror I did buy prior to this one, wasn't really the right size… I knew this beforehand, but it was cheap, (and I am a hoarder) and it did me the favor/further-obstacle-to-progress by cementing yet another factor: I was completely inflexible about color… I wanted dark wood to complement the repurposed antique island.
The piano is dark rosewood, and ornate in a style that's specific to about 1870-1880… it's also the immediate focal point when you enter the kitchen, and I wanted to complement that.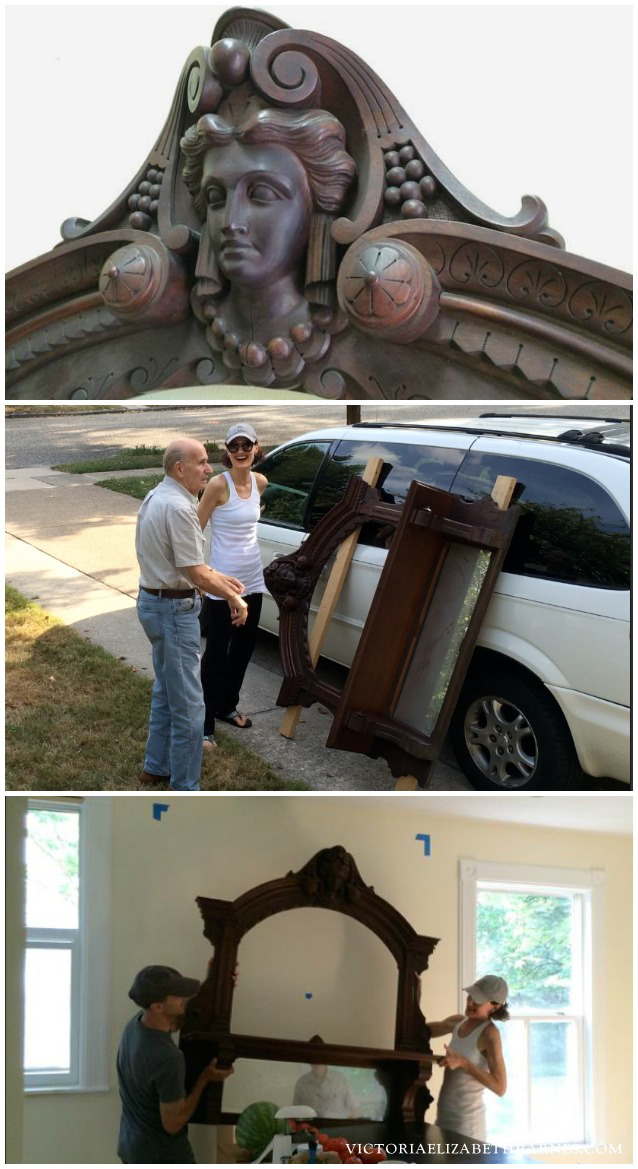 I think because of The Kingdom Mirror, (and, errrr, the multiple other mirrors,) and because my general life motto is: BRING ME SHINY; you could assume that I think gilding wins all… but actually, my absolute favorite possession/craigslist find is the massive wardrobe we salvaged.
My truest love is Renaissance Revival/ideally around 1870/dark wood/lots of large carving/anything with an Ansonia head/Eastlake if ornate and not just etched with a spoon/never veering into Gothic or Rococo.
I had no idea that finding a mirror that fit these criteria would be SO HARD… (although I certainly knew that once I have a CONCEPT, there will be NO OTHER CONCEPT.)
And once I added the dark wood criteria, it almost didn't matter if I'd had an unlimited budget (which I didn't) because size-restriction already made it a nearly-impossible task. … So I started thinking about how we could retrofit something.
Enter the organ phase.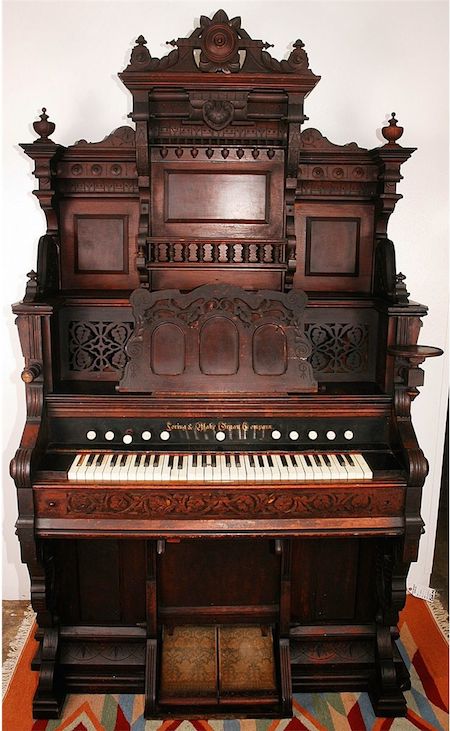 Even without showing Paul, I knew that the arguments against getting an organ are many… and sort of indisputable.
Unless you are an organist.
Or Beethoven.
But, in case you didn't know? You can buy a SUPER FANCY organ for about $200… which is practically FREE!
Plus, let's be honest – why would you NOT want to own an organ? Go search your Craigslist! Your significant other can thank me later!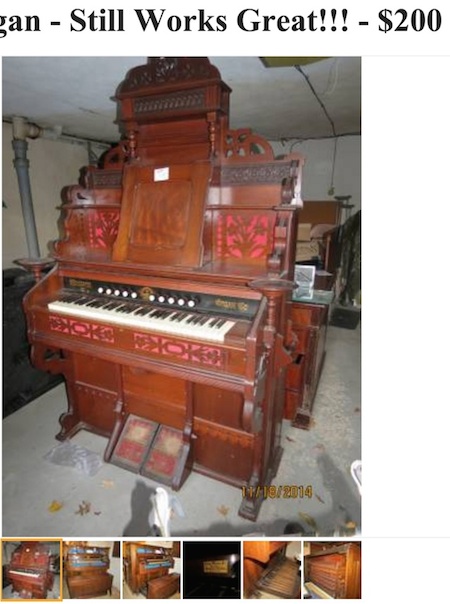 My idea was that we would take the decorative top half, which is usually detachable… and hang that fancy part over the sink… and then turn the base into an addition to my pile of chaos in the garage: the place I store things "I am going to do something with," that I will never actually do anything with.
OR I could get a blue tuxedo. And also lederhosen. And a bandstand with trumpets. And on Saturday nights, host a Lawrence Welk reunion show where I reprise all of the roles.
I believe this is what is called a win-win situation.
Eventually, after being forced to look at 47,000 organs, Paul got to a point where he said – fine. If we need an organ to move forward, try to stay within a three-state radius.
Then immediately, Self was completely dissatisfied with the organ idea. (Although to be clear – ONLY dissatisfied with organ-over-sink. NOT dissatisfied with the ACTUAL owning of an organ, which will absolutely be happening at some point.)
So I altered "let's-repurpose-an-organ" to "let's-repurpose-ANYTHING-THAT'S-FANCY."
But even I could see that POSSIBLY I would be unhappy with hanging half a sawed-off headboard over my sink.
I was to the point where I was ready to just CHOOSE SOMETHING. Anything. Or go back to cabinets… or just start without a plan (which I said I would NOT DO.)
Forcing Self to WAIT FOR THE THING was maddening. And it made me question my imaginary plan that no one else was quite on board with. And it gave me ample opportunity to mentally explore the fine line between something-you-will-love… and poor-substitute-for-glory-in-the-form-of-half-an-antique-organ.
But as soon as I saw this mirror, I was SPEECHLESS at how much I coveted it; how MAGICALLY it was exactly what I wanted; AND that I would be permitted to go and get it because we NEEDED it.
The frame complements the piano perfectly, it was less than an hour drive, not grotesquely-over-budget, perfect color, size, and the CARVING GIVES ME SEIZURES every time I look at it. (Also, look at the close-up above and you'll see that the mirror lady is wearing a necklace of invincibility.)
Somehow, miraculously, this is exactly what I wanted: a space that is unexpected and un-kitchen-y, and old and interesting… a space that is FULL of beautiful things that I love.
My expression here sums up how I feel: I cannot even believe how MUCH I love this kitchen.
Now for some details:
1. The four corners of blue tape are marking out an (unpictured) soul-killing option, in Boston… which was seeming more and more like what we were going to end up with.
2. The blue tape is also marking a wall-mount faucet that I AM IN LOVE WITH.
The choice is entirely aesthetic, as I haven't yet begun my doctorate in spout-reach and faucet aerodynamics… also, YES PAUL TOLD ME you are not supposed to have wall-mount on an external wall, but I guess he thinks I don't have access to the internet to figure out how to furr out the wall and add insulation.