I took all of my 87,952 ideas to the sink fabricator— drawings, browser tabs, saved images… I showed them to him and explained how I intend to mash them all together into one sink of glory and practical fanciness.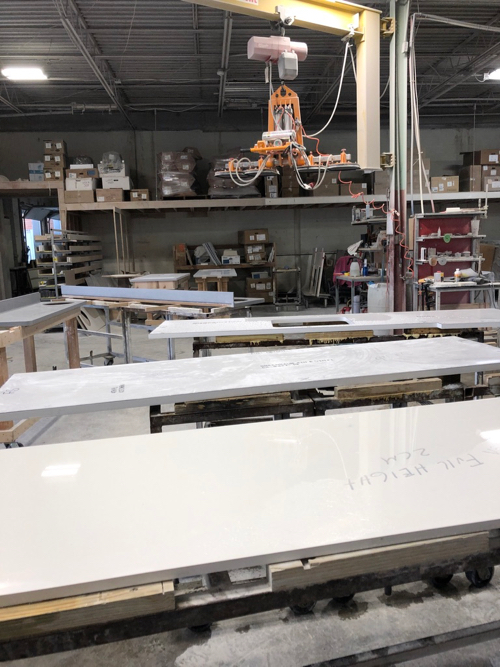 View this post on Instagram

 

 
Sink guy was like hmmm, ok… hmmm, let me think… hmmm, I don't know about this piece here… OH! hmmm! yes, ok! that IS a solution… hmm! Maybe we can do all of that! wow! this is really a smart design!
Paul's eyes rolled back in his head.
He literally cannot stand to have my genius acknowledged.
Much like the 1984 movie, Amadeus.
I am Mozart.
(obviously)
Paul is the other guy— the disgruntled one with the boring wig who does not understand why people are like: HAVE YOU SEEN MOZART'S SINK!?!
note: I cannot find photos for exactly what lives in my head– a mitered stone (or brass) sink that runs fully front-to-back of an extra-deep kitchen cabinet… I started making this thing to show you, but the scale is wrong and it was too boring to fix, use your imagination.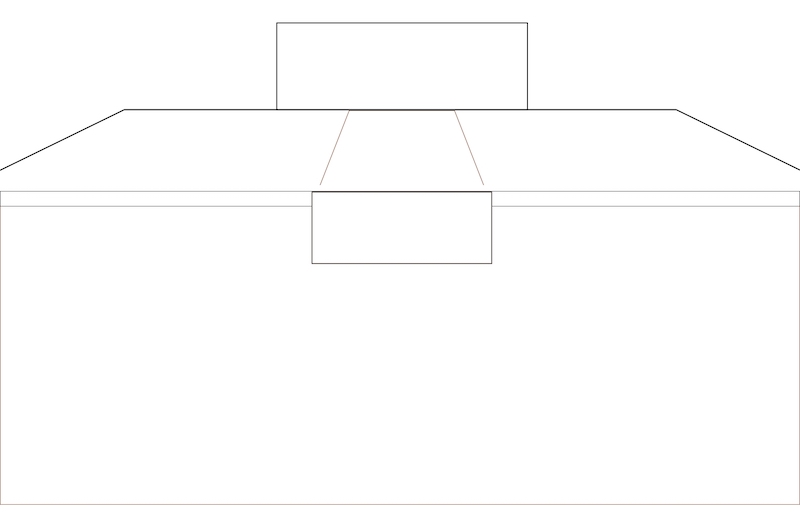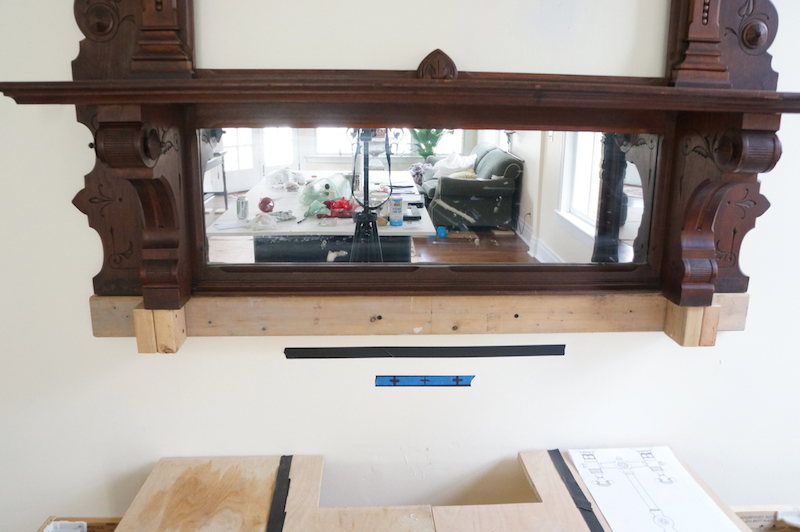 Before I get into the details I need help figuring out, here are things to understand:
1. Our sink and counters will be the marble slabs we salvaged (yes, we also have pool table slate, but have ruled this out now that we are doing dark cabinets.)
2. The sink will be fully integrated with mitered seams and a wall-mount faucet… (yes, we were planning a Kohler sink, I bought one on craigslist, which I've since re-sold.)
3. The sink will be constructed to use ALL of the sink cabinet… once you think it through, you realize this space exists either way… WHY NOT USE IT?
A traditional sink has an internal basin size, front-to-back of about 17″… unless it's fireclay, the extra-thick walls further reduce that measurement to 15″; I wrote a post here about why we decided against fireclay, even though I love it visually.
4. Traditional kitchen counters are 24", front-to-back; ours will be 30" —  here is the post explaining how we are doing extra deep cabinets. 
5. The extra space will allow us to have some kind of dish rack across the back… I love the idea of custom brass, but $$$ so probably I will just use the cheap roll-up style.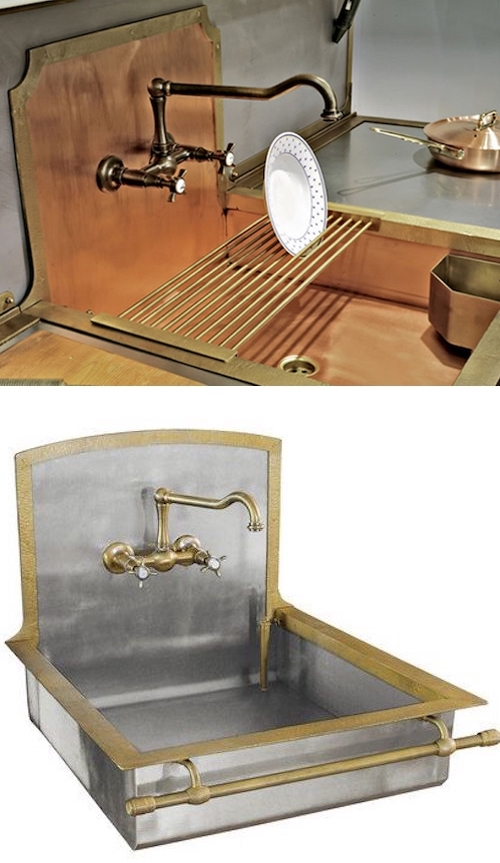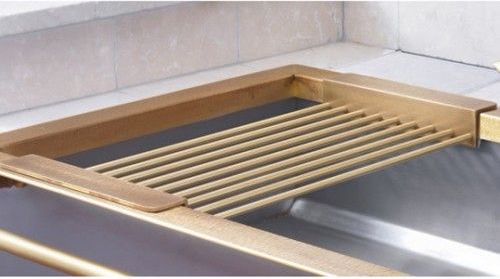 Next: faucet.
The extra sink space is nice and all, but the part I am REALLY excited about is the faucet it forces us to use.
Paul was man-fast to be all—  NOPE. A SINK THAT LONG WON'T WORK. NO FAUCET EXISTS. NEED TO REACH 2" FROM CENTER. GUESS WE HAVE TO USE REGULAR SINK. TOO BAD OH WELL.
Self was all, HAVE A SEAT.
Watch the presentation.
Bro.
I designed the sink like this so that we are FORCED to use MY ULTIMATE FAUCET FANTASY… yes, it's insanely expensive… but it's SO GOOD.
Self and I fistbump this like 17 times a day.
BEHOLD.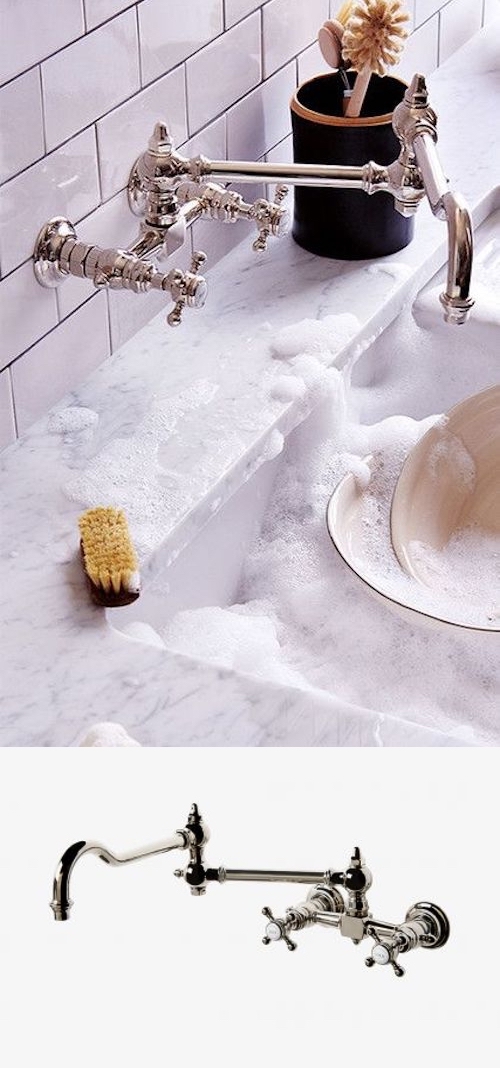 Also, we are going to add the footswitch that lets you do water HANDS-FREE! If you have messy hands, use your feet! It works with ANY faucet and comes as a thin vertical bar, or as a pedal-type thing.
Alsoalso, I should mention that there IS a superior traditional/stainless sink–  it is DRAMATICALLY less seamy than traditional seam… the meeting of the materials is fantastic!
I saw it at the sink fabricator, have a look: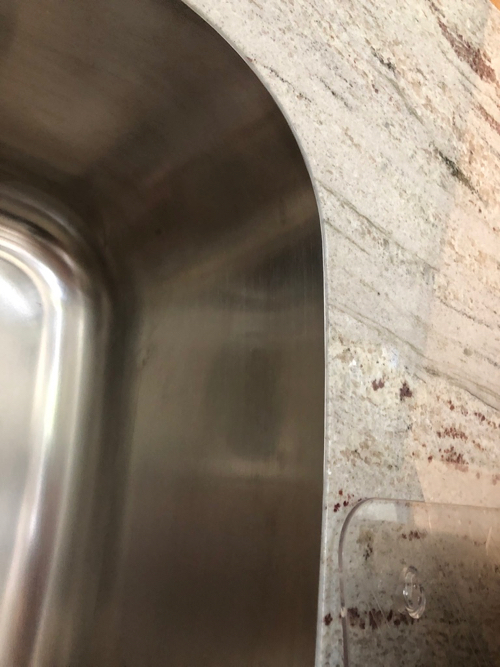 Ok.
Now you understand everything I am certain of: a mitered stone sink that runs fully front-to-back of an extra deep kitchen cabinet.
Three sides of the sink are good to go, but I am still figuring out the apron– this is what I am stuck on: the front of the sink and how it is meeting the surrounding planes.
It becomes problematic if some lunatic I want to add a fancy edge to the stone countertop; a laminated edge (not to be confused with laminate countertops), is an extra piece of stone, stacked and glued and polished to be seamless, so that it LOOKS like your countertop is extra thick, but actually it's just the edge… you do not want extra weight on your countertop.
I wrote an entire post about fancy countertop edges.
Usually, the decorative edge goes on top, but I think I prefer it below… why eat into the usable countertop space?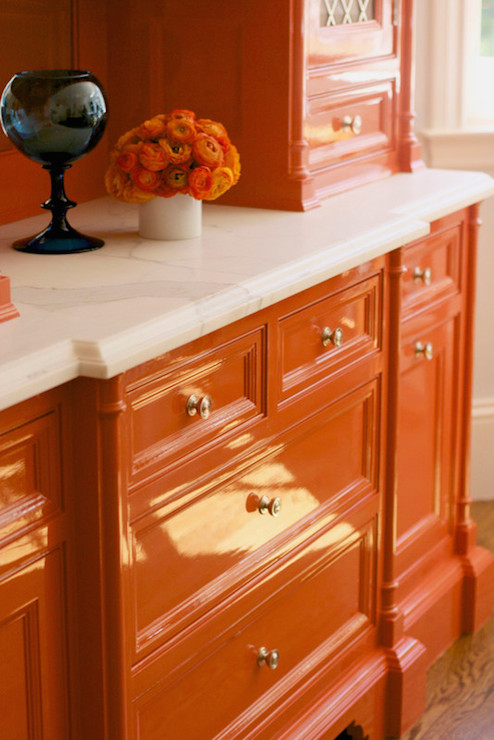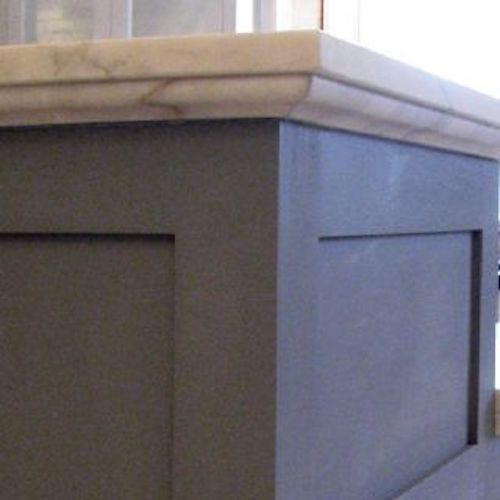 Either way, I prefer the thicker countertop… BUT this creates a new difficulty– how does it connect to the front of the sink, if it's not all just one flush plane?
Let me show you a bunch of photos to explain.
Reminder: we will miter the sink top/edge… meaning, there will be no clear separation between sides of sink and countertop– you can see what I am describing in the two photos below– first is mitered, second is countertop stacked on top of the separate sink… there are good reasons to choose a separate block sink! Mitered is just my visual preference– I hate seams.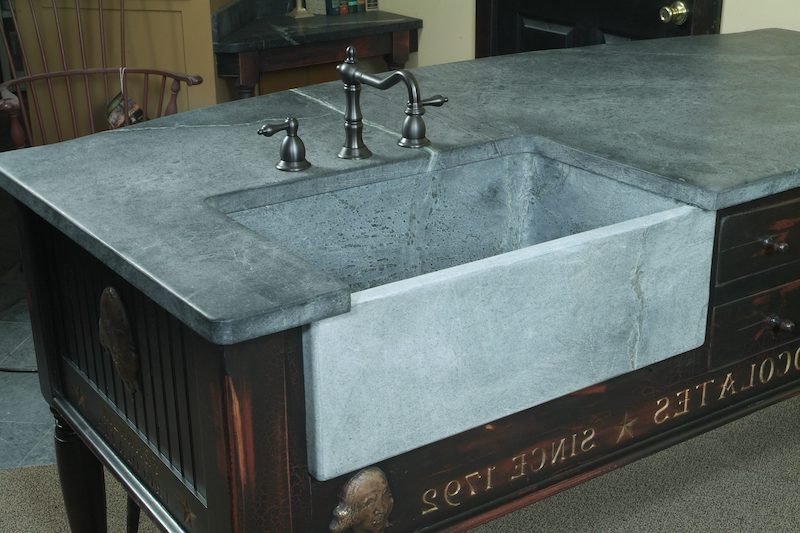 The issue for me, in both photos above, is where the edge-of-countertop meets front-of-apron I prefer NO stack.
I'd like to keep it as seamless as possible, which is fine and doable… unless we are adding an extra decorative counter piece – it is going to need to butt into the side of the sink.
Again, more photos to demonstrate… below, PRETEND this first one is a sink where the marble apron is… you see how seamless that could be. IF NO FANCY COUNTER PIECES ON EITHER SIDE.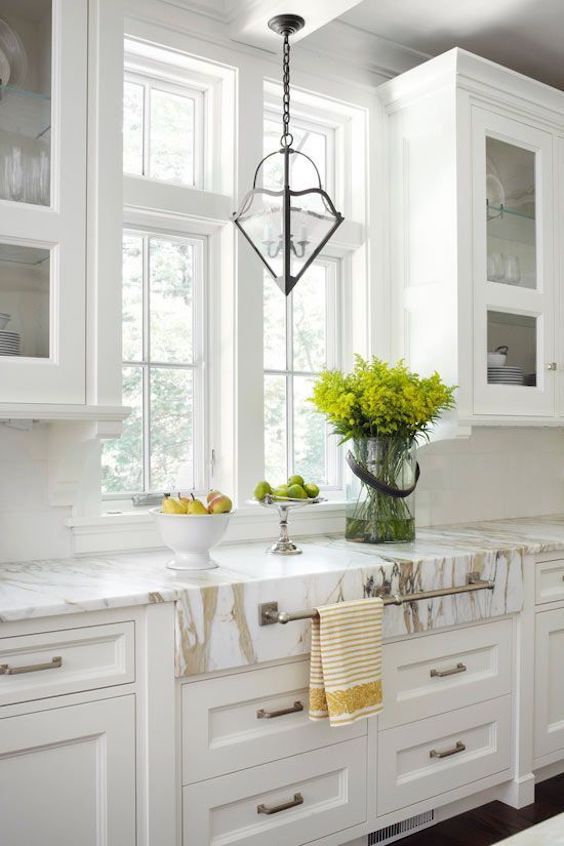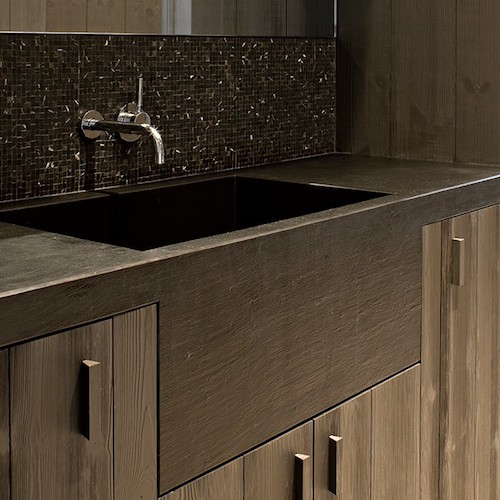 I like seamless! But to re-explain my problem: you can see in the two photos above that there is no place to add an under-counter-trim-piece.
In the photo below, if you look closely at the detail piece under their counter– theirs is wood, but if you imagine it as stone, you will see what I mean about dead-ending into side of sink?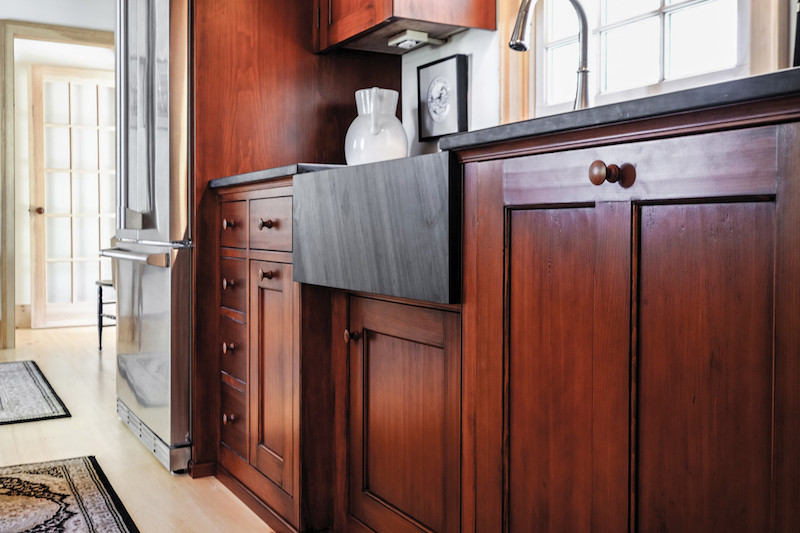 That's an option IF we bump the sink apron out… which, of course, I hate.
Also I hate running the fancy across sink apron/lip; why? I don't know. I just work here.
The other option is to slant the apron (like below)… which Paul hates– why reduce the interior usable sink space?
So. I do not love any of our options, which would push me towards seamless, BUT for this detail: I LOATHE a toe kick. Visually. So much.
I want the cabinets to look like built-in furniture so adding the volume at the top is theoretically helpful, ASSUMING I can figure out a connection I like.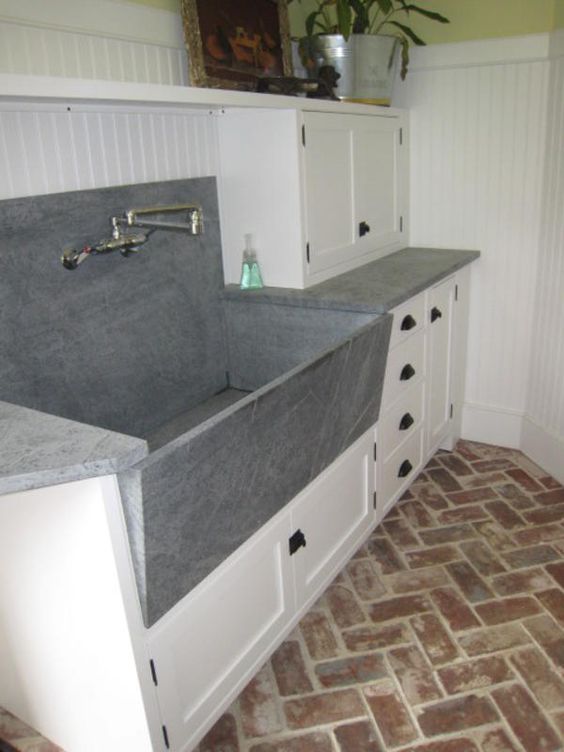 So.
That's where we are… fidgeting with details and saying– what about like this, what about like that? It's DEEPLY irritating but for some reason, I am not permitted to just flip a coin.
Here are some more photos that are not quite right for me but I think you would like to see.