Paul and I went to New York City to see the kitchen worktop that has the invisible induction burners HIDDEN IN the countertop.
why DEDICATE counter space?
why SEE the stove?
These are questions I am INTO… but if you are uncertain about switching to something unknown to you, I get it! Buy an inexpensive portable induction burner…  give it a try! After I did, I was like– what is this MASSIVE STOVETOP NONSENSE? Also, if you need a warming dish or an extra burner (hello holidays), you just get the portable thing out and magic!
We are taking it a step further for our kitchen remodel, by getting the induction elements already hidden IN THE COUNTERTOP.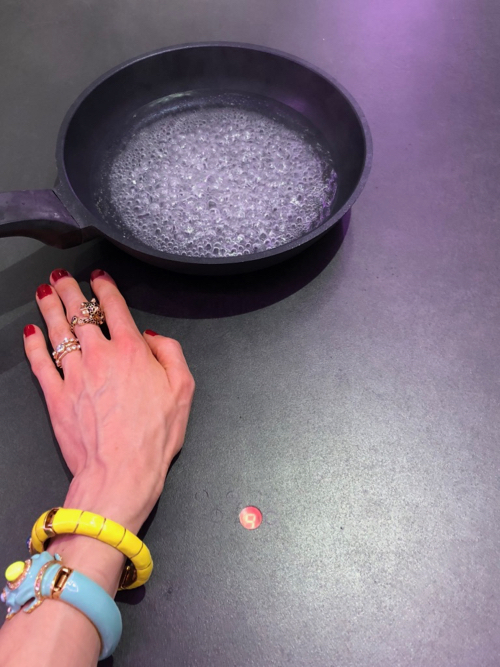 The TPB cooktop was not even the most amazing part of our NYC trip; but before I tell you about it, let's revisit HOW induction works because I always get comments that make it clear something has been lost in translation.
NO HEAT EMANATES from induction.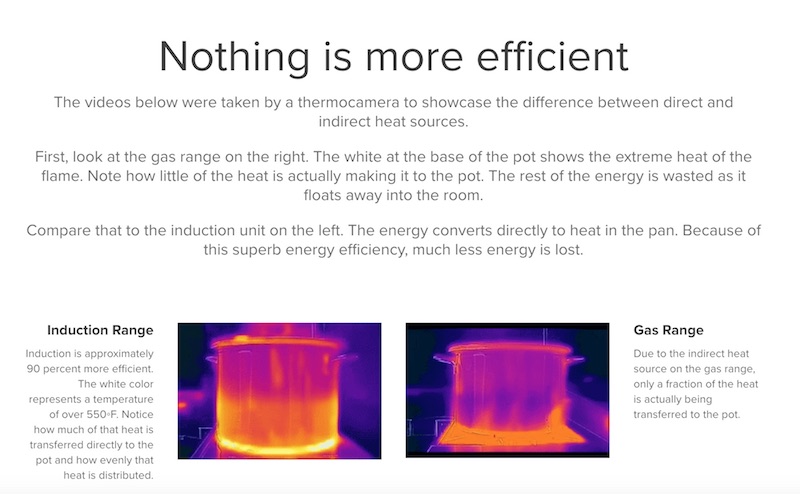 Induction cooking has been around for 50 years… it turns your POT into the heat source.
There is NO HEAT IN THE COUNTER itself.
You could turn an induction burner on and SIT on it.
Unless your pants were made out of metal.
The METAL of your pots and pans is what gets hot. But only certain kinds of metal!
You can check if your pots will work with a magnet– if it sticks you're fine.
The person who has this invisible cooktop is Bryan— here is his website… in no way does his site give you the FULL scope of his amazingness, so I will explain: Bryan is in the business of engineering living spaces, using technology, to create better quality of life.
for INSANELY rich people.
so.insanely.rich.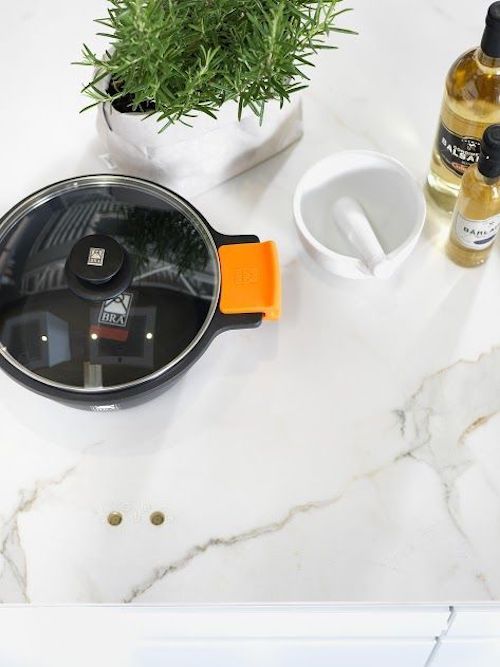 He and his wife are building a show home of their business– every single room and detail is designed to clarify how your own life is horribly deficient.
Every single thing is like:
THAT IS SO OBVIOUS.
Examples:
The front door has face-recognition technology— it unlocks itself, OPENS for you, and CLOSES and locks itself behind you.
Arms full of cat carriers?
Fumbling for keys?
So obvious.
Also, the shower has the option to add essential oils to a diffuser that is built into a mist system.
Also, their shower drain is INVISIBLE.
I looked at Paul… what is this nonsense my husband gave me with a DRAIN.
Get out.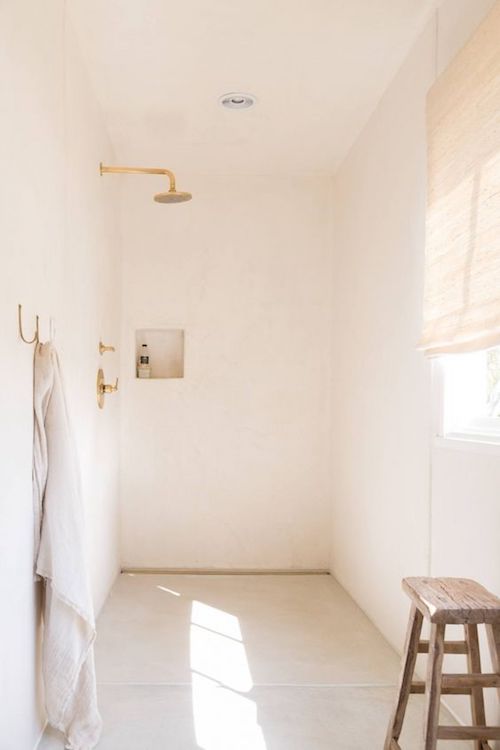 Their home is soundproof— inside and out… so that you are not listening to your neighbor's leaf blower… but ALSO you do not hear the other person banging around in the other room… BRYAN feels that this is the sort of thing that degrades our quality-of-life on a level we are not conscious of… and BRYAN feels that you should not hear what is happening in another room… and BRYAN feels that YOU should decide what SOUNDS are entering your HEAD.
At which point Paul was like – sir, you DEFINITELY should stop speaking because my wife is about to attack you with passionate face licking and muddy paws… she has never met anyone from her home planet.
On my home planet: noise is an abomination against the living, punishable by death.
JUST BE QUIET OMG IT'S NOT THAT HARD.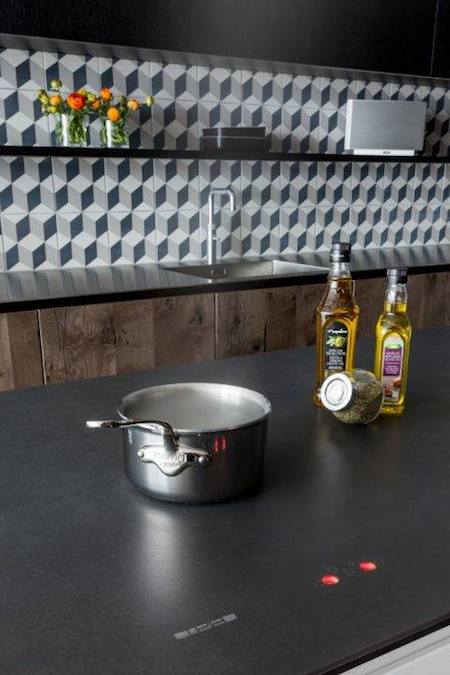 This brings us to sound.
Bryan is a SOUND doctor, philosopher, and engineer.
Sound is his JAM.
I wasn't really paying attention because sound waves is definitely science.
Boring.
Also, speakers are stupid.
But then he played the music.
I like music.
I like dramatic music!
But I don't think of the delivery system as having anything to do with the music… so now I see that I am a moron.
Basically, I was a speaker denier.
Now I see that the speakers are EVERYTHING.
It was not just transporting… It was immersive in a way that was a completely different experience than I had ever had before— I was literally HEARING MORE sound.
I had him play the overture to Marriage of Figaro.
I was inside Mozart's head.
It is glorious there.
And now I can never go again because the speakers were $bazillon each and you need at least 57 and also $$$$amps and a doctorate in sound technology to arrange these little $$$$$$$$fin looking things to direct sound… or something.
Since hearing his version of music?
I MISS it.
I did ask him if there was something simple that I can do to improve my sound experience without being a billionaire… and he said there is one!!
He said the thing we all use the most to listen to music— our phone— is completely useless without a headphone amplifier… And you should purchase a very inexpensive little amp/adapter thing… I did not think to ask exactly which one, so if you have a recommendation, I would appreciate! I use beats wireless headphones... the noise canceling ones. I bought them to go to Hawaii, and sort of thought I'd later regret the $$$, but I use them ALL the time. They are awesome for cleaning! If you are running water/vacuum/making noise.
Anyway. All of this is to say that Paul and I left Bryan's house fully cognizant of the sadness that is our own life.
We had to go home and unlock our front door like the Neanderthals that we are.
I itched my fleas.
Paul gnawed his toenails.
We grunted at each other in recognition.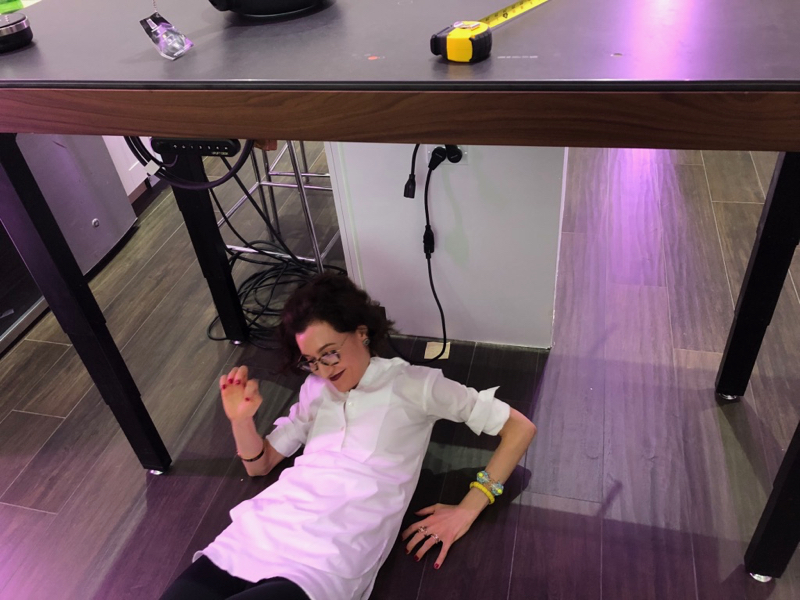 So.
Bryan is already a person who is seeking technology that improves the way humans experience the space where they spend their lives– he is PASSIONATE about the ways technology can improve the details of our daily lives.
And finally, we got around to talking about the TPB induction cooktop… at that point, I had basically forgotten about it.
I told Bryan that despite getting endless comments telling me that induction cooking is a giantstepforwardcomeoutofthecaveyouwillloveit… I am still hearing the siren song of the gas coalition. They INSIST that the induction people just do not cook. And I COOK… so I fear their predictions!
Brian said— I THOUGHT THE SAME THING… then I found out there are induction counters in Michelin star restaurants right here in NYC.
So.
I guess that's good enough.
Bryan told us how, EXACTLY LIKE US, he had assumed they would do gas for their kitchen… because that's what he thought was "best"… but then he began working with an air-quality expert for his business (because insanely rich people LITERALLY breathe better air than we do.)
This air-person is as INTO air, as Bryan is INTO sound.
And the very first thing the air-quality person said is NO GAS… also, come to find that ALL of New York City building code prohibits gas in new construction… safety.
As he continued to speak, about other things that gas is not ideal about… I came to realize that I am LITERALLY BURNING GAS in my home.
I.
me.
Self.
THE TOXIN AVENGER.
COMBUSTING GAS IN MY HOUSE LOOK AT MY OIL REFINERY, YO!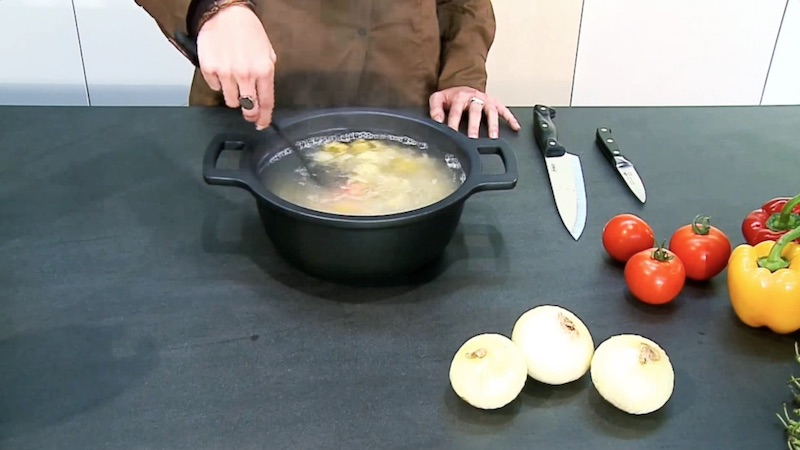 how am I still writing?
sry.
Now.
The things I do NOT like about TPB.
The edge— it's not fancy, and it cannot be made fancy… I wrote an entire post about my need for INCREDIBLY FANCY COUNTERTOP EDGES… Also it only comes in a few colors and I don't like any of them.
I want a light counter; TPB offers a Carrara-like, but I am not a fan of faux marble. Even the good ones… I GET why people choose it! But it's not for me.
ALSO— you have to add a silicone disc to the bottom of your pots which is NOT a requirement of ANY other induction.
Also none of that matters because turns out you can buy an induction unit to go under ANY STONE… that's right… YOU CAN TURN ANY COUNTERTOP INTO A COOKTOP.
The induction cooktop is HIDDEN UNDER ANY COUNTER OF YOUR CHOICE.
This is Binova Uk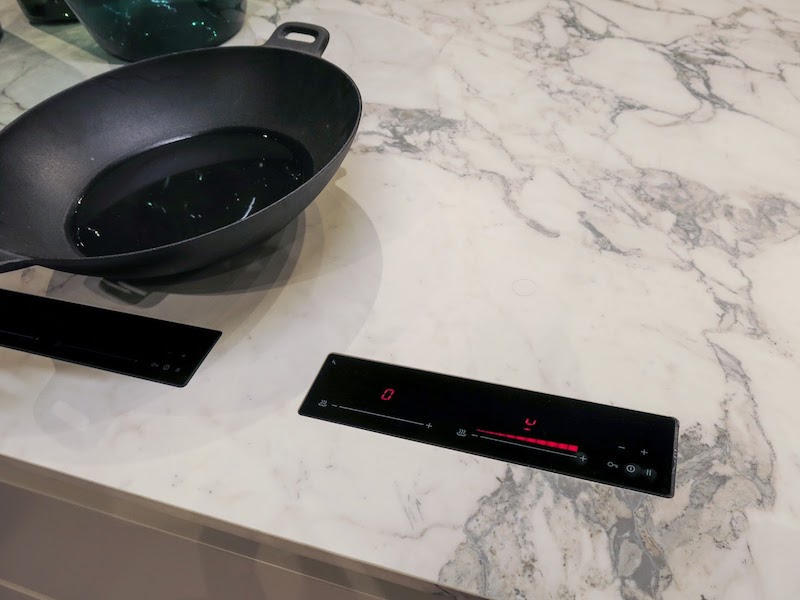 I stared at this photo for like AN HOUR while CLUTCHING MY PEARLS.
Paul and I had REAL CONVERSATIONS about spending $10k on countertops that I DO NOT LIKE VISUALLY.
Can you imagine how FURIOUS I WOULD HAVE BEEN?
OMGRAGE.
LOTS of people make them… you don't need a silicone disc… AND THEY ARE LIKE 5 DOLLARS.
Why the internet hides this stuff is BEYOND me.
I'm doing comparisons and will report back… some of these under-counter units have REALLY BIG DISCLAIMERS ABOUT RUINING YOUR COUNTERS… so I guess I want one that has been around a while.
I see now, that is a big benefit of TPB's/Sapian Stone material— they GUARANTEE THE WHOLE THING. Theirs is made to WITHSTAND constant/professional use with zero appearance issues… and I totally assume that is what is with the silicone disc and maybe I DO want one with that.
Stay tuned.
previous blog posts about induction:
our introduction at the Philadelphia Wolf and Subzero showroom
pros and cons of induction, as reported by my readers
inset induction cooktops (precursor to hidden!)