I love a high-concept idea.  I love something big and wild and fancy and shiny and possibly covered in gold leaf…  I love anything oversized or ornate or weird or unusual, or marble, or unexpected.
Which is why I need Pilar Guzman's kitchen.
I also referenced her vintage-style bathroom, back when we were planning our bath remodel.
Me and Pilar's kitchen are soul mates.  The star-crossed, doomed to death, walking the moors and rending our clothes kind.
Unrequited.  Unfulfilled.  Unattainable.
The kind of love that happens once in a lifetime…  The kind that includes a willingness to poison yourself.   But also a lack of foresight… where you forgot to TELL the other person that you aren't actually poisoning yourself.
In the face of my agony, I have no idea why these people look so happy.
As a special kind of torture, there are no photos anywhere of the entire kitchen.
So I emailed Pilar, and offered to feature her kitchen properly…here on my blog… but I guess she didn't think I was serious, because I never heard back from her.
Some obsessive-searching on the internet, turned up a video on the NY Times website that gives a too-brief tour of the house, prior to its renovation… if you have any interest in feeling like your own house is a shack, you should watch it.
I personally was torn between raving envy… and glee, that I FINALLY got to see more of the kitchen.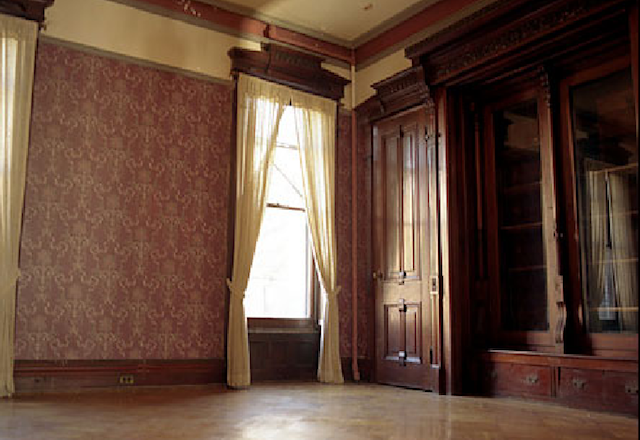 I showed Paul– in a blaze of accomplishment… THIS!  This is it!  I have SOLVED our kitchen design dilemma!!
Do I need to explain?  How this is my dream kitchen?  How this is EVERYTHING I could possibly want?  And how, in comparison, I CANNOT be happy with some cabinets from Home Depot?  Do I need to explain that to you?
Do I also need to explain that this would make our house AWESOME?
And that now my goal in life is to make something kind of similar.  With… some, um, wood.  And uh, glass.  And, um… some reclaimed stuff from the salvage place?
It would be a DIY masterpiece.
It would CERTAINLY look JUST LIKE THIS.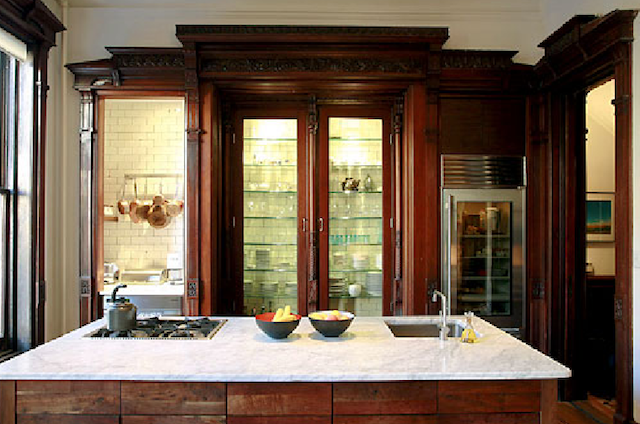 Except?  Paul?  Does NOT think this is the solution to all our kitchen problems.
What is wrong with him?
What is wrong with ME?  That I did not beat Pilar to HER husband… who is clearly a superior brand of kitchen-loving person.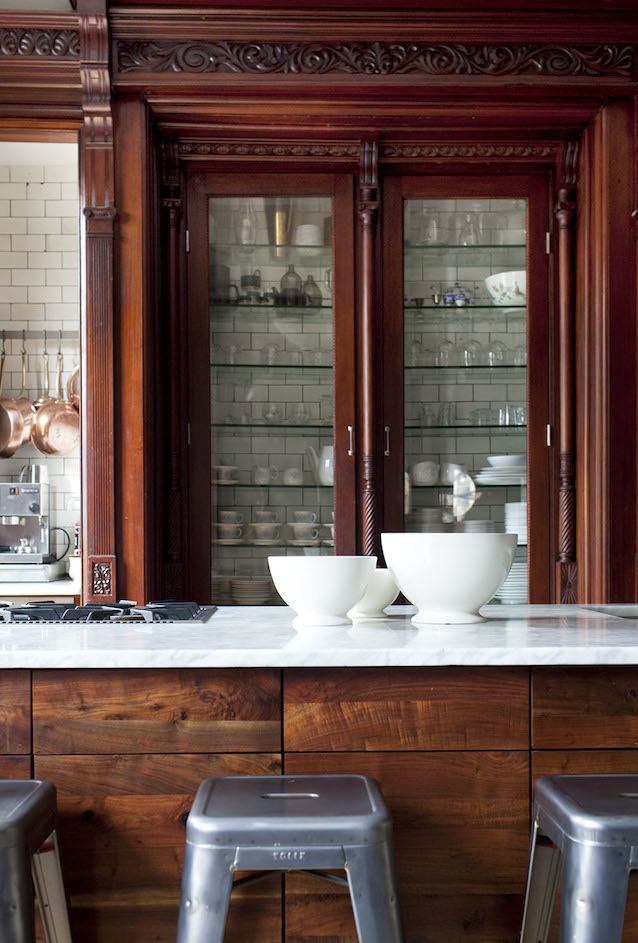 Paul assures me that if we build this, it will NOT be awesome… On the contrary— it will look like a total hack job.
That if we do this, we are no better than Steve, the previous owner…  He of the mini-island, and the abstract brick sculptures. And the grand ideas and crazy designs and "custom" cabinets, and no sense of reality.
Paul says that in my mind it will be appealing… but to everyone else, it will look like crap.  That the chasm between what is in my head, and what will actually be, is too large.
He said that it is a project of such ridiculous scope and detail, that it would drive us both crazy.
Which?  Aren't we used to that?
Why stop now?
He said—do you have any other ideas?
And I was like—I DO!
I'm SO GLAD YOU ASKED.
Have a seat… let me show you my Pinterest kitchen board… you will be amazed at all the design ideas I have!
Like this!  Such a simple design!  Just some glass front doors!  And some crown molding!  And some antique hardware!  How hard would THAT be?
NOT hard at all!!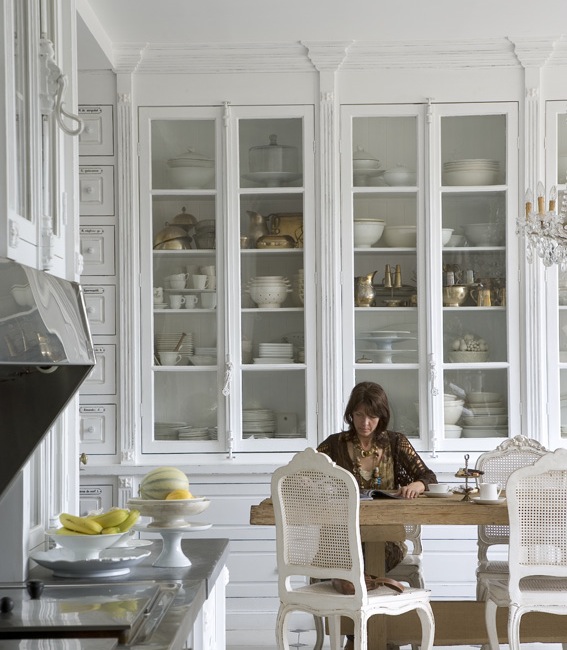 Paul was like—you realize those are at least fourteen-foot ceilings?
You realize that hardware isn't something we can buy?
You realize I am not a cabinetmaker?
And I was like—you're being too literal… I'm suggesting an interpretation.  Not an exact replica. AND?  You said that same thing about our DIY medicine cabinet!  And look how that turned out!!
Paul was like, that was one, four-foot cabinet.  You're talking about building a truly custom design… Please understand that is an entirely different project.
But surely YOU see?  Right?  We are going to do an entire wall of cabinets somewhere here… why not make it a wall of AWESOME cabinets?
A wall of glorious, fancy, carved, dark wood?  With shiny glass?
WHY?  Would we do anything else?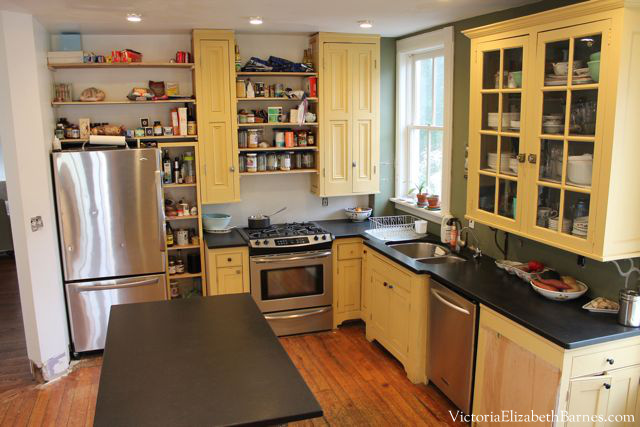 Ugh.
It's like I forget how terrible it is… until I see a picture.
Like in my head, I've redesigned it to be a Victorian brownstone, and am actually confused why that isn't the case.
If you missed our crazy kitchen design:
Here is Part 1, Part 2, Part 3.
giant Victorian wardrobe I scored on craigslist!
I'll love you even more… if you share me with your friends!