Up until last summer, I avoided the really huge, dinner-plate dahlias.
I have enough garden-chores without making more work for myself by committing to the staking of non-essential plants… Plus, anything that cannot survive rain is a ridiculous garden-choice.
However, I am a ridiculous person so I do not know why I disavowed such a fundamental plant-match.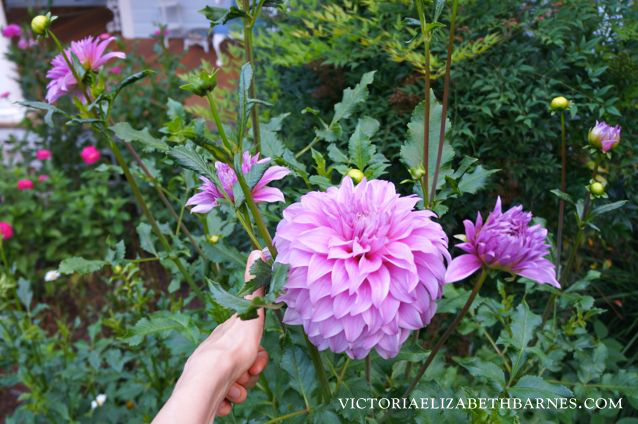 After the Philadelphia dahlia show at Longwood Gardens, I wondered – wait, why am I not growing dahlias as large as my head?
So, now I am.
(Also, revisiting that post reminds me that I intended to make some fiber-optic garden chandeliers. And a greenhouse. And a conservatory. And an orangerie. So, Paul should get excited for that.)
Last year I sold you on Benary giant zinnia, and I still stand by that recommendation… Zinnia will give you much quicker gratification than dahlias, (especially if you start your seeds inside,) and the Zinnia will give you a great show all summer, but by September it will be fading.
The dahlia is a longer wait… But what you trade for flowers at the beginning of the season, they make up to you later… Plenty of my dahlias will keep going until I cut them down.
Vassio Meggos is my favorite for sheer ridiculousness. Randi Dawn is my favorite for color/shape… I am not recommending any of these because of their superior flower-ness; my only criteria is personal preference for color/size, and I tend to prefer the waterlily dahlias.
I generally do not bother disbudding… I might make the effort initially, but as summer progresses there are just too many garden tasks and I stop caring. (Although with the Vasio Meggos, or other huge ones, you are going to have a real mess on your hands if you don't monitor it well.) So my flowers are not as large as they could be… if you want bigger flowers, take off the side buds and leave the center one.
If you know nothing about growing dahlias, the tubers look kind of like potatoes. You bury them extra deep, and depending on what part of the country you are in, you are supposed to dig them up in the fall… I don't bother with that and I would say I get about a 60% return rate. (If you live somewhere that gets truly cold, that's not going to be an option for you.)
This year our area had extra winter, and I will be surprised if I get many tubers that survive so I ordered more than I normally would.
I like these plant labels for when you are trying new varieties— so that you know what you are looking at instead of guessing or making diagrams. (Although, when I went to link to them, I saw another option that has a copper label. And I was like– ooooo, pretty… so we will see if I can resist buying those.)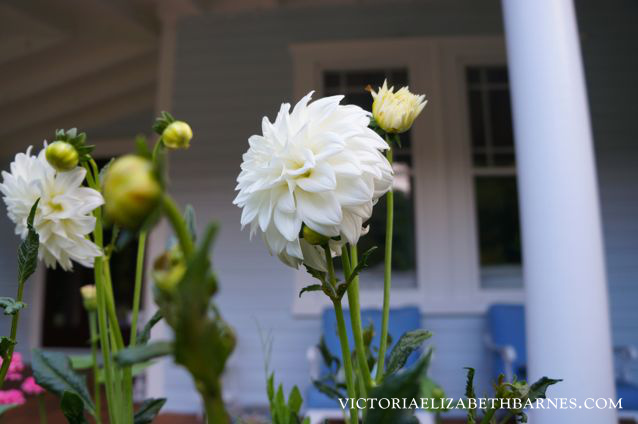 Once you see your first true leaves, you are going to want to pinch the plant back. Here is my way-too-detailed tutorial from last year about pinching plants and rooting the cuttings.
Pinching is going to give you a much bushier plant, and you can turn the cuttings into more plants. I do not bother with the rooting hormone— it's just a marketing ploy by chemical companies. Keep your cuttings warm and wet and they will root just fine.  (Here is an old post where you can see dahlia cuttings, second photo down, and also Elvis basking in her tanning salon.)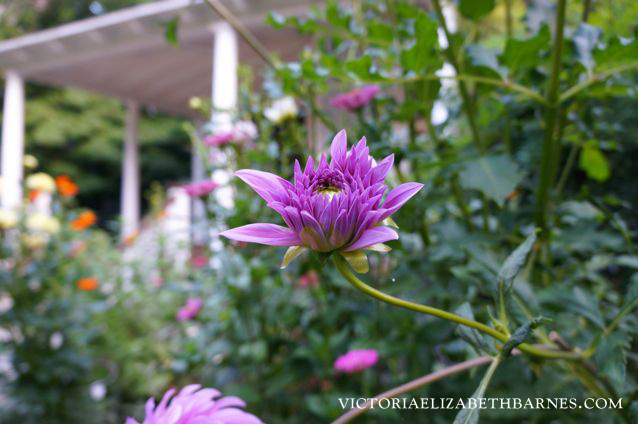 Above is my Dahlia order for this year.
Top row: midnight moon, daydreamer, brushstroke, blah blah blah
Second row: randi dawn, sheer heaven, cameo peach, Nicholas
Third row: vassio meggos, bluetiful, innocence, purplicious
Here is an index of all my other garden posts… if you haven't read the one where I give away a GIANT free rock on Craigslist, it's worth just looking at the pictures.