After we hauled the headboard up to the roof and through the window, we got to work on a base for the mattress… Our mattress is one of those tempurpedic memory foam things, and they are supposed to sit on a solid platform, not a traditional box spring.
You can buy a platform to match the mattress, but it's essentially plywood covered with fabric, so we just made our own.  (Aside from being less expensive, our old house's stairwell was even tighter than this one; assembling the platform in the bedroom was the only way to get it upstairs.) So we already had the components to build/retrofit a frame that would accommodate the bed.
On a side note, if you have an old house/narrow stairwell, the memory foam mattresses are far easier to get upstairs. They are flexible and sort of smushy… Which is going to come in handy here shortly.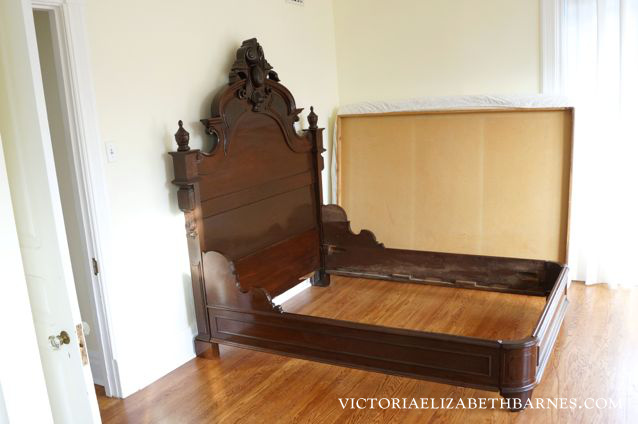 Our old bed had a similar wood-skirt that enclosed our homemade mattress base. But the wood-skirt was higher and had slats across the bottom to support the platform we built.
For this bed, the original slats are long gone… which didn't matter anyway because there was no way I was resting anything on the actual side rails. Theoretically it would be fine, but I'm a lot happier with the weight of our giant-millennium-selves on the floor, rather than piling it on 130-year-old wood.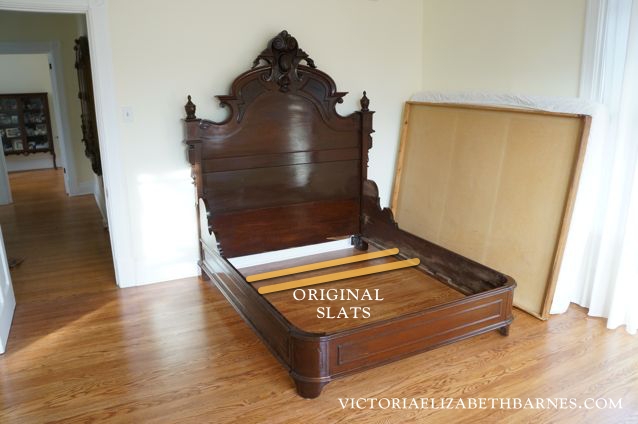 Normally when you buy a bed, the height is already determined for you. But because we were DIY-ing it, we tested out different heights with temporary bases – paint cans, spackle buckets, etc.
Sidebar –  you might like my DIY, repurposed, antique headboard  Pinterest board. I started it back when I was thinking we might DIY the whole thing, but it has become a collection of interesting headboard ideas/ beds I covet.
After we decided on a height, Paul cut "legs," for the platform. You do not notice them unless you are really looking, but it is possible that I will think of a better solution… It would be nice if it were seamless, (even if I am the only one who notices).
In the interim, we just used wood we had in the garage. Nothing says elegance and sophistication like a GFT (giant fancy thing) and some raw lumber.
The mattress is almost the same width as the bed. (Diagram/measurements.) The only place it was a problem was up at the headboard between the fancy-scroll-y pieces. We were about an inch short. Because the mattress is just foam, it pushed in there with no problem.
You can see about 2 inches of platform between the skirt of the bed and the mattress. This part was hidden on our old bed, and I guess theoretically I should cover it with some kind of fabric… But I just don't care.  If/when I begin giving guided tours to the public, possibly I will address it then.
When the bed is made, the scroll-y pieces/blanket hide the platform.
Now. As previously discussed, the mattress itself is longer than the bed.
You remember that, right?
I thought you would.
Because, I for sure remember that. And I am confused how anyone could forget it. Especially, if, let's say, I was married to that person.
As Paul was doing measurements and cutting stuff, I saw him do a double-take and go back to re-measure the length of the bed. I counseled myself – do not jump to conclusions. Do not get agitated. Do not assume. There is no way he is going to say what you think is going to say.
Then he said exactly what I thought he was going to say – the mattress is longer than the bed!
I tried not to let laser beams shoot out of my eyes.
The laser beams are not because I think everyone should remember everything all the time… I myself have forgotten some fairly basic fundamentals. Like long division.
I just realized the other day that if my life depended on me performing long division with an actual pencil, I would be forced to choose death. And then my tombstone would read – here lies VEB, she could not do math.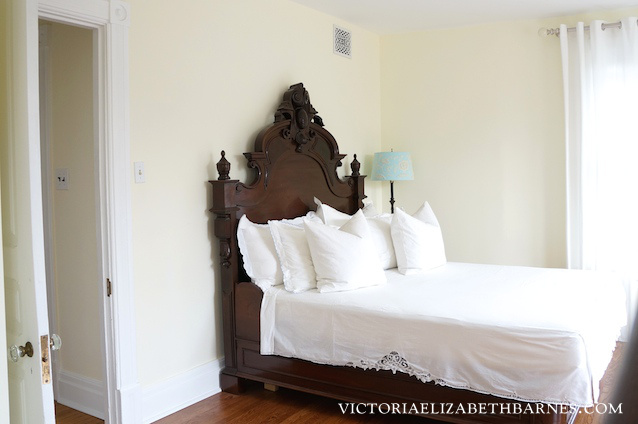 What the laser beams are about — is my suspicion that more often than I realize, when words are coming out of my mouth, they are going somewhere other than a place in Paul's mind where he stores important information.
And that possibly, there is a folder in Paul's head where he files everything I say to him… and then, nightly, he runs that file through the shredder.