When I first wrote about decluttering, some people hated it.
A few predicted CRUSHING REGRET.
This has not happened.
The opposite.
As I have cleared away clutter, more has looked like clutter… and somewhere along the way, I got a glimpse of something magical:
RADICAL
SIMPLICITY
For some brief moment, I SAW the option.
It was a blazing epiphany of nirvana.
I got it.
I *tore* into my closet.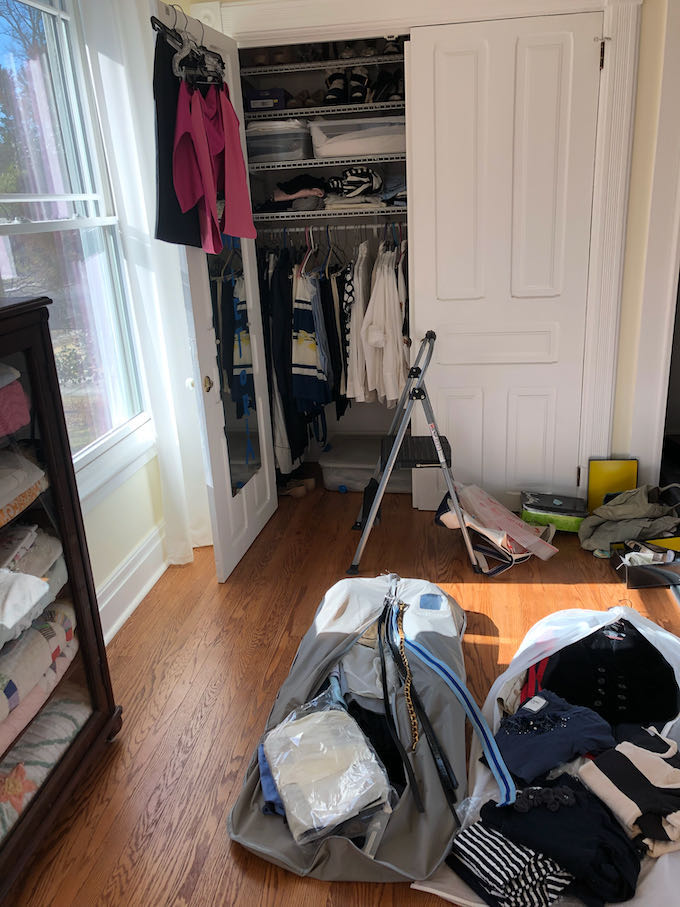 I had decluttered the closet before, but not really; I'd only really discarded things that were truly unwearable– stuff I was keeping for when someone comes and steals all of my other clothing in the night.
This time, I pulled it all out.
I made a giant spectacular disaster mess all across the floor of the bedroom.
Instantly, I was seized with paralysis and regret.
My clothes are *MY HOARDING JAM.*
Just looking at the stacks,
I felt the attachment.
I was definitely not letting go of any of this VERY PRECIOUS STUFF FROM TJMAXX.
So I just left the giant spectacular disaster mess.
Two weeks…
…a month…
Thirteen weeks and three days.
Paul was like— what's going on in here?
And I was like— I really don't know. I guess we live like this now. Just don't walk around.
The longer the piles sat there, the less the stuff looked… precious… the more it started to look like a pile of garbage nuisance.
Randomly, one day, Self was like— well, we could just TRY ON, one pair of those jeans. JUST ONE.
And you know what? I didn't like them.
I DISLIKED them.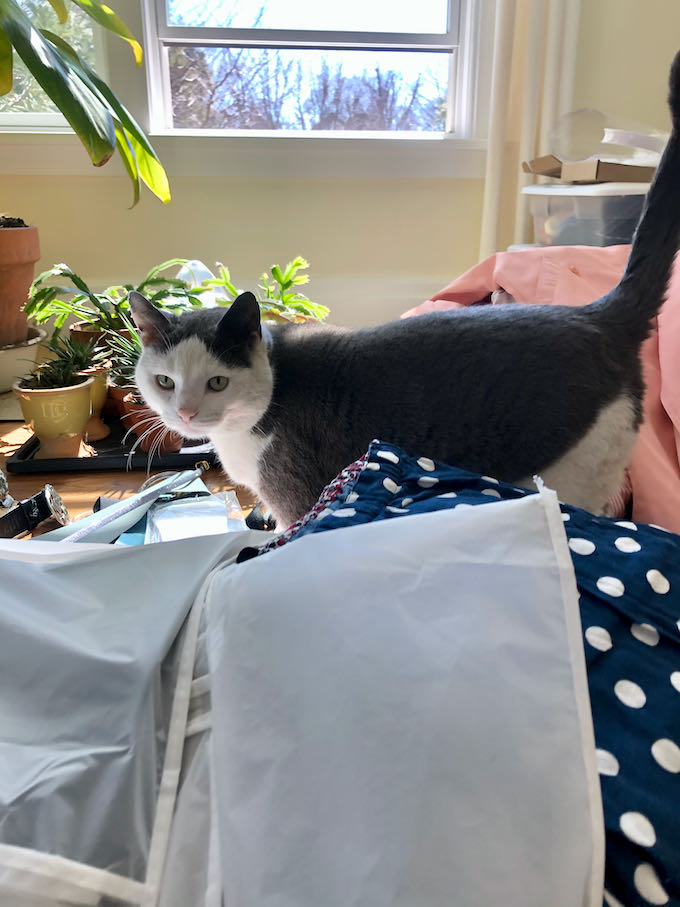 Out of my closet, I took two white garbage bags:
My circa 1997, Steve Madden knee-high platform boots— an actual physical representation of my 20-year-old soul.
I keep them in separate garbage bags because they shed black powder flakes all over everything.
You know when you have an absolutely perfect piece of clothing?
That was these boots.
They are a piece of myself.
AND I will never wear them again.
To wear them, I would need to tolerate the disintegrating vinyl lining sticking to my tights, my socks, my bare legs; leaving a powdery black visible ring around the top of my calf.
Typing this out, Self helpfully suggests— what if you GOT THE SHOP VAC AND REALLY SCRUBBED WITH THE BRUSH ATTACHMENT?
You should at least TRY.
BECAUSE WHAT IF SOMETIME IN THE FUTURE IT TURNS OUT YOU NEED ROTTING PLATFORM BOOTS?
AND YOU THREW YOURS AWAY.
Like an idiot.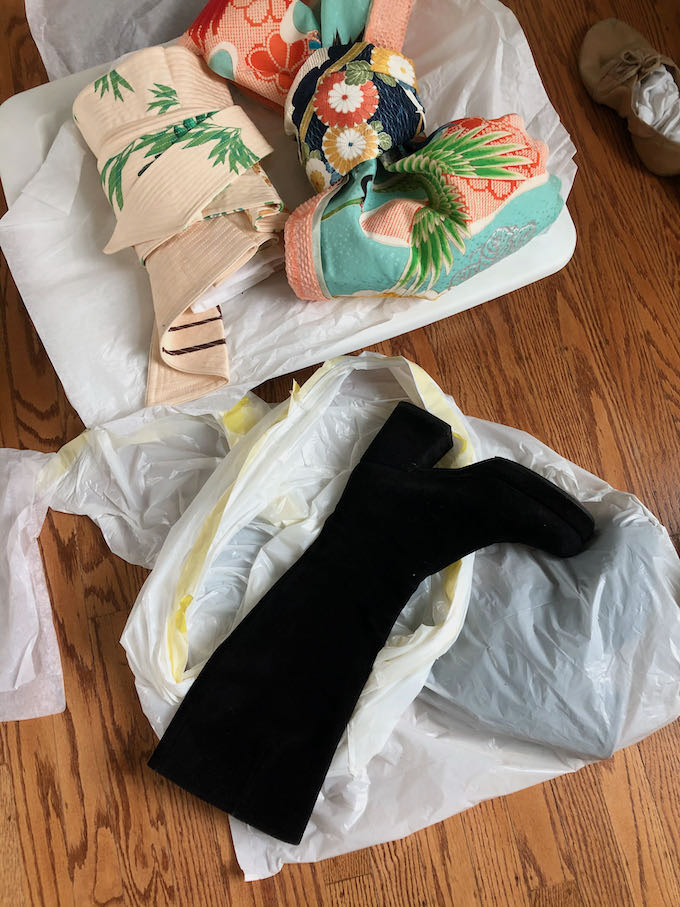 I put the boots (in their separate bags) near the steps— to take out to the trash.
Then the bags sat there.
For a week…
Six weeks…
Six months and nine days…
But then, one day, out of nowhere— I was ready to detach.
I ran to the steps and got the bags and RAN and shoved them at Paul and said— quickly! Hide these bags in the garage until trash day. *DO NOT* let me EVER SEE THEM EVER AGAIN OR I WILL NEED TO TAKE THEM BACK AND REEVALUATE.
QUICKLY!
Go! Hurry! Fastfastfastsofast!
NOW!!
LITERALLY RIGHT THIS SECOND.
No, no, what are you doing??!
Do you know what Paul did? He opened the bags and looked in and said– but wouldn't somebody WANT these boots?
And I was like– do you literally not speak human language?
LISTEN TO ME:
God had to intervene, for me to get rid of these bags. 
Do you understand? 
LITERALLY GOD.
I PRAYED *ALOUD* TO THE BABY JESUS, for a MIRACLE to allow me to LET GO OF THESE BAGS OF LITERAL GARBAGE THAT NO ONE CAN WEAR OR SELL OR USE and really MY PLAN was to just leave them sitting here at the top of the stairs forever.
But then, THROUGH THE GRACE OF THE BABY JESUS I had a FRACTION of CLARITY… for a moment, I GLIMPSED my own insanity— I SAW that I am STORING GARBAGE ANXIETY IN MY CLOSET AND IT'S A METAPHOR FOR MY ENTIRE LIFE.
I don't want to be this way anymore.
I wish to DISCARD my garbage armor.
Literally. Figuratively. Metaphorically.
ALL OF IT.
BE GONE YE GARBAGE.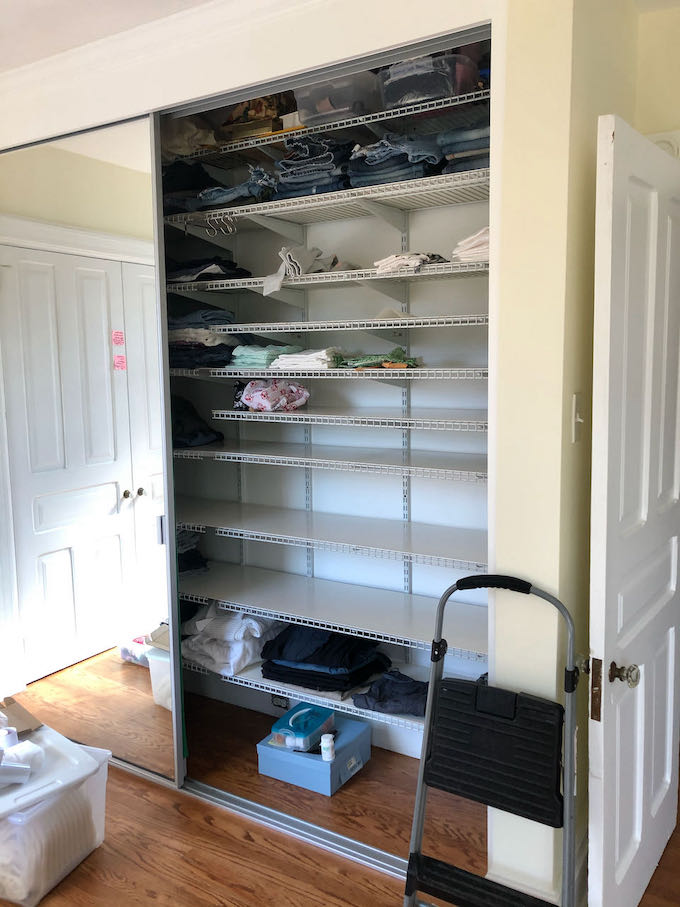 *Intermission*
Something about writing about MY experiences,
sometimes makes total strangers defensive.
So please read this disclaimer:
I'm writing about ME.
And:
If you WANT your stuff,
you are not having the same experience I am having.
For me, I have come to see that the reason I am keeping SO MUCH STUFF is NOT want or use or love; it is: Guilt. Anxiety. Stress. Responsibility. OVERWHELM.
Perceiving value, feeling RESPONSIBLE for this THING THAT MAYBE I COULD SELL FOR SEVEN DOLLARS OR SEVEN HUNDRED OR SEVEN THOUSAND DOLLARS but if I DON'T GET THAT then I DON'T WANT TO SELL IT SO MAYBE I SHOULD JUST KEEP IT.
It is easier to keep the thing.
To SAVE IT.
To AVOID THE ANXIETY.
*End intermission*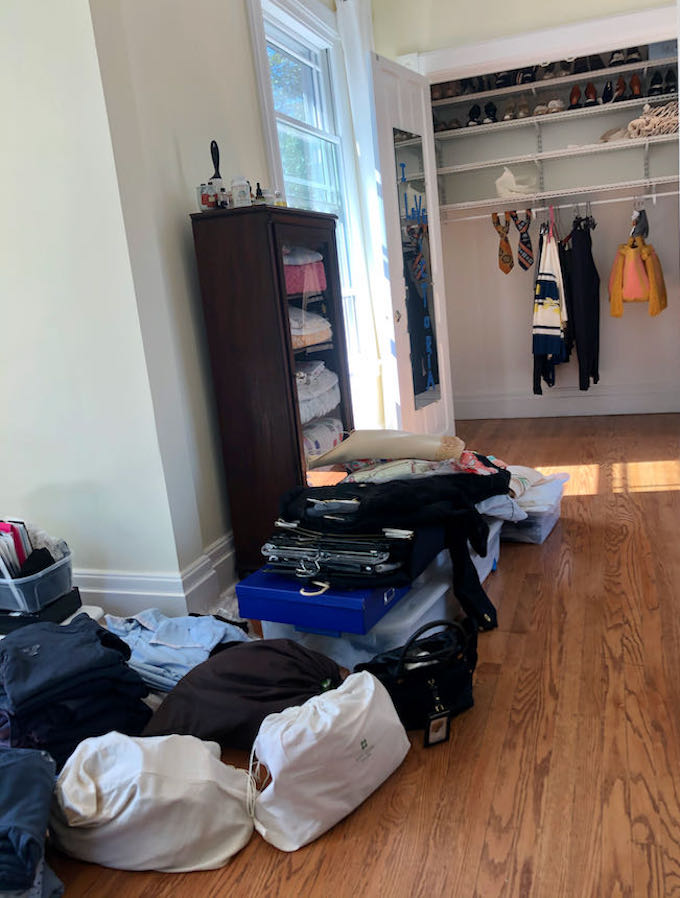 At some point, I SAW:
Myself,
trying to get a chocolate stain out of a twenty-year-old sweater that I haven't worn in actual decades but it's a really nice sweater that SOMEONE would like to have but this stain is definitely going to need…
And I extrapolated a GLIMPSE of how my entire life, I have been worried about the wrong things; and how it has paralyzed me.
Worrying. About. The. Wrong. Things.
Feeling RESPONSIBLE FOR THE WRONG THINGS.
Being overwhelmed by stupid minutia— trying to control every last thing.
TRYING TO CONTROL EVERY LAST THING.
I finally SAW:
*WHY* AM I CHOOSING THIS RIGIDITY AND MARCHING?
WHY?
NO REALLY?
WHY?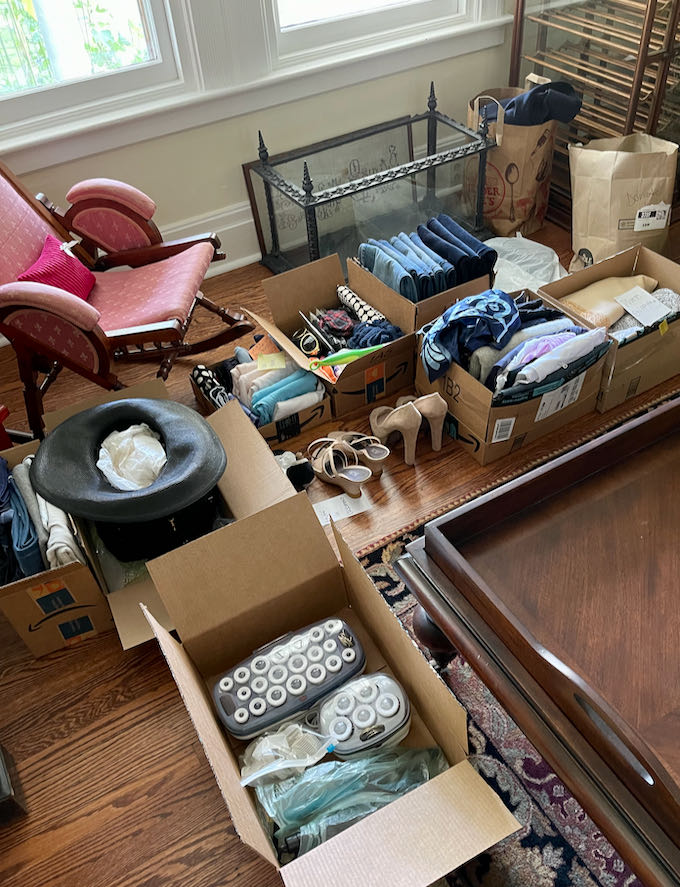 If you are someone who thinks maybe they would like to get rid of some stuff, but you literally cannot detach – girl, I hear you.
I wrote my first post about decluttering four years ago.
It took on a momentum of its own.
Your brain changes.
You start to see things differently.
The open uncluttered space became more appealing than:
stuff I got on Craigslist 10 years ago that I see VALUE in and I got an insane bargain and also there are lots of people who would really like to have this thing for themselves so I should definitely keep it and since all of this room is chaos anyway I might as well save some boxes in here too because you know, I do really hate to throw away a good box.
Focus on what you WANT to keep.
You start to see the difference and detach more easily.
You don't have to do it all at once.
There are no rules.
Sometimes you will reclaim 50 things from your sorting pile.
Totally fine.
Just see where it takes you.
You'll be surprised.
If you are wrestling yourself to the ground over some item, just leave it.
It will sort itself out.
You WON'T get rid of anything ACTUALLY important.
You might FORGET why you donated it, and think you made a mistake, but if it was ACTUALLY important to your existence, you ABSOLUTELY would have kept it.
Parable of the Forever 21 t-shirt:
I thought I donated a t-shirt from Forever 21, circa 2003, that was the PERFECT shade of deep rosy pink.
Months later, I was SEIZED WITH A NEED FOR THAT *EXACT* COLOR SHIRT.
*NO OTHER SHIRT WOULD DO.*
And I was like— dammit, I NEED that t-shirt.
WHY WOULD I GET RID OF THAT!?!
My life is RUINED.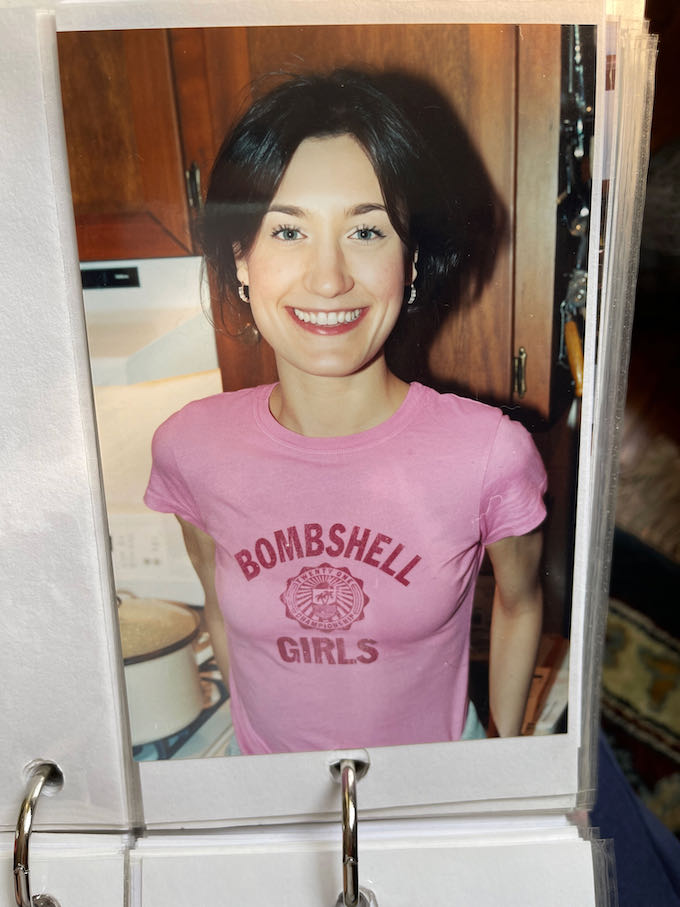 A year later, in the basement, I found that life-necessary t-shirt, in a bag of rags, and I was like— OMGHALLELUJAH I DIDN'T RUIN MY LIFE!!!!!
I RAN upstairs to try it on and confirm that indeed, this IS the only acceptable t-shirt!
And I hated it.
And I remembered, oh yeah it has this weird stain-line from being folded in the closet, unworn for twenty years.
And oh yeah IT SAYS *BOMBSHELL GIRLS* in pink glitter.
And, oh yeah, it's pilled and misshapen and way too short and made out of trash fabric from Forever 21.
And OH YEAH I AM 46 NOW AND KNOW ABOUT NET-A-PORTER.
I didn't NEED to REGRET getting rid of this.
My initial assessment was correct.
Which led me to the glimpse:
I don't really trust my own judgment.
In fact, this entire exercise— the clearing-away, of layers of unloved, unevaluated stuff, has illuminated some things about myself that I was blind to.
I came to see:
It has nothing to do with stuff.
It has to do with protection against regret.
Protection against making a mistake.
I HATE MISTAKES.
I REALLY I ABHORE A MISTAKE.
I came to see that rigid perfectionism is my jailer.
And that I can choose otherwise.
And that OTHERWISE IS SO MUCH EASIER.
And that SOMETIMES perfectionism is a tremendous gift of magic.
And the point is to know when you are making magic, and when you are just flogging yourself mercilessly for no reason at all.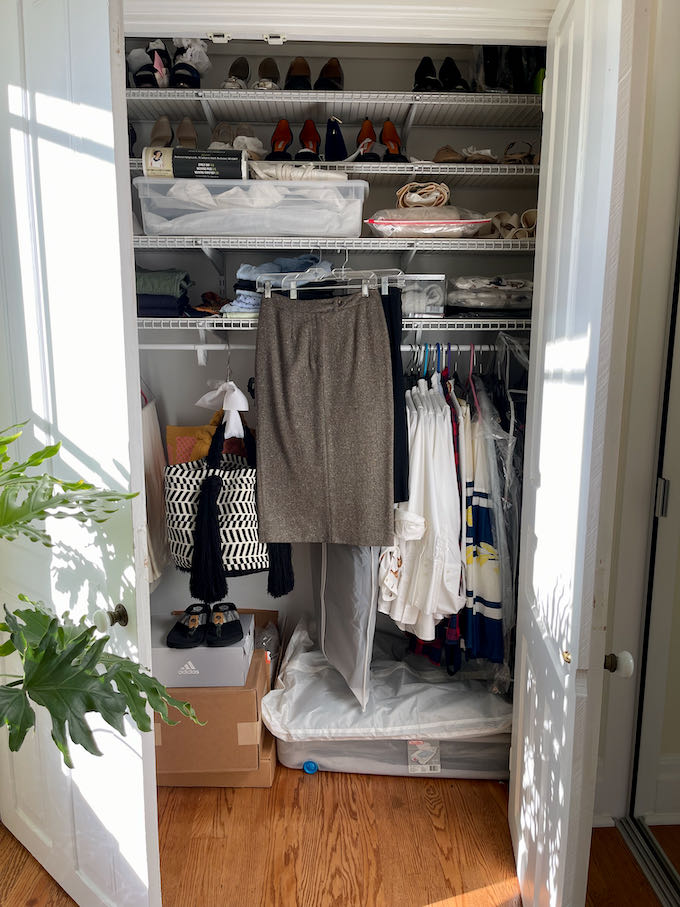 I came to see the option for letting go of the things that do not matter.
Letting go:
of chaos, overwhelm, panic.
of obsessive perfection, indecision chaos, paralysis overwhelm, addictive, compulsive, rigid, controlling, hoarding.
We'll have to cover all of that in another post, because as usual, this one long-exceeds the attention span of the internet.
So.
To bring this full circle to my last post about opening an antique store:
I was going Mach27lightspeed towards a shop full of Giant Fancy Things.
A singleminded, maniacal march towards Craigslist domination.
While simultaneously performing some kind of self-administered brain-transplant via decluttering and Eckhart Tolle.
I THOUGHT these two paths were intersecting at the junction of me, taking all but my VERY MOST FAVORITES to my antique store.
Then my brother died.
Not what you were expecting?
Me either.
I crashed directly into the ground.
That lasted for a good while.
After the initial grief paralysis, I was SEIZED with a COMPULSION to CLEAN my house.

To impose ORDER.
On something.
So. Much. Cleaning.
POSSESSED CLEANING.
And.
The decluttering reached another level.
The level where I ACTUALLY DETACHED.
I detached from things that had been sitting in piles for…
years?
Literal years.
I detached from the magic skirt.
That's not code for something; it's a literal description a magical item of clothing.
It had been thrown over the upstairs railing for six months… I didn't WANT it anymore. I WANTED to be free from these ENDLESS PILES OF STUFF but ACTUALLY LETTING GO was impossible.
But after Matthew died, I was like— this skirt issue here is not the issue I thought it was.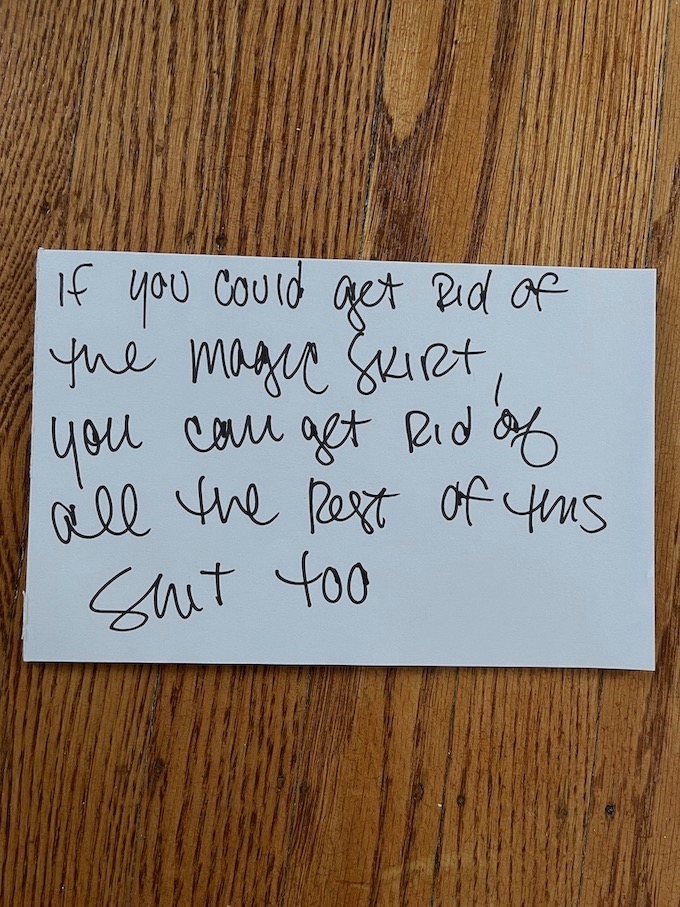 I didn't try to sell any of the clothing on eBay.
I gave myself the gift of not flogging myself.
I chose to JUST BE DONE.
I took it all to the donation place.
I got rid of all of the books I don't REALLY LOVE.
Even though it left empty space on the shelves.
I started selling all the stuff I had collected for my store.
I accepted the sane option— just use the garage.
IT'S FREE AND THE COMMUTE IS PRETTY GOOD.
And,
*whispers*
I have begun to cull favorites.
I hate to tell you this, because it's a betrayal of my sacred blood oath to own ALL OF THE FANCY THINGS: I had the passing thought— I could let go of the Narnia wardrobe.
It's SO BIG.
The room would be so much more OPEN, without it.
Self slapped me soundly across the face,
so at this point, no.
But the fact that I would even consider it is *astounding.*
Like, it's THE LITERAL PORTAL TO NARNIA.
So.
This post is over now.
There isn't really an ending, I'm just reporting the events.