Shortly after I started blogging, I wrote one of my favorite posts— a departure from anything house-related, it was the story of how my best friend and I packed up and moved to Texas.
But I ended up taking part of the story out: the part about how we filled an ex-boyfriend's truck with trash.
At the time, I was new to this whole idea of over-sharing with total strangers on the internet, and I cautioned myself to exercise some restraint.
But I've developed a sense of (possibly misguided) friendship with you total strangers, and I really want to tell you this story… Plus, you know, restraint just really isn't my thing.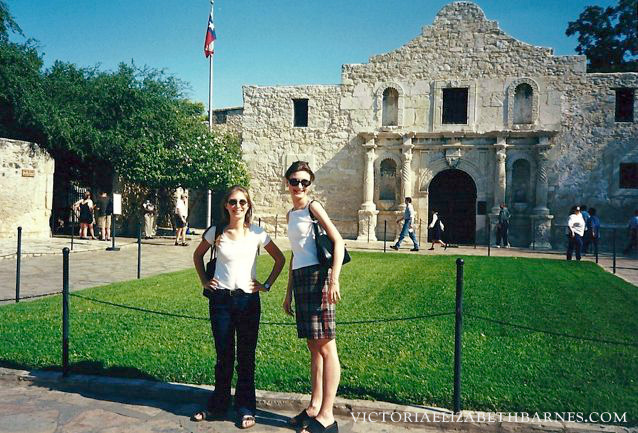 In Texas, Lara and I lived in an apartment with no furniture. We had no beds. No dressers. No shelves. Nothing.
We bought two plastic lawn chairs, two futons without the frames, and acquired a piece of foam we called the "sofa."
Other than that, the apartment was basically empty.
But after awhile, it wasn't so empty anymore.
After awhile, it was pretty much full of crap.
And shoes.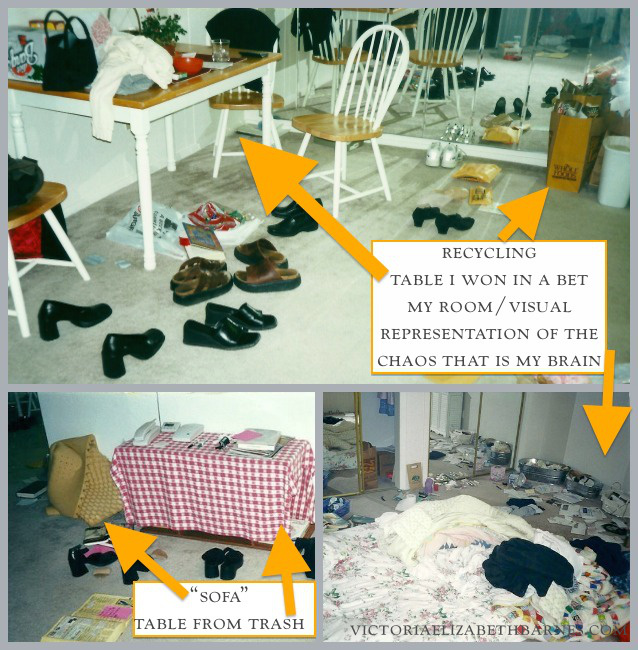 Eventually, it came time to leave Texas and move home, and we were astounded at how much stuff we had accumulated.
We learned that when you are moving, you end up throwing so much stuff away… even though much of the stuff is still perfectly useful, no one at Goodwill wants a used shower-liner, half-burned candles, or the semi-broken umbrella that requires you hold it open with both hands and run really fast.
One night when we were packing, Lara came out of her room holding something worthless but not useless— a distinction that stymied both of us. She waived it at me and said— it's such a waste to just throw all this stuff away!
And I said — OH MY GOD. Let's give it to Rob.
LET'S GIVE IT ALL TO ROB.
Which is how we ended up filling Rob's truck bed with the detritus of our apartment.
Rob was a wildly-entertaining jackass, who had initially only revealed his charm.
He had fooled one of us into thinking that spending time with him was fun. Until we ran into him, unexpectedly, at a bar. Where he was with his girlfriend.
This was surprising. As it always is, to learn the existence of a previously-unknown-but-important-and-perception-changing-detail.
Rob ignored us until his girlfriend went to the bathroom. Then he came over and said— look, I didn't tell you, but I have a girlfriend. Don't make a scene.
Then he walked away.
Are those his exact words? No.
Is it possible he was slightly more diplomatic? Yes.
However. There is only so much diplomacy you can bring to that interaction.
Lara and I looked at each other with the specific combination of incredulity and rage and hysteria that only your best friend understands.
We were stunned. Not just at his bold disregard for polite conversation, but by our unacceptable lack of snappy comebacks. Or, failing wit, simply punching him in the face.
We said things like— his ponytail should have clued us in… But what we really meant was: how did we miss the giant sign on his forehead? The big neon one that said: Beware! I am a total ass.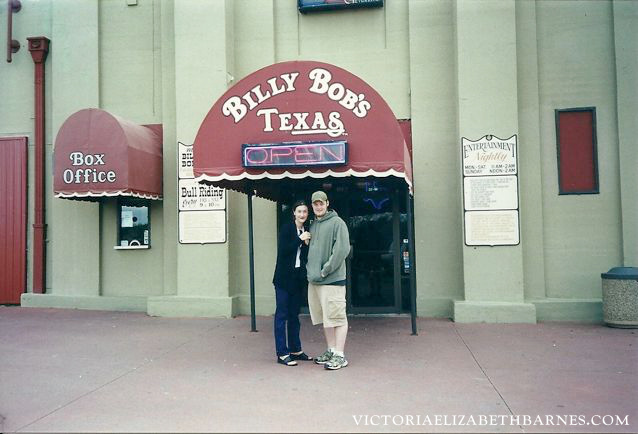 I am pretty sure it's a universal-dating-experience that at some point, someone you hardly know, will treat you like shit, for reasons that have nothing to do with you.
And the worst part is that instead of having a true response, you will do nothing.
Partly because you have no idea what to do. And partly because you are operating according to a totally-insufficient code, cobbled together from bullshit your mother told you, and a self-protective wish to quickly build a time machine, travel backwards, and avoid the grievous misstep of having liked him to begin with.
But YOU ARE TOO LATE.
You are too late because you have already failed to care less than he does. So now you cannot have any reaction at all, because he might interpret one as caring, and that would be radically incorrect.
The only option is to back away. Quickly. With whatever exploded bits of your dignity are left… sweeping up scraps and stuffing the pieces in your pockets and saying— oh excuse me, can you just lift your foot? You're standing on a shred of my self-esteem.
Logic would dictate that you simply walk away… However, when you are 23, nothing is dictated by logic. Especially dating.
So instead of walking away and rolling your eyes, you spend a lot of time thinking about it. And suffering reoccurring-mortification-flashbacks. And dwelling on how you did NOTHING.
This becomes the crux of the matter: your failure to defend your dignity. Either by wryly cutting him down to size, or by carrying grenades in your handbag.
In Rob's case, it took no time at all to realize he was an idiot and not deserving of one second of heartbreak or sadness. But it took nearly three months to realize what he was deserving of— shelf liners, broken umbrellas, and everything else we were throwing away.
All the crap we'd accumulated.
All the crap we didn't know what to do with.
All the crap that was worthless but not useless.
Broken umbrellas. Half-burned candles. Christmas gift-bags. Deformed foam cushion. Scented body lotion. Plastic ice cube trays. Flimsy aluminum pizza pan. Cleaning gloves. Half-full bottles of dish soap, shampoo, conditioner, vinegar, ketchup. Wrapping paper. The phone book. Tin foil. Saran wrap. Junk mail. Catalogs. The bag of empty cans and bottles for recycling. A red tablecloth. Markers. Greeting card envelopes. Happy Birthday streamers. Plastic cups. Broken picture frames. Shelf liners.
If we could have fit our futons into the car, we would have given him those too.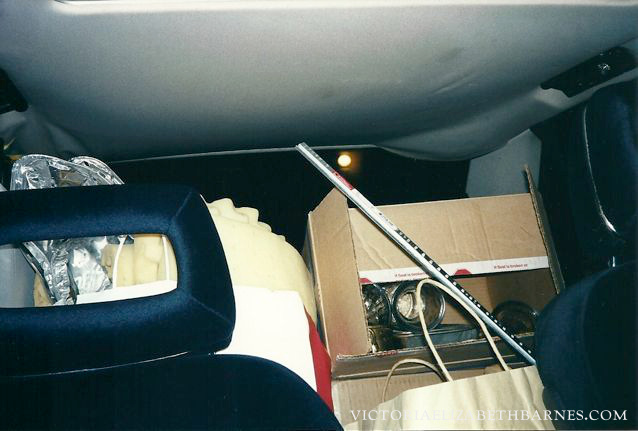 Rob did us the favor of working nights and parking in the middle of a mostly-empty lot… We pulled up right next to his truck and opened all of our car doors.
We paid attention to detail — aligning the shampoo and conditioner for him. Arranging all of the condiments and kitchen items together, neatly, in case he wanted to take them home and put them in his own refrigerator. We propped the umbrella open, so that he could see it was still in working order.
For aesthetic balance and dramatic flair, we draped the shower liner over his windshield.
I cannot say that he took the time to appreciate our efforts.
After we unloaded everything, we drove across the street and waited in an unlit lot… We sat on the hood of our car and talked about how glad we were, to give him such a heartfelt gift.
At 10 pm, we watched him casually walk out of work and then start running to his truck… We watched him rip and throw it all into the parking lot.
He didn't just look mad.
He looked insanely mad.
He tore through it without appreciating that it was more than trash—it was an art installation.
A tableau.
A message that said— you are an ass, and now we will remember you fondly.
Lara and I were crying. I fell off the car onto the pavement because I was blind from the gallons of water pouring out of my eyes.
I kept saying— what is happening? What is happening? Lara, I cannot see what is happening!
DID HE TAKE THE UMBRELLA?
We sat there, paralyzed— laughing and crying and trying to breathe. The kind of laughter where you think you might vomit or have a seizure or worst case scenario— suffer cerebral hypoxia from lack of oxygen to your brain.
After he left, the parking lot was strewn with trash and semi-trash. There were drawer-liners blowing away in the night.
Eventually we picked ourselves up and went across the road. We retrieving the foam cushion, the plastic utensils, the yellow pages.
We shoved it all back into the car while saying things like—he didn't want any of it? These drawer liners were practically brand new.
We sped home— delightedly anticipating the angry voicemail— but there was nothing.
NOTHING. For months and months. Until we'd long been home, back in our respective states. And someone called me and said—maybe this is going to sound crazy? But did you and Lara fill Rob's truck with trash?
And I was like, how is that even a question?