My brothers are my favorite people on the planet.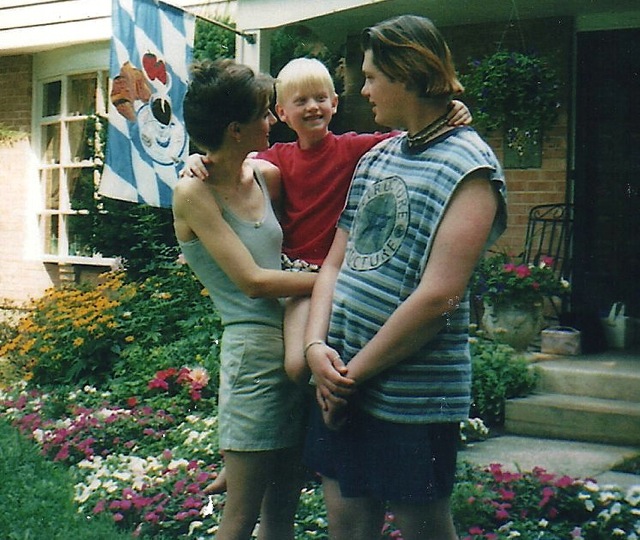 I am the short one.  And the unfunny one.
And in recent years, the one who embarrasses them by going to the beach dressed like an Amish person.
But I am also the one who gives awesome Christmas presents.
Every Christmas, I get the three of us the exact same thing.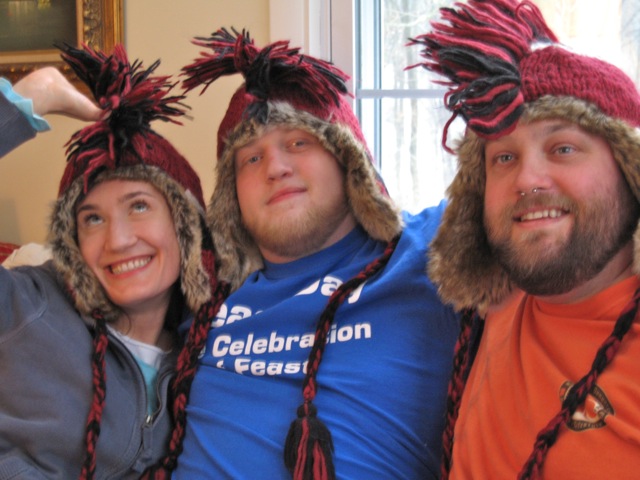 And then we take this exact same photo, jumping off my parent's front step.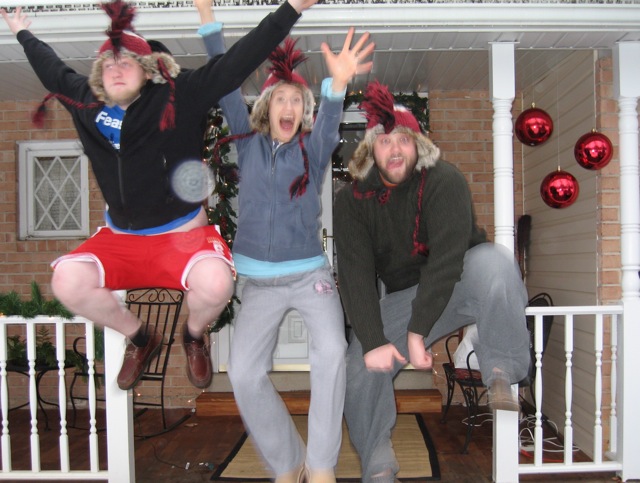 That was two years ago…
I'm sure I don't need to explain the inherent awesomeness of mohawk hats.
Or the subsequent, gift-related agony of never being able to follow with something better.
How do you top that?
You don't.
It's impossible.
Until this.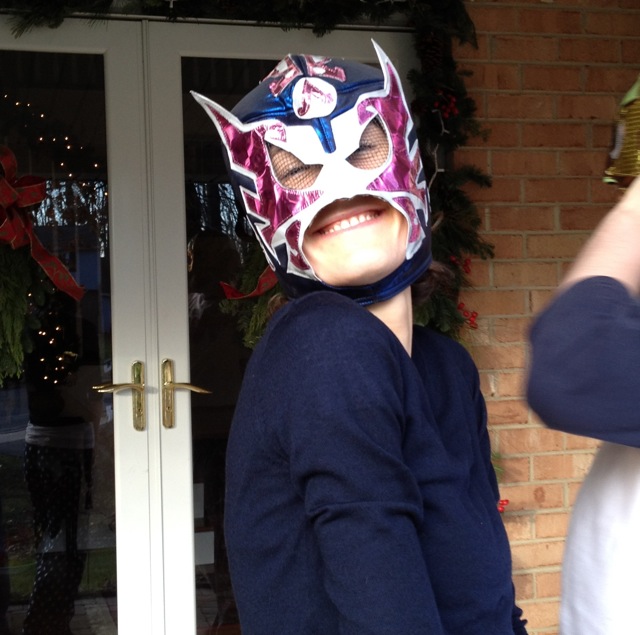 Correct.  That is a lucha libre mask.
It would be impossible for me to overstate my degree of enthusiasm.
I laughed uncontrollably every time I imagined their reaction.
I could not wait to see their faces.
Did they think it was funny?  No.
I had to beg them to put them on and take our yearly photo.
I said–okay, on three… everyone jump in the air.
And they were like, Vic.  It's cold.  This is stupid.
And I was like DO IT ONCE.  It's a tradition.
Aside from being the short one and the unfunny one, I am also the bossy one.
So I insisted– just once. Okay?  One.  Two.  Three.
You can see that I put my all into my jump.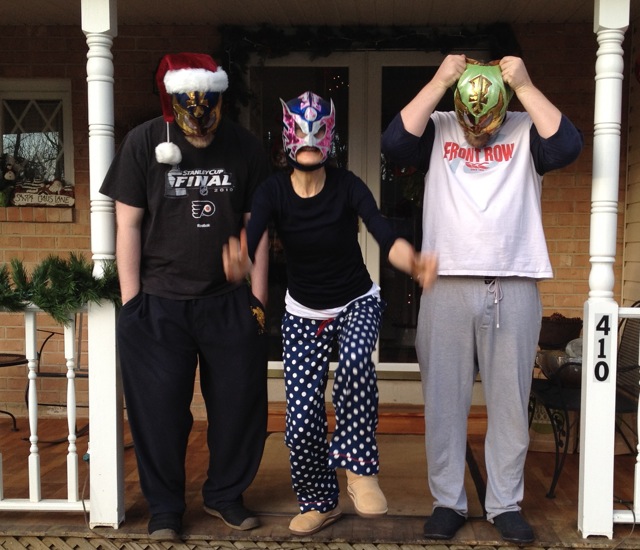 See my joie de vivre?
See how they just stood there with their hands in their pockets?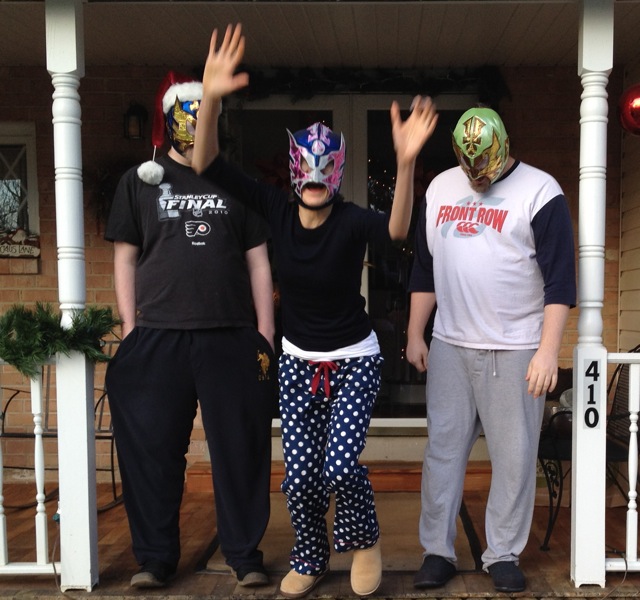 See my commitment?
See how I made sure to pose for the end-jump-shot.
Like an idiot.  Thinking they were behind me.
Matt said—I think the neigbors are calling the police.
Chris said—seriously, I'd better not see these on Facebook.
Matt abruptly stopped texting and said—Dude!  Whoa! You CANNOT put these on Facebook.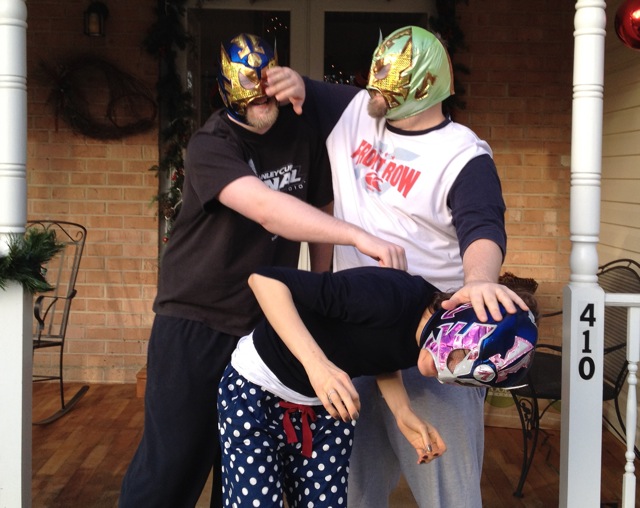 So.  This is not Facebook.
Also, neither of them has ever said they read my blog, even though it's all I talk about.
So—let that be a lesson.  To anyone who has failed to tell me, unprompted, that my blog is TOTALLY awesome?  You might want to get on that.
Paul?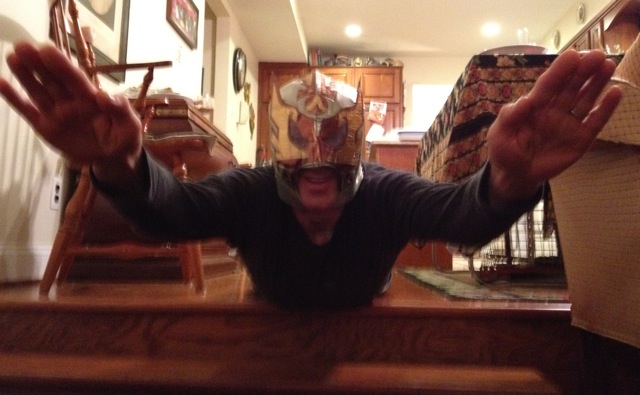 Merry Christmas, Happy Hanukkah, Merry Solstice,
Happy New Year, Merry Boxing Day, Happy Kwanzaa…
•••
Whatever holidays you celebrate,
I hope you get to spend them with the people you love.