Not only is she the world's tiniest threat of attacking and destroying… Baby Godzilla DOES NOT SLEEP.
Exhibit A:
I lack the words to convey to you the ENERGY that Baby Godzilla brings to her attacking and destroying… she moves 78.2% faster than other kittens.
I TRIED to video her so that you could SEE THE ZOOM.
But literally, I CANNOT FOLLOW HER WITH THE CAMERA.
All it shows is a blur, a streak, and then nothing.
BABY GODZILLA WILL NOT BE SEEN ON FILM.
Also:
I just googled "Godzilla" to see what I could learn about my baby monster, and to see if I should be concerned about radioactive exposure… I'm fine with tiny fiends, but carcinogens really frighten me!
And Google suggested this search:
Is Godzilla based on a true story?
Before now, my assumption would have been: anyone who has that question is an idiot.
But now I know better.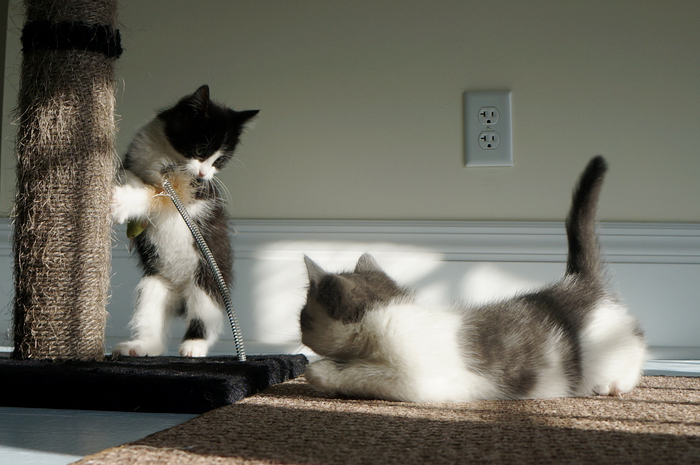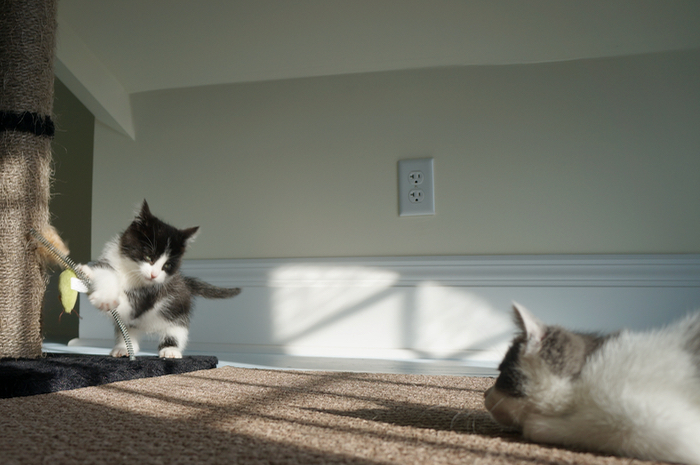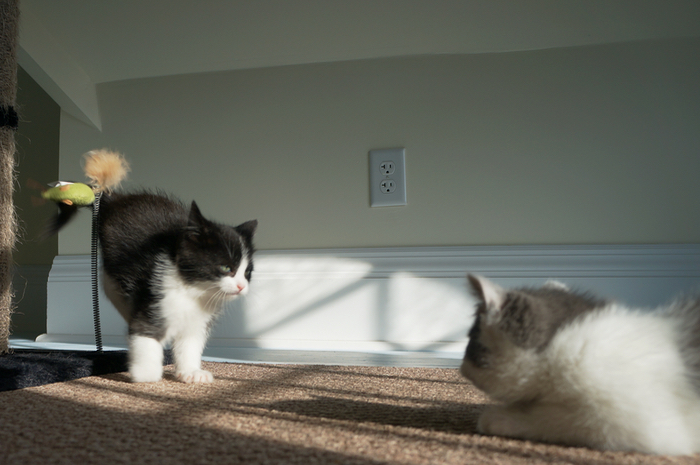 Also:
I learned, and am compelled to tell you –incase you are ever in some kind of trivia war involving Japanese cult films– did you know that Godzilla has adopted children?
Surprising, right?
Please share any prize money you win from knowing this informtaion.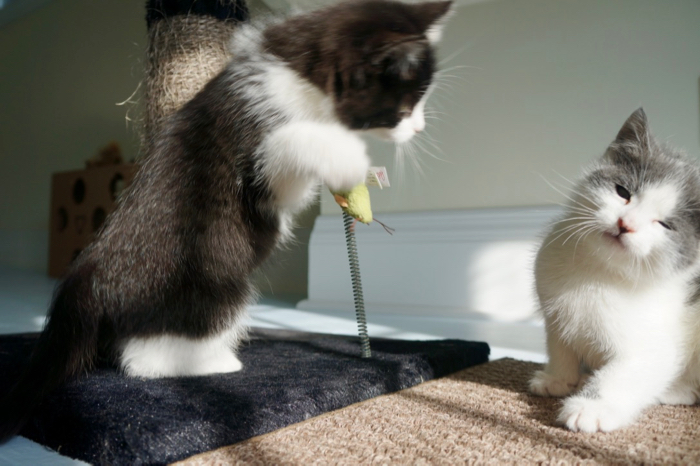 Thanks for all the game recommendations!! (if you are a game person, recommendations are in the comments of this post!)
I chose a few— including Telestrations, which was (by my tally, conducted in five seconds of the first 10 comments) the most-recommended.
What I'm reading: American Girls: Social Media and the Secret Lives of Teenagers, by Nancy Jo Sales
I'm only about a quarter into this book, but I like it… I wasn't sure if it was going to be actual research and insight; or just someone banging the panic gong.
To be clear, I totally GET the panic gong… I am thankful ALL OF THE TIME that I did not have social media when I was a teen. I cannot imagine what that does to your brain.
Just thinking about all the opportunities to make an ass of myself, fills me with terror!
The part I'm at right now– she is writing about how the adoption of internet into American (and everyone's) lives is inextricably linked to pornography… and how that, combined with the culture of silicon valley's boy's club; means that the technology we use/the structure of social media is all built on the original concept of "hot or not."
Basically the kind of stuff that sets my hair on fire with rage; and makes me wonder, WHY ARE WE STILL PARTICIPATING IN THIS NONSENSE.
But also– HOW do you communicate to a CHILD, that the thing they look at all day, every day, is NOT REAL LIFE?
SWIPE BELOW TO SEE KITTEN VIDEO!

Anyway. This post is over now because HOLIDAY!!
My brother Chris is home, Matty comes in a few days… and I am going to pack up the hooligans and go to my parents… and also give Paul his gift of 24 hours of peace and quiet until he has to come and join the madness.
This is going to be the BEST HOLIDAY EVER… all along we have been doing Christmas wrong!
CHRISTMAS IS BETTER WITH KITTENS
#OBVS
We had a trial run, the day Chris got in– I took the kittens WITHOUT asking permission… They were on their best behavior! Everyone loved them!
Probably because it took them a full afternoon to discover the Christmas tree.
AND THEN HOLY MOLY.
I was like— okay! Time to go! Say goodbye! Don't wear out your welcome YET! You can destroy the tree in three days! #sorrymom
Also— as you may (or may not) have noticed, I did no holiday posts this year… life has been extra crazy in the last two months; and I feel like December just flew by!! Also, FYI: kittens eat your interest in doing other things.
I COULD:
Drag out boxes of decorations.
Make a mess.
Walk away from the mess.
Leave the mess until guests.
Regret making a mess in the first place.
Wait until greenery is as dry as humanly possible until taking it down so that it explodes everywhere.
Get the boxes back out.
Leave them in the middle of the foyer for three weeks.
OR:
KITTENS
I chose kittens… so if you want to see what Christmas usually looks like at my house, here is my holiday house tour.
MERRY CHRISTMAS, HAPPY HANUKKAH, MERRY SOLSTICE,
HAPPY NEW YEAR, MERRY BOXING DAY, HAPPY KWANZAA
•••
WHATEVER HOLIDAYS YOU CELEBRATE,
I HOPE YOU GET TO SPEND THEM WITH THE PEOPLE YOU LOVE.
JAZZ HANDS, VEB