I was amazed at the number of you who endorsed forgoing a range hood. The comments rolled in, practically faster than I could read them!
I got super excited and thrust my fist in the air, shouting – I WILL LEAD THIS REVOLUTION!
Then I started assembling a really snazzy uniform; because a good outfit is the foundation for all significant life-events, and a much-overlooked detail in most social uprisings. Also, I really hate to miss an opportunity to overdress.
But then I heard a deep and somber narrator's voice; it said – Victoria was unaware that a disturbing theme was about to emerge… bacon.
You need a range hood because:
Bacon smell.
Bacon grease.
Bacon smoke.
Bacon bacon bacon.
My fellow humans!
WHY ARE YOU EATING BACON?
Did the bacon people fail to send out a memo alerting the public to their exciting news: Bacon has been classified as a Group 1 carcinogen… Group 1 is: "things we KNOW FOR SURE CAUSE CANCER."
The World Health Organization's International Agency for Research on Cancer has determined conclusively that consumption of meat is carcinogenic to humans.
Here is the World Health Org Q&A on the research.
Here is Harvard's School of Public Health article on the research.
Here is the article in The Lancet's oncology issue.
Now, I know you're saying– but Victoria! Bacon is everyone's favorite carcinogen!
DUH!
And to that I say:
ARSENIC IS ALSO TOTALLY DELICIOUS!
And: gives your complexion an indescribably brilliancy!
WOWZA!
Arsenic could totally make a comeback!
The Arsenic Industry just needs to band together! Create an Arsenic Counsel! Pool their resources to invest billions of dollars lobbying the USDA and the FDA!
Next, they should create a fun advertising campaign! With a catchy jingle! Featuring an attractive (but-not-distractingly-so!) "mom" in the kitchen, lovingly sprinkling arsenic on dinner!
Their slogan could be:
Arsenic! Small amounts won't kill you!*
*(probably)
Arsenic spokespersons could cite studies (funded by the Arsenic Institute) demonstrating that cancer, heart disease, diabetes, endocrine disruptions, etc… are all complex issues that humans do not truly understand!
And certainly our health is influenced by MANY factors other than eating bacon arsenic… So treat yourself!
Plus, you know that all of that advertising and lobbying is expensive; and the bacon Arsenic Institute needs to stay profitable! So they are depending on YOU!
Also, their CEO needs to make a couple billion dollars; his private jet is expensive! So don't forget to feed it to your kids too!
Besides! It is OUR choice to consume carcinogens! And everyone knows that CHOICE is an essential element of our FREEDOM!
This is AMERICA!!
Don't tread on me!
Live free or die!
NOBODY TELLS US WHAT TO DO!
I mean, except that one time we let big tobacco give us cancer… and oh, that time with the pharmaceutical industry's wonder drug– thalidomide! And also that unfortunate period with the lobotomies.
Also, can we discuss taking away the socially-acceptable use of barbiturates for the treatment of hating vacuuming, but leaving us with bacon.
Who made THAT call?
Can we get a re-vote?
But mostly, we can all totally relax and not worry that big corporations don't care if we die/become addicts/get diabetes/cancer/heart disease!
I mean, would the tobacco, bacon, arsenic industry REALLY sell us a product they KNEW CAUSED CANCER? Of course not!
Vintage ads are hilarious because look how stupid humans were!
But is it less hilarious if we consider the possibility that nothing has changed? Is it possible that our health is OF NO CONSEQUENCE AT ALL to anyone who has a financial stake in our continued consumption of toxic products?
Is it possible that we must be smarter than we were 50 years ago, and NOT FEED OURSELVES CARCINOGENS… or let our children run behind the DDT truck… which my father remembers being a FOOLPROOF WAY TO AVOID MOSQUITOES!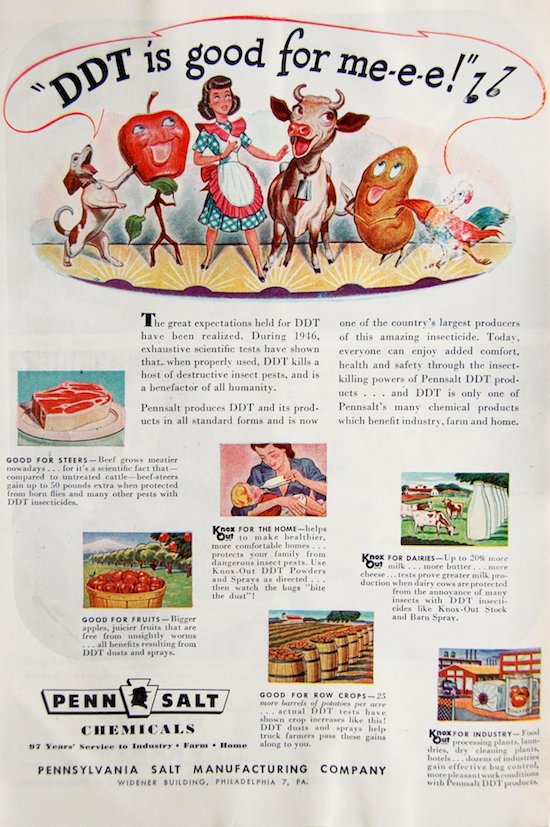 Does it matter that the only people benefiting from our consumption of toxins marketed as "food" are making billions of dollars?
The meat industry, the pharmaceutical industry, the medical industry, and the thousand-fold-increase of massively-profitable businesses that treat diet-related illness; their profit DEPENDS on humans making choices that are in direct opposition to good health.
Which leads us down the road to OUR per-capita tax burden: it's huge.
Does it matter that the way we subsidize "cheap" food is actually insanely expensive when you factor in the subsidies we pay via tax dollars?
An enormous cost to me and you, that benefits no one other than corporations! We pay our taxes, and corporate lobbyists make sure those taxes are spent in a way that MOST benefits their corporation's interest.
For every dollar spent on lobbying by all public-interest groups combined, large corporations spend $34. –How Corporate Lobbyists Conquered American Democracy: The Business of America is Lobbying
Plus! On top of the cost of subsidizing toxic food, there is also the cost of the health-consequences suffered by the segments of our population who MOST rely on this crappy food… their medical care is ALSO our tax burden!
The United States spends significantly more on health care than any other nation… more than twice the average of 29 other developed countries. Yet the average life expectancy in the United States is far below many other nations that spend less on health care each year. — CDC.gov
Who benefits from all this spending and subsidizing? Not me! Probably not you either.
But we do pay the COST: families experiencing cancer, heart disease, diabetes… heartbreak, desperation… frequently experiencing financial drain from expensive treatment, on top of the emotional gutting.
Can we reduce this emotional-cost by considering that the World Health Organization has found that 30% of cancer in America is caused by WHAT WE EAT… whoa!
Stop and think about that for a second!
That 30% is JUST cancer… if we also consider that heart disease, diabetes, endocrine disruptions, etc. are ALSO linked to what we eat, could we further divide that cost to families suffering illness, loss, and financial issues?
The words below are from the National Institutes of Health: OUR GOVERNMENT… not an organization run by woo-woo treehuggers like myself.
Cancer is a preventable disease that requires major lifestyle changes.

Only 5–10% of all cancer cases can be attributed to genetic defects, whereas the remaining 90–95% have their roots in the environment and lifestyle.
—National Institutes of Health

lead = PARTY!
Everytime we put food in our mouth, we are voting for the kind of world we want, and how we want our families to experience that world.
Do we want a world where bacon is considered "food" rather than "toxin" because the meat industry lobbies like crazy and the pharmaceutical industry dances a little jig when yet another person takes blood pressure medication/cholesterol medication/cancer medication?
Does it matter that the intensive farming of animals is the single biggest cause of global warming? (again, that link is our government) The biggest cause of environmental destruction is not cars, not overpopulation, not countries with no environmental regulations… WHAT WE EAT.
In the U.S. alone, factory farming pollutes American waterways more than all other industries combined… Generating over 1.4 billion tons of animal waste annually. —National Institutes of Health
So essentially: human health and the environment future generations will inherit…  are MOST IMPACTED BY HOW WE FEED OURSELVES.
BACON, THO!*
*next time you hear someone wax rhapsodic about bacon, you are listening to the dulcet tones of advertising at work! if YOU are the waxer, you are the ad man's dream!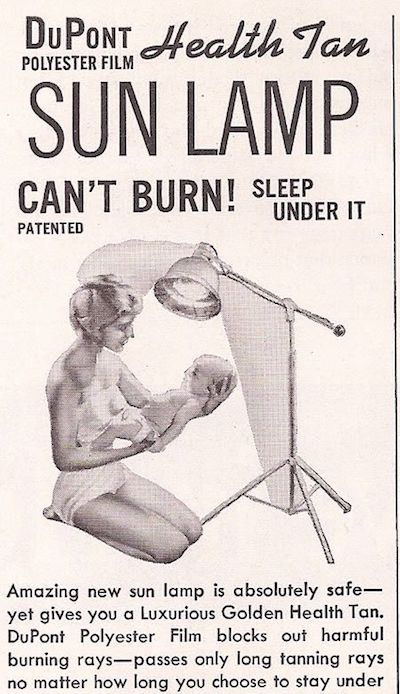 Anyway… if you're starting to suspect I am not totally ALL ABOUT BACON, you are correct.
If we can avoid contributing to factors that cause our illness, WHY WOULDN'T WE? We think of these diseases as beginning in mid-life… or late-life… but they begin as children. These are not conditions that come out of nowhere!
My father has had a heart attack… his father died of colon cancer (according to the American Institute for Cancer Research, HALF of colorectal cancer can be PREVENTED.)
Both of my parents have lost a younger sibling to Pancreatic cancer, a horrific and deadly killer… Both siblings were in their 50's… Both left behind wonderful families; spouses, children, brothers and sisters… families who were utterly gutted.
Might these things have happened anyway? Sure… I know this better than anyone! Dad's mom lived to be 93; she had all her wits about her AND her sense of humor. And she still had the "dripping can" on her stove– you know, to save the bacon grease to fry with.
And everyone said– wow! 93!
But might she have lived another five years if she ate better?
Two years?
One?
One year is a lot, when you love someone.