The last time I sold all of the things I own, it was to acquire The Elvis Memorial Library.
It was a simple trade:
Everything we own, in exchange for one single item of magnificence.

But I failed to specify that IT WAS ONLY MY OWN OPINION that this new thing was my own personal favorite… so I got email telling me that ACTUALLY, it was NOT that great. And I TOTALLY OVERSOLD IT. And you were expecting something BIGGER. And BETTER.
And a bookcase is totally uninteresting.
And it's ugly.
And also I am stupid.
So, to clarify: I am selling The Kingdom Mirror TO REPLACE IT WITH SOMETHING UGLY AND ALSO I AM STUPID.
It's how I roll!
It seems unlikely to me that anyone here is unaware of the time I found a MASSIVE MIRROR via Craigslist IN AN ALLEY… but in case you somehow missed it, it was TREMENDOUSLY EXCITING.
You can read the original post here: The KINGDOM mirror– proving that you NEVER KNOW what is on the other end of a Craigslist ad.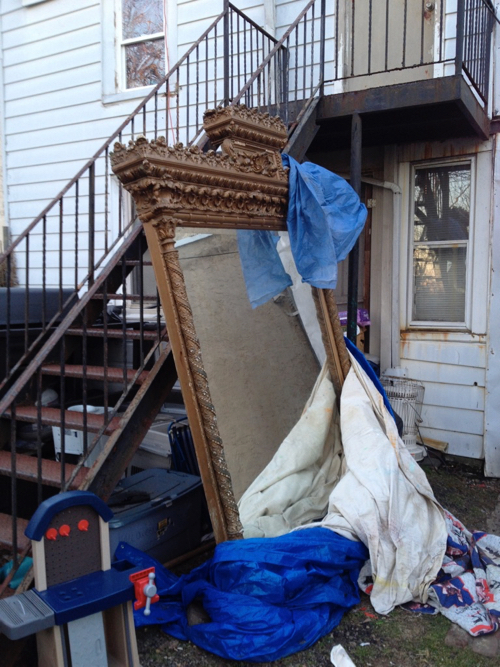 Usually, when I am selling stuff, I do not mention it here; because our shared affinity for GFT's (giant fancy things) makes me uncomfortable to take your money.
I know this for a fact because I have sold stuff to some of you; and have felt distinctly uneasy to have the interaction include cash.
I overthink everything.
It's one of my most expert skills.
But The Kingdom Mirror is how so many of you found me… IT'S BASICALLY THE BEST THING THAT EVER HAPPENED TO ME… and I didn't want anyone to feel that I failed to be… I don't know… forthcoming?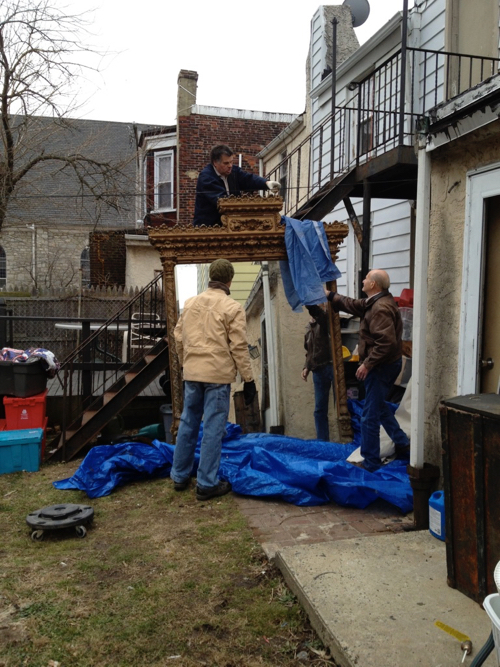 Also, whenever I list something that I've written about, on Craigslist, YA'LL KNOW IT'S ME, and are like, wait! why are you getting rid of this!?!
And then I have anxiety… like you will think I am… what… LYING TO YOU?
ABOUT HOW FULL OF CRAP MY HOUSE IS?
Why is this a thought process I have?
I am a crazy person.

Anyway.
The answer to why I am getting rid of something is ALWAYS:
I FOUND SOMETHING BETTER.
and
I need money.
Or space.
Or both.

And!
Friends!
Do not despair!
There is SOME good news!
What is coming, is SLIGHTLY BIGGER THAN THE CURRENT KINGDOM.
But that means I need a wall (on the first floor), at least 6' wide, with no vents/returns at the baseboard… and seeing as how thus far, I have been unable to convince Paul to reroute the HVAC, I have to axe something.
My options:
The Portal to Narnia
Elvis Memorial Library
The Kingdom Mirror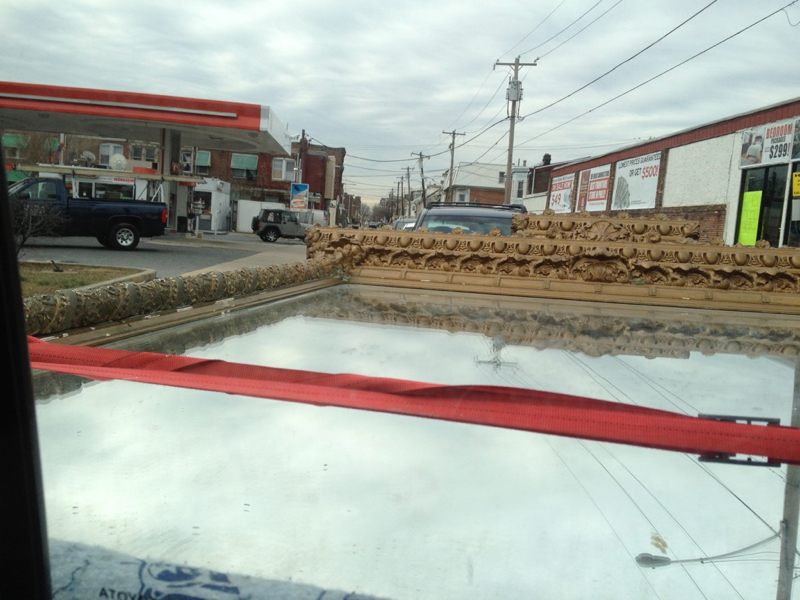 It might surprise you that I did not even need to think about it… my braying love of SHINY THINGS camouflages a truer love: DARK WOOD. Mahogany, walnut, rosewood… (not ebonized, unless just accents.)
Victorian Renaissance Revival is my favorite; spanning about 1850-1880, the style has a fair amount of variation… I am not into the high-relief carving of flowers, fruits, animals… which is weird because those are quite literally all of my favorite things… but not in furniture.
For whatever reason, the STUFF that makes me twitch is architectural motifs: pilasters, columns, pediments, balusters, corbels, pedestals, brackets, grooves, risers, cornices, ribbons, crests, Corinthian capitals, Doric columns, CARTOUCHE… stringcourse! architrave! with some acanthus leaves and tassels thrown in for garnish.
Essentially: THE FANCY THAT REPRESENTS FANCY FOR NO REASON OTHER THAN FANCY.
Which reminds me, IMPORTANT ASIDE: one of you sent me VICTORIAN ARCHITECTURE COLORING BOOKS… they also have historic houses of New England and Godey's fashion! I did not even know these were a thing!
Anyway.
I'm selling The Kingdom Mirror to make room for a new behemoth.
(that you will hate because it is ugly and i am stupid)
OR
I am making a mess of my house by stacking GFT's in front of each other… because I should have already gotten rid of the kingdom… but what kind of lunatic just GETS RID OF A KINGDOM!
So I waited too long to deal with it and now almost FOR SURE I'm going to have a traffic jam of GFT's… because selling something the SIZE OF A KINGDOM, for more than pocket change, puts you in the very slow lane.
As you can see, it's listed on Philadelphia Craigslist for $3,000… could I get more? Sure…? maybe..? if I had all the time in the world; and if I don't get rid of it, before something gets STACKED IN FRONT, maybe I'll revisit.
And.
While I'm at it… I might as well tell you I'm selling EVERYTHING ELSE TOO… not for what is scheduled for delivery; but for something I saw at FANCY CHANDELIER SHOP that gave me fitz.
FITZ! <—fancier than regular fits.
However, if you are like me, and you have never purchased anything from an ACTUAL antique STORE… you may be unfamiliar with how it works; what happens is: you have to pay MONEY.
LOTS OF MONEY.
SOMUCHMONEY.
And if you can't PAY THE MONEY, you cannot have your thing.
EVEN IF YOU REALLY WANT IT.
wish me luck.
SEE ALL MY FAVORITE CRAIGSLIST FINDS!