Preface: some posts resist being edited into anything concise/coherent/not containing 57,000 ideas… This is one of them.

I love the idea of having a full wall dedicated to just storage in the form of antique, floor-to-ceiling, glass front, wardrobe-ish, built-in library, butler's pantry, bookcase-ish cabinetry.
The best location for such a shrine to awesomeness would be on what is now the sink wall.
Try not to be distracted by my superb photoshop skills.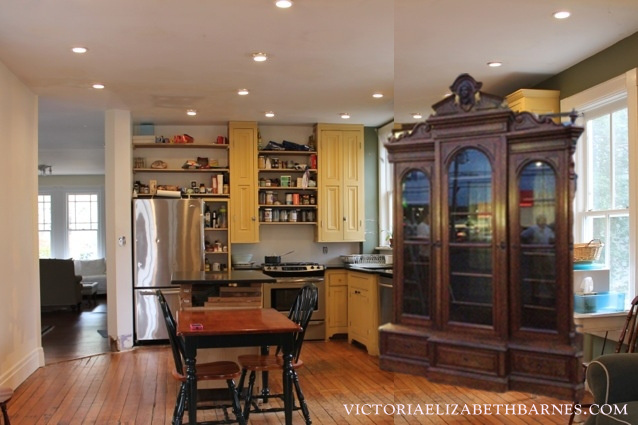 Pros:
• Ooooh, pretty.
• Ooooh, pretty.
• Ooooh, pretty.
• That amount of shelving is a LOT of very practical storage space.
• If the piece was right, it would be extraordinary, visually.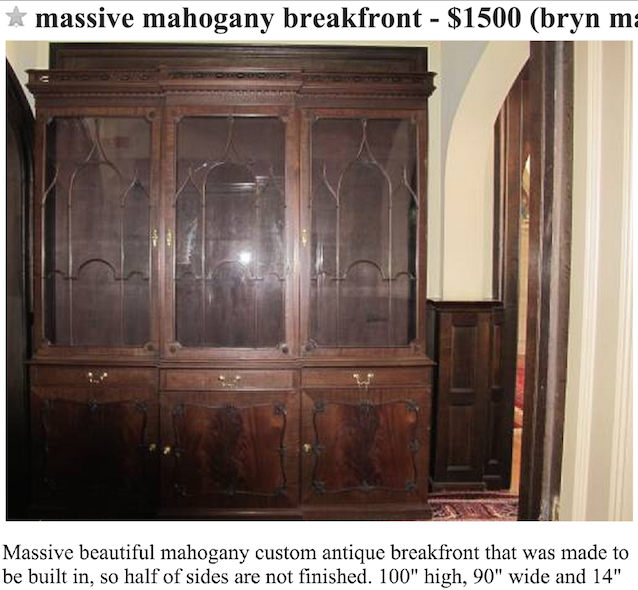 On the other hand…
Cons:
• Forces us to move sink/dishwasher into island.
• Would put a huge dent in our countertop space; if we leave the sink where it is now, we have that entire run/wall for countertop.
• Might make the room feel too narrow/be overpowering. At times, when considering a traditional cabinet layout, I've thought that I would actually prefer no upper cabinets at all on that wall.
Turning the now-sink wall into just cabinetry/storage would force us to move the sink/dishwasher into the island, and would eliminate nearly 8 feet of countertop, depending on where/how we finished the range wall/countertop.
That is fine, of course, assuming that our island-design accommodates the increased use… but for some reason I have trouble imagining a traditional kitchen island complementing a floor-to-ceiling antique cabinet.
Maybe because the island will be very boxy? And because it will be sort-of-huge seeing as how it will have to house the sink and the dishwasher AND provide all of the workspace?
Or because you will not actually see the entire cabinet-of-gloriousness because when you walk in the kitchen, the lower half will be blocked by giant-island-of-practicality?
Although, I'm sure it is obvious to you that none of that would matter, given this option below… In fact, acquiring such an item of magnificence would complete the kitchen immediately. We could leave the half-green walls and wonky island AS IS.
For some reason I have an easier time imagining an antique/repurposed island with traditional perimeter cabinets.
I guess it is possible that with the right materials, we could do both: a repurposed island and unusual floor-to-ceiling wall cabinets… But the cosmic alignment that needs to occur to find two, perfect THINGS that complement each other… Especially if the repurposed island must now accommodate a sink and dishwasher… Seems like a stretch.
Especially if you factor in that all of this needs to happen for NOT one million dollars.
There is also the issue of what is best for the room– considering space and layout.
I will happily sacrifice anything for pretty… (soon I hope to not even be able to enter our back bedroom, because I am getting crazy with the bookcases.) But the kitchen is not quite 14 feet wide. That's not super narrow, but in relation to the length of the room, (including the addition,) I think the ratio might make it FEEL narrow.
Forgoing upper cabinets on the far side exterior wall would make the room appear wider and brighter.
Although, forgoing windows/any light at all would make perfect sense to accommodate something like this.
Also– in the last month, I have figured out that I am not on the hack-bandwagon. The word makes me grit my teeth. (Particularly at myself every time I hear it come out of my mouth.)
My ideal island/cabinets/treasure/headache would suit the purpose perfectly… Although, I have already completely ignored my own advice, and bought some materials on craigslist… blowing $100 on some doors that I now see were a mistake. (But so pretty!)
I will do a different post about it because I have much to say. The basis for the idea was good/ludicrous/gorgeous/ridiculous/fancy… But ultimately flawed in the execution potential/sensibleness.