So after last week's post where I cut and pasted a giant cabinet on the sink wall… Everyone was like – No! WHAT ARE YOU DOING? Put it on the range wall.
So, clearly you did not need me to write this post. But I am anyway. Because there are many fascinating boring details to consider.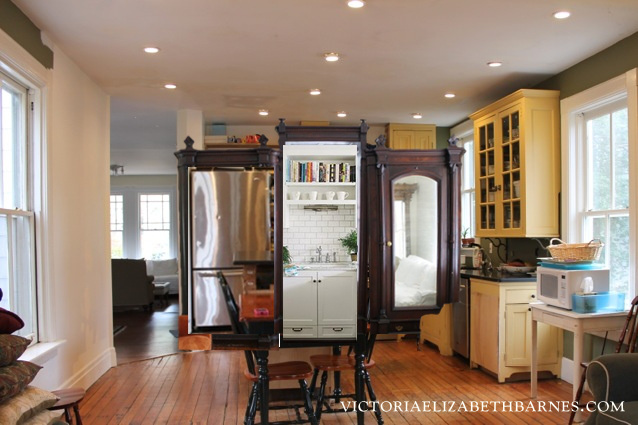 Ever since Pilar Guzman's kitchen dug me a deep hole of envy, I have been obsessed with the idea of using a three-piece wardrobe to house various kitchen appliances… Or alternately, to house nothing at all and just move the refrigerator, stove, dishwasher and everything else out to the garage so that it does not interfere with the fanciness.
Your suggestion:
Why don't you use the three-piece wardrobe/portal to Narnia?
Originally, that is exactly what I wanted to do with it. But it is too big for any wall in our kitchen. And while many of you thought it would be totally worth it to cut it down, I cannot do that.
I am the supreme guardian of my possessions— I do not even like people being near my stuff. Let alone touching it… Let alone hacking into it with saws.
Even if we did use the Narnia cabinet, we still would not get the same effect as Pilar and the other brownstone-dwellers: all these inspiration photos are starting with built-ins that are original to the house, with space in the center that is greater than the side-units.
But the wardrobes I've looked at don't have a large center section… So we would have to move the stove. The photo above has the stove in a small alcove and I think I would feel too boxed in.
Although, who knows?  Maybe I would enjoy the added excitement of possibly setting fire to the surrounding walls while cooking?
Every single other wardrobe/built-in cabinetry I have looked at has been a disappointment: size, condition, everything.
I am watching a couple on eBay – some guy out in York, PA has quite a few… None of them are an exact fit/ideal dimension. But a couple of them could be forced to do my bidding.
Although, it is hard to get enthusiastic about paying three times what we did for the Narnia wardrobe, (which is in AMAZING condition,) when these others are closer to BAD condition.
Most of them are missing significant pieces… we could work around it because theoretically we would be removing the entire left-hand door/drawer for the refrigerator and would have spare parts… but still! The portal to Narnia is 27,000 times nicer and cost me next to nothing.
Maybe a non-wardrobe cabinet might be a better design for the space: like the mahogany breakfront in my last post. Or this one below on eBay.
I have no idea what price it sold for because apparently eBay has stopped telling you what the best offer actually was. Why this should be a secret, I have no idea.
This one specifically wasn't actually an option, I love it – I think it's beautiful. But it wasn't tall enough– only 7′, but it gives you an idea of what else might work.
But then I am left wondering what to do over the refrigerator… The wardrobe design works well because the entire wall would be FINISHED– it would be a self-contained, coherent unit of fanciness.
But if we are placing a different style of cabinet next to the refrigerator, how do we incorporate the fridge in a way that doesn't look like a homemade/unplanned/mess.
I have started looking at ideas for what you are supposed to do with that weird space over your refrigerator… And I cannot say I love any of them; let alone if I am trying to mesh it with some random old cabinet right next to it.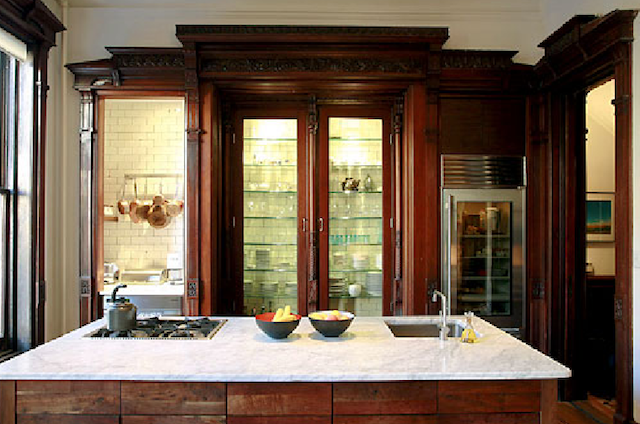 Your suggestion:
Get rid of the refrigerator entirely… Replace it with under-the-counter units.
Can I tell you how much I love this idea? I do! Feel free to send me $10,000!
We are not planning to replace any of the appliances. The ones we have are perfectly fine. And while I would love a panel-enclosed refrigerator, or a La Cornue stove… there's this thing called money.
And in the cagematch of what I would prefer to spend it on: brand-new, glass-front refrigerator VS. giant-fancy-broken-items-of-gloriousness-residing-in-the-future-that-need-to-be-mine…The refrigerator doesn't stand a chance.
So if we must keep the suitable-but-not-architectural-digest-worthy-appliances… The refrigerator's current location is pretty much the only aspect of the kitchen that DOESN'T feel flexible.
I am not sure if I should interpret the difficulty of repurposing cabinetry as an indication that it's a bad plan… Or if I just haven't found the right cabinet… Or if all roads lead to the somewhat-easier solution of a repurposed island, paired with traditional perimeter cabinets.
Okay. Now this post is over… It is an accurate representation of my thought process:
maybe this.
maybe that.
OOOOOH! Fancy!
now I'm tired.