To honor my unusual and useless skill set, Paul wrote me poetry:
Though the days are growing shorter.
My wife remains a full-time hoarder.
I love milk glass tabletops! In the photo above, you can see one is off its base– it's intact, just not attached.
I am going to use them as bedside tables– I have been looking for a long time! All "normal" sizes have felt too bulky for the wall/space where I want them.
The small storage areas and drawers will be good for keeping books and assorted junk off the actual tabletop.
Obviously they are not a LOT enough, but they will do for now!
Or, rather, I THOUGHT they would do.
However.
Now there is an issue: we have begun watching Versailles.
I have not heard one single person say anything about it, (AHEM)… so I Googled.
Google told me that all the love scenes are trashy, and all of the filming is done in actual palaces of France— some at Versailles, some at estates of the same era.
People.
The SPACES.
The VISUALS.
Are amazing.
Of course, I am biased; seeing as how, I myself, am Louis XIV, The Sun King, reincarnated.
I have no idea if the Versailles show is any good.
I suspect, no.
Literally all that happens is that people get poisoned.
Also there is weirdly-jazzy 80's music.
They have basically gone out of their way to make sure you learn nothing of history, architecture, or art… but they make up for it with the wigs and cuffs— the costumes are SPECTACULAR.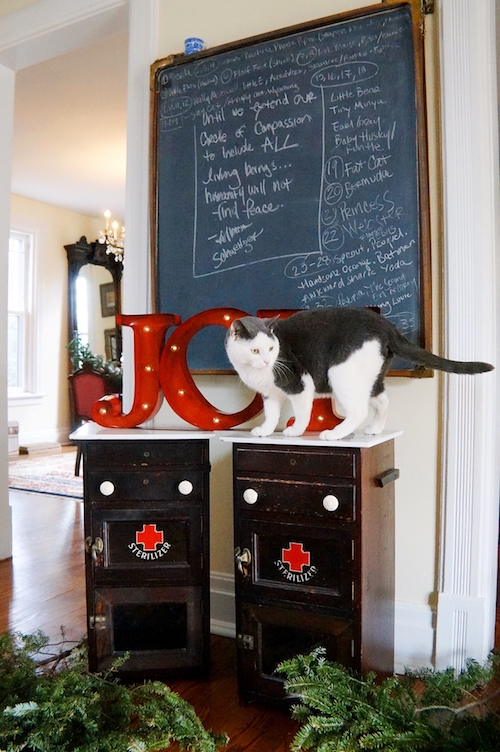 ANYWAY.
My point is that now I see these barber tables as sad garbage.
Much like all of the other non-Versailles crap in my house.
Woe.
The only reason I have not thrown myself directly into the moat is that as we watch, I can soothe myself by looking over to my lamps-of-ridiculousness and The Nuclear War of Fanciness… fortunately my consolation prizes are in the same room as the tv.
Watching Versailles, I am reminded of Downton Abbey in the sense that it's fancy and saga and high drama… which made me remember a show that some of you will really like.
PBS made a reality show (free, on prime) where modern-day humans spend a month living as the people who originally occupied these estates… SOME of the participants get to be lord and lady. SOME get to be scullery maid… it's old, but I really liked it! Also, fyi: the dude who plays Lord is INSUFFERABLE.
AND! As I was looking for that link, I see that PBS has another series like it!! Victorian Slum House– a Victorian tenement in London's East End is painstakingly brought back to life… I haven't seen this one! I am excited!
SEE ALL MY BEST CRAIGSLIST SCORES