I am aware that I am a person whose inner Self appears to skew towards frivolous lunatic… Today's post will do nothing to alter that perception.
Sometimes people wonder how Paul does not find this deeply aggravating, but that is the miracle of Self's existence: Self is not contingent on anyone's approval.
Also, Self would like to remind everyone: you cannot relax your vigilance in training your nearest and dearest to always expect the worst.
First, allow me to correct your understandable assumption that this is the Giant Fancy Thing I have been ranting about… It is not.
This is an entirely unrelated GFT.
I am still working on the other GFT… I have yet to be able to sell my soul, despite its fairly usable condition and uncommon shininess.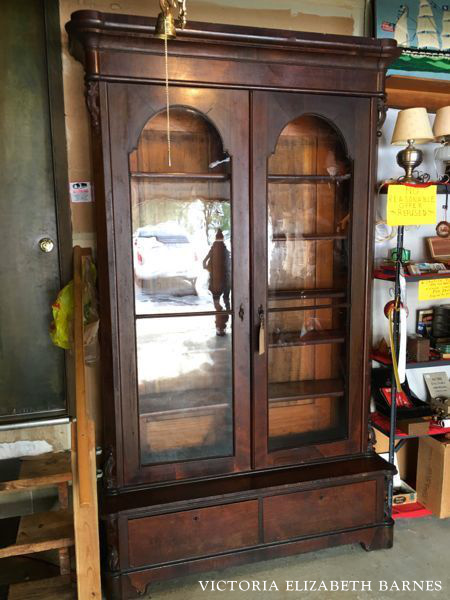 In the meantime, my decision-making process goes like this: when you have plenty of bookcases, why not get more bookcases?
This is something I hope to fix about myself one day… although, much like St. Augustine – not yet.
Besides, would I deny Paul the opportunity to be photographed at his most flattering angle? I would not!
Back when I got the Eastlake bookcase, a few of you were like— er, hello? Your kitchen pantry? But I was already trying to wear this guy down.
This empire style is simpler and I think it is a better choice for the kitchen, considering both the piano and lady mirror have a lot of ornate detail… plus, I think the decorative elements on this cabinet are sort of evocative of the piano's legs.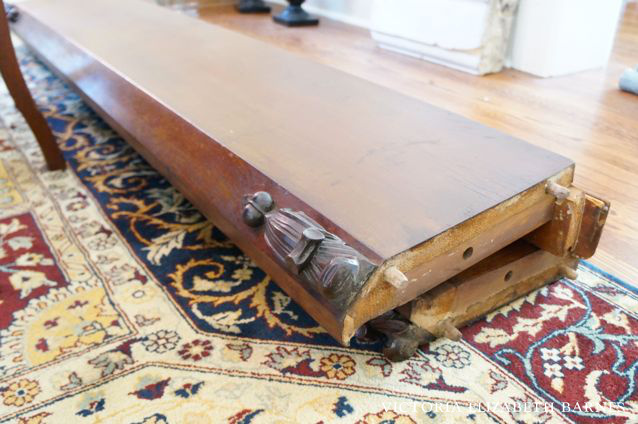 We may try it on the opposite wall at some point— to the right of the low window/possible bench seat… where it is now was my original plan for a pantry, but we'll see what looks better.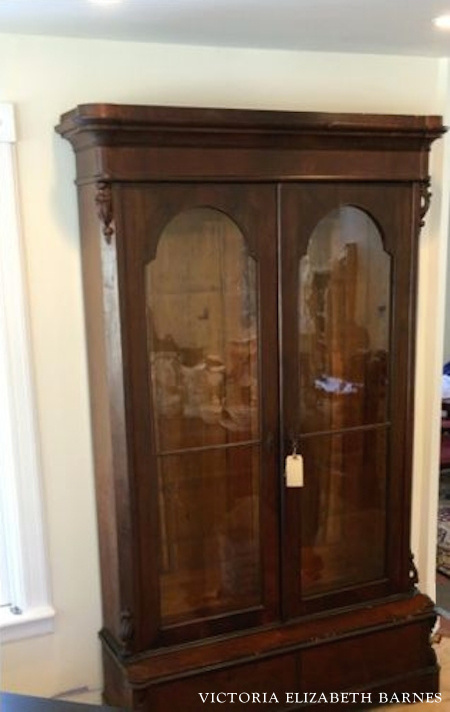 I also bought a Globe Wernicke barrister from the guy… I paid $100 for two stacks, a top and base, and I knew I could sell it and make a few hundred dollars (already sold).
This brought my actual price for the empire cabinet down to $250… my favorite kind of math!
Plus, everyone knows you are not finished until the van is full.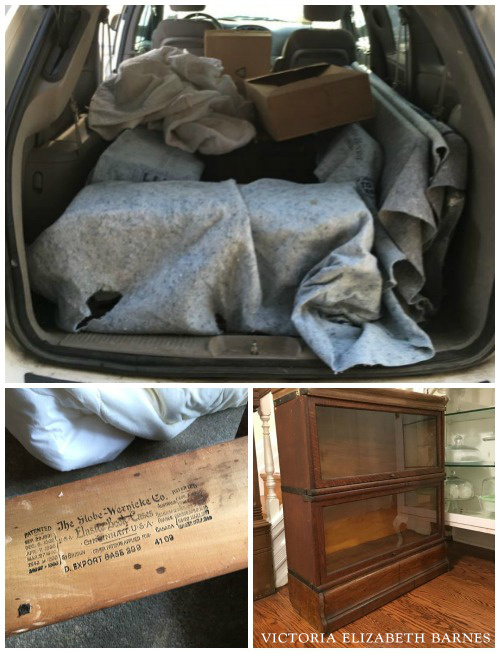 The video switches layout halfway through, because the temporary kitchen arrangement made it hard to get the whole bookcase in with a horizontal shot.
We left off the very top shelf to make room for the super tall containers I use for bulk ingredient purchases… but otherwise spaced the shelves evenly, and it's working great for storage and SEEING everything! Not rummaging and moving stuff is phenomenal! (I will post a photo on Instagram once I finish getting this post up.)