If you emailed me or facebooked me or tweeted me, or otherwise contacted me psychically?
I AM GOING AS FAST AS I CAN.
Your comments and messages have overwhelmed me with gratitude AND fear that you will think I am ignoring you.
You've made me laugh hysterically. You've endorsed my belief in unicorns.  You've encouraged me to hoard-on.  Which is similar to rock-on.  But without leather pants or electric guitars.
You people have changed my entire worldview.  But not one of you has sent me a clone of myself, which is what I REALLY need.
I WANT to talk to ALL of you.  In fact, it's the ONLY thing I want to do.  Also, I want to invite you all over for a costume party.  Because FINALLY I have met people to whom I would NOT NEED TO EXPLAIN WHY I would have a costume party on a Wednesday afternoon.
Paul says I cannot do that.  I'm not sure why.  I mean, I told him you are ALL JUST LIKE ME.
So in the meantime, until I can convince him, some of you have questions. Burning questions.  And to spare you any more agony over paint colors and ottomans, here's a Q. and A.
Q: Where did you get the tufted coffee table?
Craigslist.  DUH.  I paid $300 for it.  But you can pay full price at Restoration Hardware.
Having since acquired both a Kingdom and the portal to Narnia for about the same price, it does sort of make me rethink whether that was a great deal.
At the time, I was obsessed. And to find the ONE piece of furniture you love, within driving distance on Craigslist is obviously a sign from the universe.  Which you may have noticed is a reoccurring theme in my purchases.
I did try to talk myself out of it.  We already had a coffee table, AND this thing is HUGE.  But I decided if I didn't get it I would have not-buyer's remorse.
You know that phenomenon, right?  When you waffle on something… talk yourself out of it… then wake up at three a.m. and realize you're a fool, and that CLEARLY you MUST have it… but you're too late… it's gone to someone less-waffly than you… and then you are forever haunted by your own idiocy.
Plus, I'm working on a new theory about how the money you spend on craigslist doesn't even count.  Because you can always resell whatever you bought.  Think about it.   You trade money for stuff.  BUT YOU CAN ALWAYS TRADE IT BACK.
Thus it is like you have SPENT NO MONEY.
Q: What's the wall paint in your bath/foyer/living/dining room?
Eggnog by Behr. It's a light yellow. I looked at 47,000 shades of paint, so I feel confident endorsing it as the ultimate wall color.
Depending on the light or time of day, it might look white or cream in the photos, but it's distinctly yellow, especially next to white trim.
*if you follow me on facebook, you'll recognize the free disco ball I scored over the weekend.
Q: what shade is the white trim paint?
It's just plain, white Behr enamel.  You buy the can right off the shelf.
I'm embarrassed by this lack-of-special-white-paint admission, knowing now that I should have agonized between White Dove and Wispy Cloud and Holier Than Thou©Farrow and Ball, all rights reserved.
It's not even shiny, because in a rare display of commitment to visual detail, Paul refused to let me use gloss.  I am still not sure how this happened.
Q: don't you think the stairwell/molding/doorways/windows would look better if you stripped the paint?
That question is predicated on whether I would look good in a straightjacket.  I'm flattered that you think I would… but lithium isn't really my color.
Q: what will you be for Halloween?
I love that so many of you ask the TRULY important questions.
I was planning to be John Travolta's character from Saturday Night Fever.  But then I saw the Liberace bio-pic and I pretty much had a meltdown.
Now I am deeply conflicted and may need therapy.
Q:  is the entire medicine cabinet custom or did you order the door online?
Paul made the entire cabinet including the door.
I will do a better post on this soon.  My first post was before I'd been blogging very long and I could do a better job now.
Q: what's your next house project?
The kitchen.  We had hoped to start it this summer, but we've both been incredibly busy with other things… The delay is making Paul insane, but I personally am enjoying the respite from constant banging and feeling like my life has exploded.
Also? I am dreading washing carrots in the bathtub.
Q: will Paul create a support group for husbands with impractical wives?
Support group?  How about brainwashing group– where they will emerge enthusiastic for our whims.
That would be better.
Q: Did you watch Mad Men season 6 yet?
Yes.  It took me about 5 minutes.
I don't do Mad Men theory, so if you were hoping for a more intellectual discussion, I surely disappointed you.  Please try to understand that if you do not own a crinoline?  We are not having the same Mad Men experience.
YOU are watching a television show produced in a studio in California…  I am watching an alternate universe and desperately trying to figure out how to GET IN THERE.
What I CAN tell you is that before I watch a new season, I re-watch the previous season.  And I noticed that in the final scene when Megan is getting her big break in the shoe commercial—THEY HAVE MY BENCH.
This is the third-most exciting thing to ever happen to me.
The first two:
1. my wedding
2. you
Not necessarily in that order.
That is DON standing RIGHT NEXT TO MY BENCH.
I understand that to you this is meaningless.  But to me?  It's proof that I am getting close to the fifth-dimension and soon will be permitted to step through time and space and reality.
I am so excited because I have been packed for YEARS and was starting to think that maybe I made this all up in my head.
Q: are you going to sell ad space?  How much?
For one million dollars you can have the entire blog and I will move to Mexico and write a book.
For two million, you can have the blog, and I will stay and write about anything you want.
Short of that, I haven't figured it out.  But PLEASE feel free to offer me money.
Q: did you buy the falling-down house on the river?
No. We did not buy the Biddle mansion.  We did not move to Riverton.  We do not live on the river.  We are still sad.
If you were confused about that, I guess you didn't read my blog front-to-back and attend to every detail.  So you might want to get on that.
Also?  To the guy from the Riverton Historical Society?  Who emailed me to tell me that I WOULD BE HONORED AT THE ANNUAL DINNER? You should know that I was SUPER tempted to show up and demand my honoring… but I was out of town that week.
Q: what is the formula for your magical-perfect-front-door-red that you created in your psychic paint laboratory?
What?  You don't want to buy 300 paint samples?  And mix them with a soup spoon?  And then use a spectrometer (I don't even know what that is) to determine the precise RGB value?
Are you sure?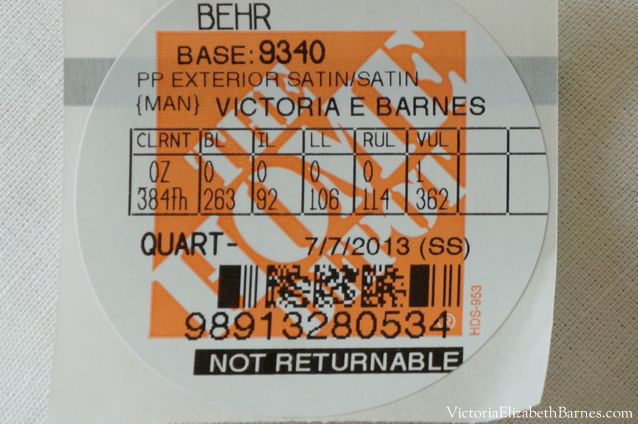 Theoretically?  You can go to Home Depot and ask for Victoria E Barnes.  Because when you make a custom paint, you get to name it.
Of course, now I realize what a missed opportunity that was.
Over the weekend when Paul made his weekly pilgrimage, I TRIED to get him to go to the paint counter and ask them to change the name to I LOVE ELVIS.
But he refused.
I would go myself but that would require getting off the internet, and that might give me some kind of psychotic break.
I will love you EVEN MORE… if you share me with your friends.