We put Elvis to sleep last Tuesday.
It was time.
She had not been eating well and she just wound down and down… Even after Paul had a very serious conversation where he explained to her: earth is for eaters; if you don't eat, you can't stay… nonconformists will not be tolerated.
The hospice vet came to the house in the morning. We held her on our bed, on her favorite blanket. We told her that she didn't have to be afraid, and that we loved her more than anything, and she will always still be here, right in our hearts, forever.
Elvis's head was on my shoulder when she died. I hope she didn't know what was happening.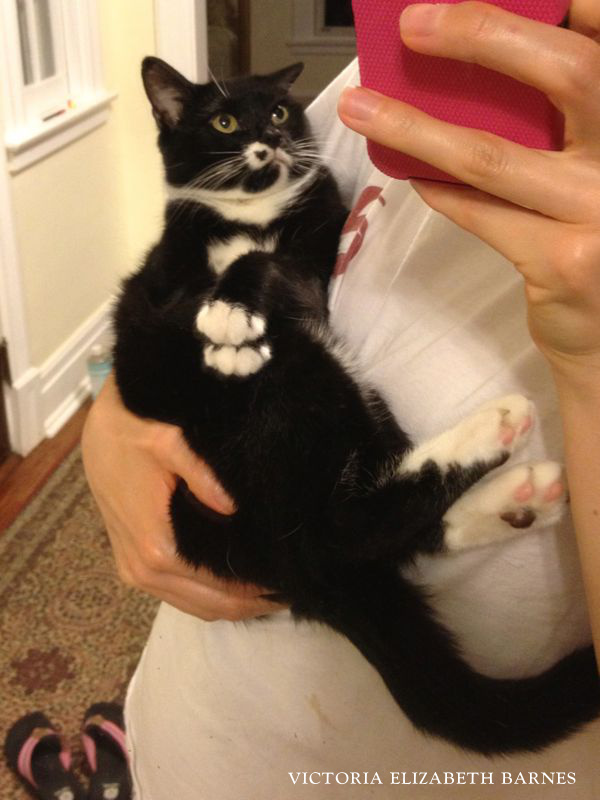 An hour later we took her to be cremated.
We took her all the way to the machine because my heart hurt to think of her being alone, or with strangers; and I wanted to be with her as far as I could… I don't think she knows any of that. But it mattered a lot to me.
Then we waited for her ashes and took her back home.
She's got a little shrine right now, with lots of flowers from the garden, and her fuzzy ball, and the small dish of whiskers she shed/I found over the last 12 years.
It's on the spot on the rug where she would RUN, as soon as you walked in the door; she would start doing her aerobics because she was so excited that you were going to pet her… At night she comes upstairs to the bedside table.
When I'm ready she'll get moved to the Elvis Memorial Library. (Previously known as Cleveland bookcase)

For twelve years, Elvis was basically half of myself, so I expected to be sad. Really sad. Debilitatingly sad. But I didn't understand the actual FRANTIC physical sensation of missing her. Wanting to pick her up and feel her fur and talk to her and hear her purry chirp.
And I would like to say officially: THIS IS A HORRIBLE SYSTEM.
How has humanity not just curled up and died from incurable loss?
I literally do not comprehend how people survive when it is human family.
I've been camped out in my tent of sadness… it was really unmanageable at first— the tent kept collapsing and trying to suffocate me.
But I think now I've got it packed into something more wheelbarrow-sized, which is nice and convenient because it's portable, so when you have a breakdown outside your house, you have all the supplies.
Making this video was helpful, but also so sad… I can't believe she's really gone.
*If you can't watch the video, try reloading the page, or being sure that you aren't inside of the Facebook app… it seems to break the video.
I miss everything about her. Our conversations. Her smell. Her chirp. Her smoochy face. Her white feeties. Her wompy ear.
But I know she had a wonderful life and THE MOST LOVE, and that's really the best that any of us can hope for in this life.