For the record, I thought I was really going to enjoy doing kitchen-inspiration posts.
I thought they would be fun. And EASY.
But I take that back…
I take back my secret, smug belief that if I wrote a blog where I just curated beautiful images of houses and interior design it would be mindlessly simple.
I apologize to all design bloggers everywhere– I'm sorry for my self-righteousness… it has never once been validated, but I keep trying anyway.
EXCEPT you bloggers whose sites take SO long to load… that in the time I wait, I could drive to your house and tell you how annoying it is that I have 782 tabs open, and YOURS is the one that crashes it all.
Anyway.  Kitchen.
Last week's kitchen inspiration prompted a lot of you to point out that my overwhelming theme is white.  And that IS true.  I do really like that look…  or some two-tone contrasting-island version of it.
But I equally like the total opposite.
In fact, it's possible I like this more.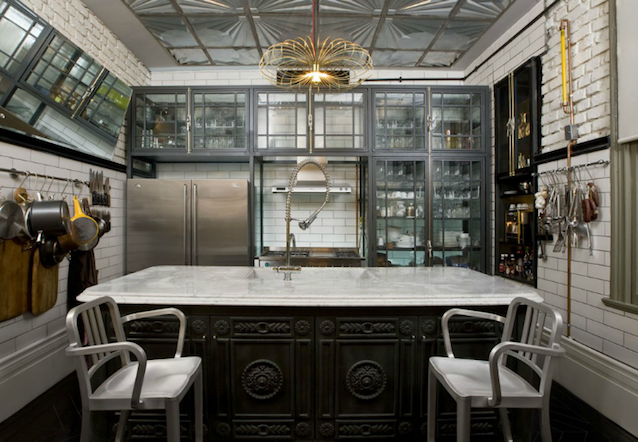 I guess I'd describe this as vintage industrial.
Or repurposed industrial.
Or out-of-my-price-range industrial.
Something unique and interesting that involves the opportunity to buy giant useless things and hoard copper pots.
Paul would point out that this is not actually a house.  Or even a kitchen.
But that doesn't matter, because it's inspiration.
That means you can look at photos of anything you want.
I could show him photos of elephants and gesture at them and say—see?  Elephants.
Clearly, I'm going to be hampered in my design since I don't have exposed brick.
Or live in a loft or have a rooftop atrium or a rustic cafe in London…
But you get the idea: something NOT white.
Also, something you cannot just buy at the kitchen store.
Maybe even veering into Steampunk territory?
If you don't know what steampunk is… it's like an Edwardian version of Dungeons and Dragons.  Crossed with a Renaissance Fair.  Invented by boys who want to wear monocles while hanging out in internet chatrooms and talking about building purposely-antiquated futuristic gadgets.  Like hi-tech hot air balloons.
Basically a comic-book parody of steam-powered Victorian style.  With lots and lots of cogs.
Is that ridiculous?  Maybe.
But so is golf.
I'm certain that toast from that toaster is way more tasty and delicious than regular toast.
And it will not surprise you that I really like the idea of a kitchen full of fantasy and shiny unnecessary things…
But Paul took one look at my steampunk inspiration and said— basically you want Morlock chic.
For 90,000 more kitchens: my Pinterest kitchen board.
I will love you EVEN MORE… if you share me with your friends.