Finding things is cyclical. Sometimes you find ALL of the things… And that is what is happening right now.
Or, alternately, I am entering a manic hoarding phase.
Either way, there are things I NEED TO GET.
Many things.
But there is a problem: these things require money. And I have agreed to a deeply restrictive and misguided budget where overages are required to be submitted for approval, prior to release of funds.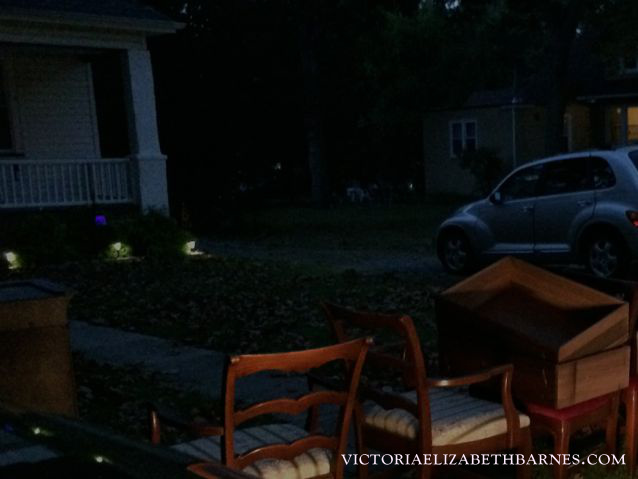 There is another problem: it is March and I am almost into June's budget.
Paul has not said anything about it yet. Either he has forgotten… Or he wasn't serious… Or he understands that these things MUST BE HAD… Or he is running the vig and will be sending someone to shatter my kneecaps.
Not that it really matters. Because just like any other degenerate gambler running from the mob, I am not interested in getting my act together, joining a 12 step program, or finding inner peace… I just want to go to Vegas Craigslist one more time.
So when I drove home on trash night, I did not see an old dining room set… what I saw was $300– just sitting at the curb waiting to be traded for MY THINGS.
Sort of like a cosmic-junk-exchange, organized by the gods of crap… (After my death, I hope to be canonized as their patron saint.)
I called Paul… I said – are you home yet? I am down the street! I need you to come and help me! I will stay here and stand guard!
As we were strapping chairs to the roof rack, Paul said– do you know a TV show called The Beverly Hillbillies?
I grew up without a TV, so I do not have all of the expected cultural references… But in this case, I will assume that The Beverly Hillbillies were a group of people who loved Craigslist, would go to any lengths to acquire their item, and were probably geniuses whose husbands loved them more than anything and would never stand between them and their THING or make unreasonable proclamations over small matters of budget-for-hoarding vs. budget-for-kitchen.
We put the dining set together and laid it out in the garage. It was nice! It wasn't particularly interesting or fancy… But it was in great condition, incredibly sturdy, and a lot of furniture for $300.
It had a two-piece hutch, a buffet, six chairs, a table with two leaves… AND the felt table pads.
Trash night is Wednesday, by the weekend it was sold.
After the people picked it up, I said to Paul– this is like FREE Craigslist money!
Paul raised his eyebrows like he hadn't seen that coming.
Then he added an unforeseen twist: any money acquired by the household must go into the kitchen fund.
And I was like – eh? Umm what?
WHAT?
No.
But Paul just shrugged and claimed that there is no way to add money to the Craigslist fund… that it is locked and finite.
He said this casually. Sadly, even… as though it had nothing to do with him and some other random person had made the rules.
I stood there gathering my wrath and contemplating why Paul would bring it upon himself… Then I leaned down and grabbed a handful of moldy radishes for emphasis and shook my fist at the garage ceiling, because– as God is my witness, if I pull something out of the trash, it goes into the Craigslist discretionary fund. THE END.
last time I shopped trash night