Paul was away for work last week.  A rare occurrence that affords me the opportunity to eat peanut butter for dinner and contemplate the prevalence of ax murderers.
Have you noticed how there are at least 12 times more ax murderers outside your house when your husband is away?
Before Paul left, he said – please do not put anything in the garage while I am gone.
So. Now all these pots are sitting in our driveway.
Prior to marrying Paul, it would not have occurred to me to get out of my car and sift through someone's trash.
Paul is the one who taught me that trash is not trash… Trash is stuff that other people have been stupid enough to leave at the curb for you to steal.
Paul would bring home a corpse, if he thought he could salvage something useful from it. But he does not have the "collecting" gene.
Obviously I could not leave behind a crate of perfectly good Mason jars. Never mind that I do not make jam. Or can. Or preserve. And even if I did, there is no way I would put food in jars that may last have held cyanide.
But they will be perfect for some simple holiday decorations. OR, if you like your Christmas decorations more complicated… Stick around! I am going to make your wildest dreams come true.
(I have been spending way, way, way, way too much time on Pinterest.  My IQ has plummeted to negative.)
Anyway. This was the best part of the trash.
It's a Flexible Flyer baby sled, model 28. And the best part is that it is stamped on the bottom- made in Philadelphia.
I tried to get Elvis to model it for you. And you can see how that worked out.
This is now my second vintage item that is cat-appropriate. Which is exciting, because once you have two, it can become a collection.
The first was a vintage doll stroller that I bought specifically for her. Which is A – weird on my part.  And B – not something she wanted to have anything to do with.
I am pretty excited about the sled as holiday decoration. I skipped Halloween. And Thanksgiving. If I do not do Christmas, they will take away my blogging license.
(Obviously I am kidding. There is no license. Any idiot can have a blog.)
However, it IS true that I am legally required to create fantastic and whimsical tablescapes. And what could be better than putting an ENTIRE sled on your dining room table?
I removed the handle and the wheels. I was afraid I'd have to get Paul to grind the bolts off because they're rusty, but some oil loosened them up.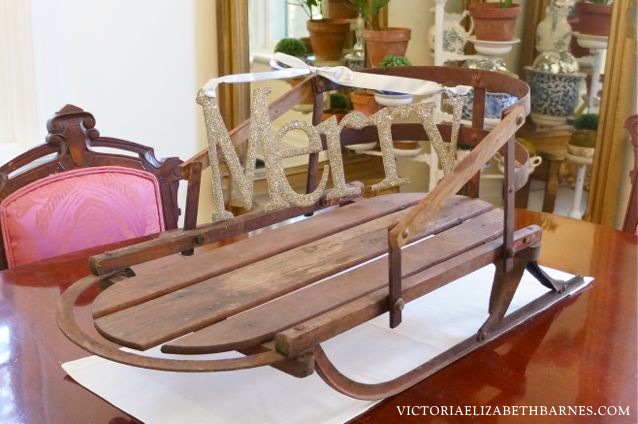 I have 57,000 other things to tell you, but I am having a totally disorganized week life.
My entire downstairs is an explosion of holiday crap… Exactly like last year when I wrote a post asking myself WHY DO I HAVE SO MUCH CHRISTMAS CRAP?
Followed immediately by me getting EVEN MORE Christmas crap in the form of a giant bin of disco balls.
This year I have really outdone myself… considering that today I am expecting a delivery of ONE POUND of German glass glitter AND 200 FEET of garland.
I am tired already.
I will love you EVEN MORE… if you share me with your friends.