This is the concealed trapway, skirted, one-piece toilet we chose…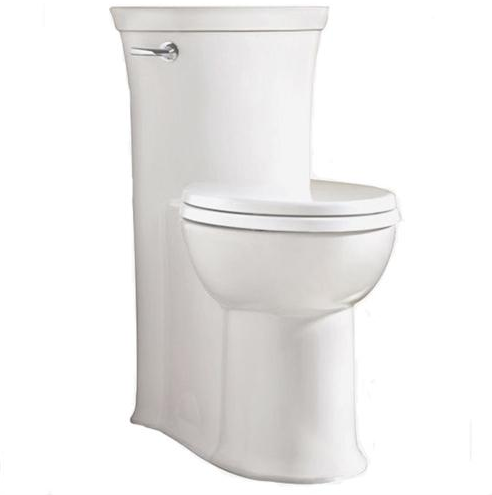 American Standard Tropic,Concealed Trapway  Right Height™ Elongated, One-Piece, ADA Toilet.
If you'd told me I would start a blog, and write a post about a toilet. I would not have thought that could be correct.  But?  This is a renovation blog, so not only am I writing about it. I am excited.  About a toilet.  This seems vaguely sad, but there you have it.
I'm excited about two things.  First—that this is finally moving out of the foyer, where it's been hanging out for over a month.
And secondly—it's a concealed trapway.  Also called a skirted style.  Meaning?  There is no exposed loop to clean.  Which, apparently at this stage of my life is super exciting.
It's also one piece.  Meaning that the water tank is not separate from the main section of the toilet.  Which means no gap.  Which means it's seamless and therefore easier to clean.  Also, I personally think it looks better.
Prior to this toilet, we had an American Standard Cadet something or other and I would have given it a great review…  This one is supposed to be nearly identical as far as the plumbing goes, so I'm assuming we'll be happy with it.
In case you too are thrilled at the idea of a concealed trapway… we chose the American Standard Tropic. It's the ADA taller height.  It's elongated, and one-piece. American Standard's website's list price is $900-$1,100.  Which is obviously insane.
We got ours on Amazon, for about $500.  Is that a lot for a toilet?  I guess it is.  But to me, every time I clean it, it pays for itself.
UPDATE:
Finally installed! It's been in for a month now.
Do I like it?  NO.  I LOVE IT.