If you missed the bathroom reveal, it's here!
I don't know how anyone designed their dream bathroom, prior to the advent of online-shopping.  I mean, I understand it if you are a hedge-fund manager.  Or a time-share magnate…  But if you are not?  And you actually want to have money left over to buy shampoo?  The internet is a magical place full of treasure and discount bathroom fixtures.
The only price of admission is your commitment.
Your commitment to looking. And looking and looking. And comparing.  And having seventy-two browser-windows, full of 18,956 tabs, all of which are on different design sites… that you CANNOT FORGET TO GO BACK TO.
Your commitment, to spending all your brainpower scrolling, scrolling, scrolling… through inspiration photos and chat boards, and Pinterest, and the abyss of Google image searches.
And?  Since I am nothing, if not committed? I spent a truly outrageous amount of time on the internet… I bought everything except our tile online.
The DIY large medicine cabinet is my favorite element… and it cost next to nothing!
If you're new to our bath remodel, you should read this post first.  It's ALL about how much I LOVED the whole DIY aspect.  And how EASY it was to design.  And how much FUN I had trying to cram all my ideas in a small and narrow bathroom..
Here are my sources and vendors and reviews for the bathroom fixtures I chose.
I am unable to be brief about any topic… so this will no doubt be far longer than necessary.
If the price is listed as something crazy, I assure you I did not pay that.
If it's only moderately crazy, I may have paid that.
Tub Faucet
I CANNOT tell you how much I love this fixture.  If I could afford to buy another one to wear as a necklace, I totally would.
KOHLER Antique Rite-Temp Pressure-Balancing Bath and Shower Faucet Trim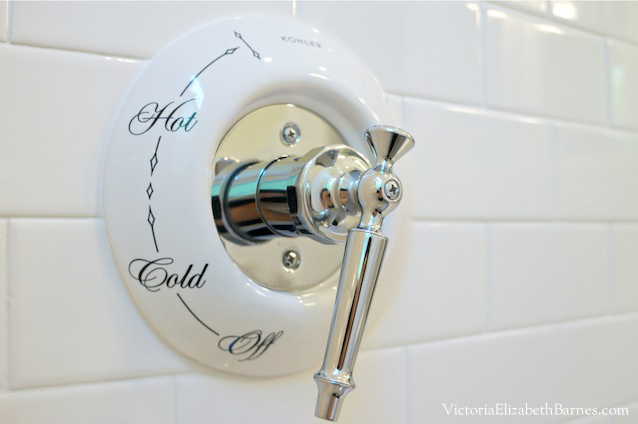 When I was shopping, the best price I could find was about $900 for the whole set.
Which?  Um?  What?  No.
So initially, I tried to figure out how to buy/use JUST the fancy, porcelain dial part.  I don't actually care about the internal, thermostatic hi-tech stuff.  The actual function is irrelevant to me.  The inside could be made of paper plates and tinfoil, and I'd be fine with it.
Be warned, with Kohler products to read the fine print… I was sucked in, a couple of times, thinking I'd found a bargain, only to realize that the description said things like:  requires kit #470.  And when you look up kit #470, it's $900.
I ended up buying an open box on eBay… from a guy who'd bought it at an estate auction, and could not guarantee that all the pieces were there.
I also bought it outside of eBay, in my one and only illegal bathroom transaction… You can imagine I was pretty sure I'd just bought a box of unusable crap; but it was FINE.
My final cost for the whole dial/shower head/tub faucet/ internal stuff was $300.  Part of me thinks that's a good price.  Especially for something you really love and use everyday.
Another part of me thinks it's way too much.  You can get a perfectly nice shower dial for far less than that.
At the time, I told myself it was fine, since we were DIY-ing  so much other stuff, including the medicine cabinet— which if we bought anything retail that was similarly large and fancy, would have been incredibly expensive.
But now?  I think it was just design madness… where you spend too much time looking at other people's luxury bathrooms… and you start to think you cannot live without some particular element.
Also?  I saw a $5,000 faucet.  And in comparison? Anything else looks like a bargain.
Sink Faucet
For all the bathroom fixtures, I chose polished chrome.
Rohl A1408XMAPC-2 Country Bath Viaggio Widespread Lavatory Faucet with Cross Handles Pop-Up and C Spout, Polished Chrome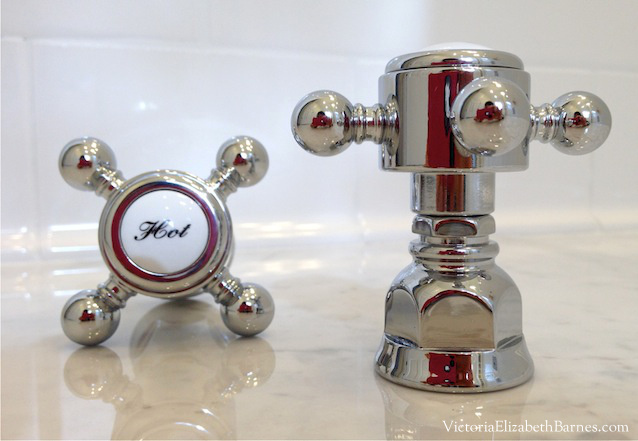 Allow me to be the dominant voice on the divisive issue of Polished Nickel vs. Polished Chrome… According to research conducted only in my own house, and only according to my own taste: Polished Chrome is better.
It is shinier.
I did an entire other bath in Polished Nickel, and am happier with the chrome.
I bought our Rohl faucet at HomePerfect.com  Their online reviews are not encouraging, and they don't include photos of their items… but my personal review is that they were fantastic.  I got the faucet literally overnight. I paid $256.00.
Their website does not have pictures or descriptions, just the model number… and giving them my credit card was leap of faith that goes against all common sense and everything everyone tells you about not trusting people on the internet.
Surprisingly, in every case where I could not actually see a picture of what I was buying, I received it quickly, and in perfect condition.  I imagine this isn't always the case, but I guess by that point, the bath gods felt they had tortured me enough.
Water Shutoffs
I originally ordered less expensive shutoffs from Vintage Tub and Bath.  But when they came, I really didn't like them…I ended up exchanging them for the Restoration Hardware Universal Traditional Water Supply Kit.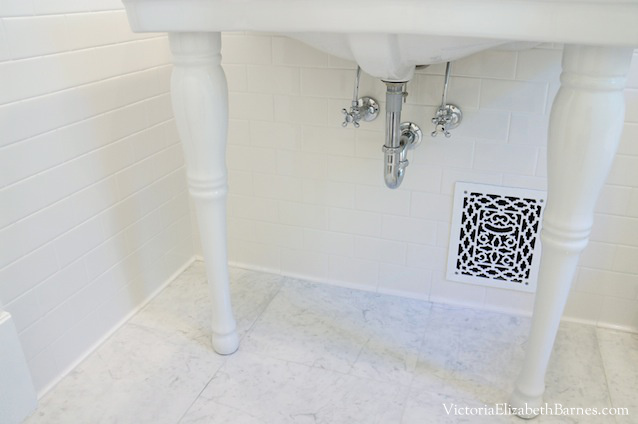 I didn't want to.  Even at the time, I was aware it was sheer idiocy.  I wanted to be practical and less insane.  And to stop having opinions on every last tiny detail.
But?  That is who I am:  someone with strong opinions about faucet handles that go under your sink where you cannot see them.
And?  The whole bathroom was just a tide of insanity… once it started coming in, there was no avoiding it.  Exemption after exemption just piled up, until it was just like, oh whatever—I am the Imelda Marcos of water shutoffs.
SINK
Paul campaigned for a vanity with a base cabinet—from both a practical standpoint, and price consideration.  But I really love the clean, spare look of a white porcelain sink against subway tile.  Plus, it keeps the aesthetic of a vintage bath.
And since this is not a large bathroom, I think a base cabinet would have been overwhelming.
We considered a pedestal sink, since the footprint would be even smaller.  But I like the larger counter space on a console sink.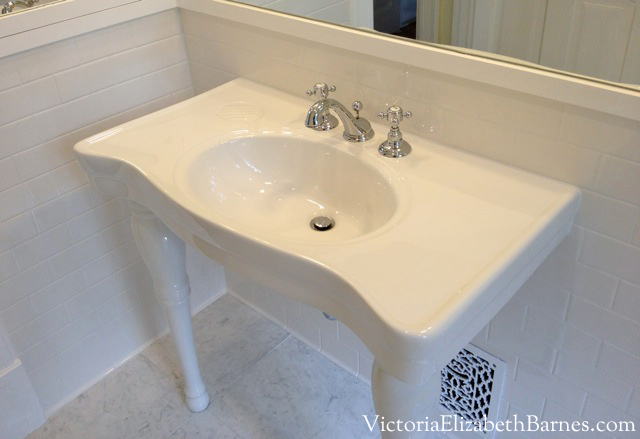 I cannot recommend the website for the sink…they sent me three different sets of defective legs.  And then told me they didn't have any more.
And that I would have to pay to send back one-hundred pounds of unusable porcelain.
And I was all like– Oh?  Hi?  Clearly you don't know me at all or you would not be suggesting ANYTHING so ridiculous.
When I went to look up the sink for you, they don't even carry it anymore.
I found one that is kind of similar, and only kind of obnoxiously expensive:
Porcelain console sink 
Intermission:
Can you believe anyone could have THIS much to say about their bathroom fixtures?
My apologies.
End Intermission.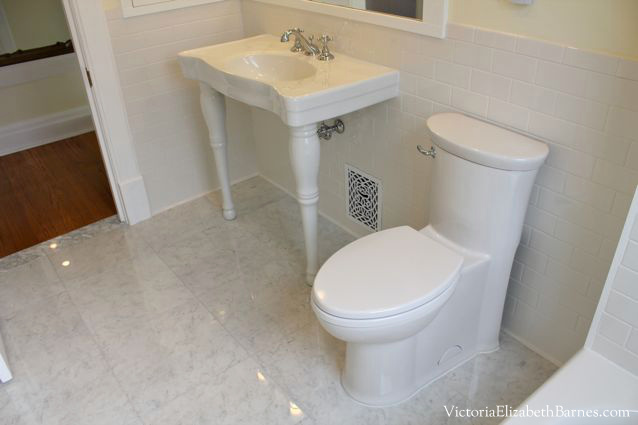 TOILET
We got the toilet on Amazon: American Standard, Tropic.  Concealed trapway, skirted, elongated, ADA.  
Here is my original post about getting the toilet, and how much I love the concealed trapway, skirted style.
SCONCES
My search for the perfect bathroom lighting required:
A vintage look.
Polished chrome.
Fairly tall—this is not a shy mirror.
Something that would look good mounted through the mirror.
Depth of only about 5"
Which?  Does not exist.  Finding shallow, low-profile bath lighting?  Forget it.  Everything that really appealed to me was way too bulky.  And the sleeker, streamlined options all fall on the side of decidedly not vintage.
So I expanded my options to more modern designs.  I also upped the original budget.  Because?  If you cannot find something IN your price range… you can almost certainly find something outside your price range.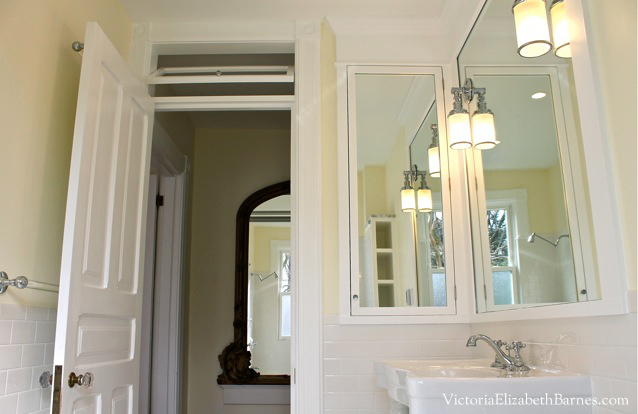 Notice the size of the window in our shower,  reflected in the mirror…
Ginger 4581-1/PC Columnar Single Ada Hall Light, Polished Chrome
… we bought one sconce on eBay for $92, (they only had one,) so we bought the other from Amazon.
Floor Tile:
Peronda Museum, 18×18, polished, porcelain, bianca carrara:
I have covered our floor tile in exhaustive detail.  I cannot even muster a summary for you.  I wrote a thousand posts about my epic quest for the perfect marble-lookalike porcelain tile… here is the one where I finally pick a tile.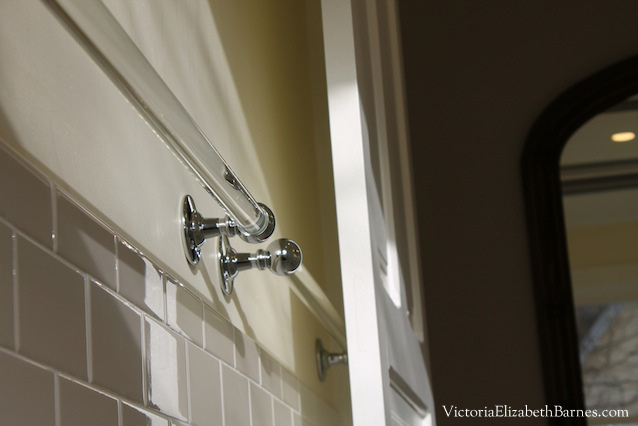 Restoration Hardware- reproduction vintage glass towel bars.
Subway Tile:
Apparently there is no standard shade of white porcelain…  The tub, the toilet, the sink, and all the subway tile samples I looked at… were all varying shades of white.
For us, Lowes American Olean  was the best match when compared with everything… and they had the curved cove molding for the base tile, which I like…  And which used to be standard in vintage baths… And which Paul says is unnecessary unless you're doing a commercial installation.  (What does he know?)
Lowes doesn't have a lot of fancy trim or molding options, but I wanted to keep the subway tile very simple, so that was fine for us… the one thing I didn't get hung up on was the wall tile.
If you're doing an authentic reproduction of an old bathroom– you will be horrified at my choice.  I can live with that.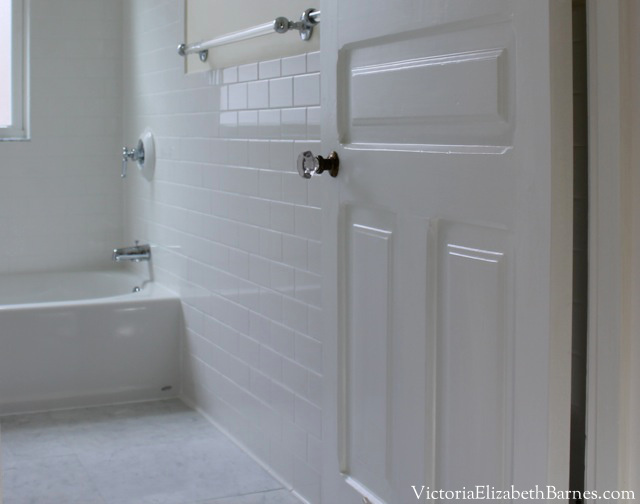 We also built a storage tower at the end of the tub, added a transom window.
But now I am exhausted.  Surely you are too.  I had thought I could cram in the DIY aspects in a brief and informative detour… but that will have to be another post.
What's that?  You're NOT exhausted?  You want to see more of the bathroom?
It's broken down into categories on my PROJECT PAGE.
Or, check out my About the House page.  I just updated it with 50 "before"  photos.
I'll love you EVEN MORE… If you share me with your friends!