I want a tile that looks like marble… a subdued, neutral, Carrara lookalike.  
The photo below is the tile I chose for a bath we've already completed— a 2″ marble hexagon which I LOVE SO MUCH, but for the hallway bath we are renovating now, I want something with less grout.
I want a similar color and feel, but with a large tile.
UPDATE: here's the tile we ended up with!
Update two: they now make Carrara hexagon tile in FOUR INCHES… something I would have considered!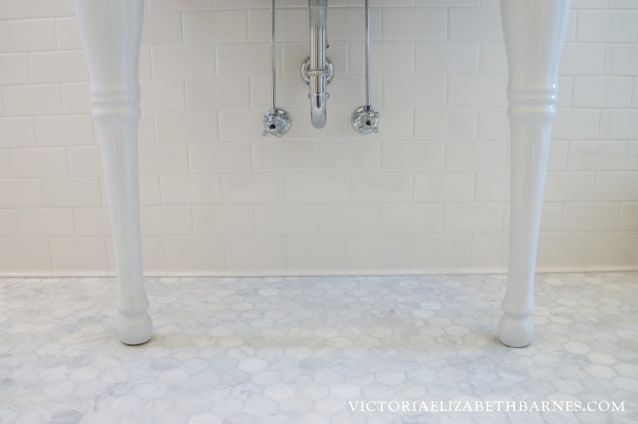 My magical, imaginary, non-existent, perfect tile would look like this:
Oversized: small tile = lots of grout lines = OCD onslaught.  I am my own cleaning lady, and I do not pay myself enough to be freaking out over grout.
Marble lookalike
Grey-ish Carrara look
Porcelain
Polished
Subtle pattern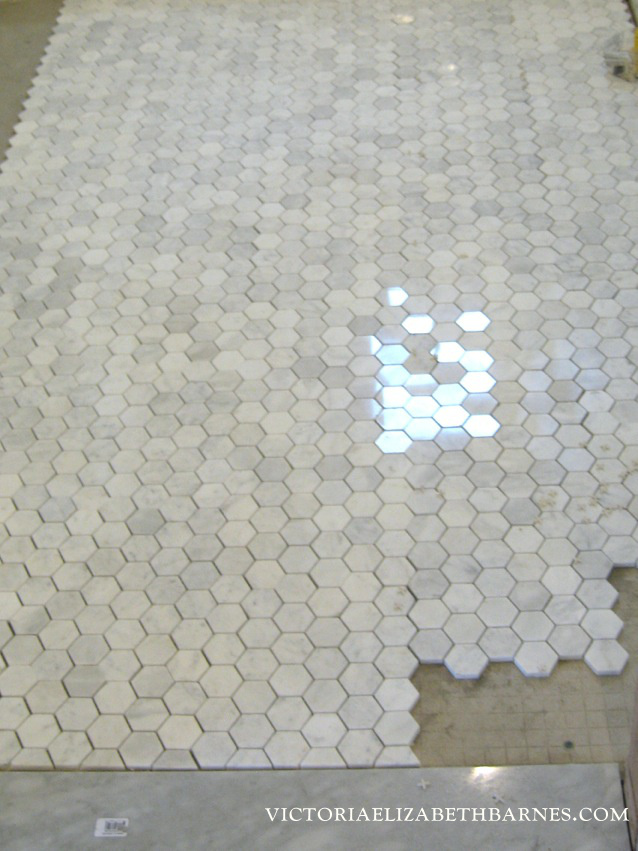 I have spent hours, days, months… shopping for tile.  I have traveled to other states.  I have searched the internet in its entirety.  I have ordered samples from online vendors.  And?  None of it is right.
Here is my advice for buying tile.  It hasn't helped me, but I think it's still good advice:
Get three pieces of the tile you think you like.  One piece, alone, looks completely different than multiples.
Don't bother ordering samples online.  This might not be true for everyone, but the three I ordered, without seeing it in person, were a waste of time, money, and excitement over the inaccurate belief that all my tile woes had been solved.
If you are doing different floor and wall tile, find a way to put them together in a large enough quantity that you can actually see what it will look like.  This was easy for me since we've already done one bath with subway tile walls.  I could just put the samples in there, to see how horribly disappointing they were.  Out of context, these were tiles I really liked.  But then next to the subway tile, had brown or tan or orange undertones.
Don't be fooled by gorgeous, perfect tile in people's blogosphere bathrooms. The tiles I ordered online were ones that I saw pictured in real bathrooms on blogs.  These were choices made by people who had clearly spent a huge amount of money on their giant, perfect bathrooms.  Only to find?  That when delivered to my house, the tile was hideous.
Do not get excited in the store.  Because once you get it home and in the space—it will be revealed how ugly it is.  Sometimes, you may not even get it out of the car.
Do not let the tile people make you feel bad when you go back for the fifth, sixth, seventh time…  It's not your fault that all their tile is ugly, and that you had to take it home first to determine that.
INDEX OF ALL BATH RENOVATION POSTS