I am way behind on updating you about the kittens… the last you saw, I had four monkeys.
(some of my previous kitten batches here, here, here.)
Below is when I first got this crew, and they were sick and crusty-nosed and goopy-eyed… (Moooommm, we LIKE our dirty faces! We HATE washcloth time!)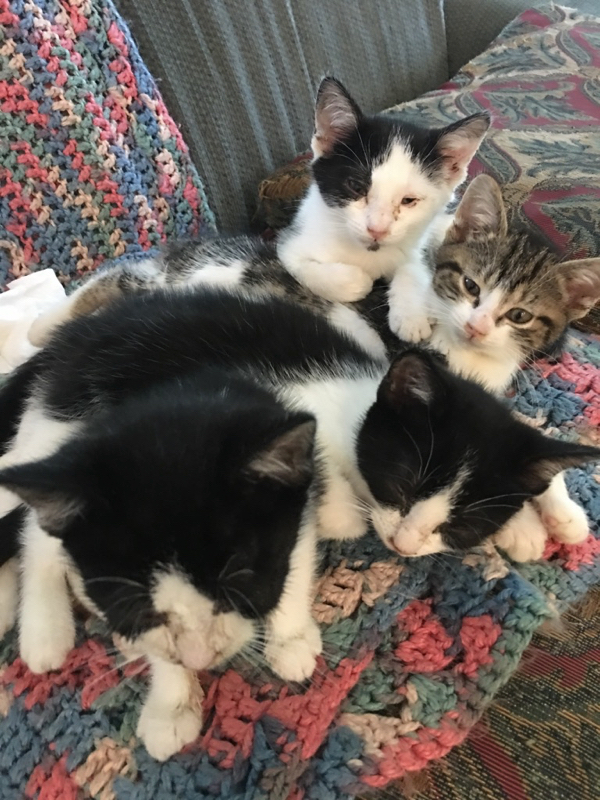 Looking at this photo, I just want to reach through the screen and smooch them all over.
SO MUCH FLUFF!
Also, I do not know how to break this to you… but it turns out that kittens come in other colors than just black and white.
Who knew!
-Mr. Aardvark (the only boy)
-William Wallace (the bravest kitten I've ever met! and non-tuxedo cutie.)
-Lil-E (baby Lily was very sick, and it took her a minute to grow.)
-Baby Skunk (thought Paul was HER MAN and had no patience for other ladies trying to get up in his unshaven face; her absolute favorite was Sunday— chances are good that Paul is sporting pirate-y beard scruff, and if Skunker saw Paul sitting down, she would RACE over to him and rub her face along his jawline, while doing extra-super-purr and walking all around his shoulders and chest.)
Once the munchkins-of-destruction earned run of the whole house, Paul and I would shut our door at bedtime, and let them party out in the kitten disco all night long… trying to sleep with FOUR kittens is equivalent to no sleep at all, and whatever they got up to overnight wasn't usually a big deal… one of them had a paper fetish and wished to shred ALL OF THE PAPER, so there was usually a confetti pile somewhere (or everywhere.)
But one morning I discovered that Wally had gotten herself covered in duct tape; it was REALLY stuck to her, and it was covered in little teeth marks, because she had been trying to pull it off of herself.
I still have NO IDEA where she got the duct tape or how she accomplished a task that would seem to require opposable thumbs.
In the morning, I would open the bedroom door and call— Mr. Aardvark! Wally Wally! Lil E! Baby Skunker! And the herd would come STAMPEDING… you would hear it start back in the kitchen, through the dining room and living room, and then up the stairs… and they would LEAP onto the bed… purring and talking and attacking each other and us… it's not an overstatement to say it was my favorite part of the day.
I MISS THEM SO MUCH!!
They were my favorites, (although, Paul pointed out that they are ALL MY FAVORITES… and that the kitten-ranking-scale runs from favorite to FAVORITE.)
And I cannot believe I am revealing this about myself, but non-tuxedo, WallyWallyHedgehog… she was my favoriteFavoriteFAVORITE. She was like petting clouds, she was SO SOFT!
Her cuteness BROKE THE CUTENESS METER.
It's important for me to tell you all of this because Paul does not wish to listen to my scientific dissertation on favorites-rankings, and cuteness-field-studies, and WHY WALLYWALLY SHOULD BE STUDIED IN A LAB SO THAT WE CAN FULLY UNDERSTAND HOW SHE IS MADE PARTLY OF CLOUDS.
Why does Paul have NO INTEREST IN MY GROUNDBREAKING WORK ON KITTEN COMPOSITION?
Below, click right to see the duct tape video (I'm having a glitch with my regular video, blah blah blah)
As with every single one of my baby hooligan batches, I've second-guessed whether I did the right thing to give them up… who gives up their favorites!!??
Kitten-missing-second-guessing, is now my greatest skill.
The problem is that I love my kittens, but I cannot forget about the overwhelming need for foster homes for OTHER kittens… all of my shelters and foster groups, are overwhelmed… daily, I am reminded that simply keeping the munchkins I have is equivalent to deciding that others should die.
Giving the ones I have up, means that I can save more.
Like these two; they don't have names yet, right now they are shy cat and angry cat… angry cat is the one in the towel straightjacket… she is VERY SERIOUS about the angry part.
*Important note* you don't have to take angry kittens! When I go for new monkeys, I say– give me your tuxedos who need the most love… so I end up with sick or injured or terrified.
Final note about the kittens, if you cannot foster, I wrote a whole post here how YOU CAN HELP SHELTER ANIMALS!! There are so many ways you can get involved helping dogs and cats who are waiting for their forever home!
PLEASE REMIND YOUR FRIENDS AND FAMILY WHY IT IS SO IMPORTANT TO SPAY AND NEUTER YOUR PETS!
I get daily emails from multiple shelters with that day's "timestamps." Animals who have run out of time… there are simply TOO MANY ANIMALS AND NOT ENOUGH HOMES.
Please don't let your animals have babies! If you'd like to experience baby animals, fostering them is a great way! You can truly be the difference between life and death for an animal living in a shelter!
ADOPT DON'T SHOP!!!
***
What I'm reading: The Women in the Castle, by Jessica Shattuck
I totally loved this book… it's been awhile since I randomly picked up fiction off the new release shelf at the library and LOVED it.
It's about three women. Set in World War II, Germany. The story is great. The characters are great. The plot is great… it's just GOOD FICTION.
I suppose a good comparison would be The Nightingale (which I also really liked).
I also read: Option B, by Sheryl Sandberg
At first I did not love the writing style… But eventually it did not matter. It's well-told and deeply interesting.
Reading the introduction, I almost quit the book before I even got started… the preface is about losing her husband, and reading someone describe their grief is heavy… but once I got through the beginning, I really enjoyed the book… my mom is reading it right now, and she too endorses it.
It's an interesting concept – resilience; something I had not thought of in the context of grief.
The book is half research/clinical insight into how some people are able to process the traumatic events of our human existence better than others. To turn trauma into meaning. To fold terrible things into their existence somehow.
The other half is Sheryl Sandberg's personal story. (Her husband died of a heart attack while they were on vacation – he went off to the gym and she never saw him again.) But the real story is how she walked herself and her two children through that experience.
The specificity of the idea of building resilience… a person consciously working through grief with a PLAN is a level of organization I will never reach. (Which I guess is why Sheryl Sandberg runs a multi-billiongazillion-dollar company and I don't.)
Some of the most interesting content was the parenting section— the research on how children grow and process life experiences was super interesting.
Then I got to the part where she and her children do a balloon release… and had to get out of bed to bash my head against the wall.
We miss you, Dad!
So we killed some seals and birds!
WUT? No.
BALLOONS KILL WILDLIFE AND POLLUTE THE EARTH.
***
SOAPBOX: Stop releasing GARBAGE in the name of loved ones!

Dear Sheryl Sandberg,
To you, a balloon is symbolic of —— actually, you know what, I have no idea!
GIRL, IT'S TRASH!
Balloons follow wind patterns to waterways. Along the way they get caught in trees, brush, power lines, fences… when they make it to streams and rivers, the waterways carry the balloons out to sea… strangling birds, killing ocean life, and affecting all the animals up the food chain.
Animals often mistake balloons for food, carrying them back to their nest to feed to their young; once an animal eats the balloon, it sits in their stomach, indigestible, and they starve to death.
You don't have to take my word for it. You could Google it. Or, you know, just ask on Facebook.
Sincerly,
Earth
For more information, read the US Fish and Wildlife's plea to NOT RELEASE BALLOON TRASH.
For helpful tips and how to get involved, visit Balloons Blow… they have some great information about latex balloons which manufacturers claim are biodegradable… but in the MANY YEARS it takes for them to break down, they have plenty of opportunity to kill wildlife.
Seals are particularly at risk because they are VERY CURIOUS animals… this guy SURVIVED!! But he is one of the lucky ones– he was caught and rehabilitated and released and his chances of survival are excellent, but MANY, MANY of his kin are not so lucky.
***
What I didn't buy on Craigslist.
This old butler's pantry is SO AMAZING!!! It's way too custom to be in anyway suitable for me to repurpose, but I wanted to show you the radiator/dish-warming shelves.
SO FANCY!!
The Victorians got some things right: just because it is practical, does not mean that it is exempt from FANCINESS.