There are three different floors going on in the kitchen/addition.
Surprisingly, this is not the look I am going for.
The floor needs to be the same throughout the two rooms to make both spaces feel as coherent as possible… We are not going to change the roof line or shape of the addition, (although that half bath is getting evicted,) so we want to be sure that we eliminate as much difference/lines of demarcation as we can.
Here is the space before we started exploding everything. You can read an entire post/see a detailed layout of the addition here.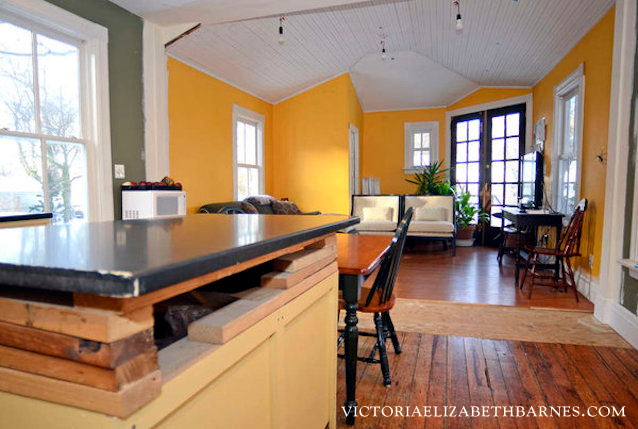 I do love the original kitchen floor, simply for being original. It has a rustic look that sort of goes with the current kitchen, and it looks okay in pictures, but in reality, it is rough.
It has been sliced and diced, and in places removed/re-patched. Plus, after 125 years, some of the boards have decided that life is not worth living… So we are going to lay new hardwood over it.
This means that either we are going to have to do some (a lot?) of tearing out/repairing… Or install a brand-new subfloor.
We also need to gut at least part of the sink wall.
But because we are still uncertain of the final kitchen plan, we still need some kind of kitchen—we cannot just tear it all out and make it unusable… Or rather, we COULD. But then I would have a nervous breakdown. So we moved the kitchen down into the addition.
Paul hooked up a very long drain for the sink and taught me how to hotwire the garbage disposal.
On one hand— ugh.
On the other hand, I am grateful.
It would have been a LOT faster to just rip it all out, and Paul not (yet) consigning me to the basement utility sink with a rice cooker and a folding table is a kindness that rivals strapping an 8ft tall Kingdom Mirror to the top of a truck and driving it home on a 14-lane highway.
Now.
For the most exciting announcement of all time:
We got our kitchen island.
WHAT! I know!
(If you are new, here was inspiration. Here was what I considered.)
So I have to go… I am working on a video of the acquisition and it is infinitely more interesting than continuing this post.
In the spirit of suspense and having more than zero followers, I posted a teaser photo on Instagram.
I am late, late, late to Instagram, as I am late to everything… I was actually planning to just skip it because the last thing I need is another place where people vote if they like me: facebook! twitter! pinterest! But then I read a thread where other bloggers were talking about the weirdo bloggers who are not on Instagram who are total idiots because all the fun kids are all in the awesome-instagram-sandbox.
And I guess I felt like that was a challenge: to revisit the years between 10 and 18 38 and fix my socially-awkward aversion to the sandbox.
So I have signed up to be a filtered version of the best photo of my best self selected specifically to impress total strangers.
This sounds like such a fantastic use of my time.
From what I have seen, I will be required to get some hair extensions, delicate gold rings (and/or) bohemian jewelry, whimsical throw pillows (and/or) framed prints, succulents (and/or) geometric décor pop-of-color accent, and also take photographs of my feet while showing off at least two of the following: ironically hideous footwear, drink/manicure/bangle combination, distressed jeans, awkwardly positioned thigh gap.
If I've missed anything, please let me know?