I have three competing design ideas for the kitchen. More or less the same layout/concept but depends on THE THING.
THE THING is defined as:
• thing that will simplify/infinitely complicate all decisions because I MUST have it.
• thing that will dictate layout/design because I MUST incorporate it.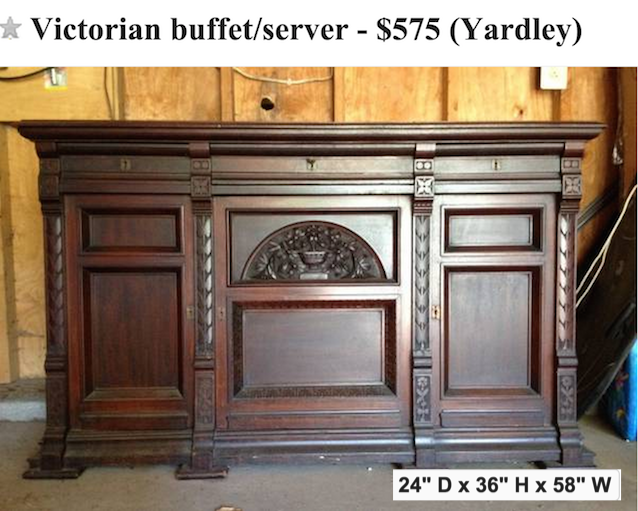 The first option is to keep a traditional kitchen design along the perimeter walls and have the island be the repurposed/unexpected accent.
Doing just a repurposed island is the most practical of all three ideas. It lets us have an interesting workspace, but doesn't force us to reconfigure the sink or dishwasher.
The could-be-island-things I have looked at could easily incorporate a sink but the dishwasher has been an issue on every single one.
Also bonus— if some future owner hates it, it will take them all of five seconds to remove it.
Last week I showed you inspiration photos of repurposed islands. As with all inspiration photos, they have the benefit of being professionally styled/photographed/lit.
Whereas all of these photos are taken with my phone, and are surrounded by piles of furniture/junk at either the auction or salvage yard. So they look way less fancy– please use your imagination.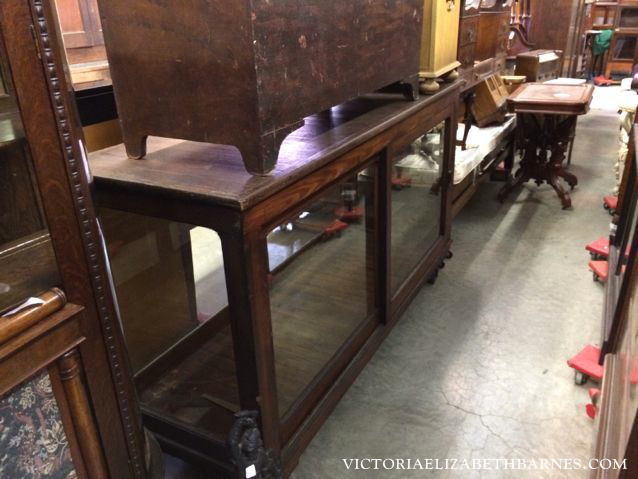 If I want something that feels authentic and not reworked, I am going to have to go with furniture. Something like the buffet below would be a great workspace – it was 6 feet long, plus the drawers/storage would be great… But I have to say that I do NOT love the idea of having an unfinished side. Something about that bugs me.
The front was beautiful… and then the back was just— blah.
I don't need it to look amazing from all angles, but there was too much contrast between the fancy feet/columns and the unadorned backside.
It is possible that I could find two similar and place them back to back, although then we are talking about a really wide island. Probably too wide for our room.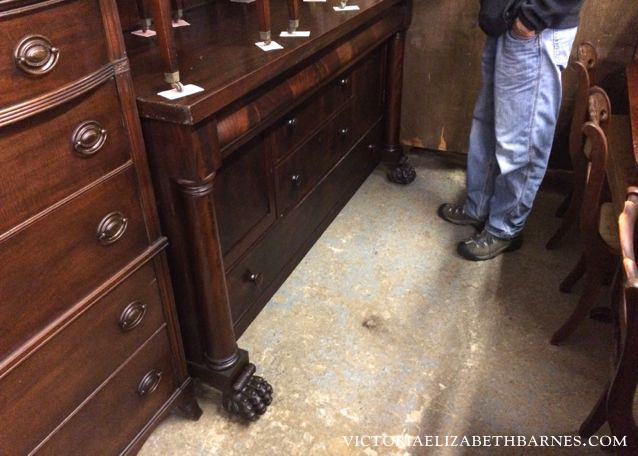 Pros of using furniture:
Already standalone.
Minimal chance of having to paint.
I think an unusual piece of furniture repurposed into an island, and topped with a piece of Carrera marble would complement a more traditional layout around the kitchen perimeter.

The contrast between a dark wood antique island, and white cabinets would be nice… and would alleviate some of my box-issues.
I really like dark wood, and I would prefer not to have to paint something. If we are repurposing/reworking materials, chances are we will be frustrated trying to match new stain to old patina or veneer and be forced to paint.
Most of the furniture I have looked at so far is either not really long enough to be a good-sized island, or height is an issue, or price is an issue… or it's just not THE THING.
My preference is for Eastlake, or late Victorian period— about 1870-1890… Without wandering over to anything Federal, Gothic, Rococo, or Oak… although an exception could be made in order to own something with monster paw feet.
The most obvious island would be some kind of old, general store countertop: practical, generously sized, about the right height… But the problem with general stores is that GENERALLY they weren't very fancy.
Plus, it would be easy to slide from repurposed into rustic… And I am not a rustic kind of gal. I mean, I could be, at my country house, but until I get one of those I am sticking with my preference for Versailles.
Although, I will say that a good way to wish you had bought something is to see it show up, looking pretty in Miss Mustard Seed's workshop.
Here is where she cleaned it up and added a glass top… Below is a photo from her studio tour (which is full of other furniture on my list of things to steal.)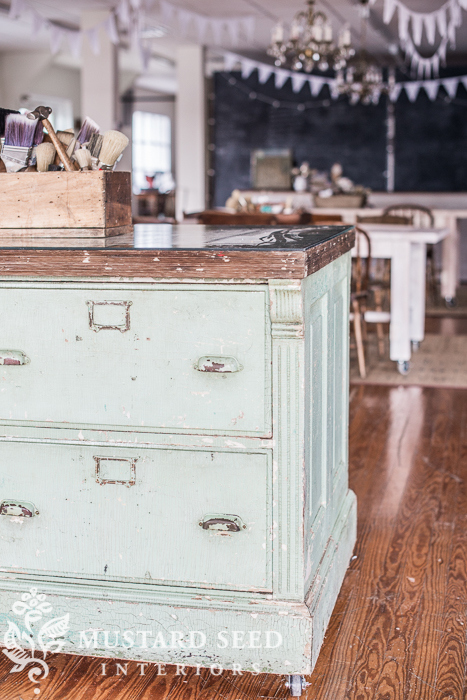 I have no transition for this final option, but I was SUPER into this FANCY! White porcelain enamel over cast-iron! Item of island-shaped-interest!
I said to Paul – oooh, look! This is unusual! AND the height is adjustable! AND there is room for barstools underneath!!
If we went more vintage-y, this would be SO FUN with retro/steel kitchen cabinets… they show up on Craigslist all the time!
Paul said – I am pretty sure that is for cadavers. We should get it. Whomever wins the next argument can put it to good use.
Then we had to go straight home so that I could soak myself in bleach, because I could not remember if I had touched the thing.