The kitchen design is our next project… a challenge in any old house.
I'm not talking about the construction, the remodeling, or the cabinet installation.  Yet.
Just the design.
It's going to be Kitchen Week here for a while.  Like Fashion Week in NYC.  But with more hysteria, drugs, and nervous breakdowns.
Also, we can all just wear sweatpants.
I'm going to attempt to do the kitchen posts in an orderly fashion:
Introduction—where you meet my kitchen and have wine and cheese with the current layout.
Now that you've met the kitchen, we can talk about it behind its back… I'll show you the issues that we have to work around, and talk about an eyesore that theoretically has resale value.
We go shopping!!  I show you stuff I like.  We try on stuff we cannot afford.  We say catty things about thinner, better-dressed kitchens, and get a pedicure.
We discuss the seventeen-million layout options I've come up with so far.  I ask you to help me make sense of cabinet arrangement, stove location, and the possibility of ignoring all wisdom, in favor of open shelving and marble countertops.
So here it is, meet our kitchen.
Try not to be jealous…  It has lots of awesome customizations that yours doesn't.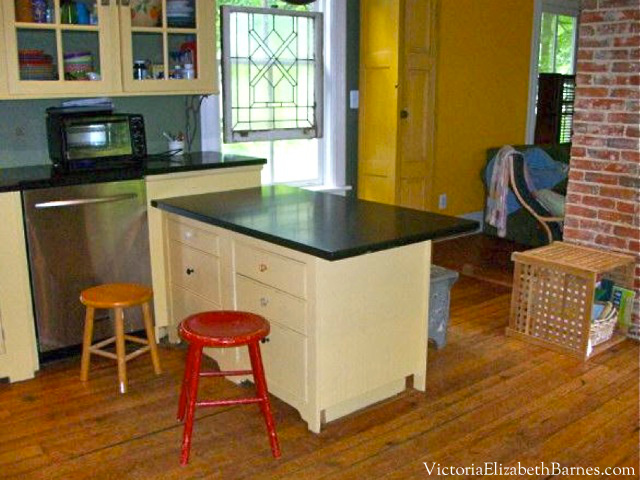 Our kitchen is courtesy of our previous owner's "creativity."  Which?  If you've looked at my Before Pictures gallery?  You've seen what I mean.
Their style had a wacky, unconventional, flair…  And?  It worked for them.  It said: we're artistic.  We cannot be bound by the laws of commonly agreed-upon design aesthetic.
It also said: we have IDEAS.  And those ideas cannot be limited by your narrow-minded expectations.
The previous owner designed and built what I guess you could call a custom kitchen.  He made everything himself.
He made the kitchen cabinets.  And the island.
And the amazing shelving you're admiring right now.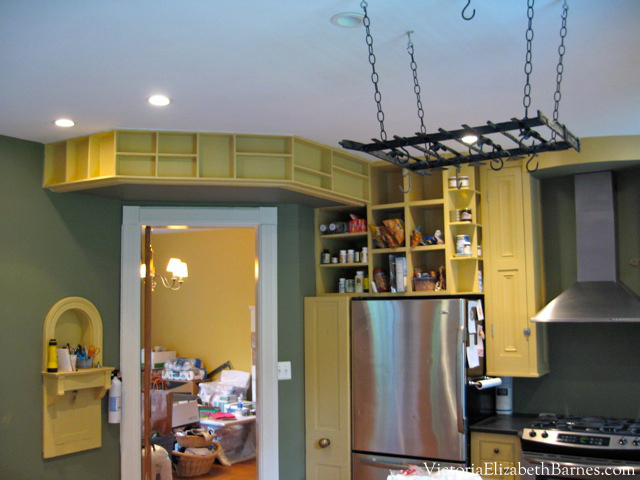 He didn't do a BAD job…  I mean, if you asked ME to make you some cabinets, they wouldn't be NEARLY as nice.  So in that respect, they're pretty impressive.
On the other hand, if you compare them to what other people expect from cabinets?  Things like being generally the same size?  They are really terrible.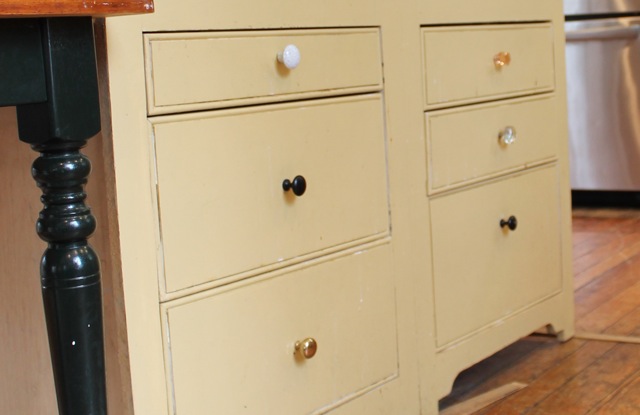 I think the look he was going for was somewhere between vintage farmhouse and country cottage…  But he didn't make it.
He fell short and landed in:  no-budget-so-I-made-it-myself-with-shutters-I-scavanged-from-the-trash.
Two days after we moved in, we redesigned the weirdly low peninsula into an island.
That sounds fancy!  A custom island!  Every cook's dream!
Except it was really just us ripping it off and moving it to the center of the floor.
We raised the countertop with two-by-fours.  Then we shimmed the bottom to level it.
Like I said– try not to be jealous.
Over time, we've slowly made some "improvements" to the kitchen…  Small measures that happened to coincide with whatever current project was underway.  The improvements made it somewhat more usable, if also uglier…
I know what you're thinking here:  I wonder what's under the sheet?
Oh?  No?  That's NOT what you're thinking?
We opened up the doorway, as much as we could.  Originally it had an extra-tall butler's door… which was charming, but we wanted to connect the kitchen to the rest of the house as much as possible.
You're looking at the entrance to the dining room, which is the only room in the house the kitchen connects to.
At first I couldn't wait to get rid of all of this, and get a real kitchen… but like everything else, I've gotten used to it.  At this point, the kitchen doesn't even seem like an issue.
Why replace it?  It's FINE.
Plus, I would rather live with this kitchen for the rest of my life than go through another construction project.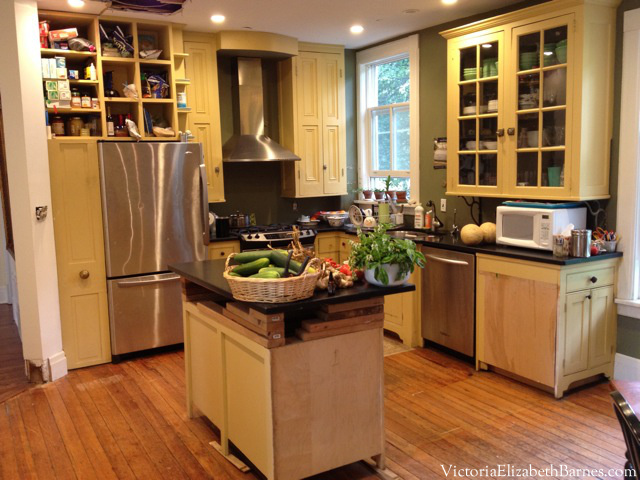 I want a break.
I want a year off, and a European tour.
Paul on the other hand?  Wants to FINISH.  The kitchen, the first floor, the house…
Either way, we should be thinking about it…  It takes me a hundred years to make a decision.  So if we start now, we may have a kitchen next century.
The photo below is the kitchen today.
You can see I cleaned up for you.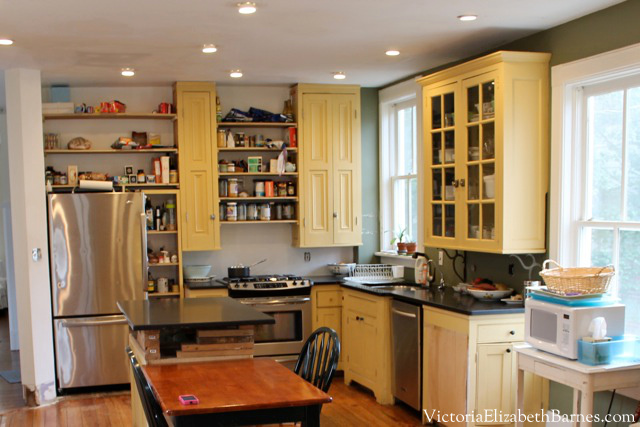 I cannot tell you the dread I have, at the design options coming my way.
Plus, there is a weird addition off the kitchen.  I'll introduce you in my next post.
It's super awesome.  And orange.
And not remotely well-designed.
It's not even square.
Part Two:  Meet the crazy orange addition.
Part Three: Addition and patio layout.