Lots of you have wondered why our kitchen progress stopped… It might bear explaining eventually, but hasn't yet felt like blog-fodder. In the meantime, it can be summed up as: life.
I have no idea how other bloggers manage to have their house/projects/progress all proceed in a way that is so perfectly linear and sensible.
The forced hiatus helped me work through a lot of my existential kitchen angst… Not to mention the dubious gift of time to look at every kitchen on Pinterest.
It took a while.
As of today, my kitchen board is filled with 800 designs of extraordinary proportion… which I cannot afford… do not have the space for… but will look fantastic when I inherit an estate in the Hamptons. (Hopefully that happens soon.)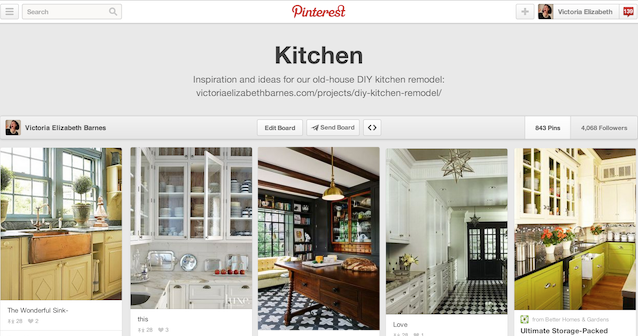 After all of this extensive research – I am now able to report for sure, that my only kitchen-design options are:
1. monument to ostentation.
2. faux-IKEA-hack-monument to ostentation.
3. DIY budget-minded makeover that looks good in the text-annotated pin… But when you actually click through, looks like crap.
There may be a small community of outliers who have broken with this mold, but I believe the kitchen-design-police have prohibited them from having a strong presence online.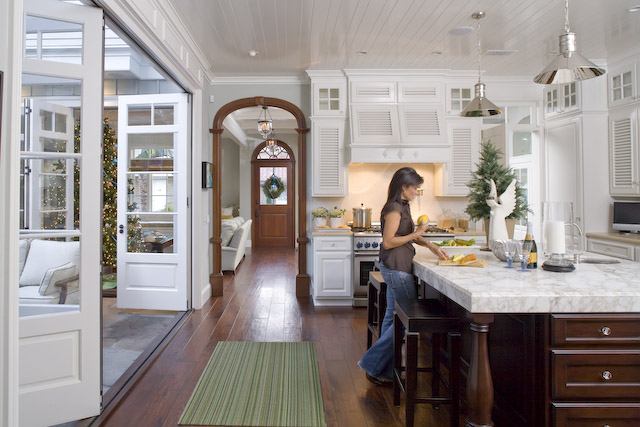 Aside from wasting my life on Pinterest, another benefit of the design-suspension was the time it gave me to break Paul's spirit get Paul on board.
On board with what, specifically? Remains to be seen. (It also remains to be seen whom I will rob in order to procure funding.) But the common elements seem to be – white, white, white, some dark wood for contrast, glass-front cabinets, vast amounts of marble, a ridiculously large island, monster-sized crown molding, and possibly some open shelving.
All that needs to happen now is for these elements to arrange themselves into a yet-to-be-decided genre. I have narrowed it down to four:
1. Liberace meets Versailles.
2. THE THING
3. On-trend Christopher Peacock knockoff.
4. Vintage/retro/kitsch.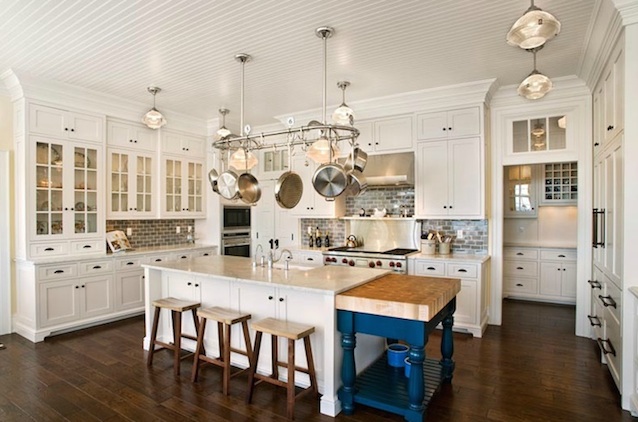 I thought I would really enjoy doing kitchen-inspiration posts…  you know, collecting pretty pictures? How hard can that be? But it turns out to be a soul-sucking exercise. First, because finding the original source for anything is nearly impossible. Second, because looking through 800 kitchen photos is mind-numbing. Third, because trying to find kitchens we haven't all seen 50,000 times is impossible.
I wanted to present some kind of working hypothesis. But instead I ended up spending all my free time revisiting my Pinterest kitchens. (Pin-hoarding, anyone?) And getting sucked into other people's boards. And trying to track down the source for these planters…
It's the problem with the internet – it's so internet-y.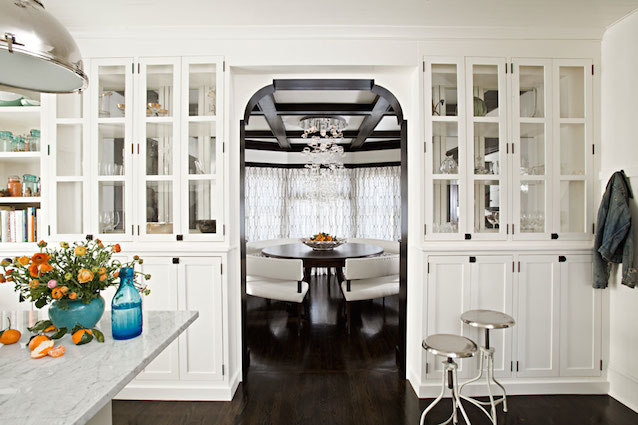 I am at a loss for how to wrap this up…  (Seeing as how I never really got it to go anywhere.) So now it's time for you to give back.
If you have a dream kitchen, a favorite pin, or are working on your own kitchen – share it with us and leave a link in the comments. *reminder – more than one link will likely get you eaten by the spam filter.
if you missed my own personal dream kitchen
all kitchen posts