I am going to yet another tile store.  I have no more enthusiasm for this slogging around.
UPDATE:  here is my tile installed and grouted!
I want a vintage-style bath, but with a sleek, clean modern design.  Trying to marry these two aesthetics seems to hinge on the choice of floor tile.  At this point, I am thinking I am going to need to compromise.  My least favorite idea.
This is Pilar Guzman's bath, (Martha Stewart's editor).  Her home was featured in one of last summer's magazines.  And is worth checking out for some really gorgeous design.  (Her kitchen is outstanding.)
What I love about her bath is the authentic, Victorian feel—subway tile, claw foot tub…  but it's clean and modern at the same time.  However, she has small floor-tile.  And, I assume a cleaning lady to go with it.
Home Tours: Home Tour: A Family-Oriented Brownstone in Brooklyn – Martha Stewart.
Below is the Dunsmuir-Hellman Estate in California.  My other favorite bath.  I love everything about it.  But I don't think it's practical.
Like most authentic baths, the sink counter is non-existent, the medicine cabinet is tiny, and the lighting isn't direct enough to do anything but wash your hands.
And finally, this bath.  Which I love for an entirely different set of reasons.  I love all the mirrors, the chrome, the marble, the blinding whiteness…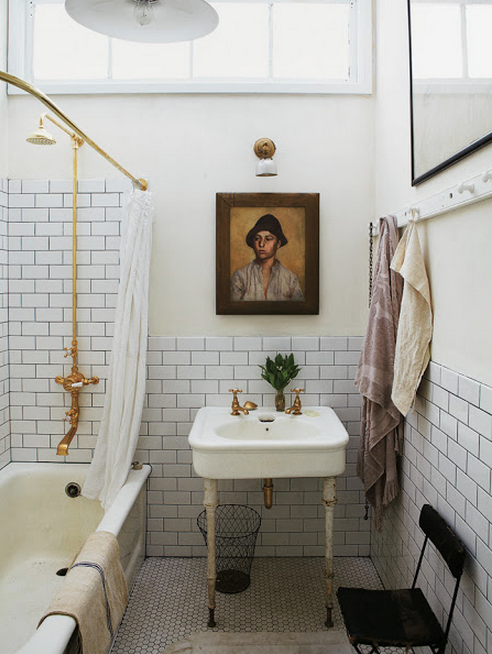 Love the oversized blue hexagon floor tile.  If I hadn't already chosen a tile, I would be tempted to seek this out.
Also, blue subway tile… so charming!
Related Posts
Bath Index – everything from what we started with… to the fixtures we chose.