Take the full holiday house tour
A while ago, I wrote a post titled The Auction Olympics; about a day I drove back-and-forth between two separate auction houses, each running multiple auctions, all with totally unpredictable and variable timetables.
Since then, I have embraced the absentee bid.
Not only did my ten-hour bidding-marathon eradicate the thrill-of-the-unknown-with-a-whiff-of-danger-in-the-form-of-possible-bankruptcy-and-divorce, it also forced me to acknowledge that I am someone who cannot be trusted in an adrenaline-fueled state.
Theoretically, I should have already known about the adrenaline issue— seeing as how I once nearly paid $1,200 for a pair of antique garden urns in a spur-of-the-moment-madness based on the thought process: if I do not get these, I will die… Which has yet to be borne out in any kind of evidence-based investigation, and is more accurately: these are probably crap I can live without.
While writing this post, I reflected on the process of how I so merrily agreed to pay nearly $1,200 for garden trinkets… and I have to say – there is confusion. And it is FAST confusion.
You go from $100 to $1,200 in under a minute… Your brain can hardly keep up, so you are really operating on instinct. And apparently my instinct is towards bankruptcy.
Know thyself!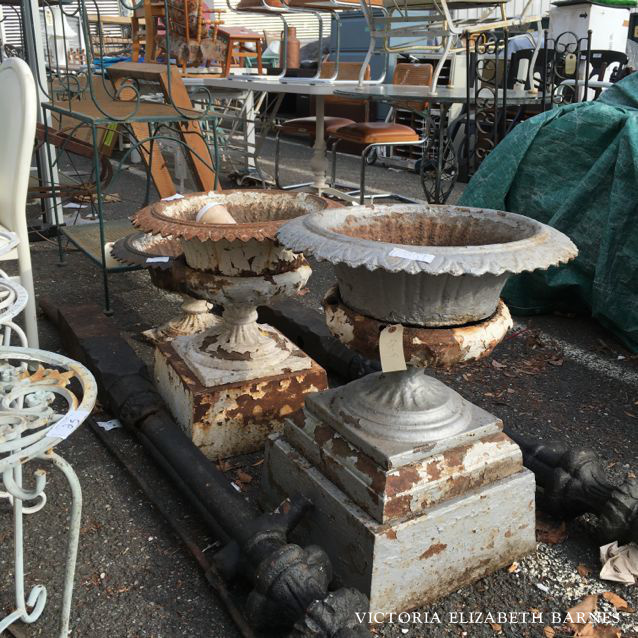 So I am now a fan of leaving a bid on your item and hoping for the best.
On the other hand, as I learned last weekend– if you cannot be bothered to show up and supervise your stuff, it might disappear… there were three urns, and one just wandered off.
I don't even have a photo of it, although you can kind of see it in the background of the photo above– it's the short one with no base or bowl.
Even though it was missing nearly all of its pieces, I still wanted it, because I like things that are broken and crappy.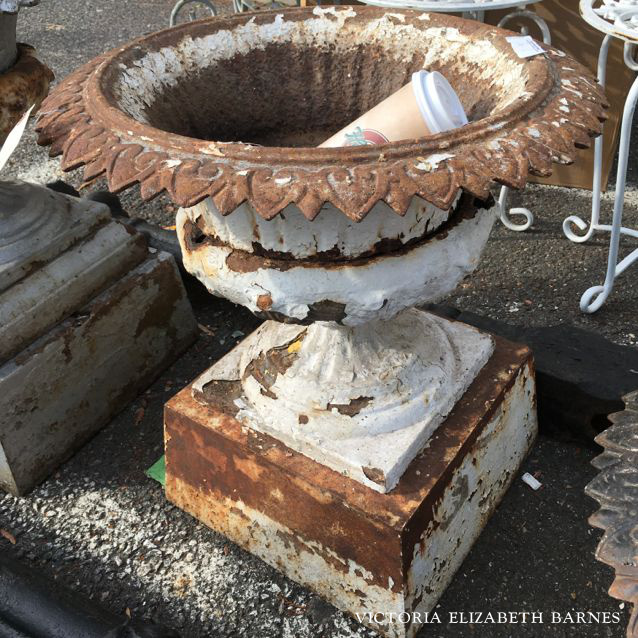 I left a bid on Sunday afternoon, for the auction on Monday.
My top bid was $60/each for the big urns, (which would have come to $75 including tax and buyer's fee) and $20 for the little one.
I figured that if I won, I was definitely going to be paying my top bid because whenever I write a post about auctions, people warn me of unscrupulous practices and price-jacking… which I'm not really sure how to avoid— I mean, if you want something and you've set a decent price for yourself, is there anything else you can do?
Monday night when I got home, I called the auction house and they told me I won the urns for TWENTY DOLLARS A PIECE.
Even with the plague-of-locusts-that-is-the-buyer's-fee-and-tax, they only came to $25, and that is a ridiculously good deal.
I headed directly out into rush hour… it was dark. And raining. And when I got to the auction house, I went inside to pay, before heading out to the dock area to load them up.
The woman behind the counter said – are you sure they are still out there?
And I was like – um, no?
She said – well, they steal things, you know.
I am not quite sure who they are… Or why, if you know about them… something is not being done?
But after I went out back to the dock area, I could see how rampant pillaging and theft would be possible… no one was supervising anything.
I looked around to see if there was anything I myself might like to steal… but, I guess they beat me to all the good stuff. There was nothing left but a mauve toilet seat and a velvet reproduction of The Last Supper.
Then I started hunting for my urns and shaking my fist and saying things like— so help me… if someone stole my urns!
The two big ones were under a tarp by the auctioneer stand… but the little one was gone.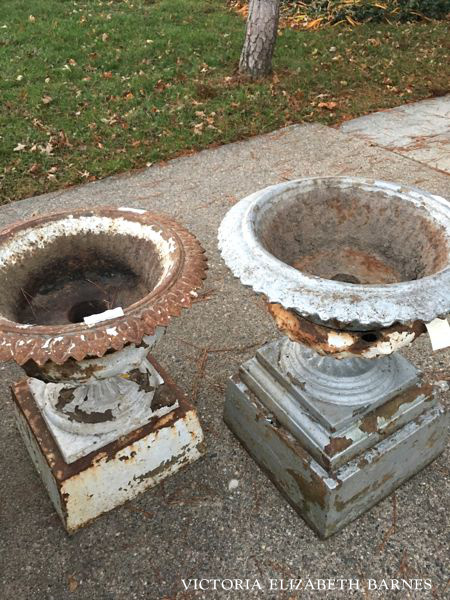 Because there were three urns, and they stole the one I wanted least, I am satisfied with the trade-off of not having spent an entire day watching boxes of toilet seats being auctioned off.
If they stole one of the big ones, I'm not sure… maybe I would wish to have been witness to toilet auctioning.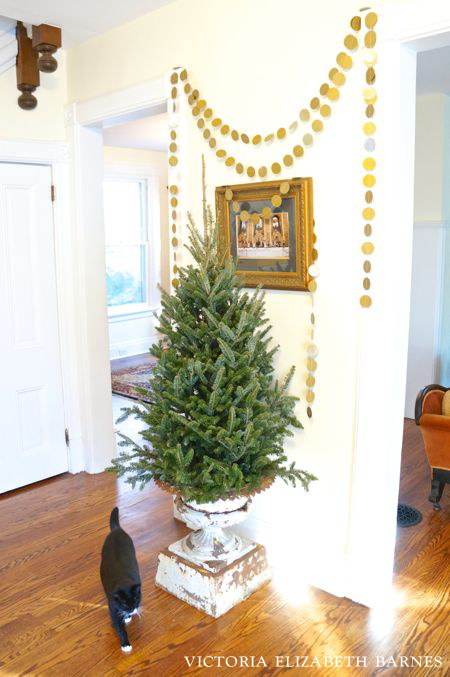 Now is the part of the post where there must be accountability for what I have acquired.
In my world:
1. these are mine now.
2. the end.
But not everyone thinks that is a good ending. And I know that people will ask me –what are you going to do with them? Are you going to paint them? Is Paul going to replicate the base-booster that is missing on the white one? Where are you going to put them?
Then I end up feeling like I have done my post wrong – or even that I am doing life wrong… because my ability to plan and predict ends abruptly the moment anything enters my house.
I actually really like the white one just the way it is… I have LONG wanted one exactly like this, in exactly this condition, in exactly this size, to keep inside the house… I'd like to grow moss in it, but my success rate in the past with moss is negative zero. So I'm imagining it filled with possibly-also-ridiculous-bulbs-forced-in-February.
However I do not love the silver paint color… and if we paint that one, (probably black to match my other one) then it makes sense to paint them both to have a matched pair…and then, it will not be the rustic/broken/fanciness I was envisioning.
These are problems I am comfortable having.
I'm going to sign off for the year now; my brothers are home, and we have some regressing to do… MOM! CAN YOU MAKE MORE PECAN TARTLETS?? HOW LONG UNTIL THEY'RE READY?
But first:
Every single week, your comments are the best part of my blog… you are clever, insightful, and entertaining. The way you use language makes me happy, and when I read your comments I am aware that I am the luckiest blogger on the internet.
I treasure you and am deeply thankful for your existence.
From the bottom of my greedy, GFT-loving heart.
xoxoxoxo
VEB
Merry Christmas, Happy Hanukkah, Merry Solstice,
Happy New Year, Merry Boxing Day, Happy Kwanzaa…
•••
Whatever holidays you celebrate,
I hope you get to spend them with the people you love.