I had told Paul that the weekend after New Year's would be dedicated to GETTING ORGANIZED… I do this periodically: announce that THIS will be the weekend I get my life under control.
As with all my life-control projects, I was gangbusters at first.
I began a frenzy of organizational malice and misdirection— creating a disaster of the one thing that was arguably fine in this house, while also treating Elvis to one of her favorite activities: exploring places previously not available to her.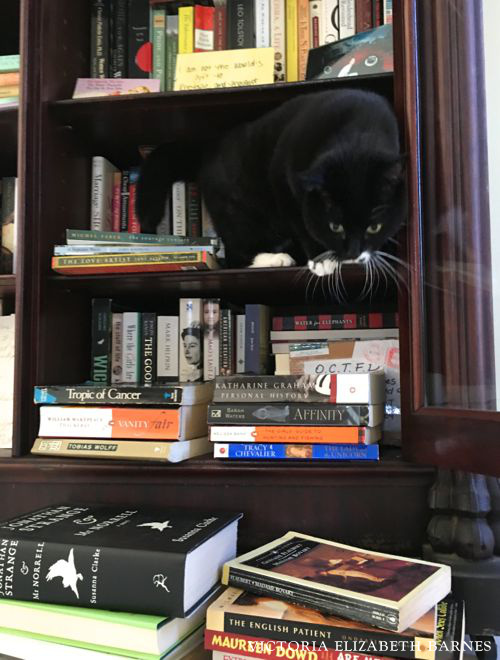 My plan was to condense and get rid of two bookcases… but after the initial arranging of books into piles, it slowly ground to a crawl… impaired by my need to re-read Ernie and look through photo albums, and also just the general life-process of one decision begetting the next decision which is always intolerably tedious and confusing to me.
Eventually becoming a gridlock of no decisions at all… where I sit on the floor comatose, thinking about how if I get rid of The Faerie Queen it will be tantamount to saying:
I AM NOT THE PERSON I WAS SUPPOSED TO BE.
MY PARENTS WILL NEVER APPROVE OF ME.
I SHOULD HAVE JUST JOINED THAT BIKER GANG.
Sometime in hour two, Paul came into the bookcase-storage-inn-of-chaos… He was silent while acclimating himself to having yet another unusable room in the house.
I felt judged by his silence, so I said defensively – I'm getting rid of ALL of these bookcases! TODAY!
Paul nodded. Then he said– is that code? Do you actually mean the opposite? That you will continue to get more bookcases until the entire house is full and we must sleep in the garage?
And apparently, that IS what I meant.

For ONE FULL YEAR, I have been seeing this ad on Craigslist… No photos, out of my budget, probably a piece of junk.
Every few months the ad would reappear and Self would whisper – you should definitely email them… remember that one time?
And? I do. I totally remember that one time when there were no pictures and it turned out to be a Kingdom Mirror.
But The Kingdom Mirror wasn't $2,000… so for twelve months, I ignored Self's instructions to email, hurry, go, buy, faster, now, run.
HOWEVER. It looks like this is the year I surrender responsibility for what comes and goes in this house and just delegate all decision-making to Self.
She has decided to commit to the full hoard.
The day I emailed the Craigslist poster, she was home.
I went right over.
Self said– YUP. FOR SURE. LET'S PACK IT UP.
But rather than just packing it up, I spent nearly an hour talking to the woman selling it… we really hit it off, the way you sometimes do with total strangers. But eventually we had to get down to business, and it was time to do my shtick where I throw Paul under the bus.
Vilifying Paul is my default negotiation strategy: I explain to the seller that if it were up to me, I would pay whatever they wanted!
But UNFORTUNATELY, I am married to a tyrannical despot who forces me to endure an ascetic life of monastic puritanism: a flinty and grim existence of hair shirts, boiled potatoes, and no unnecessary expense.
I pointed at the bookcase's flaws. I gave the appearance of deciding that my husband would never agree. Finally saying that as much as I LOVED the bookcase, ultimately I could not meet her price… Sad face!
I left without making an offer.

I went home and said to Paul – good news!! Then I showed him photos of the key to my inner peace.
Paul said— what is your inner peace costing us?
I said – I do not know yet… I am hoping $500.
Paul thought about it and said— that's cheaper than therapy. You should get it.
Then it was time for waiting.
Waiting is only a part of my negotiation strategy when something is expensive… it's a risk, because someone else could show up and get your precious.
But the waiting gives the seller time to reflect on how you are the ONLY person who was remotely interested… And certainly the only person who actually showed up… And maybe they'd better take your offer before you disappear into the ether.
Also, the waiting allows me to get rid of stuff.
And the best way for me to detach from STUFF THAT IS MINE… is to have clearly defined STUFF I WOULD RATHER HAVE.
Finding a vastly fancier THING I WOULD PREFER TO HOARD, completely severs my attachment to THINGS ALREADY HOARDED.
Normally I try to wait two weeks, but I emailed the bookcase lady almost immediatly because I am not in charge anymore, and that is what Self directed me to do.
I told the bookcase lady that I couldn't stop thinking about her bookcase… and how much I loved it… and that I had talked to my husband… and cruel man that he is, said $2,000 was too much… but we could do $500… which she agreed to.
I was like— sit tight. I WILL BE RIGHT OVER.
For some reason, anytime I am ready to proceed at warp speed, Paul goes into slow motion… you would be astounded at the slowness with which one person can move.
Someone should study him in a lab to better understand how wifely-urgency negatively impacts husband-speed.
He cannot find his keys. Or his phone. Or his jacket. Or his hat. He needs to brush his teeth. Then he goes into the kitchen and begins emptying the dishrack… leaving me in a position of either duct-taping my own mouth shut, or screaming— WHY ARE YOU EMPTYING THE DISHRACK?
WHY? WHY? WHY?
Reminding me that Paul and I are both eachother's very definition of unreasonable.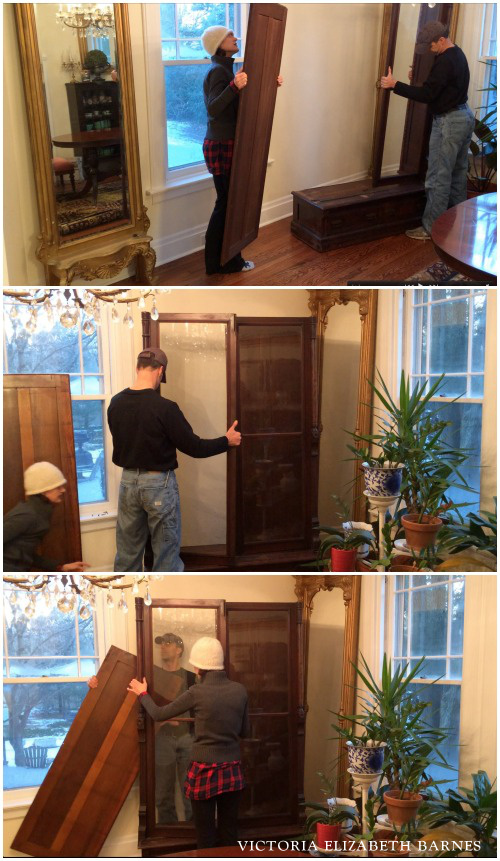 FINALLY Paul was ready to leave… we drove over while I foamed at the mouth and considered jumping out of the car to express my excitement.
But when we got there, I felt an obligation to rein in the wild banshee of glee in order to observe my initial bond with this woman… I felt like I needed to chat her up a little bit and just generally let her know that her grandfather's bookcase was going to a wonderful home.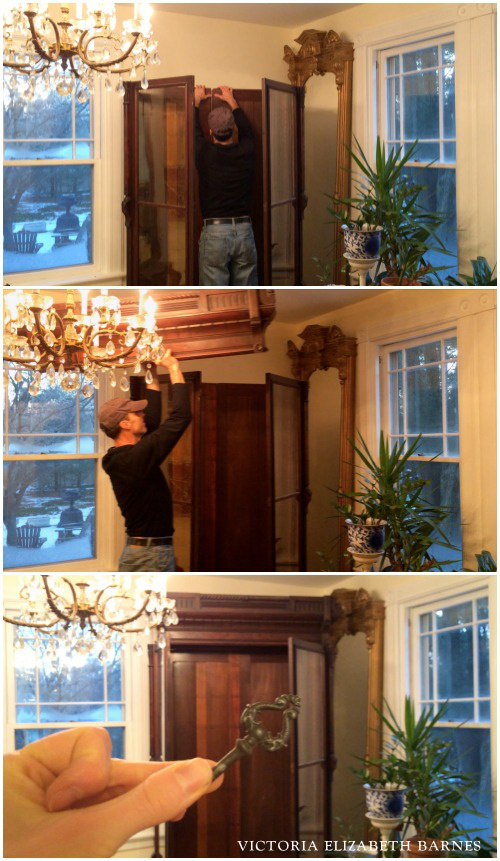 However.
It did not occur to me to communicate to Paul that he was going to have to exhibit some social niceties. So the instant we walked into the room, he started taking it apart.
To him, we are here to get the bookcase – thus he will begin getting the bookcase… To him, it would make no sense to stand around NOT getting the bookcase, so he got right down on the floor and started removing the drawers.
After a moment, the bookcase lady said to me quietly – your husband is very no-nonsense.
Paul looked up from the floor and said – yes. Because my wife is ALL-NONSENSE. There is literally no physical space in my world for any more nonsense.
He gestured around and said– please notice that the year has barely begun, and already I am in someone else's home, lying on their floor, taking apart furniture that we do not need so that I can take it to our home, which is already a place full of other furniture we do not need.
Self walked over and clapped Paul on the back and shouted— WELCOME TO 2016!

index of all my Craigslist finds.