At this point I am waiting for THE THING.
When we started this house, I did not know about THE THING… I did not know that if you wait, giant fanciness will show up on Craigslist and enrich your life.
It makes me sad to think of all the fanciness I missed out on before I was enlightened… But all I can do is try to make up for it now.
At this point, I am a little frustrated that THE KITCHEN THING has not shown up yet, but I know it is all part of the process.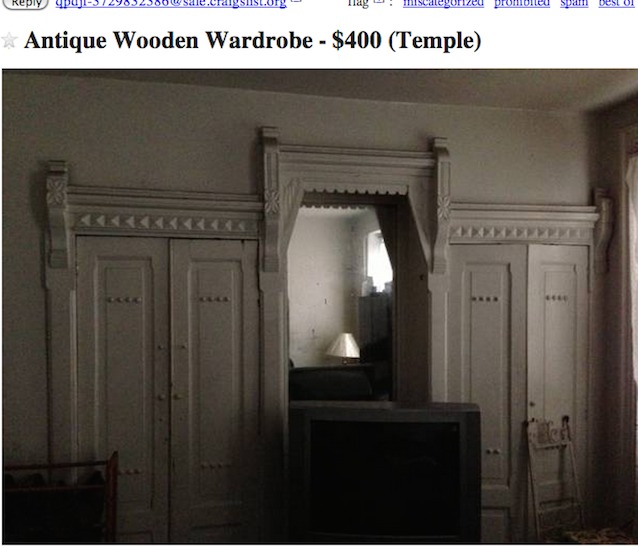 If you read my post about Pilar Guzman's kitchen-of-magnificence, you know that I am enamored with the idea of an antique wardrobe repurposed into kitchen cabinetry.
If you read my subsequent post about finding/salvaging our own giant Victorian wardrobe,  you know that INDEED, we ARE the people who know how to remove this from the wall.
NO PROBLEM.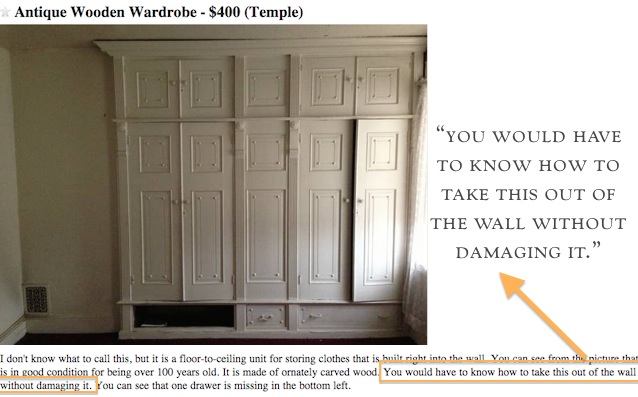 This was part of a three-piece set that LOOKED really promising… I do not love/want painted wood, but the price and sheer amount of material was enough to make me go see it in person.
Plus, if we are painting, it gives us the flexibility of rebuilding/redesigning and adding new wood without worrying about (the impossibility of) matching stain/veneer/old wood patina.
But when we got there, the first wardrobe was really a piece of junk… (you KNOW that I will covet anything that is remotely fancy, and something has to be a real dud to not set off any kind of fancy-alarm.)
It was barely taller than I am and only slightly longer than 6 feet.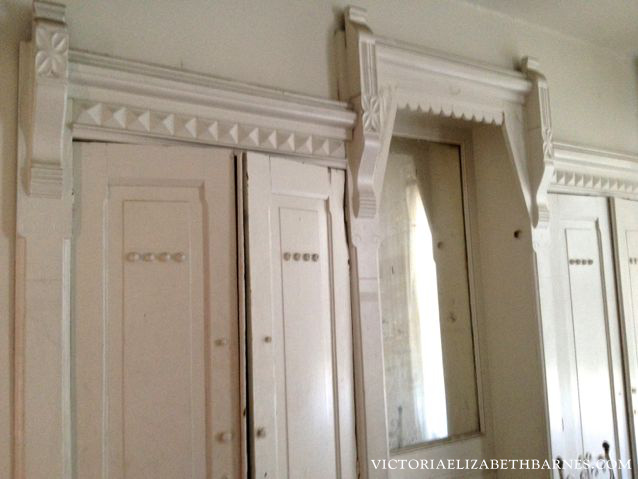 The Wardrobe Troll said– I do not think so. Boring. NEXT.
I did like the piece on the third floor – it was LARGE… I would've been happy to take it home and store it in the garage for all eternity, but Paul said we couldn't do that.
I took a bunch of measurements, and spent the next few days trying to figure out how I could reconfigure the cupboards into an island… (Well, half an island– the half you see when you walk into the kitchen.) If we removed the upper and lower horizontal sections, we could maybe use them in another spot and turn the face of the cabinet into the right-height for an island.**
**Insert 57,000 other ideas that were similarly-vague-but-glorious-in-my-imagination-and-totally-ignoring-reality-of-crappy-condition-of-cabinetry.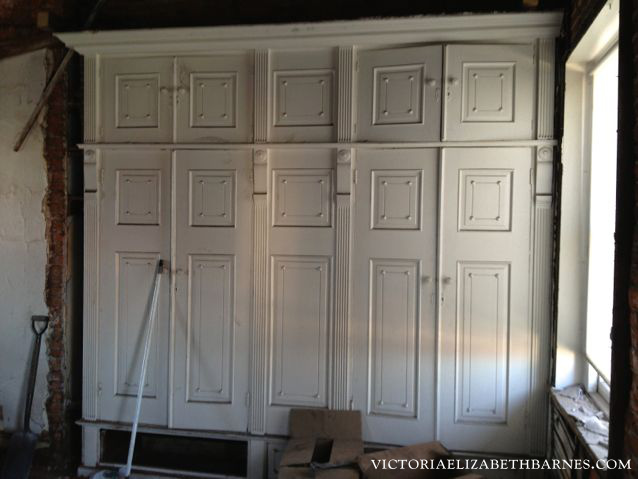 Also, here I would like to say that it was FILTHY. To get to the third floor, we had to climb over a MOUNTAIN of construction debris.
If you scroll up to the second photo at the top of this post, you can see that seller-guy began gutting the attic after taking the picture for the Craigslist ad.
What you cannot see is that apparently he shared my approach to projects:
begin with abandon.
throw it in that there pile over yonder.
be so focused on just one element that it isn't until Paul comes home that someone puts a stop to the tornado of chaos.
Plus, this guy CLEARLY did not have a Paul. Sad for him in many ways, but also nice for him because he did not have anyone insisting that he must keep the area clear! Be orderly! REMOVE ALL NAILS from scrap-boards in some demented effort to safety-fy all of the trash… No matter that I have suggested a superior plan any number of times:
Put the nail-sticking-out-boards in the trash.
THEN DO NOT STEP IN THE TRASH.
When we left, my hands/pants/shoes were black from moving stuff to see what drawers were missing/climbing/wading through piles of plaster and lath, and Paul just stood there and talked to the guy about his plans for insulating the attic.
I said– can you give me a hand here? And Paul was like– I really want nothing to do with this idea but I know it is pointless to try to tell you all of the ways it will not look good… So I am just going to let you burn yourself out.
Looking at that photo above, all I can see are the nails sticking out of those boards. And even I –hater of tedious tasks– think that those should be picked up.