Incase you missed Part 1, where I introduced the kitchen.
We have a small addition off the kitchen.  It's the same width as the kitchen itself, so in some ways it's an extension of the room…  But as you'll see, there are a number of design-issues that make the layout less than ideal.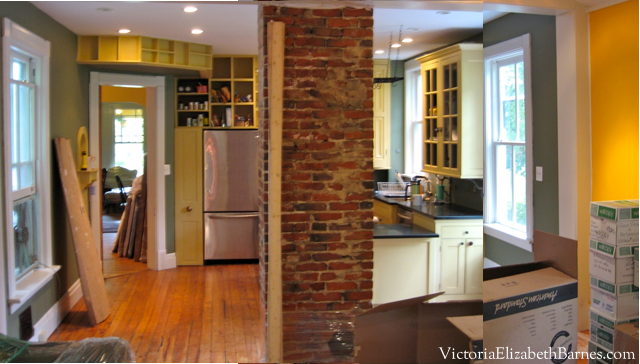 I should have said this in my last post:  we got rid of that chimney.
I had thought people would see it and say—wow!  You have a massive tower of brick in your kitchen… that's really unfortunate!
But instead—I see that the previous owner worked his magic on you.
I understand… If it's not your kitchen, it looks kind of fun.  Unique.  Cottage-y.  Authentic.
The brick somehow complements the orange paint and homemade cabinets.  Like a coffeeshop in an old farmhouse.  Like we could have open-mic night and hand out flyers for a poetry retreat.
However, I really hate poetry. So we took it out.
What looks charming and rustic in the photos was in reality, an unnecessary detour that divided an already funky layout… And it served no purpose; there was no fireplace associated with it, just venting.
Originally there was a small room off the back of the kitchen.  The chimney went up through the roof of what was essentially a lean-to.  It was probably a vent for an old stovepipe and possibly a coal furnace in the basement.
The previous owner removed the old, small addition and replaced it with a larger design.  However, he left the chimney. According to him, he left it because he liked it.
And I too like exposed brick…  On walls.  In factory lofts.  In English country houses… But not towering in the middle of my kitchen.
And I suspect the true reason he left it:  he knew the work involved in removing it.
Which?  If YOU have never removed a chimney?  I recommend it.  It's awesome.
And by awesome, I mean: not awesome at all.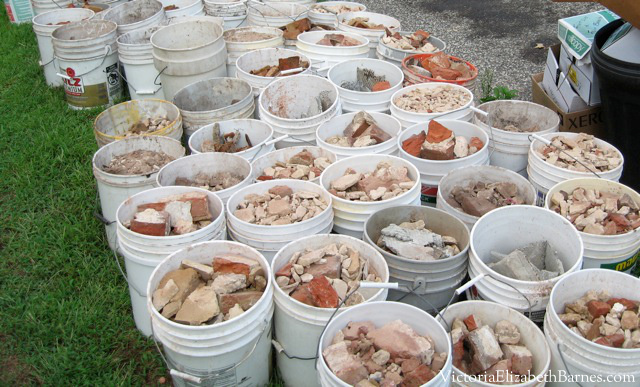 The original addition was very small.  They said there was essentially only room for a laundry nook. So they decided to expand the kitchen area, and put in a half bath.
That sounds nice, in theory?  Right?
But in reality, they got creative… and other people's creativity is not always to everyone's liking.
First:  they did not make it square… If an addition to your house is usually shaped like a square or a rectangle, they cut off one corner of the square.
Please do not ask me why. Because I do not know.
They also kind of framed it out.  I guess to give it some definition, but I think just made the space even more divided.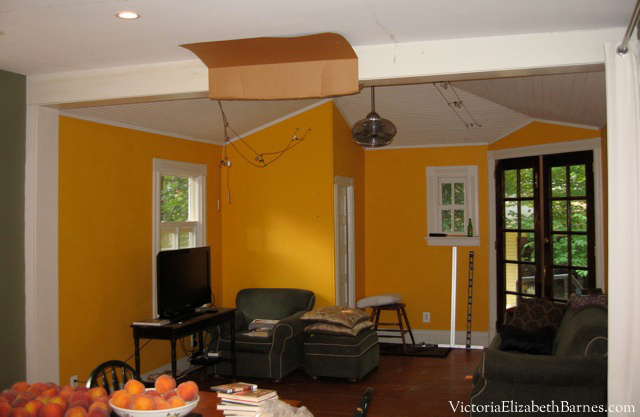 And?
What is that glorious creation in the corner?  That's their pièce de résistance! A powder room!
In the corner! Similar to a phone booth or a port-a-potty.
I KNOW!  The awesomeness is staggering.
Try to focus.
But wait… there's more!
Hold your thoughts on the bathroom, because I'm going to come back to it and ask for your ideas… But first I have to finish the tour!
The house has 9' ceilings. But they decided to build the addition with lower walls than the rest of the house… For reasons unknown to my sub-creative brain, they used 8' studs for the walls. So that the walls in the addition are a full foot shorter than the kitchen.
Why?
Please stop asking me why. I DO NOT KNOW.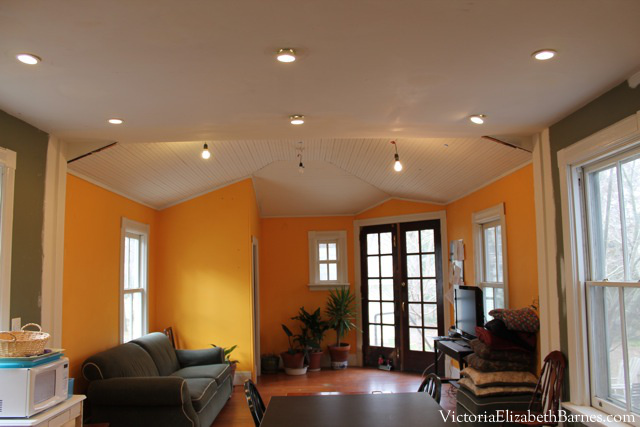 Then, in some fit of artistic epiphany, they gave the addition a vaulted ceiling.
No, that sounds too fancy.  A pitched ceiling?  Raised ceiling?  I don't know the right word… But you can see that they made the roof line not the same as the kitchen.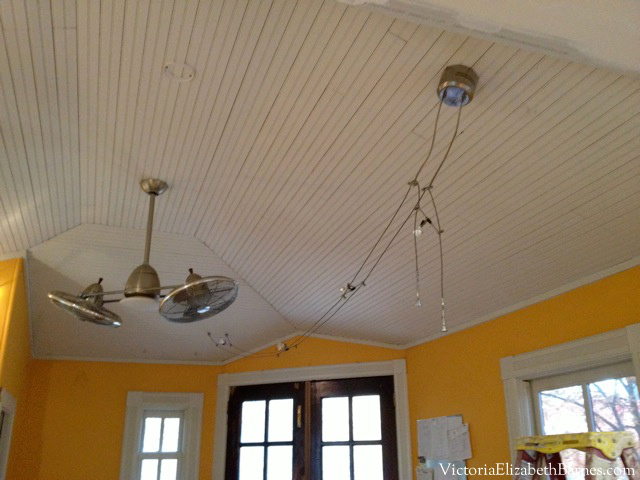 So.  Now.  You have questions.
At least four of you are thinking we should rip off the addition and rebuild it properly.
That is not happening.
At least four-thousand of you think we should square off the French doors.
Also not happening.
I campaigned for that the first few years we were here.  I INSISTED that we would fix it.
That we MUST fix it.
But now I am tired.  I don't care anymore.
Yes, it's a stupid design.  But it's what we have.
Next post I'll have a floor plan.  And we'll talk about the bathroom possibilities.
Because that is what my life consists of— talking about bathroom possibilities…
Incase you missed:
Part 1- Kitchen photos and layout.
Part 3- Squaring off the addition
If you share me with your friends, I'll love you even more…