Let us recap what you know about me:
I have an old house.
I like fancy stuff.
Let me introduce you to something you don't know:
I love Elvis Presley.
A lot.
A LOT, a lot.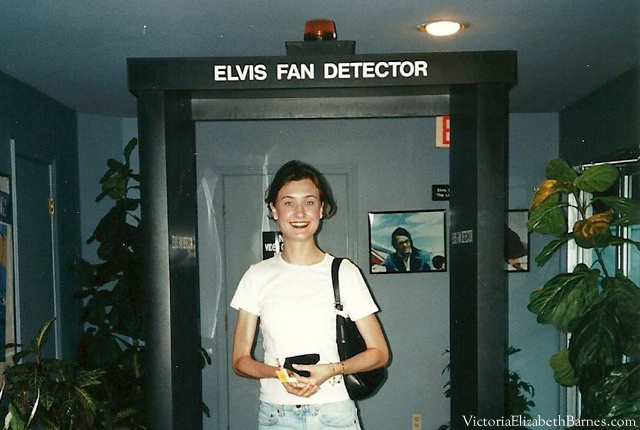 On Thursday afternoon last week, Paul called me…  He said— hey.  Do you want to go to The Philadelphia Elvis Fest?
And I was like– WHAT?
He said—I just drove by a giant sign that says: Ultimate Elvis Contest.
And I was like– WHAT?
Paul said—so that's a yes?
I was like—are you asking me if I want to go to a competition where people LOVE Elvis?  And sing Elvis songs?
And DRESS LIKE ELVIS?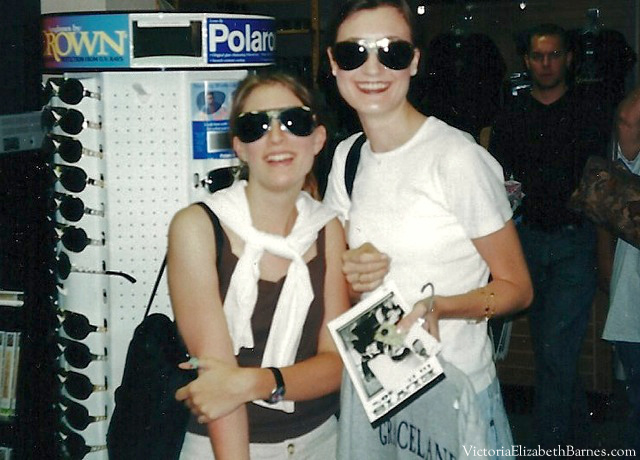 That's a question you have about me?
Really?
Because it shouldn't be.
The only question here is whether it's too late for me to enter.
And WHY I have not been preparing a routine.
And also, WHAT WILL I WEAR??
Why do I not own an Elvis jumpsuit?  I mean, that's just a staple of any wardrobe…  Why am I always so deficient and failing to plan ahead?
Paul said– you probably don't need to dress up if you're not actually in the contest.
I was like, how can you even suggest that I go to Elvis Fest not in some kind of costume?
This is an ELVIS contest.  WHY would I go to an Elvis contest as NOT ELVIS?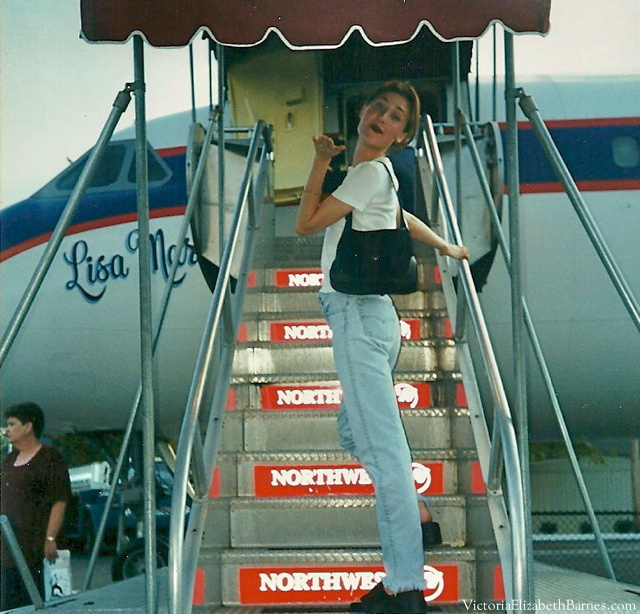 That's me, getting on Elvis's airplane at Graceland…  If you read my post about my road trip to Texas with my best friend, you've seen this photo before.  And I appreciate that you never asked me why I'm wearing mom jeans.
After Paul called me, Thursday was lost… I spent an hour googling Philadelphia Elvis Fest and being disappointed at the lack of consumable information.
I also spent time reading the regulations governing Elvis Tribute Artist contests.
I like to know these things.
Then I spent another hour trying to find a seller on Amazon who offered same-day delivery for a surely-disappointing, but still hugely-tempting Elvis jumpsuit.  Also, Amazon took it one step further and suggested an Eagle cape.  Which?  You may see me wearing in a future post.
When Friday came, I was totally depressed at the thought of going to Elvis Fest, NOT wearing something appropriately expressive of my enthusiasm…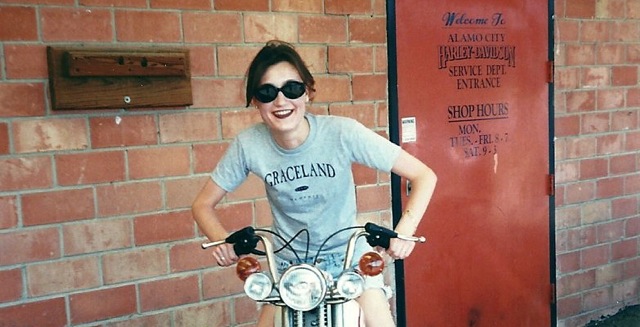 But when I opened my closet?  I realized that actually, I DID have something to wear to an Elvis Festival…
So now is where I tell you what else I love, besides Elvis:  my best friend.
On our trip to Texas, we collected t-shirts…  I have t-shirts from Nashville, and Beale St, and The Alamo, and someplace in Arkansas…and about 50 places in-between.
But Lara got the best t-shirt… it was the only one on the rack, and I've been jealous for going on thirteen years.
A year ago, she mailed to it me.
Are you ready?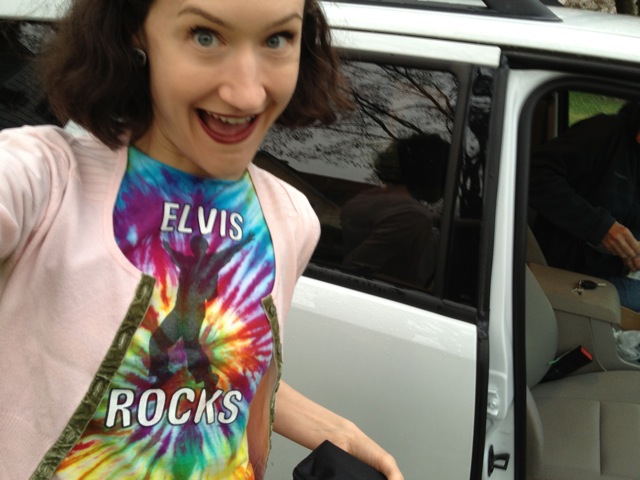 I am unable to make a normal face for any picture I am excited about.
All my photo albums are full of me having a fantastic time… and looking demented.
Most of my wedding photos are totally unusable because I look like an alien.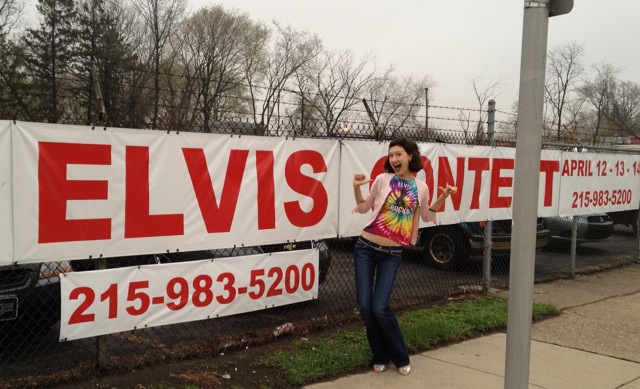 Lara is the very definition of a best friend… Someone who is there for you, an entire year ahead of time.
Someone who mails you the Elvis Rocks t-shirt.
Clairvoyantly!
I appreciate her SO much… that I won't even mention how she didn't TELL me that she shrunk the life out of it.
Or how when I put it on, I was like– why did Lara only send me HALF of this shirt?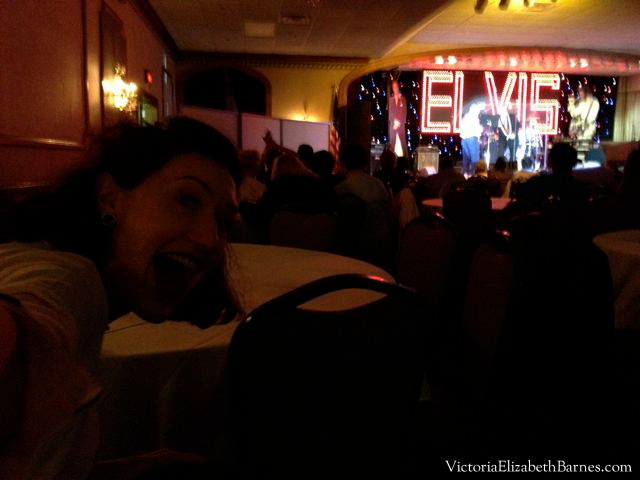 On the way over, Paul tried to manage my expectations.  Probably because I was saying repeatedly– this is going to be the most fun EVER.
Paul's feeling is that I need everything to be a trip to Disneyland… Covered with glitter… And if it's not, I will just make up the difference in my head. And sometimes this leads to me being horribly disappointed when confronted with reality.
Paul thinks that I should wait and see what actually happens, before deciding that something is going to be the epitome of my entire existence.
But we walked in, and I was like—NOPE!!!
I was TOTALLY right.
This is the GREATEST. DAY. EVER.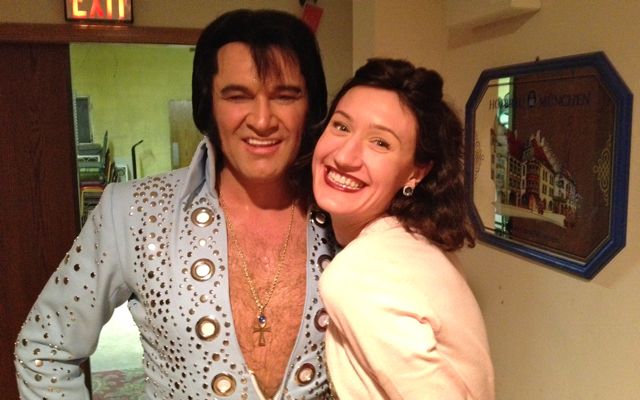 I understand that you think I'm exaggerating…  Overenthusiasm and hyperbole are my normal setting.
But in this instance, I am not kidding at all.
If I could just live in an Elvis Tribute Artist contest at all times?  It would solve every single one of my problems.
Everything is so well-defined.  And full of rhinestones and suspended-disbelief.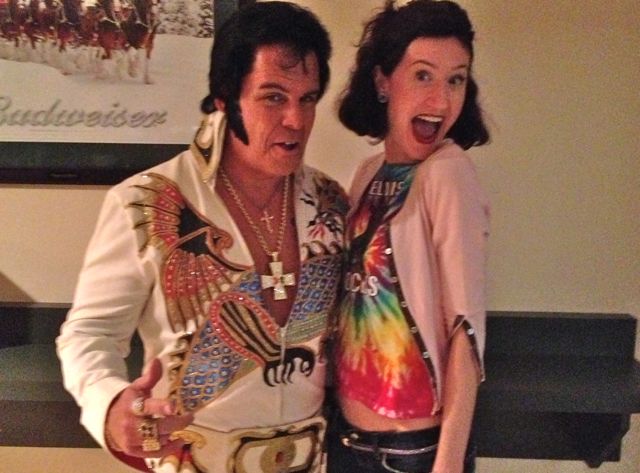 Where has this been all my life?  I HAVE WASTED SO MUCH TIME.
I have spent entire years going to the grocery store and brushing my cat…  While OTHER people are going to events titled Ultimate Elvis Festival, and Night of 100 Elvises.
And ELVIS WEEK.  Which is in Memphis, at Graceland… and is the culmination of ALL Elvis contests.
It is unbelievable to me that I did not know about this…  Hello?  I could have MARRIED one of these guys.
Paul was like—I can see I'm not stacking up well here.
I was like—you have NO idea.
The only part that wasn't awesome?  Was my lack of participation.
I need to be able to insert myself into any proceedings that I find irresistible… and it's magnified a thousand times if there are costumes involved.
It was actually PAINFUL to me, to not be center stage, dressed like Elvis.
To watch OTHER people.  And their collars!
And their belts.
And their rings.
And their hair.
And their karate moves.
How I have failed to orchestrate this in my own life?
WHY IS THAT NOT ME?
Plus?  You haven't seen me do "Are You Lonesome Tonight?"
It is the very definition of awesome.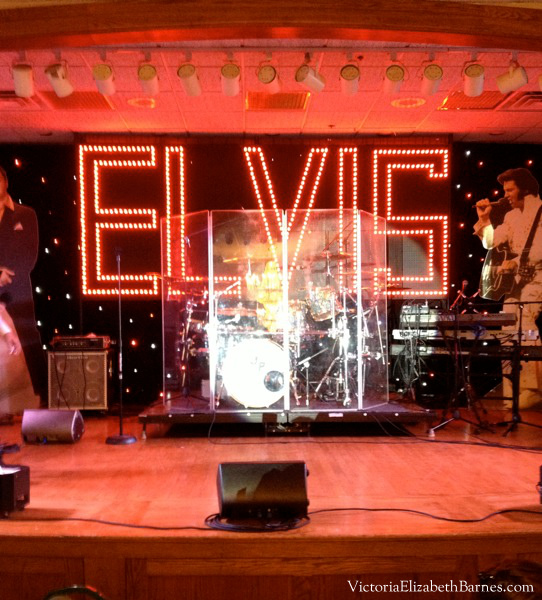 So when they had intermission, I said—I think I should go up there.
Paul said nothing.  Which is his usual response to any idea where he is afraid to resist, and therefore cement the appeal.
Apparently, he does not know that I find his silence evidence of a truly superior idea.
So I said—Yes.  I should DEFINITELY go up there.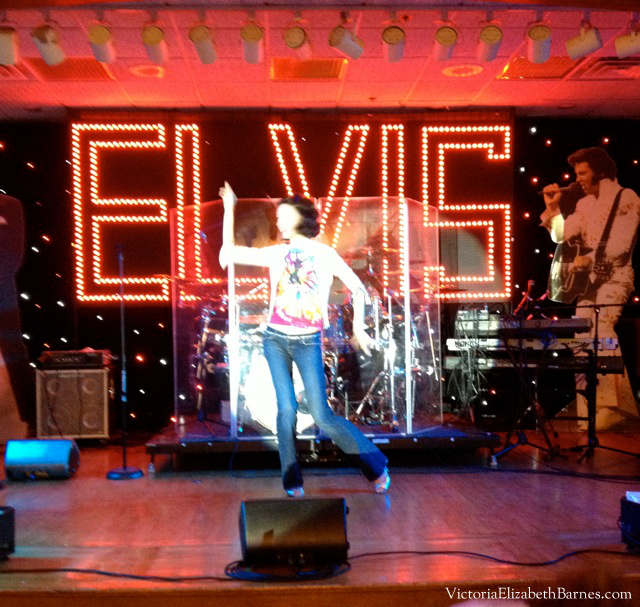 I was JUST getting warmed up…  I hadn't even begun to do any of my really good moves…When security showed up.
I guess they're pretty serious about the costume requirements… and I respect that.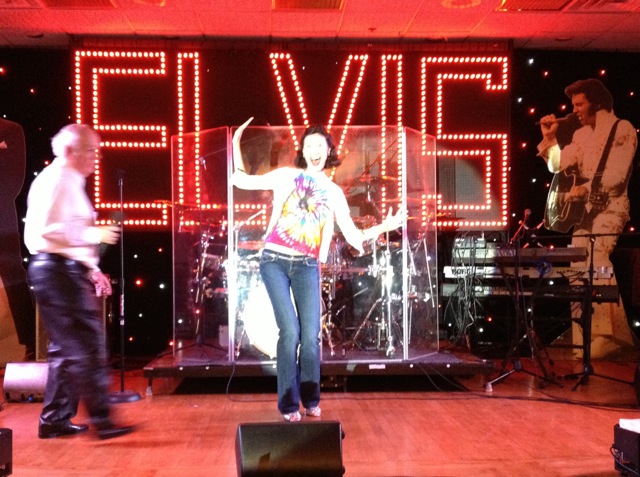 But I'll be back next year.  I'm going into training full time… so that I'll be ready.
These people are my kin, and I need to be among them.